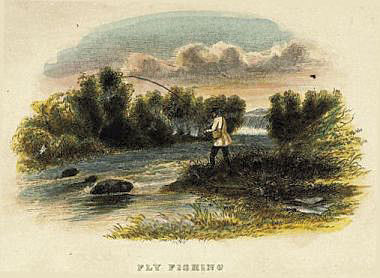 The York Tradesmen's Angling Association (YTAA) is a long established angling club with records dating back some hundred years or so. The club operates over five becks and two still waters in North Yorkshire. Primarily a trout fishing association with the emphasis on fly fishing although coarse fishing and bait fishing are also available. The association offers year round sport with grayling and pike fishing in the winter months. The two main fisheries are; the Isle Beck system in North Yorkshire where much of the fishing rights are owned by YTAA and still waters at Stearsby at the foot of the beautiful Hambleton Hills. Isle Beck offers fine wild trout sport, a mayfly hatch and a good head of naturally recruited wild fish. Stearsby is a lovely little secluded fishery offering quality still water fly fishing for rainbow trout. Wild trout fishing is also available on the River Dove at Kirkbymoorside, the River Riccal at Harome and on Cod Beck at Dalton.
Membership Applications
We do not have any vacancies at present. Due to the high number of recent applicants our waiting list is now closed. If you are already on the waiting list then please be sure to inform the Club Secretary if you change your email address or else you may miss your opportunity.
Club Secretary: Rob Sawdon: secretary@ytaa.co.uk
Membership Fees
2022 Membership Fees:
Members: £90.00
Juniors: £20.00
For new members a £50.00 joining fee is also payable.
Other News
Reporting Pollution
After several recent incidents on the Isle Beck system members are reminded to remain vigilant and to report any pollution or concerns to the Club Secretary and the EA Emergency Incident Freephone number: 0800 80 70 60.
Any of the following should be immediately reported:
Pollution to water/land (including excessive silt inputs).
Damage to the natural environment.
Poaching or illegal fishing.
Dead fish or fish gasping for air.
Signal Crayfish
Signal crayfish have been present in large numbers on the Cod, Willow, Isle and Thirkleby Beck systems for many years and unfortunately there is little that that we can do now to control this infestation. Our focus as a club now has to be the prevention of their spread into our other waters. Members are very strongly reminded that they should each be responsible for their own basic 'Bio Security' measures. After fishing, always thoroughly dry out all of your clothing and fishing tackle, especially your nets, before fishing again. Items of particular concern are nets, waders and felt soled wading boots, these can be disinfected with a weak solution of Household Bleach (10% max) or specialist Aqua-treatment products.
Signal crayfish can utterly devastate the local eco system on small rivers and becks. Internationally concern is now so high that felt soles are banned in New Zealand and many states in the US.
If you are unsure what a signal crayfish looks like or want any more information then please visit the Signal Crayfish page. Please note: It is illegal to remove Signal Crayfish without a licence from the Environment Agency. One of our members has tried to obtain such a licence but unfortunately it has proven to be very difficult and he has been refused a licence.
Invasive Species
The YTAA has recently been contacted by the North Yorks Moor Organisation requesting that we help to highlight their campaign against invasive species. Their poster can be viewed by clicking here.
The Angling Trust also has a long running campaign regarding invasive species and provides a very detailed explanation of all the various threats to our wildlife and fishing's which you can read by clicking here.
It is strongly recommended that you should learn to recognise the 'Giant Hogweed' plant as it is becoming increasingly prevalent on our local river banks and can cause you very painful and long lasting damage. If you should encounter one then avoid any contact with the stem bristles and the sap, this is a very dangerous plant.
The Kingfisher Diary
Always entertaining, these diaries will be of interest to any angler with a love of the smaller waters. To follow his trials and tribulations Click here.
The Kingfisher kindly agreed to reveal his 'secret' methods in the 'Kingfisher Hints & Tips 2016' page and he has now produced an updated version - 'Hints & Tips 2020'. Click here to read. Lots of useful tips on tackle and methods in here, well worth a read.
Wild Trout Trust Auction

Every year the YTAA donates a day's guided fishing on our waters to the auction. Unfortunately the 2020 auction winner was not able to fully enjoy his prize that year and an alternative day was arranged for him this season. Our resident Beck specialist 'The Kingfisher' generously organised an outing on Isle Beck and was on ghillie duty for the day. You can read a full account of that day out here. The 2021 auction winner has also now enjoyed a good day out with the Kingfisher, read all about that adventure here.

To read more about all the invaluable work of the Wild Trout Trust click on the badge.
Salmon and Seatrout Fishing
A reminder that fishing for salmon and sea trout is available to YTAA members on the South Esk in Angus at a very favourable price. This is a top quality Salmon Fishery that has produced fish up to 36lb. Click here to read more.
The Countryside Code
To maintain our good relationships with the many landowners that surround our fishings the YTAA expects all members to abide by The Countryside Code. To refresh your memory you can read the code here: The Countryside Code.
Otters
Otters are now in residence on several of our waters. Reports and complaints have been received from several members so the committee is fully aware but legally there is little that we can do to resolve this.