The Kingfisher Diaries - Hints & Tips 2016

Fishing the Rivers & Becks

There is not long to go until the start of the Brown Trout season and I've been busy making sure I am ready for the 25th March. I've checked my rods are ok and swopped double taper lines end for end where they were showing wear. Fly boxes have been sorted and flies are nicely lined up in rows ready for the off. A few members have been asking questions about my tackle set ups and how I fish the Becks so I'll try and provide some answers. Please be aware I am by no means an expert, all I know is what I do works for me but I keep learning everytime I go out.
Rods
I have two main rods I use on the Becks. First I have a two piece 6 foot Riccall by Burns Built Rods. Its rated #2/3 AFTM and I almost always use a DT3F. This is on a NEWTRAD F3 #3/4 reel. I've used this rod for about 9 years and it is lovely. My other main rod and the one I use most now is a two piece Malcolm Grey of Alnwick 5 foot also rated at #2/3. I used a DT3F with this the first season I had it but last season I used a DT2F (also on a NEWTRAD F3 #3/4 reel) and I think it is slightly better with the lighter line. Don't despair if you don't have a 5 or 6 foot rod you can use a rod of 7 foot or even 7' 6" but the shorter rods require less casting room above and sideways if you're in tight spots. The River Dove has a bit more casting room and I've used both the 6 foot and a 7' 6" DT3 without problems.
Reels
As mentioned I have a couple of Newtrad F3 #3/4 reels for my short rods these are light and lovely to use but almost impossible to get hold of (I'm trying to buy another!). I've also got a couple of small Masterline reels rated #3/4 which are fine but slightly heavier. In the end any light small well maintained reel will do as long as it doesn't make the rod feel butt heavy.
Lines
As stated for Becks I fish with DT2 or DT3 floaters – they seem to suit my casting and are very accurate to cast (it's probably just me but I always feel a Weight Forward line is great for distance but never feel it is quite as accurate as the equivalent Double Taper). Also with beck fishing there are all sorts of obstacles, trees, brambles etc you are going to get caught up in and your line will wear so a DT line makes sense as you can swop ends when the first taper starts sinking without having to purchase a complete new line.
Casts
Again this is a "it works for me statement" – your cast length should be about the same length as the rod you use. Apart from this on our becks you are only going to be casting a few yards so too long a cast won't allow you to get the fly line itself into play and your casting accuracy will suffer. So on the 5 foot rod my cast is 5-6 foot in length, for my 6 foot rod a cast of between 5 and 7 foot will be fine. My casts are made up of three equal length sections of different breaking strain line knotted together. A good set up might be 6lb to the fly line 4lb middle and 3lb tippet. I tend to use Drennan Sub surface for my casts it seems to have a good knot strength and abrasion resistance but I have also use some very fine "match team" line it is only .12mm diameter and is 3.3lb breaking strain. It is very flexible and great for delicate and accurate presentation, but be warned it is so light that if you catch a branch on a back cast it will wrap right round quickly making retrieval difficult.

I usually use a little Mucelin on my cast as I like them floating for me it makes lifting off and recasting less "splashy".

One final point on casts, I do sometimes us the little (2mm) seamless silver rings in my casts – usually this is one ring to attach the tippet to the other two sections of the cast. It has the advantage that when you change flies and the tippet gradually becomes too short you can tie in a new tippet length without having to shorten the length of the middle section of the cast. These little rings are so light they float and don't really effect casting at all.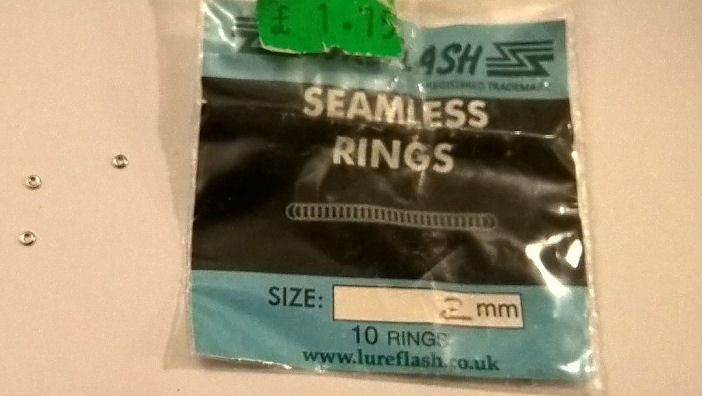 Flies
I have literally thousands of flies that I carry in my bag and pockets, far too many and I could probably manage with just a few of half a dozen patterns.
Favourite has to be a Adams parachute (in sizes 14-16-18) a really good fly shop bought ones tend to have too bigger "white post" on them so I snip a little off the top so it sits on the water better and is still highly visible.
A black parachute fly is also useful as are klinkhammers (with Black or green or brown bodies). Klinkhammers do sit that little bit lower in the surface film and make it easier to hook rising grayling.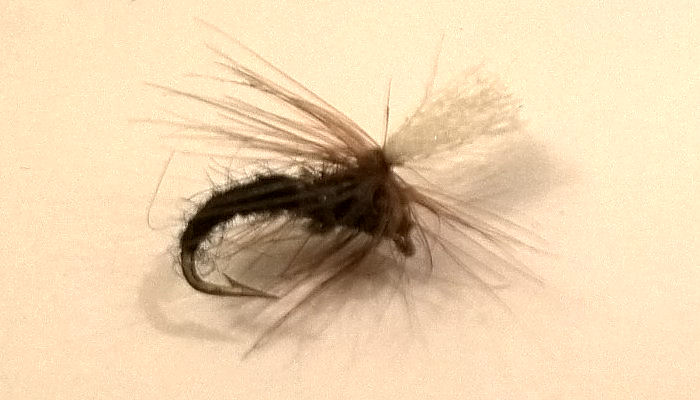 In Mayfly time on the becks you need big white bodied black trimmed spent mayfly. When the trout are on mayfly your fly will quickly get chewed to bits but it doesn't seem to matter how tatty it looks as long as it's big and white they'll keep taking it!

My Adams parachute is such a reliable fly that when I see fish rising and they ignore it I take it personally and work through my fly box till I get takes. I had one day when some fish were rising consistently but ignored everything I had then I noticed some tiny black flies drifting downstream I eventually started catching them (grayling!) on a cut down "duck fly". But now a friend has tied me some beautiful Cul De Canards on size 22 hooks! I know they will work on these picky grayling and my only problem will be trying to see to tie them onto my tippet!


Grey Wulf is another useful fly and one I use in a "New Zealand" nymphing rig. The NZ rig can be very effective in deeper runs and pools and comprises of a big dry fly (like a grey wulf) to which a length of line is attached to the hook bend. (Some people now tie the tippet to the eye of the grey wulf instead) On the other end of the nylon is a weighed nymph or goldhead.
You can vary the length of the tippet to the nymph according to how deep you need to fish I normally use between 15 inches and 30 inches on the becks (any longer is difficult to cast with a short rod.) Casting upstream the nymph sinks and the dry fly acts as a guide and also provides a visual indication of a take. If the dry fly moves sideways or vanishes you strike or at least tighten quickly to find you are into a fish. (Actually it always amazes me with NZ style nymphing that the dry fly vanishes and I tighten to find there is actually a fish on the line.) Of course sometime some silly fish will come up and take the dry fly instead of the nymph!
Fishing
There are no hard and fast rules I can give you but here are some general hints. Approach is everything be as quiet and splash free as you can. Where possible keep a low profile and use trees and bushes to hide your approach. Keep as far back as you can from each place you are going to fish and always try a cast at the tail of a pool or run before you wade in. Often there will be a fish hanging around in quiet water and if you wade in they are gone so try it before you try the head of the pool or the main run. Just because you can't see fish rising it doesn't mean they are not there and a speculative cast in the likely place will often bring fish up. Fish will often position themselves just off the edge of a current that is bringing a food supply down to them so casting on the line between fast and slow water is a good idea if you can't actually see fish.

Try to look behind you before every cast and assess how much casting room you have and watch out for trees that sneak up behind you while you aren't watching!

Upright casting is often impossible with overgrown becks so practice side casting (from the left and right sides). I often kneel (or even lie down) to cast sideways under trees and it is often worth it.

If the Beck is really muddy then fly fishing probably won't work, however a bit of colour or if it is only slightly cloudy, may make fishing easier as you are not quite so easy to see.
Wading Staff
I now have a folding wading staff in a holster on my waders. I bought it after scaring myself on some deep wading on the Welsh River Dee but it is really useful when clambouring up and down the steep often slippy banks of our becks as well as for checking depths before wading through deeper pools on our becks (and some pools really are too deep to wade through!)
Fish
Finally please take care with all the fish, remember to use barbless hooks and where possible keep fish in the water (in a net) while you unhook them, return them carefully facing into a current as quickly as you can. If you want photos use wet hands if you are holding them or lay them on wet grass or a wet net but not dry hard gravel and get them back into the water as quickly as possible. I've caught the same fish several times. One trout I caught a week after I first caught him. Another with an unusual mark on his tail I caught 3 years on a row... so careful handling ensures future sport.

Well I hope this information is of interest and helps tight lines for 2016!