Tales from the Riverbank - 2022

11th August – A Lazy afternoon on the Riccal
I really hadn't intended to fish today but having collected the July catch returns from Stearsby I suddenly thought the Riccal is only 10 miles away and as it is spring fed so the water will be cool enough to fish without risking damage to the trout during another hot afternoon. The prospect of wading in cool water under plenty of shady tree cover sealed the deal, not that I need much encouragement to go fishing.
I was fishing by just after 14:10 and was very pleased to get a little trout from tight in against the planks that are in place for the River Riccal level gauge. I have seen trout sheltering at the bottom of the planks and drifting a goldhead tight to the planks did the trick. In fact I got another trout the same way from the other side of the gauge.
I moved on upstream and had a lazy sort of an afternoon just enjoying being in the cool water and beneath shady trees
The trout weren't exactly making it easy rising in places that really were impossible to get to beneath bushes, overhanging branches and under barbed wire but to be honest I didn't really care. Where I could get a cast in I did and I ended on 6 trout, 4 on goldheads fished Klink and Dink, and 2 on tiny olive F-Flies.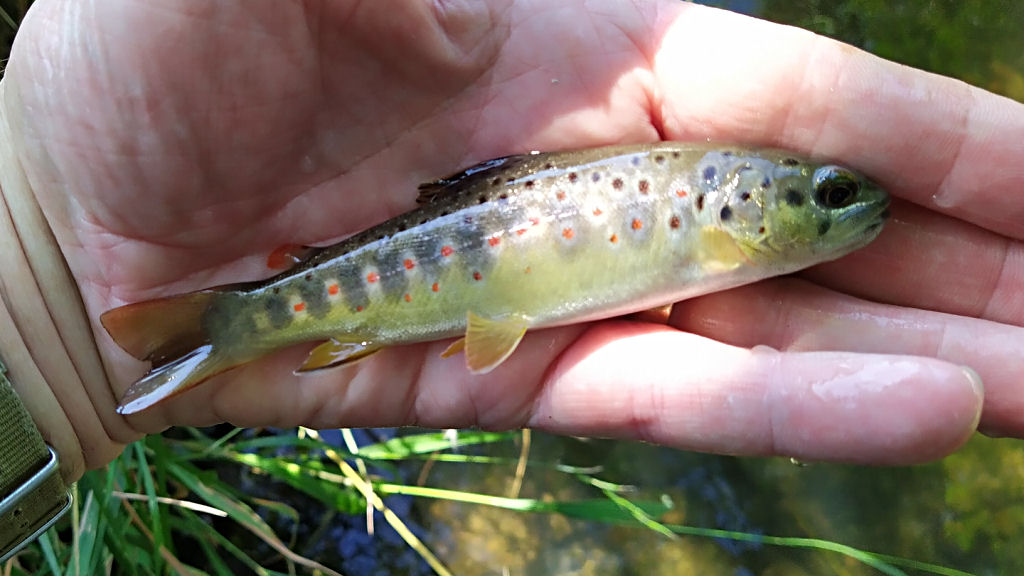 9th August – Cod Beck
I last had a proper session on Cod Beck in July last year so it has been long overdue. Checking the river levels showed 19cm at Thirsk and 74cm at Dalton which means it should be just about perfect. Anything below 80cm on the Dalton gauge means it should be ok for wading with care - there are still a number of deep holes particularly where trees have come down over the beck and the current gouges out a deep hole.
I wanted to fish the middle beat at Gristhwaite farm (Upstream of Willow Beck) but also wanted a few casts in the run above the big pool below Willow Beck so I parked up and walked round the wheat field and scrambled in just below the big pool and walked round to the start of the run. I was rather surprised at how narrow it had become with long grass trailing over the left bank and high reeds reaching across the beck from the right bank.
I was about to reach out to cast over the reeds when I saw the biggest trout I've have ever seen in the beck just ahead of me in close to the reeds. It was massive and clearly not aware of me just a couple of feet behind him. I flicked out a fly just a foot or so in front of him and he hammered it and tried to go downstream into tree roots. But I held him out more by good luck than good management. There was a second pause then he took off upstream ripping 20 yards of line off my reel and heading for more tree roots, I tried to stop him but my tippet broke and that was that!
When I had recovered I tied on a new tippet and fly and waded upstream and caught two stockies the first 14.5 inches, the second 17.5 inches, both dwarfed by the one I had lost. I wanted to believe the fish I lost was a wild trout, it certainly behaved like one knowing to head straight for roots etc, but having caught two stockies in the same area on my next two casts it may have been just a very big stockie. I moved on and switched to a goldhead, caught another stockie and a minnow below the junction of Willow Beck.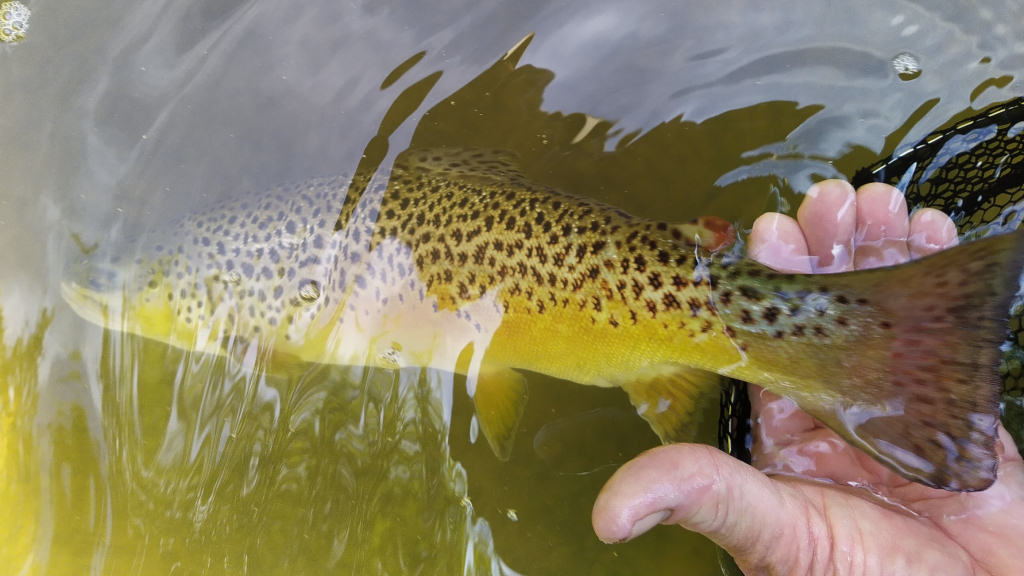 Heading up stream progress was slow, although the water level was a safe height for careful wading, a combination of low branches, balsam, log jams and reed beds made casting interesting. It was also hot work climbing over various log jams, low trees and scrambling up high banks covered in nettles. In fact it was pretty exhausting and I can't really recommend it unless you really like jungle warfare style fishing and don't mind getting stung a lot. Having said that I saw some good chub – one was very big, there were shoals of dace and the odd trout. There weren't many fish rising but by the end of the afternoon I had landed the 3 trout, 4 dace, 2 chub, 1 grayling and 1 minnow. Not spectacular but a reasonable mixed bag in less than easy conditions. Not sure if I will get back to Cod Beck this season but I would like another go at that one that got away .. . .

14th July – Isle Beck Above A19 Bridge
I hadn't planned to fish today but found I wasn't needed to do a school run to collect a grandson so grabbed the chance to nip up to the lakes to get the June catch return sheets and then head onto Isle Beck for a quick session.
It was just on 2pm when I slid under the A19 bridge and disturbed a large trout that must have been right by the corner of the bridge, I didn't get him or an Alder tree trout but then things picked up and I got the first trout of the afternoon, a nice 10 inch wild fish from the next pool on a small mayfly.
There were a few mayflies about still so I persevered but it was exactly an hour before I got the next fish, slightly better at 11 inches. Moving upstream there were a few fish rising but they ignored the mayfly so I switched to a small Black F Fly and quickly got 2 more nice wild trout. The second was from the top of the new pool formed when the trees were taken out last year. I had seen fry and tiny grayling in this pool before but I think this was the first decent trout.
I started seeing quite a few more mayfly about so changed to a large green sparkle F-Fly. This could easily be mistaken for a spent or waterlogged mayfly and immediately accounted for a nice trout from a narrow pool between high reeds. Three grayling in consecutive casts was a surprise, it's normally hard to hook grayling but they certainly hit the F-Fly hard. So far I hadn't missed a rise or lost a fish but this changed on the next pool when a decent trout came out from under a half sunken log, leapt and threw the fly.
I moved on but had a bit of fun getting out of the beck up through high balsam and nettles to go round a log jam and then had similar problems getting out the next pool, but it was a nice afternoon and I was enjoying myself and wasn't too worried about hurrying or numbers of fish, but soon added another grayling, a few more trout and a small chub into my log book before I reached the corner pool below Arden Bridge. I missed what was probably a stocked trout close into the bank before getting a couple more grayling and the smallest trout of the day at 7.5 inches.
I moved on to have a look at the pool under Arden Bridge, it is deep (don't try wading it!) but usually has some good fish, there was nothing moving and I was about to call it a day when I saw the smallest of rises against the brickwork on the top edge of the bridge so had one last cast. The fly had barely touched the water before a large trout hit it and the fun began. My little hardy glass #2 5 footer looped over as what was clearly a rather large stocked trout swam around and around in the deep water below the bridge. It wasn't too long before I could slide him into my net. A touch under 17 inches and a very solid fish, I've no idea what he had been eating but he felt rather heavy so I weighed him and he was just under 2.5 pounds and swam away strongly when I slipped him back.
I walked back down the road as I didn't fancy struggling along the overgrown path by the field. I reflected on the day, I hadn't been in a hurry and had taken five and a half hours to fish between the bridges. I had enjoyed myself and the log book showed 1 small chub, 6 grayling, 9 wild trout and one overweight stocked trout.

1st July – Isle Beck Above A19 Bridge
It has been a long time since my daughter and I fished Isle Beck together and she fancied a short session just to familiarise herself with casting on an overgrown beck before we dealt with some other YTAA business later in the afternoon.
I was hoping she would get a go at the trout in the Alder Tree run just above the A19 Bridge, but as we slid down the side of the bridge and into the beck below the A19 I saw there was a trout rising right under the middle of the bridge. She said go for it so I did, first cast it took a mayfly and was quickly in the net measured and released.
Jen cast to and hooked a trout a trout rising just above the bridge sill but it came off, but she was pleased to have cast to it and got a rise using my spare 5'#3 Malcolm Grey rod. Moving forward she tried for the Alder tree trout and after a few casting attempts got the fly in the right place and again hooked the trout but sadly again it came off.
Next up was the new pool that has formed over the last two years, but with low branches at the back of the pool there is no room for an overhead or side cast so I suggested I could show her how to roll cast. I pulled off a little line did a neat little roll cast and crash, bang, wallop, trout number two took the mayfly as it landed on the water!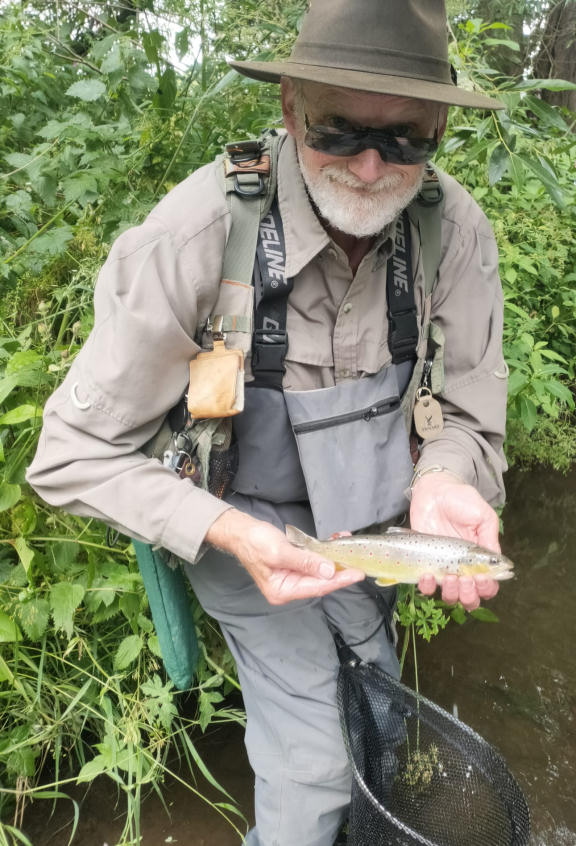 We moved forward to try the next big pool and the fast run that feeds into it and got caught in a very sudden and heavy downpour but were largely sheltered by the overhanging trees - neither of us had a waterproof with us!
Jen was a little more confident with the slightly better casting room that the big pool and run provided and targeted several rising fish getting the fly in the right spot but somehow contrived not to keep the trout on. To be fair she hadn't fished a beck for at least 17 years and was using a short rod she really wasn't used to so it was always going to be a bit of a challenge. We were about to move on to the next pool when we noticed that the beck, which had been clear when we started was quite suddenly a muddy brown colour and the rises stopped so with other things to do we packed up.
Having found she can cast and target trout in the confines of our beck Jen will be out again soon without me in the way and will hopefully be landing trout.
I think this trip must be some kind of personal record for me time as the total time I spent fishing was under a minute. I made just 2 casts and landed 2 trout … probably the fishy equivalent of a golfing hole in one on the first two greens!

21st June – Isle Beck and Thirkleby Mill
The longest day so I had plenty of time to fish Isle beck above the A19 Bridge and have a go at Thirkleby Mill later in the day. Well that was the plan but I was late leaving home and didn't start fishing until nearly midday.
The Alder tree swim just above the bridge produced the first trout, if you go quietly a trout there is almost guaranteed.
A grayling from the first decent run was next up followed by a trout from the old kingfisher nest pool. The beck was quite low and with Balsam nettles and other foliage hanging over casting room was at a premium and as usual I did quite a lot of casting from a kneeling position. I made way slowly up the beck by 4 pm I was about two thirds the way up towards Arden bridge and I had landed 6 trout and 2 grayling and lost a couple besides. Two of the trout were nudging 12 inches and one of the grayling was just over 12 inches.
Time for a change, I walked back to the camper had a rather late lunch snack and drove up to Thirkleby Mill and started fishing again at 4:45. It had been two months since I was last at Thirkleby and the water was lower and the foliage higher and getting in to the beck below the small farm bridge was quite difficult, but once in the fun began.
There were a few mayfly about and most of my fish were on a small green mayfly pattern. I had used the 6' #3 Rawson S Glass on Isle beck but now I was using the 5' #2 Hardy Glass, both rods have an easy casting action but the Hardy gives me just a little more casting room in tight places.
I caught trout or chub (and one grayling) by carefully casting to all the usual places, but failed to get a rise in the pool at the top of the Pylon length - normally I would have bet my shirt on a trout or grayling (or both!) from there but not today and I couldn't be bothered to change to Klink and Dink with a goldhead to try the deeper bits.
I got one more trout from beside a log below the weir and a final good trout from the weir pool itself to finish off at just gone 9pm.
A word of warning, I couldn't get through the high brambles to climb out of the side of the weir pool and retreated downstream some 50 yards and beat a path up through nettles. Once on the bank the path back to the mill had completely vanished in tall grass but it was just possible to walk down the narrow gap between the wheat field and the tall grass.
P.S. My wife got me a new "lucky" fishing hat for my birthday and today was its first outing, with 16 trout 4 chub and 3 grayling on the day it's almost as lucky as the old smelly hat I've used for 20 years!

17th June – River Riccal
I haven't fished the becks or rivers for over a month, mostly because GoPro Gordon and I finally made it to Slovenia for our much delayed marble trout adventure. Bilbo the campervan made it there and back without missing a beat and some very good marble and rainbow trout were caught but anyway back to the reality of YTAA.
I always like to get out and fish on my birthday and it looked like a good day for a trip to the Riccal – no wind, warm and sunny in York and I fancied a day there as I hadn't been this season. After various diversions I was late arriving at the Riccal and by then it was getting more than a little breezy, which isn't what you need for a small overgrown river.
I got a small trout in the first few minutes before the wind really did become a problem and it became a waiting game for the wind to ease a bit and get a quick cast in before it picked up again.
As the day progressed I picked up a few small trout mostly on dries but one or two on goldheads. None of the trout were huge but they were all in perfect condition. I also missed or lost quite a few which really wasn't part of the plan.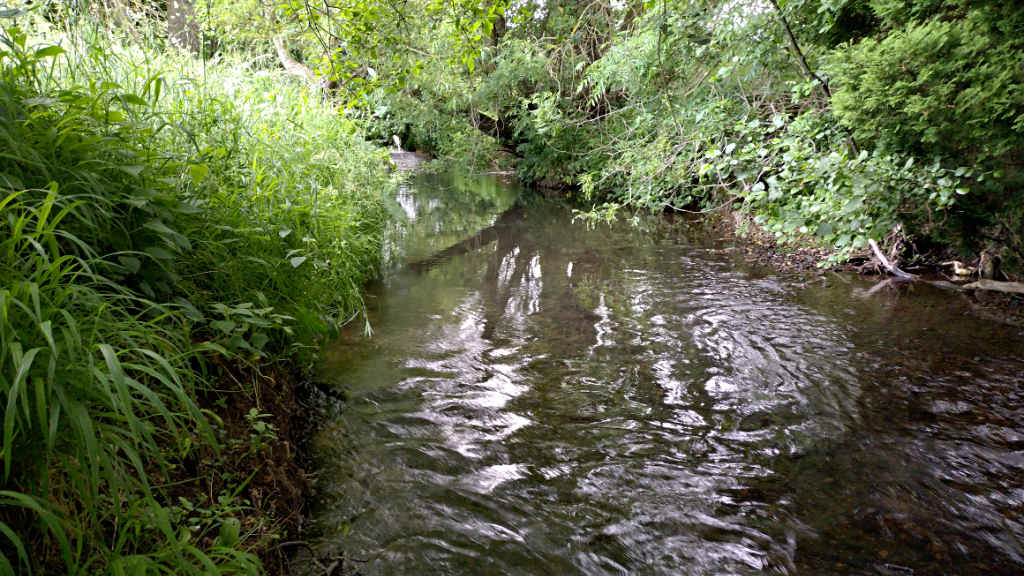 My last trout was well earned I had to kneel down in the river just to get enough room for a roll cast to a rising trout, the photo makes it look open but I couldn't get closer as he was near the tail of the pool and I had low branches right above my head. Frustratingly I missed his rise to a mayfly. I waited patiently and he was soon rising again but ignored the mayfly but a quick change to a large green F-Fly undid him and I was pleased to get a slightly better (9.5 inch) trout in the log book to end a rather frustrating day. Perhaps I shouldn't say frustrating after all I was doing what I wanted on a beautiful little river and almost miraculously didn't lose a single fly all day despite the wind and overgrown conditions.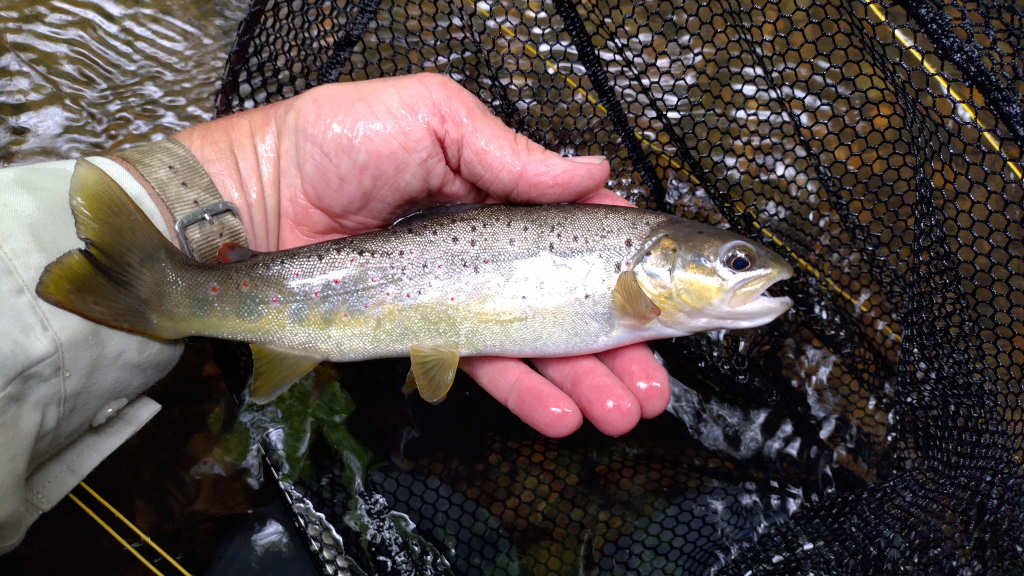 2nd May – Isle Beck below A19 Bridge
I'm making the most of this warm dry spell to get out and today it was the turn of Isle Beck below the A19 Bridge… First problem was the path down which is quite overgrown so I spent a few minutes trimming back a couple of Elder bushes and a willow that were already blocking the path and would be even more of a nightmare in a month's time.
Arriving at my start point two fields down I get my first trout within a couple of minutes, then hook and lose a small one very next cast, I didn't know it then but it was a sign of things to come.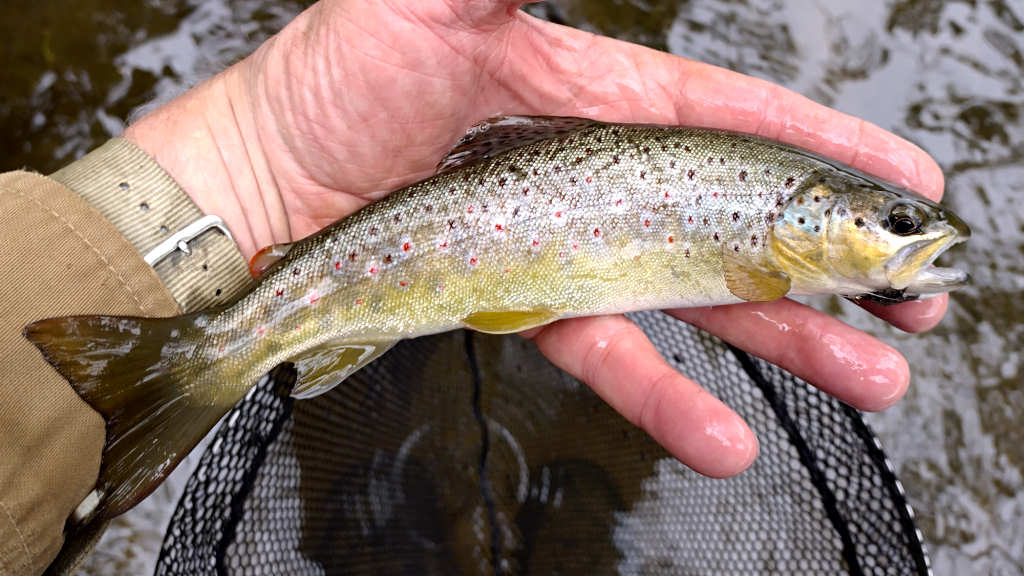 A few minutes later I landed a small grayling which was also a sign of things to come! Both these fish were on a size 16 Black F Fly, but for over an hour I didn't land another fish – yes I hooked and lost a few of trout, but I couldn't get them to stay on. In frustration I switched to a size 12 Olive F Fly hoping the bigger hook would give a better hold and managed a half decent grayling. I then started switching between dry flies and a small goldhead fished "Klink and Dink" style to search the deeper pools and this accounted for more grayling.
Time passed slowly and after a few frustrating losses of seemingly good trout I eventually landed two more trout at 10 and 12 inches before a final little grayling to end the session.
I came away slightly frustrated that I had lost so many trout but on balance 3 trout and 8 grayling is far from a waste of time.

27th April – A19 to Arden Bridge
A nice afternoon so I am back out again this time fishing between the bridges using my 5'#2 Hardy Glass The Aln. I started as usual wading through under the bridge to fish the Alder tree run and I got a trout within a minute, but then lost one from right under the Alder tree.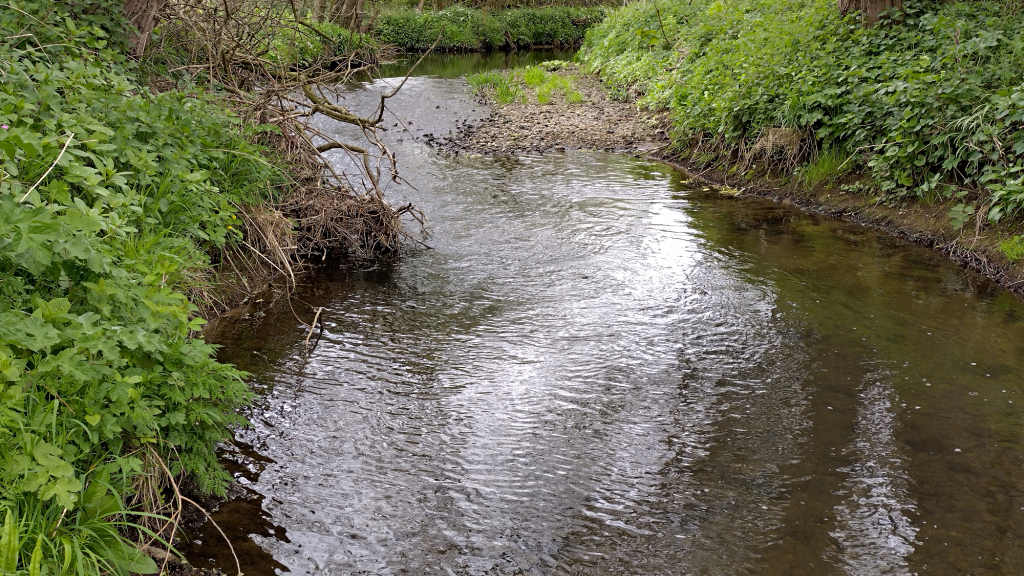 Things got better and I got a trout from the new pool that has formed just above the Alder tree run. At the end of last season this new pool looked like it would soon hold fish so I was really chuffed to get a decent little wild trout from it today.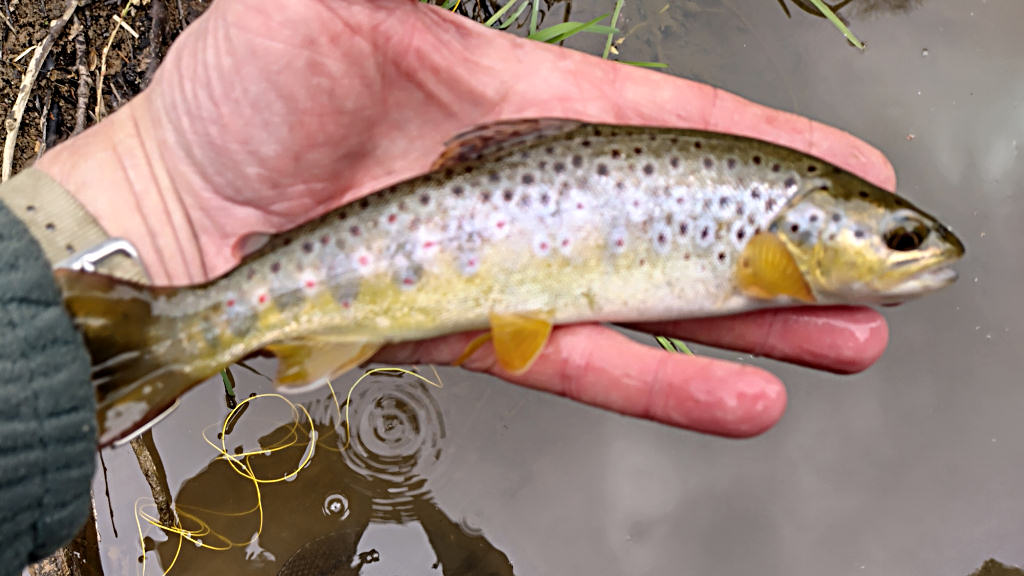 After an hour or so the sun went behind the clouds and it grew colder and the trout which had been rising freely stopped as the hatch petered out.
I fished on till dusk and although I lost a few trout (and two stonking great grayling in three casts!) I did quite well and by mixing a small Adams Parachute and switching to a goldhead in the deeper pools I ended on 11 trout and 3 grayling, so overall a pretty good afternoon.

25th April – Thirkleby Mill
Well after blanking on the opening day and only catching a few in Wales (mostly down to an unexpected snow storm!) I finally have an afternoon to get back on YTAA becks.
I chose Thirkleby as it is usually good fun and to be honest I needed a confidence booster after the opening day debacle.
It isn't long before I am into a nice little trout that picked the F-Fly I chose to start with. Quarter of an hour later trout number two goes in the log, this one from the big bend pool which has changed a bit with the right corner having been silted up which will make wading upstream easier.
I'd had both fish on dries even though nothing was rising so as the big bend pool is pretty deep I decided to try a goldhead Klink and Dink style and this produced a nice 10 inch trout. Then I tried the rig right at the top where the deep area starts and hooked and lost what looked like a very decent grayling.
Moving on I discovered that the log jam below the farm track has grown considerably in size and required a detour so I moved up into the chicken field and got a small trout under the willow tree.
I switched back to an F Fly and made my way upstream picking up several more trout including a 10.5 inch beauty at the Pylon pool. Once again I switched back to the Klink and Dink rig and in 20 minutes picked up 3 more trout and a chub from the deep water at the top of the pylon pool. The pylon pool is rather overgrown with brambles etc. so care is needed casting and even more care wading upstream keeping as close to the left side as the brambles allow I used my wading staff for extra security as the water is deep and the river bed slopes!
By now it was getting late (and cooler) so I missed a couple of pools to give myself a bit of time for the weir pool. I missed one take and struggled for a bit before being broken by something fairly hefty at the very top of the pool. By now it was definitely getting cold so I decided to call it a day and a very pleasant it had been – just under 5 hours 12 trout and a bonus chub on a mix of dries and goldheads. It felt good to be back catching.

March 25th – Howkeld Beck and the River Dove
The long awaited day for the start of the season finally arrived and having seen how good Howkeld Beck looked the week before when we were doing working parties at the Ings farm beats I decided to kick my season off with a couple of hours on Howkeld beck, a leisurely lunch, then follow up with a look at the river Dove.
The 25th was a glorious day, warm sunny and tackled up with my 6' Rawson glass everything felt right with the world.
I slipped into the beck in the same run I first found last season and the beck looked perfect. Three hours later Howkeld beck still looked perfect, but hadn't produces a single take. I'd tried dries and I tried nymphs and even deep sunken goldheads but I hadn't seen a fish or a rise and not had so much of a sniff of a pull. So my leisurely lunch sat on the bank was a bit of a sad affair.
In the afternoon I fished up the River Dove which also looked perfect, but sad to say I didn't see a fish or get a touch there either.
It would be easy to blame myself for lack of practice, but another YTAA member was also fishing the Dove and when we met up just before 17:30 he confirmed that he hadn't seen a rise or had a take either. Between us that was nearly 12 hours of casting without a single trout (or grayling) to show for our efforts. Both the Dove and Howkeld Beck looked perfect but maybe the water was just a little too cold? There were a few flies hatching but nothing dramatic to stir the fish. Anyway whatever it was, there were two slightly dis-heartened anglers who left the opening day with blanks.
I haven't had a chance to fish anywhere since and as I am off to Wales this week it will be a while before I can try YTAA Becks again.