Tales from the Riverbank - 2021

30th September – Last Cast at Thirkleby Mill
The last day of the season and I can't get a full day in as I have my free flu jab early afternoon but I have the Hardy 5'#2 already set up in the campervan ready for a quick start once I do get to Thirkleby Mill.
The weather wasn't looking too great and having been soaked on Tuesday at the Riccal I'm wearing a thin waterproof as I really don't need to get soaked twice in a week. I had decided I would only fish from below the footbridge through to the weir pool at the top of our beat to make the most of the time available and as I was fairly sure I could catch at least one or two trout there to end the season.
By 2:50 I am having my first cast using an Adams Klinkhammer and by 2:51 the first trout is recorded in my log book – a very quick start and I'm happy that at least I haven't blanked. Next up was a grayling from the long pool next to Balk Grange Farm. I was pleased to get that as I haven't had a fish there all season and always worry that there is overflow from the farm's cesspit which is being directed into the beck, so a grayling was a good indication that the is little if any sewage flowing in.
I start picking up trout in most of the more open runs despite the intermittent drizzle which is falling. The fish seem to be very interested in the Adams Klinkhammer and I am getting plenty of rises, that is until I come to the top of the "Pylon length" where I get no interest at all.
There are always trout and grayling in this pool which is surprisingly deep, so I switch to the same Klink and Dink rig with silver beaded Pheasant Tail Nymph that brought me success on the Riccal last time out. The difference was instant with take after a take and I landed 3 trout and a dace and lost a good grayling and another trout in just 15 minutes. Eventually the takes dried up and I moved on changing back to the Adams Klinkhammer to try the smaller pools below the weir and the weir pool itself but got no more rises to the dry fly.
Switching back to the Klink and Dink rig again to search the fast water of the weir pool I was back into fish landing 7 trout, a dace and a grayling in 40 minutes, but inevitable losing a couple of trout and what looked like a very good grayling in between. My last fish a modest 6 inch trout was landed at 6:25 by which time it was starting to get dark and I decided enough was enough.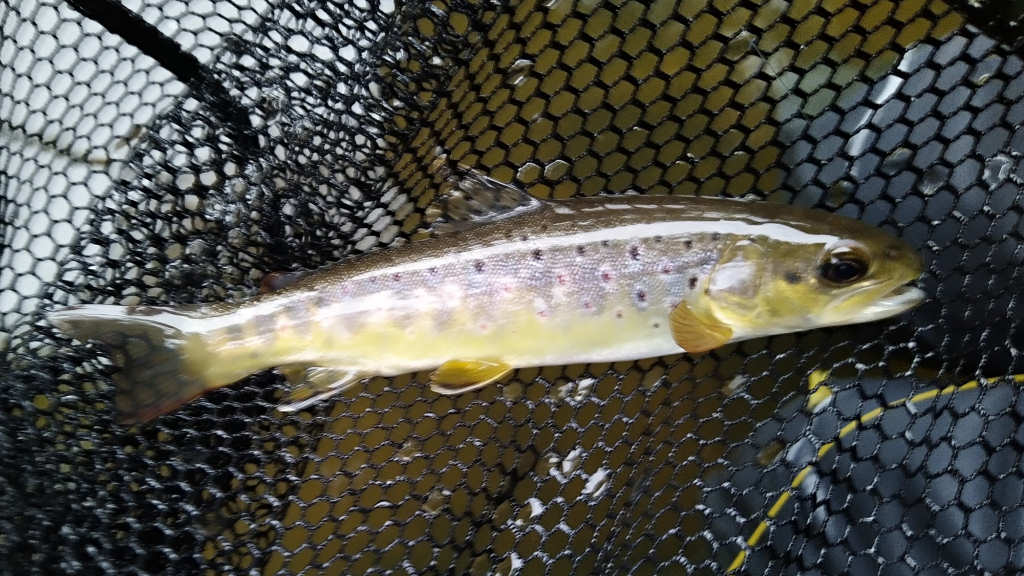 It's not often I walk away feeling really happy with my fishing but today was an exception and with 15 trout 2 grayling and 2 dace in the log book it was a very good end to my season.
This has been my best season on YTAA Becks in the last 21 years that I have kept full records – 32 visits accounting for 266 trout, 28 grayling, 14 chub, 13 dace and 2 minnows! It will be hard work trying to improve on that next year!


28th September – A Rainy Day on the Riccal
The end of the season looms ever closer and I wanted a good day at the Riccall, not least because I wanted to try for a really small trout as part of the Seriously Small Salmonid Club remote fish off with my friend Go-Pro Gordon, trying at the same up in Scotland as we couldn't meet up this time. The smallest wild trout would win the trophy.
The beautiful day in York became a beautiful day at Nunnington, but with a nasty breeze looking to spoil my fun by the time I was ready to fish.
I knew the Riccal would be fairly overgrown and I wasn't wrong and the cross wind wasn't going to help. The lower runs were particularly bad and at first I thought I had made the wrong choice of venue and was heading for a blank but then I landed a small trout on a Parachute Adams and felt a bit happier.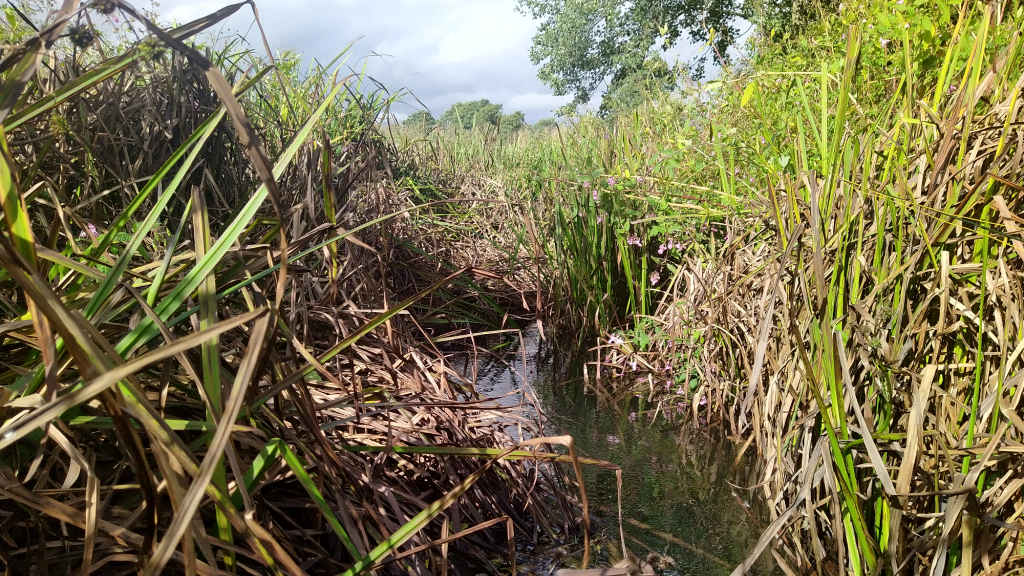 The wind which had been picking up died away but the rain started and as has happened before my waterproof was back in the campervan. I switched to a Klink and Dink rig as it was impossible to keep a small dry fly from being sunk in the rain and immediately picked up a good 11 inch trout using a small Silver headed Pheasant Tail Nymph. This was followed shortly after by a small grayling and on the next cast a 3.5 inch trout which I was sure would be trophy contender.
The rain set in with a vengeance now and I was really getting soaked but the trout seemed to wake up and I started to catch regularly. The ninth trout of the day was a beautiful 10 inch fish which was rather nice as it was my 250th from YTAA becks this season.
250th Trout
Having reached that milestone I decided to go and get dry and have a cuppa in the campervan, but then as I was walking back along the bank I saw a big rise in one of the more accessible pools. I slid back into the river and on my second cast in the right area the Klink vanished and I tightened into a good powerful fish which turned out to be my second 11 inch trout of the day. Having returned him carefully I really did think it was time to pack up even though it was only just after 4pm. I was absolutely soaked but very pleased with 10 trout and 1 small grayling. I wasn't sure if I would get out again this season but if I don't at least I had finished on a high note.

24th September – Getting pre-occupied above the A19 Bridge
It's been over three weeks since I last fished on our Becks, mainly because I have been in Wales where the fishing was well below average. I did get some very nice grayling on the Welsh Dee but didn't get anywhere near as many trout as I expected.
Back in York I had an afternoon free and decided to fish above the A19 Bridge. I started well with a nice little trout followed shortly after by a dace, but then things slowed up.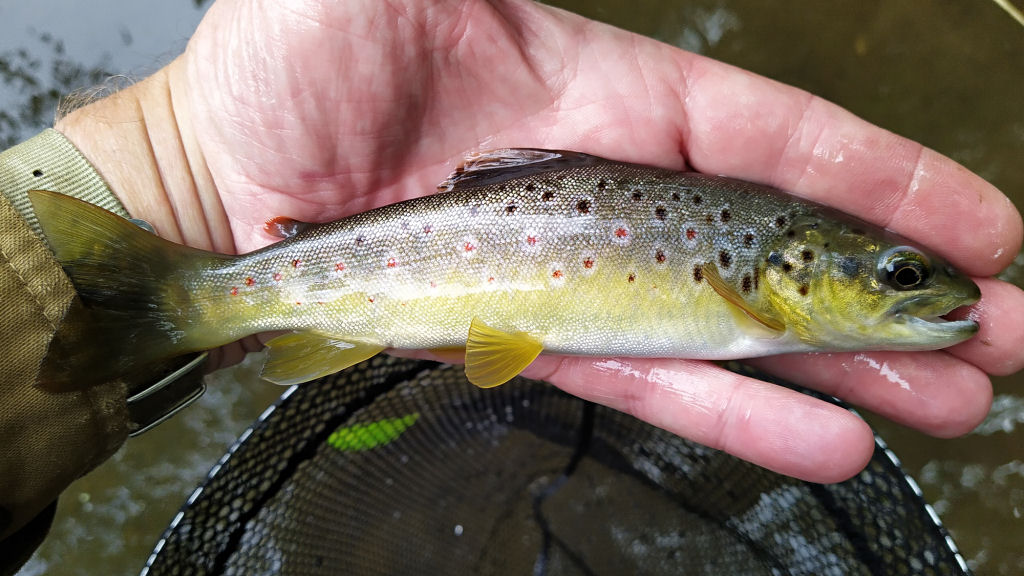 I lost a good grayling in one of the big pools and then casting further up I saw a decent trout rise up to inspect my Black F Fly but reject it. Things then got sort of personal as I tried various flies trying to tempt him, some of them he inspected but most he just ignored. To add insult to injury there were a number of small grayling rising consistently in the pool and they also ignored everything I threw at them. They were clearly taking something small so I even went down to a size 24 F Fly but even that didn't work.
Eventually after nearly an hour of patiently trying I eventually moved on and at the next big pool I had a similar experience, losing a decent trout then trying all sorts of dry flies to try and tempt a number of grayling that were rising freely up and down the pool.
After nearly an hour I switched to a silver headed Pheasant Tail fished NZ style and first cast landed a very respectable Chub. On the very next cast chub number 2 obliged and two casts later chub number 3 was landed. This was crazy, I had almost two hours of not landing a fish and then get 3 fish in 7 minutes. Having released the last chub I thought I would have one more cast and promptly landed a trout.
By now the time was getting on with the sun fairly low in the sky and it was obvious that I wasn't going to get the whole load of trout I wanted so I decided to miss a few of the pools out and try for a grayling in the first decent pool below Arden Bridge. I have had several nice grayling there in the past and it seemed my best chance of completing the full house of Trout, Dace, Chub and Grayling which would be a satisfying end to the day.
I sneaked into position at the tail of the pool and sure enough I could see that there were several grayling moving. First cast a tiny grayling splashed at the Royal Wulf I was using as a Klink, next cast the Royal Wulf slid straight under and I tightened into a powerful fish, which turned out to be a decent dace and not the grayling I was expecting.
I tried a few more casts but there were no more takes as the dace had probably scared everything off so I called it a day.
It had been funny sort of afternoon, I had not caught as many trout as I hoped I would, I hadn't even completed the "Full House" with a grayling, but I had enjoyed the challenge that Isle Beck always presents and there won't be many more trips as the season is nearly over.

1st September – Fun and Games at Thirkleby Mill
I last visited Thirkleby Mill on 2nd August so almost a month on I felt another trip there was overdue. I started in the corner of the field below the farm track bridge but didn't get anything until I came to the narrow run I have mentioned before. There was a trout rising tight into the right hand bank well protected from a cast by overhanging plants.
The obvious answer would be to cast well upstream and let the fly drift down under the plants to get to him, but there were two long nettles hanging out across the stream about 5 foot above the water preventing a straightforward cast upstream and with high balsam on my left a side cast under the nettles from the left was completely out of the question. The only way to get a fly near him would be to cast high up and over the nettles letting my fly line rest on the nettles then keep my rod high in the air while the fly drifted down.
I do love it when a plan comes together. First attempt the fly line landed neatly over the nettles, the fly dropped on the water a foot or so beyond the plants and the trout took it almost as soon as it landed. The nettles bent under the weight of the fish and the fly line came free and a few seconds later the trout was in the net. At ten inches not the biggest of trout but a very satisfying catch so a quick photo and safely released.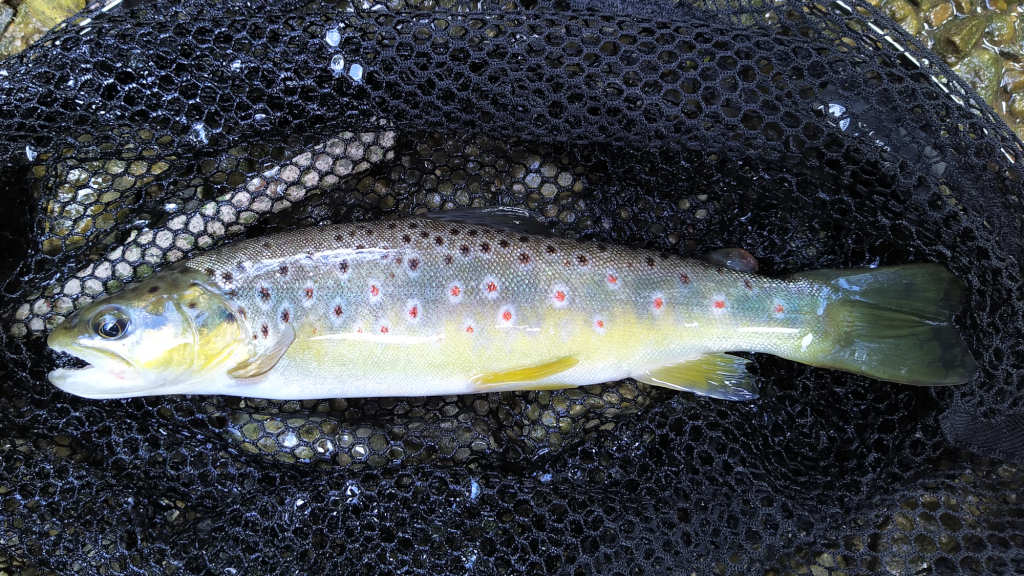 After what felt like a perfect start to the session the rest of the afternoon was a bit of an anti-climax. The beck at Thirkleby is as you can guess pretty overgrown and with the bankside vegetation very high and some of the fallen trees are getting difficult to pass. I took my time to enjoy the challenge and eventually ended up at the weir pool at the top of our beat with 1 grayling, 2 chub and 10 trout recorded in my waterside logbook.
Walking back down the track to my campervan I was confronted by the five large guard dogs that are normally penned in by the caravan charging straight at me, barking and growling oblivious to the calls from their owner. I really thought my new waders were about to get shredded but the dogs calmed down when they reached me and just circled me growling menacingly just to show me who was really boss. I actually had a good chat with the farmer who was walking up with his brother (who owns the dogs) and he is hoping to get a couple of the trees that are down in the beck pulled out and chopped up for firewood which would be good. A working party or two up there wouldn't go amiss as well.

27th August – Isle Beck Above The A19
I was a little disappointed that Wednesdays trip to Isle Beck below the A19 Bridge had only produced a few trout so after a day off to recover I decided to see if I could do any better with an afternoon fishing above the bridge.
I didn't get any interest in the run under the Alder tree, but in the skinny little run above it a little wild trout took the Adams Parachute and I was off to a great start just three minutes into the trip.
I tried to cast into the new pool that has developed above the skinny run but caught my cast in the overhanging branches and mangled my leader so badly that I had to renew it completely and changed to an Olive F Fly to fish the next few runs. A couple more small trout followed and then after missing several rises in the Kingfisher nest pool I eventually hooked into and landed the first grayling of the day.
Moving on I landed a couple more trout on the F-fly before changing to a goldhead on a Klink and Dink rig to try one of the deeper pools and successfully landed a small trout and then a one and a half inch minnow.
Moving on and switching back to the Olive F-Fly more I got a couple more trout before changing back to the K&D rig to try a deep pool. This produced the second grayling of the day and the best trout so far.
I changed back to the Olive F-Fly for the next few runs and made a real rookie mistake. The beck is low and very clear and because you can see the fish coming up to take your fly it is easy to strike too early before the fly is properly in the trout's mouth. On one of the slower runs I could see a big trout rising up to take my fly, clearly a good fish I was thinking I must not strike to soon, but then did just that just as he took the fly! I felt him briefly as the fly pinged out; needless to say he showed no further interest. So I moved on again.
Switching back to the K&D rig I got a couple more trout on the goldhead and then a chunky dace which at 9.5 inches is one of the biggest I've seen for a while.
By now it was starting to get dark so I missed a couple of pools and headed up towards Arden Bridge as I really wanted a cast or two on the first pool below the bridge. Back in the beck I could see a number of grayling and missed several rises before getting a good 12 inch grayling on the F-Fly. It was a bit dark for a photo of it and anyway grayling wriggle so much it is always hard to get a good photo so in the fading light I didn't bother trying and he was slipped straight back. A couple more casts produced one more grayling then it was like someone had turned a switch and all the rises stopped so I called it a day.
I walked back down the field in the increasing dark quite pleased with the day – a minnow, a dace, 4 grayling and 9 trout in just over 5 hours is not spectacular but was good enough.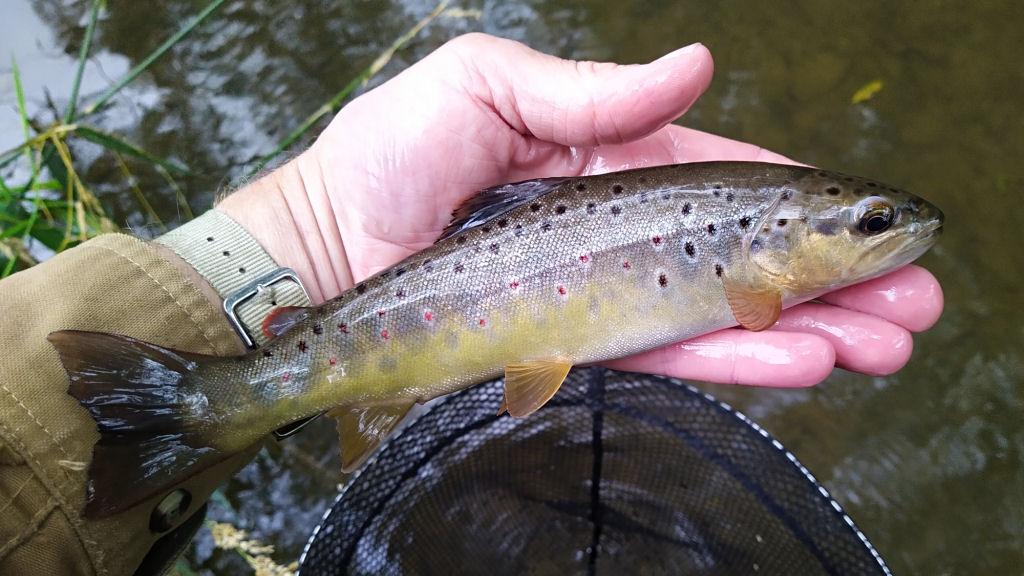 25th August – Isle Beck Below The A19
I have not paid much attention to Isle beck below the A19 this season so felt it was due a visit even though I knew the path downstream would be rather overgrown. I wasn't disappointed it was hard going and it took me a while to get down to my starting point.
A good grayling from the first run was encouraging but as I moved upstream I was puzzled by a stream of dust and wheat chaff drifting down the beck. The next pool I wanted to fish was almost covered by wheat chaff and was unfishable but worse was to come. The big pool was completely covered with a thick layer of chaff that had obviously been pushed down the bank by the farmer.
Above the big pool the beck was clear and I gradually started getting fish on a mix of Small Olive F Flies and one on a goldhead fished Klink and Dink in a deep pool.
It was hard work with overgrown banks making the beck seem narrow and low branches making casting a challenge in places, but most of it was fun.
I ended the day on 3 trout, 8 grayling (one of which was the smallest grayling I have ever seen) and a minnow.
It is starting to get dark early and by 7:30 it was almost too dark to see my fly under the trees below the A19 bridge and I was glad to call it a day. If you are fishing below the A19 tread carefully the grass is long and there are plenty of trip hazards hidden in the nettles and balsam, but once you are in the beck looks good and there are plenty of fish about.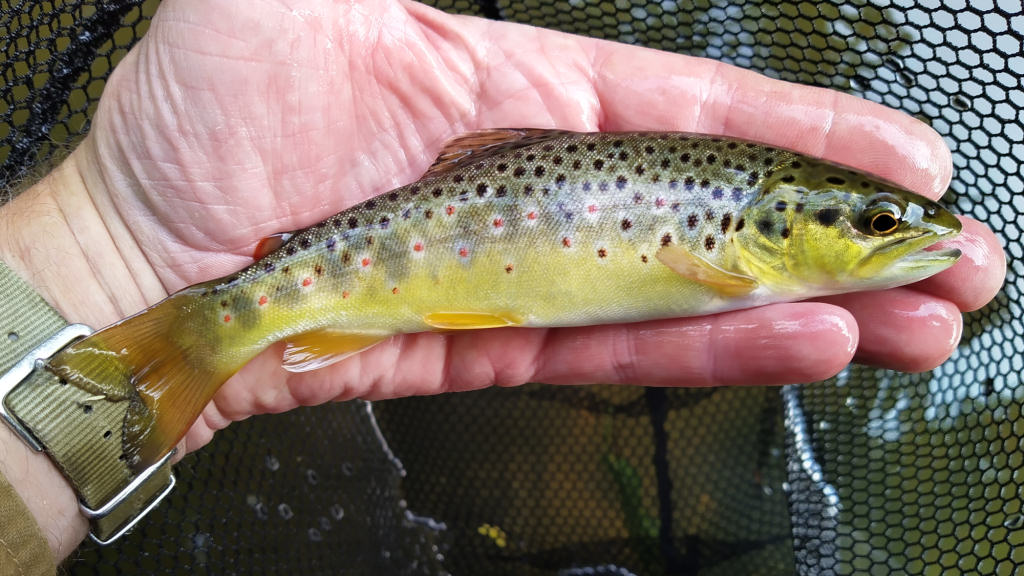 10th August – The River Riccall
Having broken my previous best season on YTAA Waters I am now fairly relaxed about fishing but wasn't sure where to go to for my next trip out. I had more or less made my mind to try Isle Beck below the A19, which is a bit of a pain to walk down the overgrown path to the start, when my mate Go-Pro Gordon suggested I go back and suffer at the Riccall instead.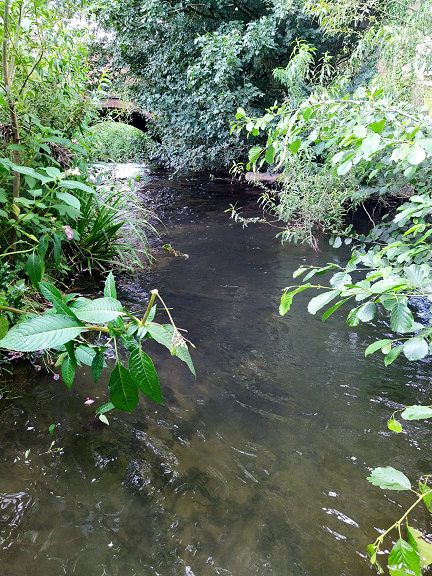 I was late starting out and then there was a diversion so it was quarter to three before I slipped into the river just below the bridge. I tried to get a couple of trout from under the elderberry bushes that overhang the river but they weren't having it. I moved up a little and with a flick cast into the little pool below the run off from the bridge hooked and landed trout number one, it was barely 6 inches but I was pleased to have got him as there wasn't really any room for a proper cast between the balsam on one side and the overhanging elderberry bushes on the other.
Above the bridge I failed (again!) in the first deep pool but picked up a nine inch trout from alongside the river level gauge. He put up quite a fight on the 5' Hardy Aln and tried to go under the wooden supports of the river gauge disturbing several other trout that had been hiding under the planks. I think I might try drifting a goldhead tight alongside the planks next time I'm at the Riccall as a couple of the trout that came out looked pleasantly large.
I worked my way up the Riccall picking up the occasional trout but having trouble with the almost complete canopy cover of low branches from the overhanging trees, having said that I did only lose one fly to the trees all afternoon. In fact the most annoying thing seemed to be my fly line catching on twigs and bits sticking up from the waterlogged roots from many of the bankside trees. Almost every cast seemed to get caught preventing a clean lift off which was a bit frustrating.
It took me just over 4 hours of careful stalking to reach the top of the beat by which time I had landed 7 trout, not a huge haul but very acceptable in the conditions.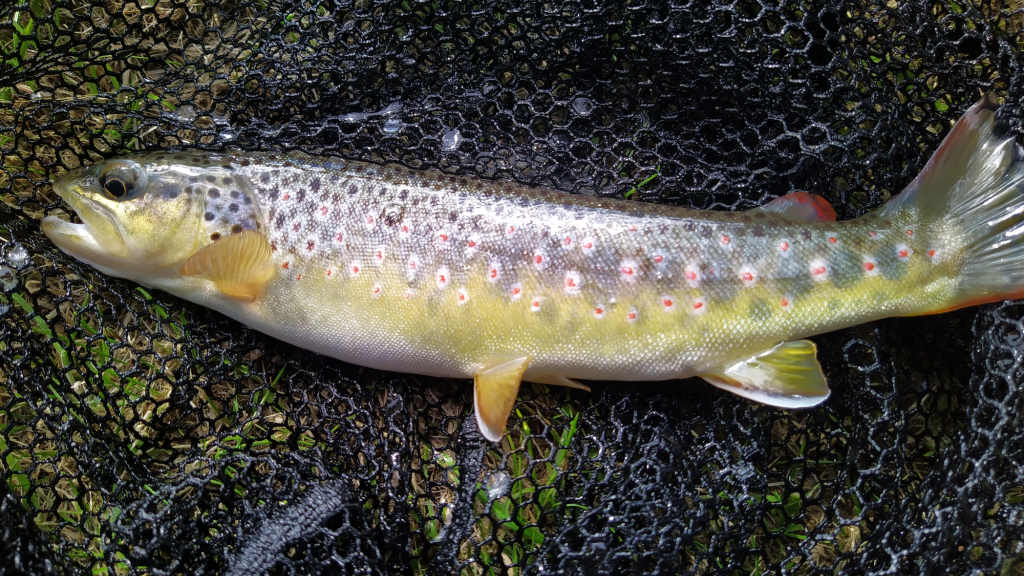 2nd August – Record Breaking Session at Thirkleby Mill
Well I have finally broken my personal record for trout on YTAA becks in one season. In 2016 I managed 203 trout but today I passed that.
I was a bit late starting and it was 4:15 before I stumbled down the bank and into the beck at the bottom of the field below the farm bridge. Nothing doing in the first two runs, but in the narrow run where I failed to catch last time I was here I got a nice trout from under an overhanging bramble and then got a slightly better trout from a little further up the run.
I enjoy playing this game of sneaking up as carefully as possible casting to and catching a trout from the under brambles or near the tail of a run, getting him clear quickly then catching a trout from further up the same run that doesn't even know there has been a disturbance behind him.
Moving on I got nothing in the next two runs then briefly hooked a fish in the run below the big pool. I could see he had gone straight back to his original position so I waited a couple of minutes watching him and he still appeared to be feeding on something so I cast again and this time landed him.
Next up was the big pool which produced a tiny dace and then an 8 inch grayling from the run going into it. I couldn't tempt the trout under the Willow tree in the corner of the chicken field, (which should really be called the Charolais Cow field now!), but did get a 7 inch trout from the long pool in the middle of the field – I think it is the first from there this season.
I didn't get any more takes until I was up to the blue pipe pool where I missed an absolute cracker of a fish, I saw him rising up to take the fly and probably tightened too soon and only felt him briefly.
Further up under the trees I got a 6 inch trout which I knew was trout number 203 equalling my record so I moved on up above a couple of fallen trees to a pool that has produced good trout in the past as I wanted the record breaker to be a bit special. It needed a long roll cast to get into the run and I flicked the fly out while I pulled off more line and as I did a trout took the fly, I had so much slack line in my hand I couldn't really strike but somehow the trout hooked itself and once I had my line under control I landed the record breaker – a massive 5 inches and a bit of a fluke still they all count if they are in the net.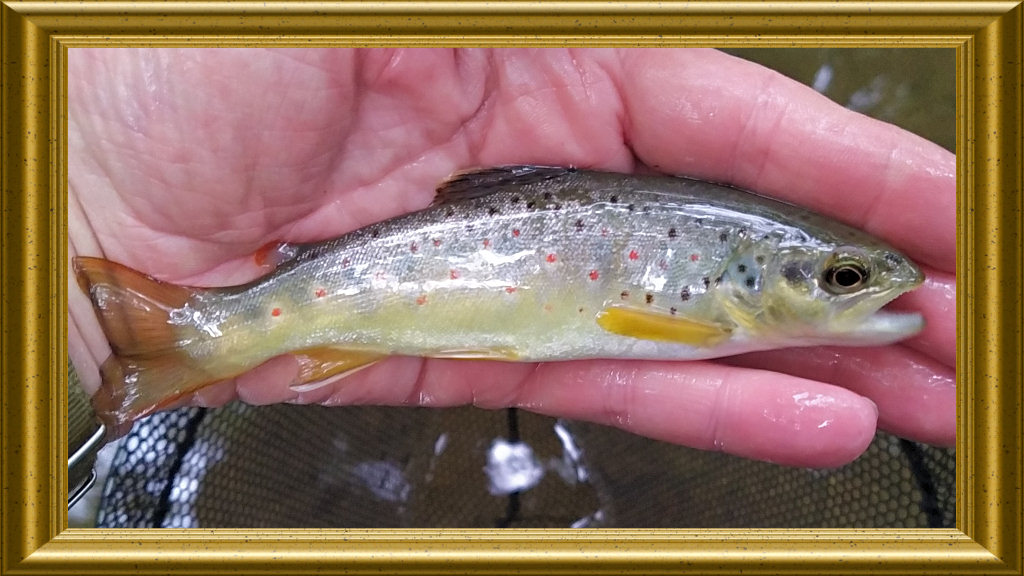 The Record Breaker
I moved on picking up a small trout from a tiny run below the footbridge pool. I do like getting trout from tight runs and overhanging brambles, mostly they are 5-6 inches but sometimes something much bigger comes out so it is always fun finding out.
I picked up another trout above the footbridge but moved quickly straight through a few pools as I particularly wanted to fish my favourite 19 second pool, and the pylon length. I could only manage a 9 inch grayling from 19 second pool, but got two more trout from the top of the pylon length, the second being the best of the night at just under 11 inches but nothing else before I got to the weir pool. At the weir pool I got one more small trout on the size 16 Adams Parachute that had worked so well all evening before changing to a gold head to try the deeper fast water below the weir. Second cast with the 'Klink and Dink' and the Grey Wulf vanished and I found myself playing another 5 inch trout which made it a nice round dozen for the session and time to call it a night.
I have been aiming to get past my 203 trout record for a few trips now and it was a relief to finally get it done, (albeit with a small fluke trout). It now stands at 210 though I am fairly sure I will get a few more trips in before the end of the season so it will be interesting to see what I can push it up to.
Once again I found that most of the fish this evening came from the faster (better oxygenated) water, not in the slower water at the end of pools. Also only a couple of the trout were rising fish to target, so if you are fishing aim for the edge of the current or edge of faster water where fish may be lying looking for any food drifting down.

Tight lines!

30th July – Isle Beck Above the A19 Bridge
I was hoping to get out early and get a good day's fishing in and break my record for the most trout I've caught in one season on YTAA waters, but heavy showers during the morning put paid to an early start.
Eventually I set off with the rain stopped and the local forecasts for Thirsk, Easingwold and Great Thirkleby all showing breaks in the rain during the afternoon. Just before 3 pm I was wading under the A19 Bridge and a few minutes later the first trout of the day was landed from the run above the first big pool.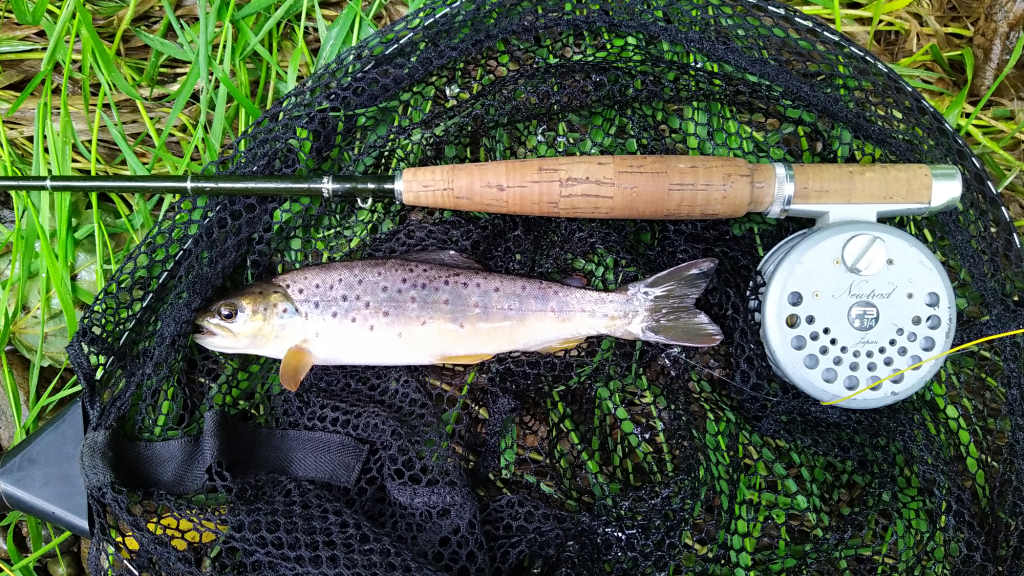 Trout number 2 turned up a few minutes later from the small run just above the first big log jam. This run is nothing much to look at but usually produces an average size trout. Today the trout was half an inch below average at about 7.5 inches! I've said before that even the smallest of runs and pools on our waters are likely to hold trout and they are all worth a cast or two. Trout Number 3 was very average at exactly 8 inches and came from a shallow run alongside a part submerged log at the top of a bigger run. I saw him rise but with some long grass and balsam preventing a proper cast or a roll cast I had to sneak right up close and more or less flicked the fly out and he took it first time.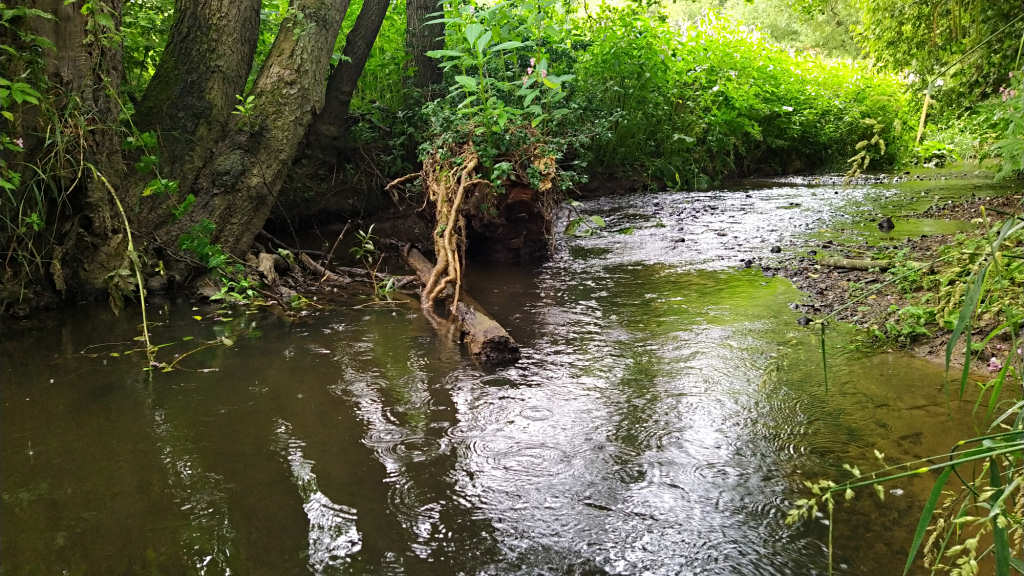 Moving on around the corner I tried a cast below a big tree lying right across the beck. A trout hit the fly, I tightened and felt him but he was gone and didn't show again. Moving over the tree I lost another trout and just to add to my joy, it started to rain quite heavily and it didn't stop again.
It is pretty miserable trying to keep a dry fly on the surface when it is raining, it just takes one drop of rain on the fly and its sunk. Drying it out when your hands are wet and your amadou is wet and there is rain dripping off your hat does take away some of the pleasure of fly fishing. However I persevered and got trout number 4 (well below average at about 6 inches) from a big pool where I also tried a goldhead Klink and Dink style without so much as a hint of a take.
I moved on quickly through a couple of pools I would normally say were dead certs for a trout or two without getting a rise, but next I did get the best of the day, an 11 inch trout from close under a bush on a small pool and felt rather pleased as it was quite a tight cast to get right alongside the bush.
I had to get out to get past some large woody debris and then in the next pool twice missed a rising trout. Once again I tried a goldhead and once again got no interest. It was shortly after this that the rain eased off and eventually stopped, but after two and a half hours of fairly steady rain I was cold and more than a little damp and as the beck was now a nasty chocolate colour and starting to flow fast and rising I decided I'd had enough and walked back down to the bridge. Surprisingly looking over the bridge again the beck was still low and clear as the muddy water hadn't yet reached down to the bridge.
I haven't got quite enough trout to break my previous best season record, but I am getting closer so it should go at some point fairly soon. I just need one good session so watch this space.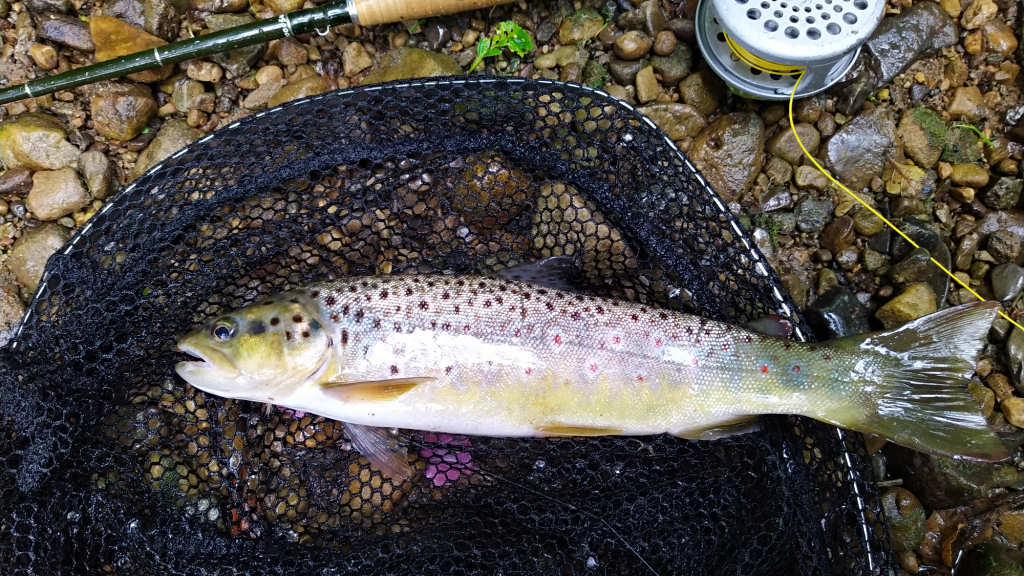 27th July – Ings Farm
The plan today was to have an early start, catch half a dozen trout on Howkeld beck then after lunch fish back up the River Dove and get another dozen or so to make it a pretty good day.
My early start evaporated and it was twenty past one in the afternoon before I slid down the bank into Howkeld Beck. I actually had trouble finding a way in through the balsam which had grown a lot taller since my last visit on 17th June. Anyway despite the later than planned start I was soon into a nice 10 inch trout which was logged and released. Howkeld Beck was still looking good and 10 minutes later Trout number 2 (also 10 inches) was landed released and logged in the book. This was just what I wanted, but then I lost a trout in a fast run and it was an hour and a half before I connected with another trout which was just a fraction under 12 inches. Things then went downhill and try as I might I couldn't get another rise, in fact I only saw two more rises and both fish ignored my offerings. Eventually I reached the top of our beat (well nearly the top) which was pretty overgrown with trees growing up right in the beck making casting impossible, so despite only three trout I decided to walk back down to the River Dove and fish my way back up the river to the old barn where my campervan was waiting.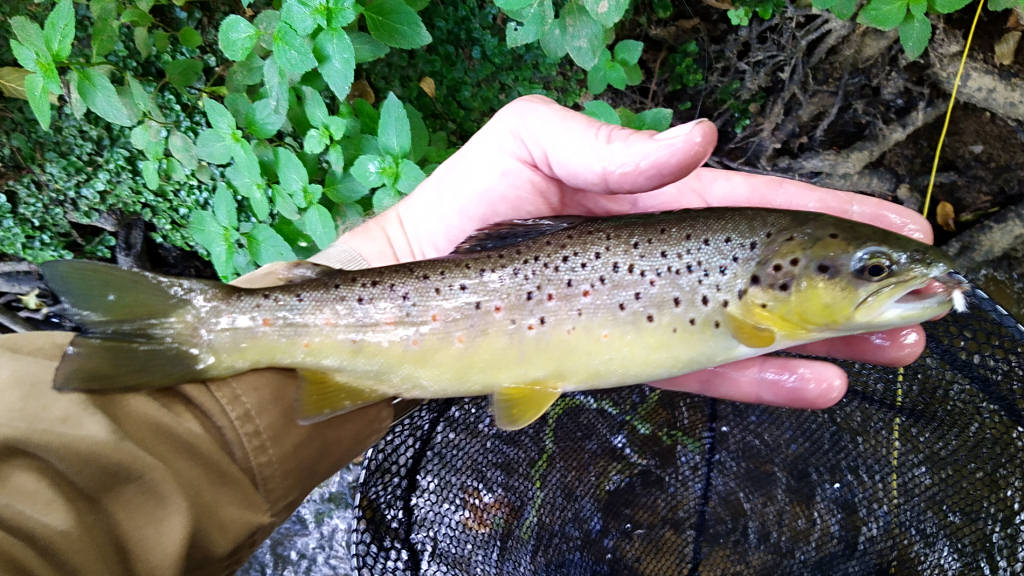 The Dove was actually quite low, the KirkbyMoorside gauge was showing 19cm and while there were still plenty of deep pools, quite a few of the runs and riffles were down to bare bones and I struggled to get a rise. Eventually after nearly 2 hours I picked up a 5 inch trout from a fast run. But it was the last fish that I got for some time.
I worked my way upstream looking carefully for trout hanging at the tail of pools and runs and wading as carefully and quietly as I could, even so it was disappointing to see several very respectable trout shoot off into the distance despite my best efforts to move stealthily.
In the end I sort of gave up and was just going through the motions casting in all the right places but not seeing anything rise and nothing was taking my flies. I was almost going to give up completely when I remembered the deep shaded pool near the old barn. It is completely overgrown with trees but I guessed that a goldhead fished Klink and Dink and cast into the current might get something and I was right. On the second trot down the current the Royal Wulf vanished and I found myself playing a very determined trout but my 6 foot Rawson S- Glass was well up to the job and soon a nice trout was in the net and quickly released. It was 19:50 and I was happy to call it a day. I had only managed to get 5 trout in nearly 6 hours of fishing but at least 4 of them were above average.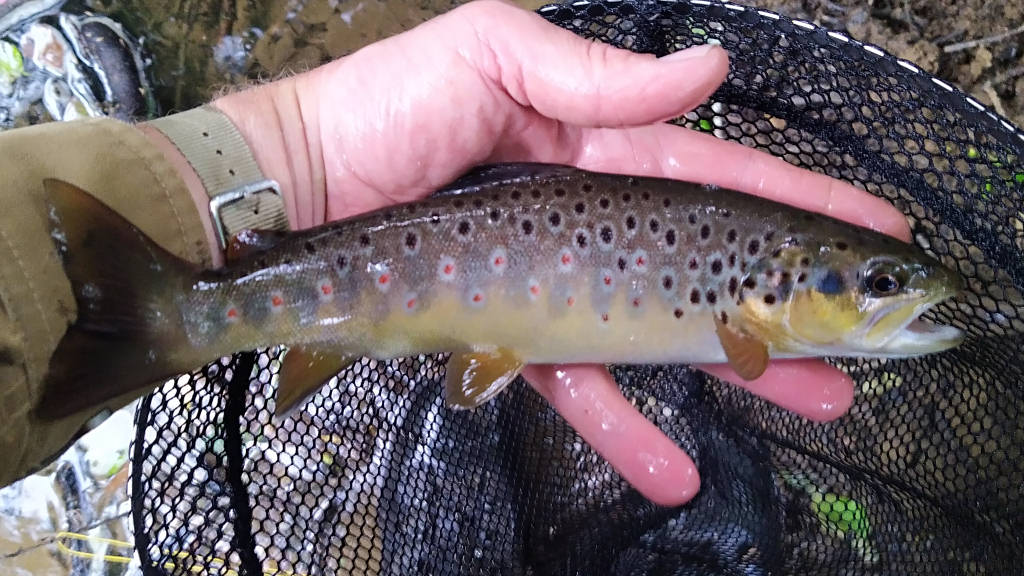 It is worth noting that all the trout I caught today were from fast moving water not the slower deeper glides. As for my plan of a dozen or more trout that really didn't happen and in the end it felt like very hard work just to get the 5 trout I did land. If you are thinking of fishing at Ings farm you have a good chance of getting something but maybe don't expect a bag full, Howkeld beck still looks good (almost very good in the lower part of our beat) but it is tricky finding a way in through the balsam. The Dove as I said was low and clear and the trout weren't really playing so maybe we need a bit of rain to liven things up.

21st July – Willow Beck Above Willow Bridge
I had a couple of hours to spare at the end of a long hot day and decided I would have a quick look at Willow Beck above Willow Bridge.
Again I had no expectations of getting any trout as I knew it would be hard work as the beck is very overgrown and hasn't been worked on for years and as with the beat below the bridge I haven't fished there for 5 years.
Tackled up with the 5' #2 Hardy Aln again I got in fairly easily just below Willow Bridge and waded through to start fishing above. Once under the canopy of trees it felt quite oppressive with almost total cover and I also remembered how deep it was with a decidedly slippery silty bottom.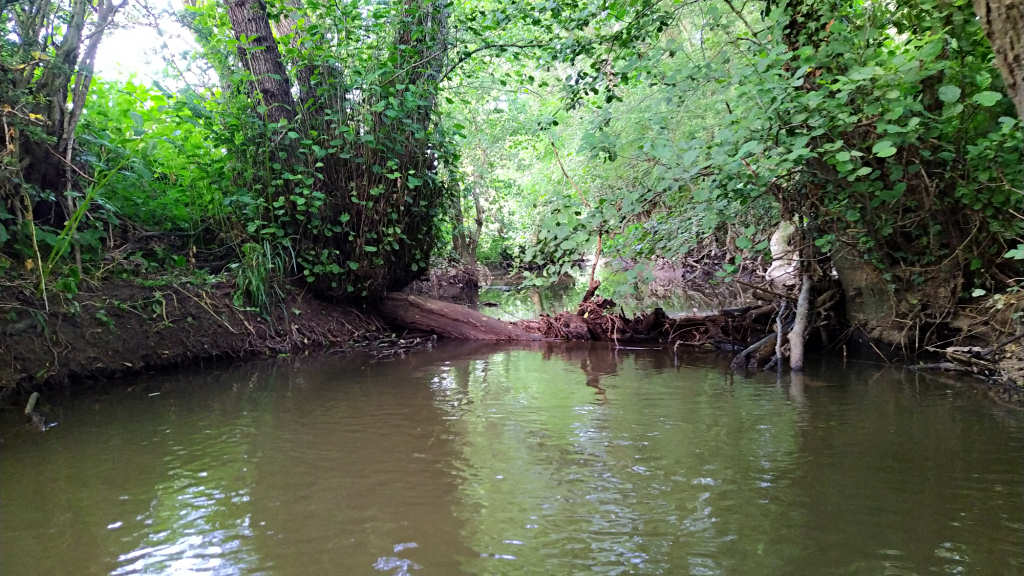 There was nothing rising at all but that isn't too unusual but then casting in all the likely spots didn't get any reaction. I got as far as a part submerged tree trunk before the beck was too deep to wade and managed to struggle out up the left bank and into the field to bypass the deep pool. In the end I went quite a bit further up to where it was shallower and slithered back down the bank and into the beck.
Nothing was rising and I was getting nowhere as the number of dead trees in the beck got higher and it was a constant battle trying to get over under or through them. After an hour I'd had enough and got out initially I was going to drive round to the A19 bridge, but then I remembered there were a few pools further up Willow Beck that were fairly open so I made my way over a gate to try them. With nothing doing in the first pools it was the big pool by a small farm bridge that saved me blanking.
A couple of fish nudged the Olive F Fly but didn't take it, but changing to a size 18 dark Klinkhammer I eventually got a rise and a small dace was gratefully landed had his photo taken and quickly returned. I tried a Goldhead Klink and Dink style in case there was a grayling or a trout about but got no takes. Switching back to a size 16 Black F Fly I tried under the little farm bridge and the run above it but there was nothing doing so I was glad to call it a day after just 2 hours of what felt like very hard work.
No trout to add to the record but I was very glad not to have blanked completely.
I saw a lot of otter tracks and a bit of otter spraint, I didn't see a single fish rising other than the dace which I eventually caught and I don't think I will bother trying Willow Beck again until we have had a working party or two to clear the worst of the branches and obstructions until then it hardly seems worth the effort.

19th July – Thirkleby Mill
After my Willow Beck session last week when I knew I was likely to get few if any trout I wanted a good session with the possibility of a big catch so I headed up to Thirkleby Mill intending to take my time in the sunshine and see what I could do.
Tackled up with the 5' #2 Hardy Aln I started in the corner of the bottom field a hundred yards or so beyond my normal start point. I hadn't been that far down this season and thought it might be nice to catch a trout I haven't seen before.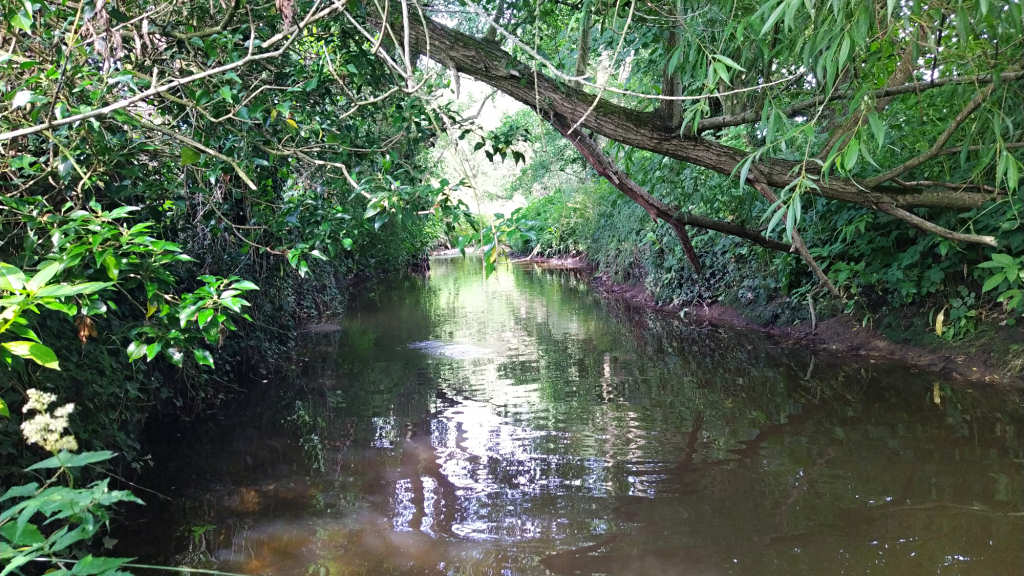 There were fish rising in the second run up and one soon took the #14 Olive F-Fly – but it was a little dace not a trout. Having carefully returned it I could see what seemed a better fish rising near the top of the run and a couple of casts later a good trout was in the log book and returned.
Moving up a bit there were several fish rising in a shallow run by overhanging brambles. I missed one first cast but several other trout at the top of the run kept rising so for 10 minutes I kept trying to get a fly over them but with little success. One nudged the fly but didn't take, the others ignored it and I eventually moved on. I do take it personally when trout ignore my fly and I can easily spend too much time on one little run when there are plenty of other fish to fry …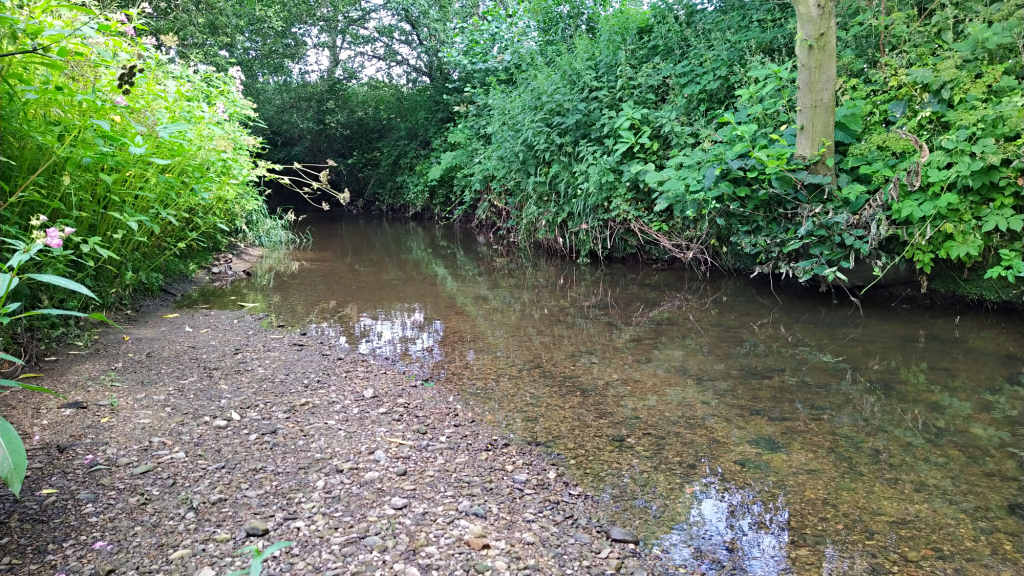 The next two runs both produced 6 inch trout and the big bend pool produced a 10 inch trout. A series of dace and chub from by the little track bridge went into the log book. I missed a very good trout that was rising at the far end of the Willow Bend pool having spent what seemed like an age crawling along the muddy bank to get in position to cast to him!
I picked up a dace from under the Mill bridge then 3 trout in quick succession from alongside the Mill wall. Then a trout from under the trees, having first snagged my fly on a root I retied my cast, caught the trout then retrieved my fly and broken cast from the root.
I was a little concerned that the colour of the water was turning a muddy grey brown and I feared that there was pollution coming in from Balk Grange Farm as happened once before but there were no dead fish and no fish in difficulty and I added several more trout, dace and chub by the time I got to the overflow pipe from the farm. The pipe seemed ok and the water was still a silty brown colour above it as I waded further on so I don't know what caused it.
I landed a couple of small trout from the run below "Janet's Hut" and a good trout from the pool alongside it. I have had good trout from this pool before, you stand carefully to the left of a sort of Island and roll cast into the faster current the far end of the pool. I tried this several times with no result, I was just pulling my line back for another cast when the trout took suddenly from the middle of the pool, a bit of a fluke but they all count!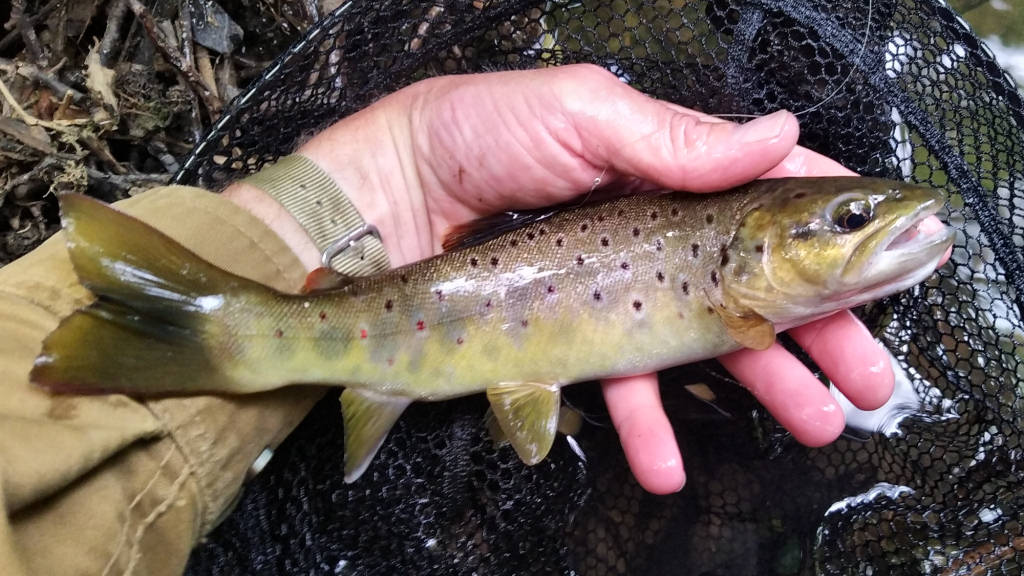 There is a very shallow pool just above Janet's hut that you would normally walk past (and I have done so a few times this season!) but tonight I fancied my chances and a 7 inch trout was added to the log.
Another small trout from the long pool below the log jam, which you can now wade up to and clamber through instead of struggling up the bank and into the field to get round it. There was nothing doing in the next couple of pools and it was quite dark under the trees when I reached "19 second pool". The current here goes left to right, swirls around the corner and back towards you. I missed the good fish rising right in the far corner, but picked up two 7 inch fish from the main current. Time had moved on and it was clearly going to be dark before I could fish the Pylon length or weir pools so I decided to quit – it was nearly 9pm and I had been fishing over 5 hours. You can get out of the beck on the right up a not too steep bank just above the 19 second pool and get into the field and back down the footpath over both footbridges and down to the Mill.
It was almost too hot when I started to fish but as it cooled down a bit the fish really came on and the last 7 trout came in just one hour. It had been a very pleasant session, I hadn't lost a single fly to the overgrowth (though one Olive F Fly was chewed beyond recognition) and I ended up with 4 dace 5 chub and 16 trout.

15th July – Willow Beck Below Willow Bridge
My season so far has been really good and I am on course to break my previous record for number of trout I've caught on YTAA becks, even so I thought I would have a look at Willow Beck from the confluence with Cod Beck up to Willow Bridge.
Once upon a time I used to reckon on catching 6 to 12 trout in a couple of hours on this beat but it has got more and more overgrown and almost impossible to cast on it. In fact it has been a long time since I tried to fish on Willow Beck below Willow Bridge, that was on 17th June 2015 when I fished Cod beck then worked my way up Willow Beck struggling with the overgrown conditions and only landing 1 trout.
I was a bit late getting out so it was gone 6.15pm before I was tackled up and walking down the field. I bashed my way through high balsam to find the little foot bridge over the ditch but the first two steps have rotted away and while the rest seemed a bit firmer when I prodded them with my wading staff I decide not to trust them and struggled down and across the ditch a few yards further up.
I got into Cod Beck just below the confluence of Willow Beck and tried a cast or two at the junction but got no reaction so waded up into Willow Beck itself. This was easier said than done with a log jam just up from the confluence. Once through I had reasonable casting room for a few yards but got no takers.
In a couple of places it was possible to roll cast to some tasty looking water, but again I got no reaction at first. Quite a bit has changed in the 6 years that I haven't fished it but the cattle drink is still there and the pool above it produced the first fish of the night, a small grayling. Having returned the grayling and feeling quite chuffed not to have completely blanked I cast a little further up and hooked a very lively trout that went aerobatic as it swam straight at me and threw the hook. To say the least I was not best pleased as I began this session fairly convinced I was likely to blank and getting even one trout this evening would be quite an achievement so losing a very decent trout early on was more than a little disappointing.
I moved on upstream having to make an excursion to get past a fallen tree and managed to get back in a bit further upstream. I was roll casting where I could but struggling to find fish or even see any rises, but then when I came to an open bit an overhead cast up a run gave me my first trout of the evening. It was only small – about 6 inches - but a very welcome entry in the log book. Now I had to retreat downstream as the pool above was too deep to wade and there was no way up the steep bank where I was.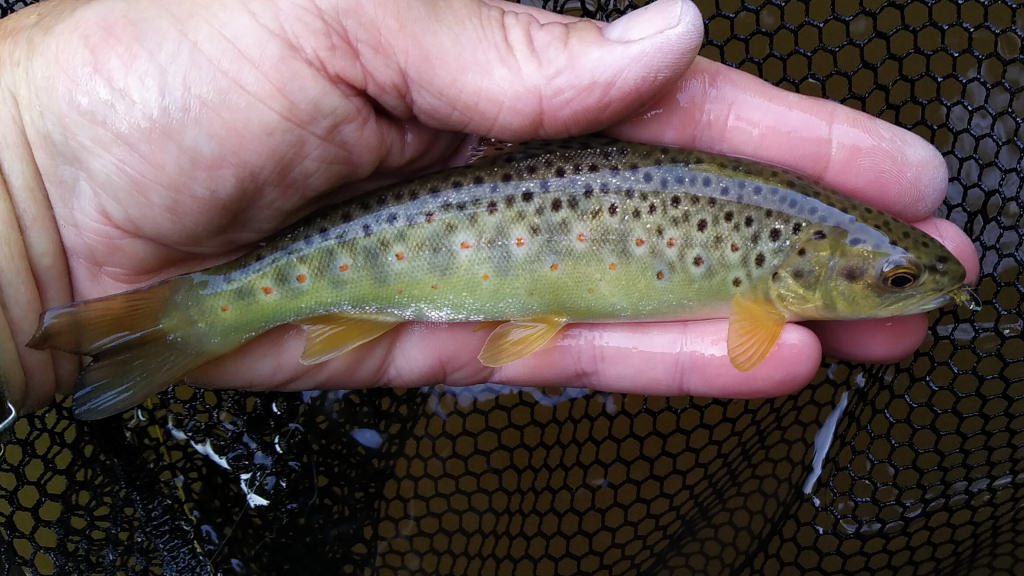 Having bashed my way through more balsam and nettles I got back in and soon got a second grayling, again nothing big but I was pleased to get him. Also very pleased to find that there are small grayling in Willow beck because in a year or so they will provide really good sport, assuming we can get some bank clearance done so we can actually cast to them.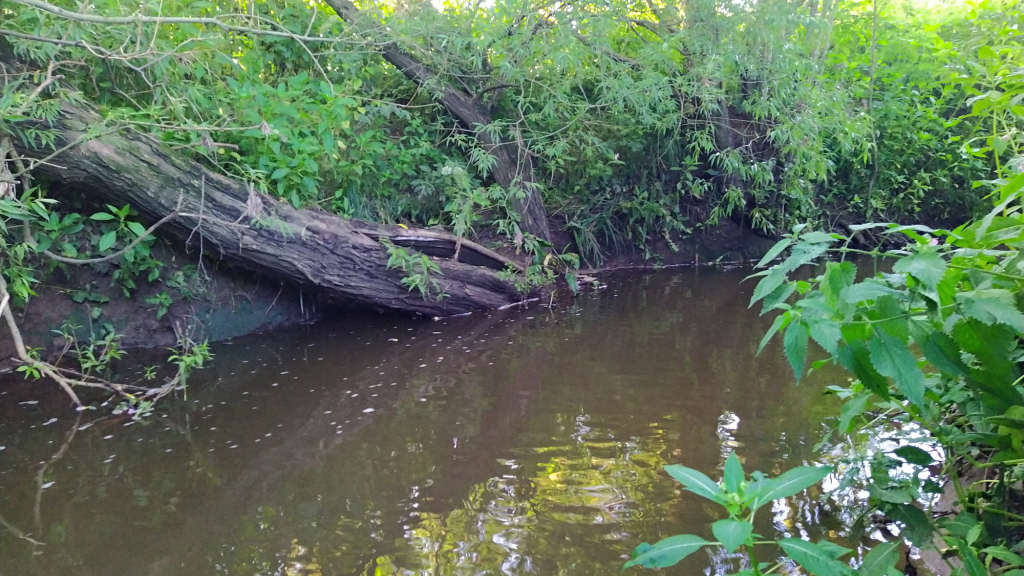 A little further up I came across a rising fish alongside a large tree trunk partly lying in the stream. I dropped the F fly in the right spot and it was ignored, I tried again with the same result, but on the third drift close to the log the fish rose and a better trout was quickly played and landed.
A further exit through nettles was needed to avoid another deep hole but I was able to get back in a bit further up where in an open bit I saw a good fish rise. I thought this would be trout number three but he ignored everything I put past him and in the end I decided to call it a night and retreated downstream again to get out.
It was nearly 9pm and in just over 2 hours I had been stung by nettles, scratched by brambles and I'd almost topped my chest waders (twice!) before I retreated to go round deep pools. I'd crawled under and stepped over assorted barbed wire fences, my left hand is still tingling from nettle stings 15 hours later so all in all Willow Beck lived up to my expectations!
Although I lost one good trout I came away feeling very pleased with the session, I knew it was going to be difficult fishing and apart from a few open bits it really was. I had gone fully expecting that I might blank completely so in the circumstances 2 grayling and 2 trout felt like a great win.
Driving home I was thinking that I haven't fished above Willow Bridge since September 2016 so I might have to give that a go before the season is over. From the Willow Bridge the upstream beat looked pretty overgrown and I know there is some very deep wading particularly in the first few hundred yards above the bridge, but I will give it a go - watch this space.

5th July – Relaxing at the Riccal
After Friday's visit to Cod Beck the river level rose dramatically with the rain over the weekend from 95cm on Friday to 186cm on Dalton gauge by midday on Monday. Fortunately I had no plans to revisit Cod Beck but watched the Riccal Gauge to see what would happen. It went as high as 22cm but had dropped back to 19cm by midday on Monday and I was fairly sure it would be clear and just about perfect by the time I got there.
Sure enough when I looked over the road bridge the river was almost perfect – (I can't say the same for the overhanging trees and bankside vegetation!). I knew it would be quite overgrown and had already planned that my session should be fairly relaxed using the 5' #2 Hardy Aln and not too worried about trout numbers.
I made my way down to the start of our beat and promptly lost a good trout, but made up for it a few minutes later with a near 9 inch fish.
I waded my way upstream and managed to pick up trout in most of the pools and riffles where I could cast a fly, I did miss a couple of rises but most of the trout stayed on. There were no big ones and most were in the 6 - 9 inch category but in the tight overgrown conditions they were still fun on the light rod and anyway half the fun was actually managing to get the fly onto the water without hooking trees or bankside vegetation!
On a couple of the bigger pools with casting room I switched to a goldhead K &D style and that accounted for 3 fish, the rest were on either #16 Olive or Black F Fly. What did surprise me was there were more than a few mayflies about, however I didn't see a trout take one mayfly so my mayfly patterns stayed in the box.
I said I was trying to have a relaxed enjoyable time today on the Riccal and I did, but I am still trying to break my 2016 record of the number of trout caught on YTAA becks in one season, so I wanted to catch at least 7 to help me top up numbers and in the end I actually landed 17 trout which takes me closer to the target for the season. Ok I admit some of the trout were pretty small, but they are all beautiful and they all count.
I do like the Riccal (mostly!) but there are times when it seems really hard and a working party or two would not go amiss! I had taken 6 hours to get to my vague target of the number of fish I wanted today but it had been an enjoyable afternoon. The rain held off and for a very welcome change the wind wasn't too bad.
Footnote the Riccal is certainly fun! If you plan to fish it be prepared for some deep wading, because despite being quite narrow the Riccal is very deep in more than a few places. As I have said before it is spring fed so the water is cold even in the height of summer and it remains more or less clear even after rain. It is quite overgrown but with care you could get some really lovely wild trout and best of all the Riccal is fed from limestone springs so is rarely flooded or too coloured to fly fish. At this time of year I use a 5' rod but early season you may get away with using a 6 or even a 7 foot rod in some of the runs and pools before the tree branches hang lower over the water. Chest waders with good studs are essential and a good wading staff is strongly recommended if you don't know the water.

2nd July – Cod Beck
I have been watching the river level gauges for Cod Beck every day hoping the level would drop to allow a safe visit to the Gristhwaite Farm beats. Finally the Thirsk gauge had dropped to 22cm but the Dalton gauge was still a bit high at 95cm when 77-80cm is a safer level for wading. Anyway as the top beat by the railway bridge is well above both Willow and Paradise Beck joining Cod Beck I decided to at least have a look.
The beck looked ok and was clear and at 4pm I was falling down through neck high nettles into the beck without doing serious damage to my rod or myself. I waded up to the first pool and tried a couple of casts to a large fish I could just make out under the overhanging tree. It ignored the Adams para and the F Fly so I moved up and realised I had been casting at a pike of about 4-5lbs! I have known there were pike in the beck but I think it's the first time I have seen one… if he had taken a dry fly I suspect he would have put up quite a fight on the 6' #3 Rawson rod!!!
In the run below the railway bridge I missed a couple of rises on a large F Fly and I suspected they were small grayling, changing down to a smaller Olive F-Fly produced a rise and a very respectable grayling of about 14 inches.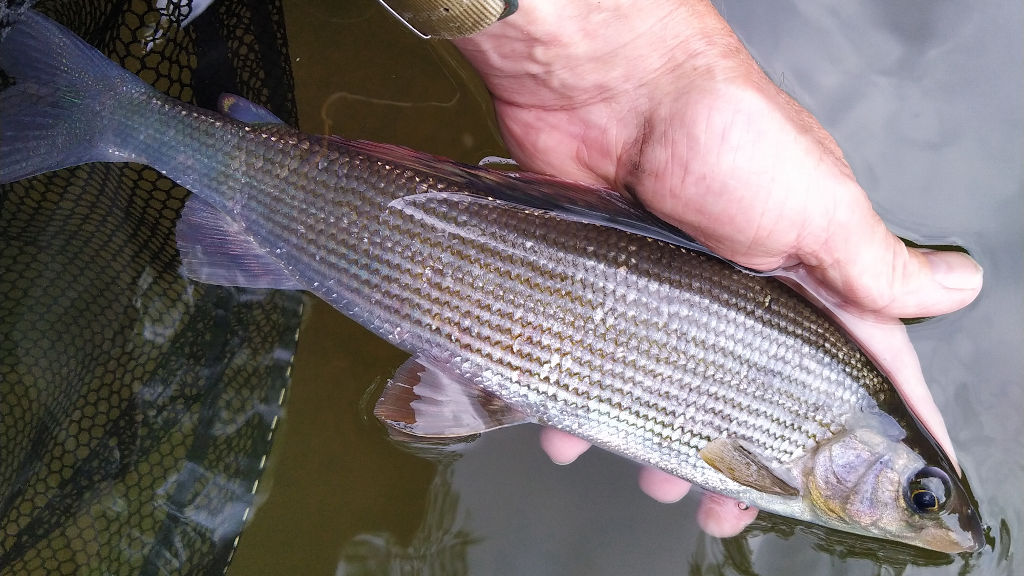 I got no more interest on the dry fly so changed to a goldhead fished NZ style but got no interest at all so carefully waded up to the railway bridge. Cod Beck is still pretty deep and was flowing fast here so I was glad of the wading staff to keep me steady and relieved to get up to the railway bridge without going for an early bath. I changed back to an F Fly to try under the railway bridge but again no interest so waded carefully through on the right side where the bottom is sandy gravel with only one or two rocks to trip you up!
I was surprised that there was a lot of water coming out of the land drain just above the bridge, no wonder the levels are staying high!
Above the bridge I had to get out to avoid a too deep to wade pool and this was a bit of a scrabble up the steep bank. Getting back in upstream was even worse with head high nettles and I picked more than a few stings on both hands before I reached the relative safety of the river bed.
I tried hard to find fish but there wasn't a lot of action on the surface and I managed to scare a really big trout despite wading as quietly as I could. (For "quietly" read "as cautiously as I could on the slippery muddy bottom!")
I came to one very nice looking run with good casting room but nothing was rising and speculative casts down the main current got no response.
I was going to wade on when I realised the bushes on the right overhung the water so tried a cast between some midstream reeds and the right bank. As the fly drifted almost out of sight under the bush it was taken in a big rise and I found myself playing a very nice and surprisingly dark coloured trout with very big bright red spots. I got a photo of him in my net but as lifting him for a better one of his spots he wriggled out of my wet hands and was away. The zoomed in photo below shows where I dropped the fly (blue dot and where the trout must have been lying hidden (red dot). As you can see the good trout aren't always in the deepest or obvious part of the stream so it is always worth a cast or two close into overhanging foliage.
Moving on I added a small grayling to the catch record before I had to get out going around another deep un-wadeable pool. This proved a bit of a struggle as the bank was steep and covered in stinging nettles (with a few brambles thrown in as a bonus) and by the time I had fought my way to the top I'd had enough and decided a cool beer back at the camper van was preferable to struggling up and down more steep banks.
I'd fished for three hours and only covered about 400 yards of the beck. I had only got the three fish but two of them had been really good quality. On reflection I am fairly sure that Cod Beck has more big wild trout than most of our waters (except maybe the Dove) but getting in to catch them is a bit of a nightmare and the slippery riverbed and deep water requires careful wading, so good luck if you try!

28th June – Thirkleby Mill
I hadn't been to Thirkleby Mill since 7th May and was keen to see what it was fishing like. So I was parked up at the Mill and tackled up with the tiny 5' #2 Hardy Aln and down to start just after 2pm on what felt like a hot afternoon.
I failed to get a rise in the first pool, and missed a rise in the run above it but approaching the big bend pool I was pleased to see several fish rising and it wasn't long before a 10inch plus fish was recorded in the log book. I then lost another good fish before landing a 5 inch trout, both these came on a black F Fly. There seemed to be a lot of small light coloured flies about (I've no idea what they were!) but I changed to a small olive F Fly and soon got another small trout. Moving on, there were fish rising in the next run and another was soon in the log book. Above the little farm bridge and in the willow corner I got no interest at all but half way along the "chicken" field I landed a dace and then a chub in quick succession. I waded under the mill bridge and cast to a rising fish which was another trout around 11 inches and quickly released. Getting no more interest by the mill I plunged into the tree lined bit and picked up another small trout before moving on to the "Blue Pipe" pool. Near the end of the pool there was a branch across the beck and I could see a shoal of fish lined up just downstream of the branch. A delicate cast dropped the F Fly just below the branch and another little chub went in the log book and next cast another joined him. I could probably have caught more of these little chub but a larger fish rising under the blue pipe got my attention so I moved up to cast to him and promptly lost him. He had made a bit of a splash in the brief time I was in contact with him so I moved on again.
The next run produced another trout before I came up against a recently fallen tree right across the beck. The tree wasn't that big but was covered in long strands of ivy hanging down and forward progress was delayed while I cut away what I could with a pair of folding secateurs which have a tiny but effect saw in the handle. Having made a small hole I managed to crawl through to fish the pool above.
My pruning efforts were worth it and a 12inch trout went in the log book. At this stage I was feeling quite pleased I had been fishing about two and a half hours and had logged 8 trout, 3 chub and a dace. Moving on I encountered more obstacles as some of the crack willow trees that had previously come down across the beck but were just passable 6 weeks ago were now sprouting new growth of shoots making forward progress interesting. Once past the trees another dace and two more trout were soon added to the log book then above the footbridge I lost a good trout before adding two more small trout to the total.
I was now at the pool I refer to as the 19 second pool (so called because my friend "GoPro Gordon the Ghillie" had filmed me catching trout in 19 seconds on two separate occasions). Today 19 second excelled itself with trout of 8.5, 4.5 and finally 13inches before I moved on. I waded straight through a couple of pools that used to be good but just haven't produced for me for a couple of seasons as I was keen to spend some time on the Pylon length. At the top of the run I added a small trout and missed a couple of rises before everything went quiet. The pool at the very top of this run is very deep and I was sure there were trout to be caught so I switched to a Klink and Dink to search the depths with a goldhead and added 12 inch and 9 inch trout on consecutive casts.
It was now twenty past seven and I wanted to give the weir pool at the top of our beat a good go so I moved on stopping only to change back to the olive F Fly to pick up another small trout from a pool almost hidden by a huge crop of wild rhubarb.
Below the Weir pool there is a narrow run which sometimes hold trout, I scared some from the lower part before I saw a small rise tight into the bank under an overhanging bramble and just above a half-submerged log. I like a challenge and dropped the F Fly over the bramble and a large trout grabbed it and tried to dash back under the log. I heaved him clear and he beached himself on the shallow gravel on the other side of the beck, flapping up and down and throwing the hook. Still flapping on the gravel I rushed forward pulling my landing net out, but he flipped back into the beck and was off before I could reach him. Probably a good job my mate Go-Pro Gordon wasn't there to catch that on film!
The weir pool was quite low but still flowing quickly and I got one on the F Fly but was having trouble seeing it as it started to get darker so switched to an Adams Parachute which got me 5 trout all around 7 inches in twenty minutes and I lost a couple as well. I had seen a flash or two of fish turning to feed on the bottom so I switched again to the Goldhead Klink and Dink hoping I might get something bigger and promptly got a 6 inch trout and finally a grayling of about 10 inches. It was 9pm I had been fishing for 7 hours (less 20m minutes cutting a way through the fallen tree) and it had been one of the best sessions so far this season. I ended with 1 grayling, 2 dace, 3 chub and 26 trout. All except three of the trout had been rising fish which I had targeted with a dry fly, so I was very happy angler as I walked back down to the camper van.
If you are going to fish at the Thirkleby Mill be aware that there are quite a few obstacles to get over under or round, but in between there is some really good fishing to be done.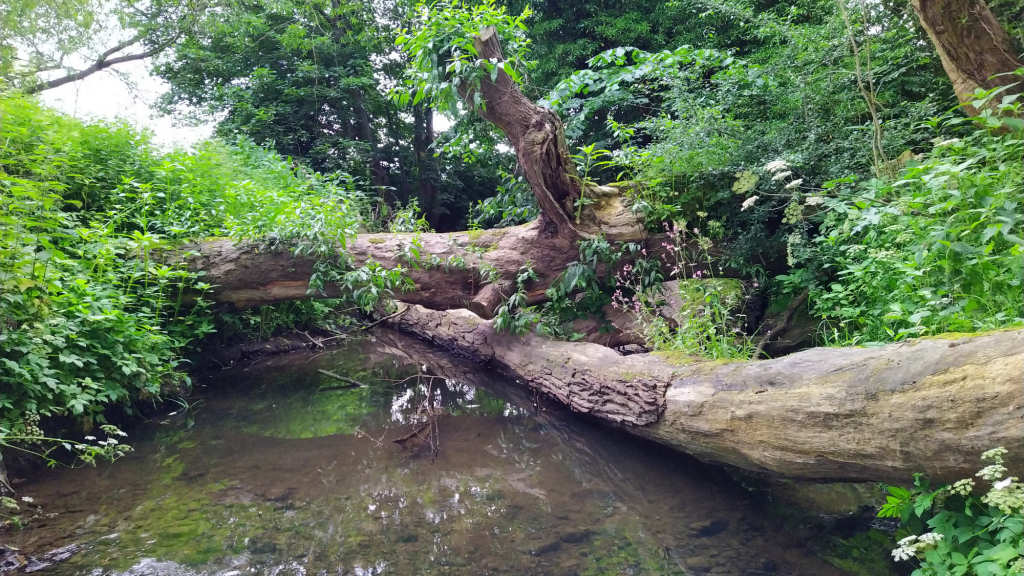 17th June – Howkeld Beck Revisited
As it was my birthday I fancied some nice easy going fishing, nothing too strenuous just a couple of hours of easy casting and about half a dozen good trout. I decided another visit to Howkeld Beck was just what I needed.
Various delays meant it was quite a late start and it was 12:50 before I slithered down the bank and into the beck, there was nothing rising in the first run and speculative casts in all the likely places produced no interest.
On the next pool up I saw a rising fish and covered him with a mayfly at the second attempt and a decent little brown trout was soon in the net, in the log book and released.
I didn't get any interest at all for a while which was not at all how I had planned the birthday treat to be, even on the small pool where I had 4 last time there was nothing doing. I was about to give up on it and move on when I thought I saw what looked like a tiny rise in fast water and a faint flash of a fish turning. Having tried the mayfly a number of times already I changed to a black F Fly and cast again, I was soon playing a very powerful fish which had me worried when he went downstream in fast water making playing him even harder. The little Rawson rod was well and truly bent over but was up to the fight and I soon had a very nice fish in the net.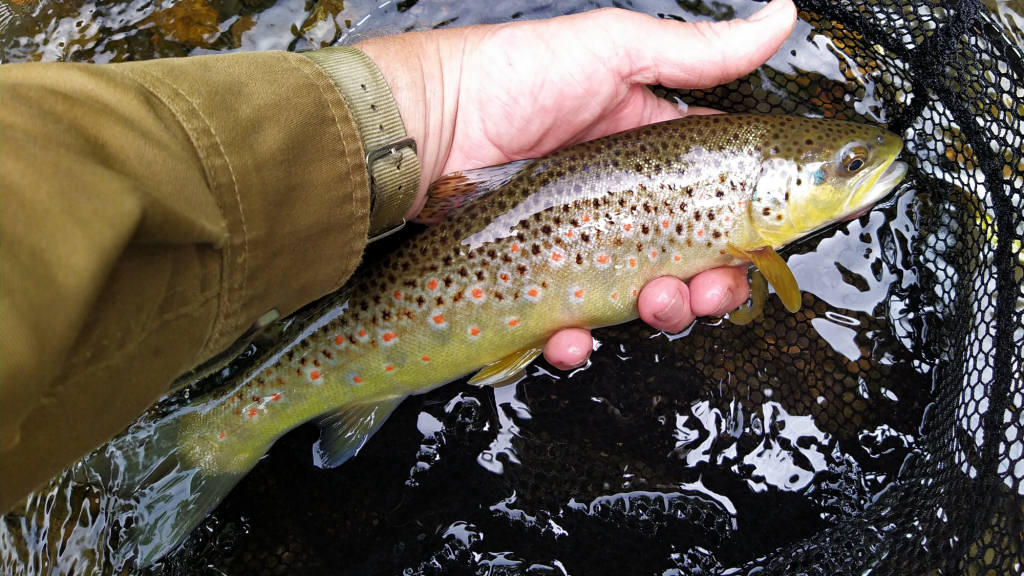 I felt a lot happier with this fish but as I continued to work my way upstream there were hardly any fish rising and it was gone 2pm before I saw another rise. This fish proved to be a bit of a challenge as he was rising under an overhanging branch, in fact I couldn't actually see the fish rising just the ripples as they came out from under the branch.
Casting from downstream I couldn't get my fly close enough because of the low branch, casting a long way upstream and across I got my fly over him several times but he ignored it. I changed flies and tried several times and eventually he stopped rising altogether so I gave up and moved a few yards upstream ready for the next pool. I was just changing my tippet which had become a bit short with all the fly changes when I heard a splash behind me and turning I saw the fish was back rising again. I finished changing the tippet put on a tiny Adams Parachute and cast down and across to the fish which took it straight away. After a brief but exciting battle I had another fin perfect rainbow trout in the net. I know these are most likely fingerling escapee fish but looking at it and from the way it fought it was more like a real wild trout born and bred in the beck!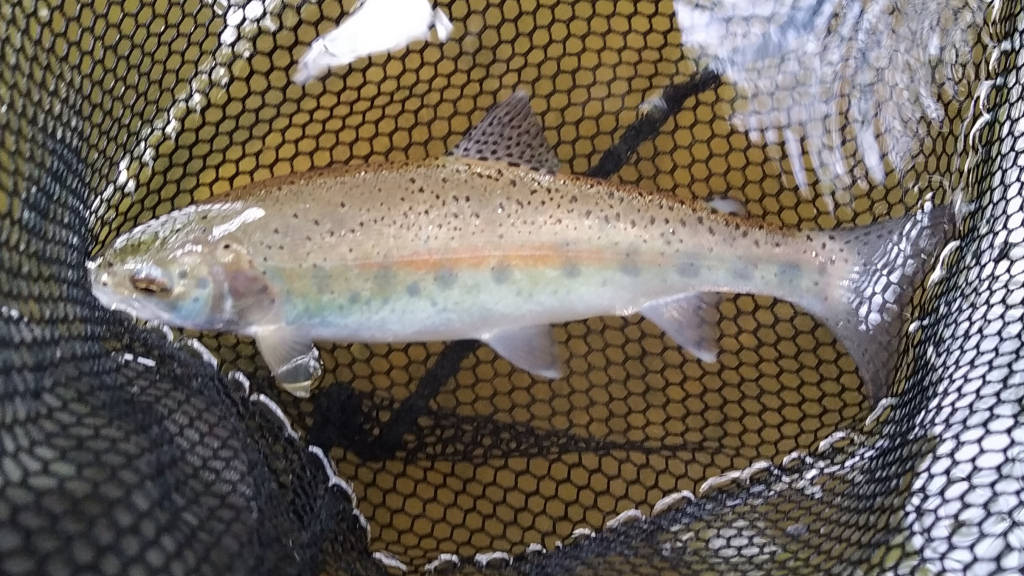 I fished on up the beck but I didn't get another rise before I needed to head back to the camper van. I was surprised that the beck hadn't produced more fish on this visit, don't get me wrong I think it is actually one of our best waters or certainly could be if we did a bit of work at the top of our beat.
As I was heading back to the camper I was reflecting on catching my third rainbow in three visits to Ings farm and on a whim decided to have a quick cast on the Dove in the fast run where I had caught the rainbow on the 5th of June. Snagging my waders on the barbed wire fence was annoying but I was soon in the river (with an increasingly wet feeling below the punctured wader). But a couple of casts in the fast run produced a rise and a consolation brown trout was quickly returned and recorded in the book.
My birthday visit hadn't quite lived up to my expectations but had been quite enjoyable, especially getting the rainbow from under the branch and I certainly will be back on Howkeld beck before the season is out.

15th June – WTT 2021 Auction Winner
I have been hosting the Wild Trout Trust Auction Winner on behalf of YTAA for XXX years but was a little anxious this time as Richard Hunt who had won this year's lot with the highest bid we have had so far for the YTAA lot so I needed to make sure he had a really good day.
I met Richard at the A19 and had decided to fish the beat between the A19 and Arden Bridges as it seems to be fishing quite well and there was a good chance of a good hatch of Mayfly.
As usual when fishing above the A19 we waded under the bridge to cast at the run below the Alder tree which is normally good for a trout and sometimes two. We had seen a fish rise under the tree a couple of times while Richard was tackling up with a 6' Agility Rise which had been purchased with his day on YTAA Becks in mind. Sure enough after a couple of casts dropping the Adams Para close to the tree roots produced a rise and he was playing a lively little trout to christen the new rod and start his day off.
I was pleased that Richard had at least got off to a good start and we waded upstream looking for more action. He was using a poly leader with his DT3 line. I was a bit concerned that it might be too long and would mean catching bankside vegetation, overhead branches etc. before the fly line came into play, but in practice it seemed to work well (I've said before that I always learn something when hosting the WTT Auction winners and I am certainly going to think of trying poly leaders!)
A few rises were missed but on one of the longer runs trout of 10 and 12 inches were nicely picked off with some long and accurate casting, the latter trout putting up a powerful and aerial fight before he could be slipped into the net.
The day was warming up and there were a few Mayfly about but the trout weren't showing any great interest in them and the next couple of fish came on a black F Fly. Richard was getting used to the joys of casting on an overgrown small stream and when we reached the pool where the trees and bank had been dragged out it was defintely time for some lunch so we sauntered back to the camper van.
Suitable refreshed we started where we had finished though the next couple of pools failed to produce any trout. Moving on we saw a small rise just beyond a patch of twigs caught up above a large tree that was right down across the beck. Richard Flicked the F Fly over the tree but instead of the small trout we expected a considerably bigger trout engulfed the fly and dived back under the tree. The Agility rod bent over in a tight curve around the tree as Richard tried to keep the trout upstream but the line caught up on another floating log half under the tree and all seemed lost. I scrambled over the tree to retrieve the line and with a bit of a struggle managed to free the line from the log, when the trout which was miraculously still attached to the fly shot off upstream where Richard could play it and bring it back into the waiting net. At 14 inches it was the best trout so far and the action had certainly made us laugh.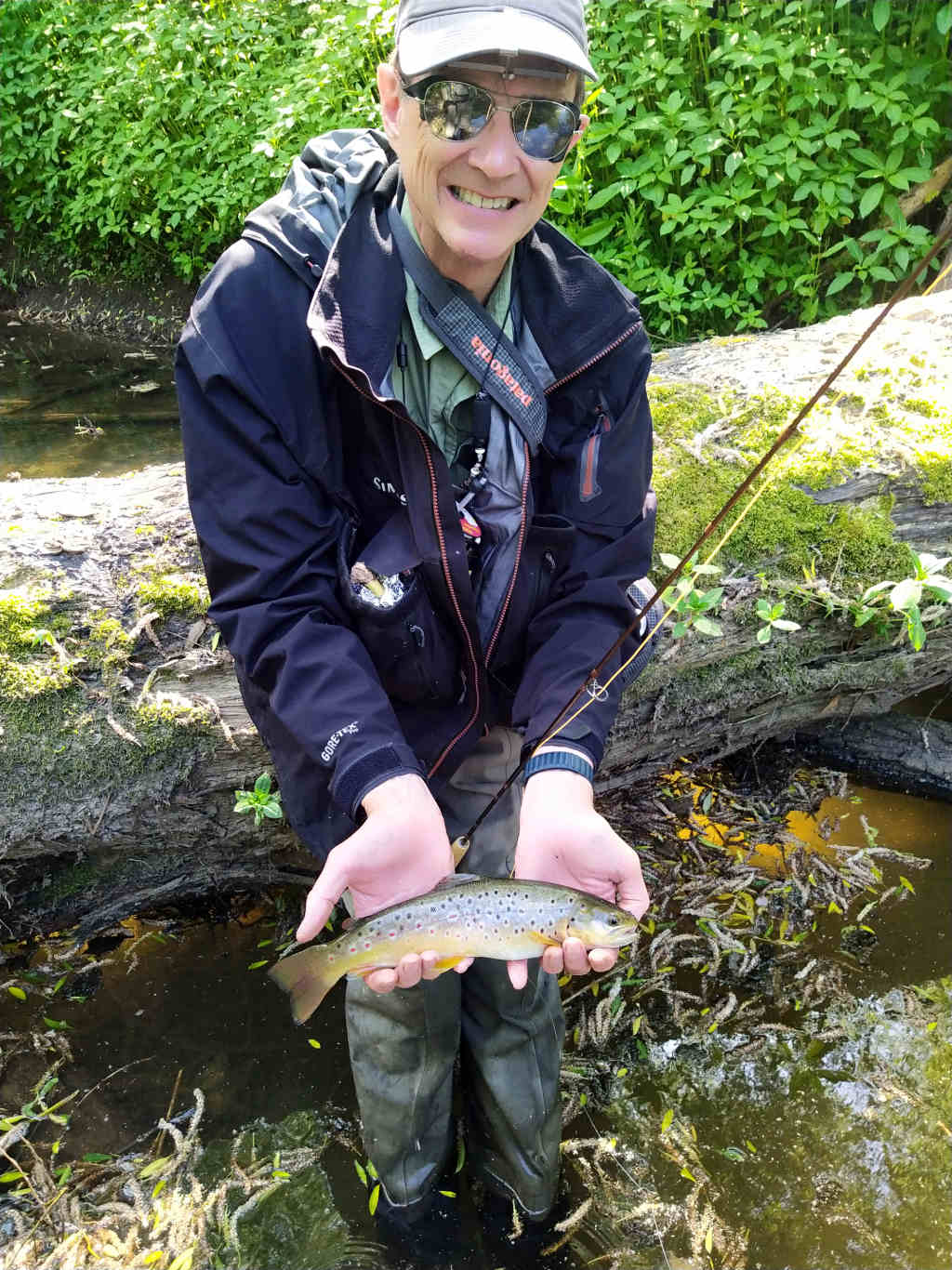 A few minutes later another 10 inch trout went into the book but then things slowed down and it was an hour later before we got any action. On one of the bigger pools trout were clearly taking mayfly so the F Fly went back in the box and the Mayfly went on the business end. The pool in question has virtually no casting room behind so it was a matter of roll casting into the current along the far bank, after a couple of frustratingly missed rises Richard hit gold with a superb 15 inch beauty which put up great fight before it could be slipped into the net.
We moved on and the Mayfly accounted for three more small fish, a chub and two trout before we came to the last decent pool before Arden Bridge. There were fish rising but they ignored the Mayfly, they ignored a Parachute Adams, they splashed at a large Black F Fly but didn't seem to be taking it. The rises continued so changing to a tiny black F Fly Richard cast again and landed a good little grayling. It's really hard to get a good photo of a grayling but with wets hand Richard held out the grayling and taking a burst of 15 photos I managed to get one decent picture before the grayling was safely released.
Time was very definitely moving on, there were fish rising under Arden Bridge but casting to them was difficult with a big tree down and very deep water upstream so we gave that up and wandered back down the road to the A19. A brief stop to try one of the faster runs saw a few fish rising but nothing stayed on and Richard was happy to call it a day.
It is hard to decide what makes up a good day's fishing, a decent bag of fish is nice but doesn't always happen, sometimes it's not so many fish but some good banter, sometimes it's some crazy action landing a particular fish in difficult circumstances and sometimes it's one really good fish that caps off a good day. I think we'd ticked most of those boxes, I had certainly enjoyed the day and Richard had been a great guest, christening his new rod with 10 trout, a chub and the grayling at the end.

8th June – Isle Beck
Making hay while the sun shines is all well and good but for the trout angler the equivalent is 'catch trout when the Mayfly are out..' or something to that effect. Well the Mayfly have been about for about a week now and the trout are finally latching onto them. So Tuesday afternoon found me wading under the A19 Bridge for a session up to Arden Bridge. I made a great start by catching the trout that sits on the upstream edge of the sill – first cast, first trout and I was sure it was going to be a great evening.
I wandered upstream and seemed to be able to catch rising trout almost everywhere I looked and some of them were very respectable fish. I had 12 and a grayling recorded when I hit my first setback when a larger than average trout got into some tree roots and broke me. I had just retied a tippet when I heard a shout behind me and our YTAA secretary was wading upstream. He had already caught several trout despite following in my footsteps. We agreed he would go a couple of bends above me while I finished fishing my current pool. I got 2 more trout then decided I would go down below the A19 Bridge and leave Bob in peace.
Half an hour later and back in the beck I quickly caught 3 trout but then spent 90 minutes missing rises and losing every trout even those that seemed well hooked and nothing was going right. I changed flies, I tried everything I could think of but simply couldn't land a fish. Then I finally landed a small trout but followed that with another hour of purgatory as I missed rises and fish after fish came off (one of them was a very good fish indeed and some rude words were said!!)
The sun was starting to set and I had just about given up when I lost yet another trout in a shallow run about hundred yards below the bridge, but seeing another fish rise I cast to it and actually hooked and landed him, an 11inch beauty. Then a couple of minutes later in a very shallow run I landed another trout, next cast same run another trout, then same run another and another on consecutive casts. Finally moving on to the deep pool below the bridge a trout was rising and my first cast covered him and he was hooked and landed. Another 11 inch trout, making it 5 trout in 20 minutes in just 5 casts. This brought my total to 24 trout and a grayling and normally I would be over the moon with such a great evening but I was left with the nagging doubt about all the lost fish and missed rises that could easily have doubled that.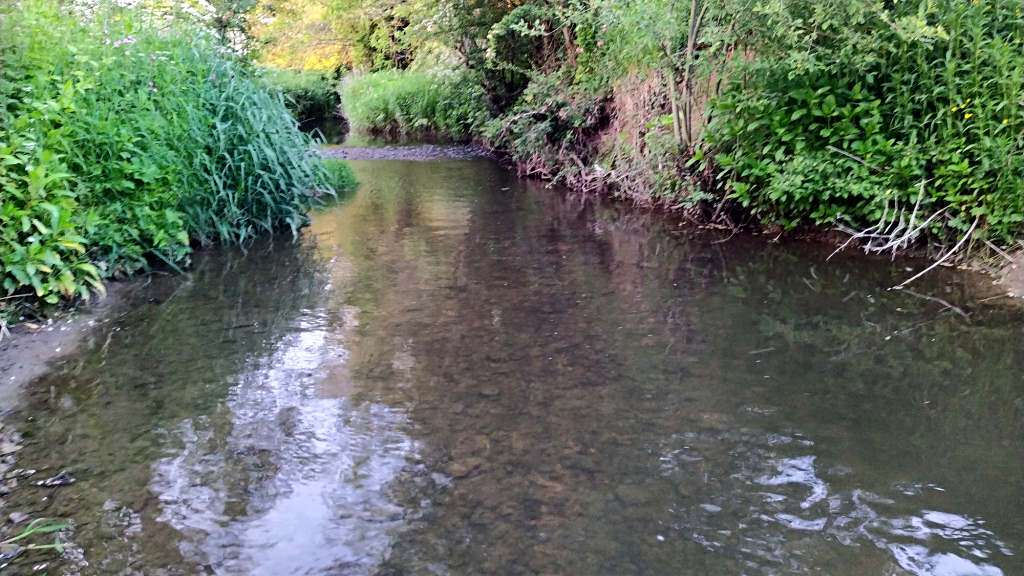 Next morning I rang Bob to see how he got on and he said he'd done really well with some good fish but had gone through a period where he missed rise after rise and every trout he did hook came off… so it wasn't just me!

5th June – The River Dove
After Fridays success on Howkeld Beck late Saturday morning found me parked up again by the old barn on Ings farm and walking down the bank to fish the Dove having missed it yesterday!
Once again I am tackled up with the 6' Rawson S glass and I slid into the river a bit above the confluence to avoid a large woody debris further down. It isn't long before I spot a good trout rising consistently tight against the far bank. I covered him a few times with an Adams Parachute but got no reaction at all but then switching to a black F Fly and trying again produced an instant result and after a brief but exciting battle a 14.5 inch trout was recorded in the log and safely released.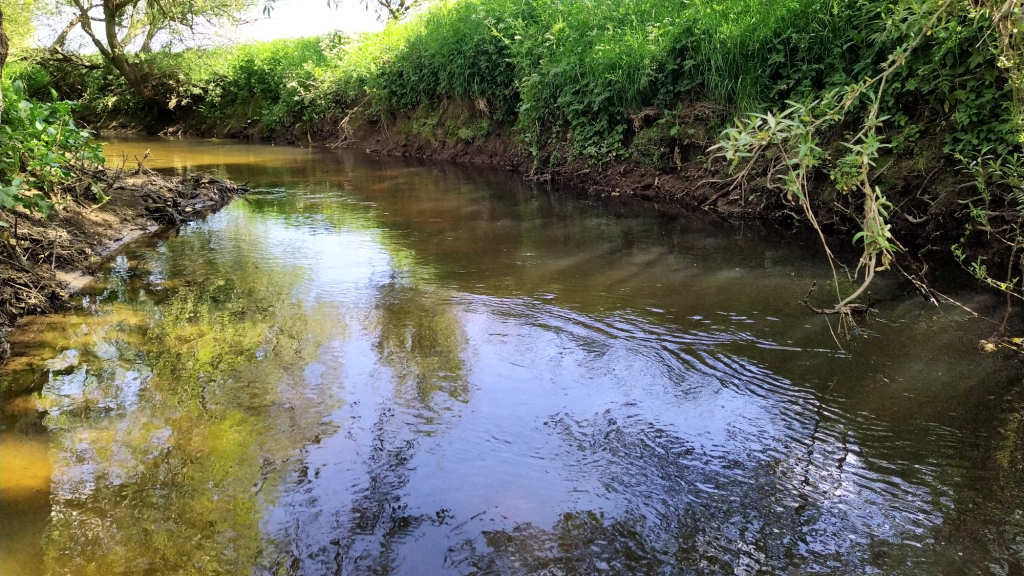 It was half an hour before my next fish. A large pool had been created overwinter after erosion had collapsed the river bank and I could see a trout rising in the back eddy at the far bank. I cast and must have dropped the Adams Parachute right on his nose as he hit it straight away and swam straight towards me wrapping my line around a sunken branch just in front of me. I could see him flapping around but couldn't reach him with my net. I kept my line tight expecting my cast to break but miraculously he swam back out and soon a solid 12.5 inch trout was in the net, in the log book and back in the river.
I could hardly believe my luck had held out and that I had landed him, but then things then very quiet for nearly two hours and I was seriously thinking of quitting and walking back down the Howkeld beck again, after all I had landed 11 fish in less time than the 2 I had caught today! But then things gradually picked up and I landed several small brown trout and a 10.5 inch rainbow that punched well above its weight including some spectacular aerobatics before I slipped the net under him. I could scarcely believe it, I've not caught a rainbow on YTAA becks for 30 odd years and now 2 in two days. Again this one was most likely a fingerling escapee as fins and tail were in very good condition.
I continued working my way upstream catching trout including a very lively 13.5 inch beauty that had needed a very long cast on a long shallow pool and I ended on 14 trout (including the rainbow). I had enjoyed it but it had felt like quite hard work and had taken nearly 7 hours, so I am not sure if my next visit to Ings Farm will be for the Dove or Howkeld Beck!

4th June – Not fishing on the River Dove
I set out for Ings Farm intending to have a go at the River Dove before it gets too overgrown, I usually leave it till September and then kick myself for not trying it in the prime of the season as it is such a beautiful river and has some very good quality fish. Today I was tackled up with the 6 ' Rawson S glass and walking down to the start point at the junction with Howkeld Beck when either something went wrong or maybe something went right. I had gone past the confluence and found myself staring down at Howkeld Beck which looked absolutely wonderful. I have never fished it in the 10 plus years that YTAA have had the Ings Farm fishing, when I have looked at it before it has always looked like a small muddy stream, but today it looked inviting.
I slid down the bank and as I pulled some line off the reel to cast I saw a fish rising about 10 yards upstream of me. The Rawson did the business and I was soon playing my first Howkeld Beck trout, nine and a half inches of pristine beauty.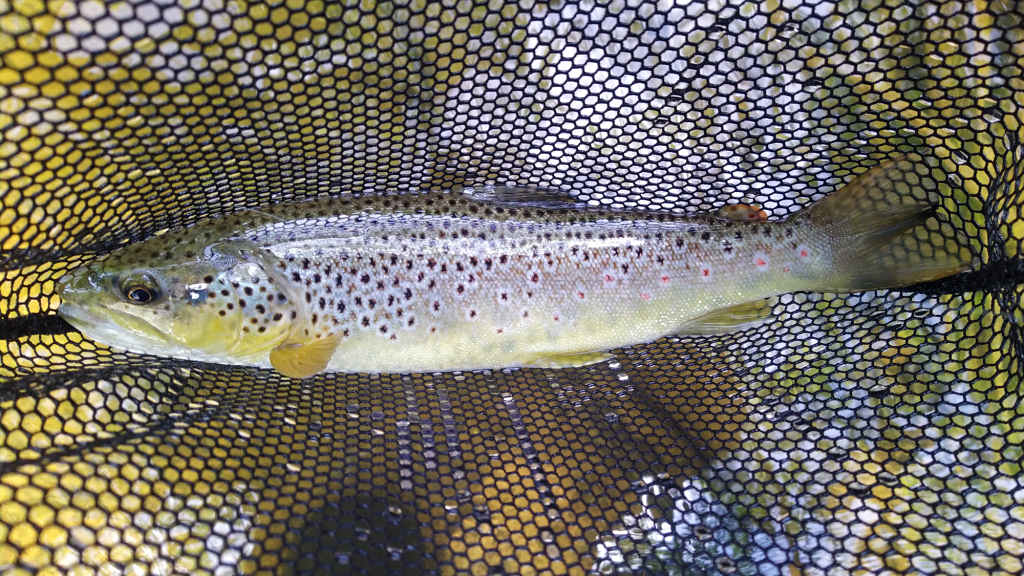 I was just releasing him when I saw another fish rise a bit further upstream. I waded up a couple of yards, cast again and the fish rose first time and hit the Adams Parachute. This was a much better fish but it was soon in the net and measure at 14 inches. I had made two casts and landed two trout and any thoughts of fishing the Dove were beginning to evaporate, particularly as I could see yet another fish rising a little further upstream. This was an 11 inch fish again in perfect condition and he was quickly followed by a 7.5 inch, an 8 inch and another 14 inch fish all from the same small pool which was barely 5 yards long and 2 yards wide and not much more than a slightly deeper hole in the river bed below an overhanging branch.
I had been fishing under an hour and had recorded 6 beautiful fish and was really wondering why on earth I hadn't fished here before. The story doesn't stop there, I fished on for another 90 minutes till I reached the top of the YTAA beat where Hodge Beck joins Howkeld beck landing 4 more brown trout and a 9.5 inch rainbow in very good condition. It had probably escaped from an upstream fish farm as a fingerling a couple of years ago and was a definitely a surprise.
I have since learned that Hodge Beck which seems to have the bigger flow of water is known to dry out and vanish into sinkholes in dry summers and is generally thought to be not worth fishing. I didn't explore Howkeld Beck above the confluence with Hodge beck but will be back another day to check it out.

3rd June – Cod Beck
I have been itching to have a go at Cod Beck this season but every time I've looked at the river gauges they have shown that the beck has been ridiculously high. This afternoon when I looked at the Thirsk Gauge it was at 26cm – the ideal is 22, Dalton was at 120cm - the ideal is under 80cm! I thought long and hard and decided that the main feeders into Cod Beck were Paradise Beck and our own Willow Beck and I thought if I fish the top end near the railway bridge it was probably going to be ok. Wrong!
I parked at the railway bridge and had a quick look at the beck, it had a tinge of colour and looked a bit fast but ok ish! I tackled up with the Rawson 6' S glass and fought my way through neck high nettles and slithered into the beck. It felt fast but I thought it was manageable as I waded up to the long pool below the railway bridge. At the tail of the long pool I tried a few casts with the dry fly but got no reaction so switched to a goldhead Klink and Dink style but I got no reaction. I tried to wade a little further up and quickly realised that the water was very fast and definitely deeper than I was comfortable with, soft slippy mud underfoot made it feel very unsafe so I decided to get out.
I was about to wind in when the Royal Wulf vanished and I found myself playing a lively fish. The fish got below me and put up a tremendous fight in the strong current before I was able to slip the net under a rather good trout. It was quickly photographed, measured at 13 inches and released.
Turning round to get back down to a bit of bank where I could get out was rather precarious and I was very slow and careful, but even with my wading staff I didn't feel comfortable and was very glad when I reached a point where I could get out.
I probably only spent 3 or 4 minutes actually fishing in the half an hour of being in the beck, the rest of the time was carefully wading up and even more carefully wading back down. I shall be a lot more patient next time and wait till the gauges show Cod Beck really is right down before venturing out to fish it again. At least I didn't blank, thought I hardly deserved the trout.

2nd June – Wild Trout Trust – Guest Day
The winner of the YTAA lot in the 2020 WTT Auction had a really poor day where nothing really went right and which was certainly not up to the standard we normally deliver to the winners who pay a lot of money for a good day's fishing. To make up for it we invited him back as a guest to see if we could give him a better day.
We met at the A19 Bridge and walked down three fields to start fishing. Tom had equipped himself with a 5 foot Malcolm Grey and a lightweight Hardy reel since last year and was using both for the first time.
An early grayling was followed by a long period of missed rises, lost fish and hooked trees not helped by a strong gusty wind that had arrived from nowhere. The only consolation was another grayling just before a rather late lunch back at the A19 Bridge.
After lunch we decided to try for an hour or so above the A19 and if that wasn't producing some results we would move up to Thirkleby Mill and try there.
We never made it to the Mill, as the trout decided to behave and Tom started landing some really good wild trout.
As the afternoon progressed there were flies everywhere and at times Tom seemed to be casting through a haze of small flies. There were also plenty of mayfly about as well but as I had found last week the trout were not showing any great interest in the mayflies fluttering off the surface but continued to show great enthusiasm for the Adams Parachute Tom was using.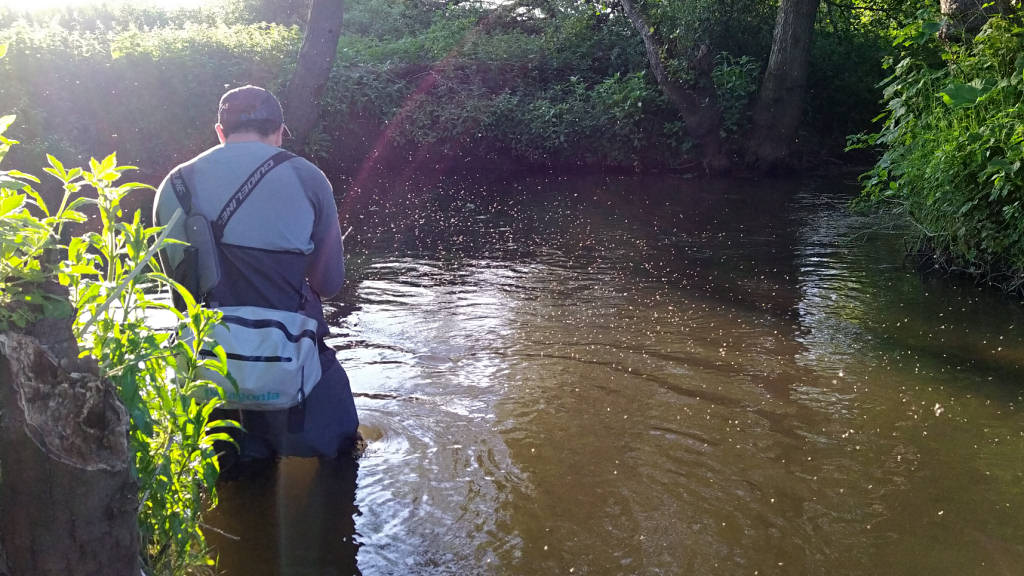 As the afternoon progressed the trout kept on coming and I was particularly pleased as Tom picked off three trout from one pool, taking the nearest first and working up to the top of the pool. In the end Tom added 16 trout and a final grayling to his days total and was as you might expect very happy with his day.

31st May – Fancy a Quick Double
As I hinted in my last update I wanted to get another fishing trip in before the end of May but today found me doing something a little different and late morning I was walking down the track to fish Stearsby lakes for the first time this season. The lakes look good and I had some fun but if you want to know more you'll have to see the May Stearsby Notes in the member's only section when they are updated in a few days' time. Anyway suffice to say by 1.30 I'd had enough and stopped for lunch and by 3pm I was at the River Riccal which I think is a lot more fun than chasing rainbows!
There was no question of what rod to use as under the tree lined bit of this tiny river the 5' #2 Hardy Aln is definitely my weapon of choice. It almost goes without saying that there was an Adams Parachute on the business end as I started to fish.
The first fish came in a couple of minutes, a quick cast to a rising fish and moments later a feisty little wild brown was released and recorded in my now fully dried out log book. The Riccal was looking great – perfect height and almost gin clear and not only that there were large green mayfly everywhere. I changed to a Green Mayfly expecting a bonanza, but got no interest in it at all. Then it dawned on me that the reason I could see so many green mayfly everywhere was because the trout weren't taking them. There were loads floating downstream and taking off but the trout were showing no interest, (yet!), so maybe the hatch had only just started.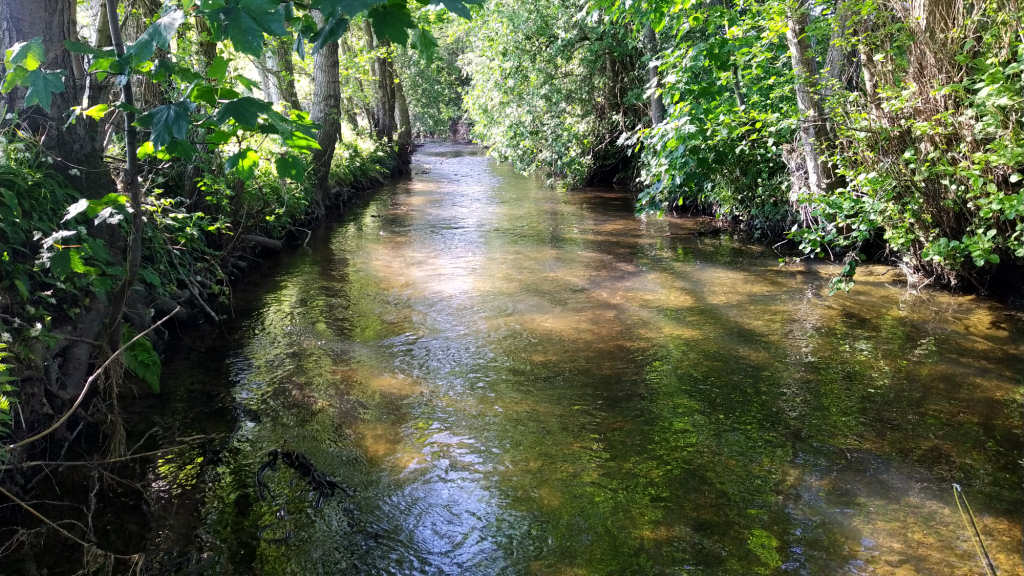 The Mayfly came off the cast and the Adams Parachute went back on and normal service resumed with another similar sized trout almost straight away. I have to admit I couldn't see or actually work out what real flies the trout were taking, but as long as they kept taking the Adams I wasn't going to let it worry me.
I took my time to enjoy the river as I waded upstream and it felt like I hooked just about every trout that rose to my fly and landed them all. It was all very pleasant for a bank holiday Monday, it didn't rain and there was hardly any of the wind that normally plagues my casting on the Riccal so I didn't hook that many trees as I put the little Hardy Glass rod to good use with a variety of roll and side casts to cover trout in overgrown conditions.
In three hours I recorded 10 trout – the biggest was about 10 inches the smallest about 4 inches, most of them I just slipped straight back into the river but I did wet my hand to get a quick photo of the last one before I packed up – a typical feisty little Riccal trout.

29th May – A Longer Visit to Isle Beck
With more time available than my last visit to Isle Beck I head out for an afternoon/evening session below the A19. I was in two minds about whether to use my 6 foot Rawson or the 5 foot Hardy – I chose the Hardy thinking that by now the beck might be quite overgrown and I was unlikely to come in touch with any fish big enough to push the Hardy (how wrong I was!).
Making my way down stream I was aware that someone had been down recently as there was a path threaded between the nettles and long grass most of the way down. – I was later to find the same someone had been getting out of the beck and back in at exactly the same places I do… I wonder who it was?
I had intended to walk right down almost to the railway culvert but by the time I had gone three fields I was more than warm enough and so I slid into the beck to get started. It wasn't long before I saw a rising fish in a bend pool that hasn't produced for a while. I flicked the Adams Parachute out with a little side cast and the fish hit it straight away and what a fish! The little Hardy rod bent over as I struggled to keep the fish out of tree roots and into deeper clearer water where after a bit of a tussle I slid him into the net. A big wild fish with perfect fins and bright red spots and was quickly released.
By the time I had dried my fly another fish was rising further up the pool, he rose first cast but I missed him and he showed no further interest. Moving on I got a 9 inch fish from the edge of a huge concrete block that is in the beck. If you fish the beck you will know where it is and it is always worth a quick cast behind or alongside that block.
Next up I saw a small rise in a fast run that often holds grayling but this time it was a small trout that took the Adams and was quickly returned.
I was now at the big pool which was flowing fast as the beck was still 5 or 6 inches higher than ideal. Nothing was rising and speculative casts in all the right places with the Adams got no reaction so I switched to Klink and Dink and immediately got a take on the Royal Wulf, another big fish that went into the tree roots at the end of the pool then swam out with my line tangled around an old branch about 5 foot long. If my friend "Go-Pro Gordon" had been down to film the action he would have wet himself as the fish started swimming back up the pool towing the branch and my chances of netting him seemed small but my luck held out and as the branch came in line with the current my line pinged clear and the trout was soon in the net. It was another good fish at a nudge over 13 inches but by the look of his tail a previous stockie and again safely returned. The errant branch was retrieved and hurled up the bank out of harm's way.
Moving on and switching back to the Adams I picked up a couple of small trout and then came to another good run where I have had good fish before. Sure enough a couple of casts in the right place produced a good rise and big trout number 3 put up a good battle before I could ease him in the net. My quick photo doesn't do him justice, a good wild trout with bright red spots and brilliant yellow belly and same size as my first fish.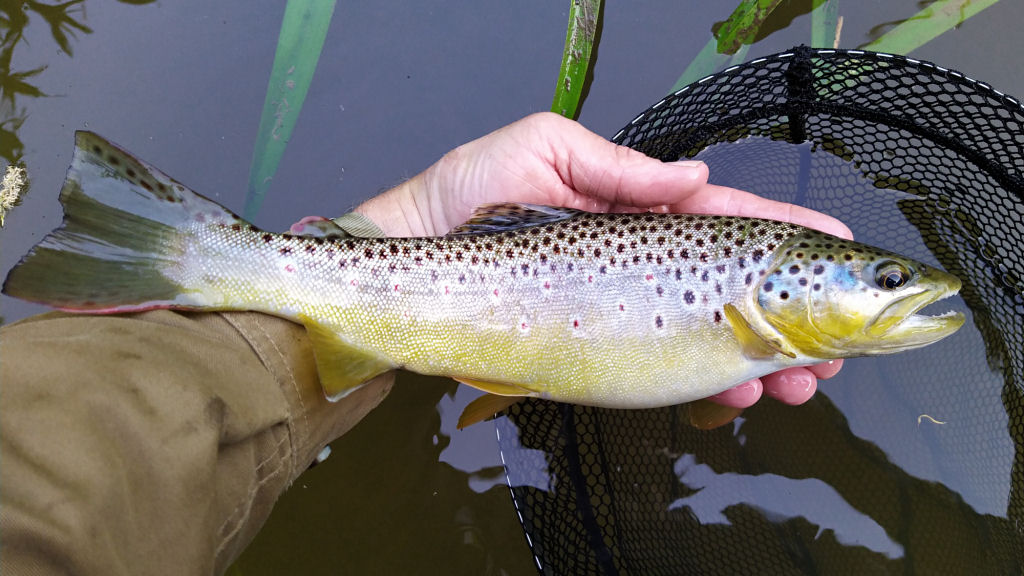 A couple more small trout went in the log book before my next big trout which was hooked more by good luck than design. I had seen a movement in a fast run and had several casts but got no reaction, on my next cast my fly was swamped by the fast moving water and as I went to pull it out to dry it the trout hit it. After a brief battle another big fish was in the net, a good 13 inches but clearly a stocked trout.
I returned him and was just noting him in my waterside log book when it slipped and my log book was in the beck for the second time this season. I grabbed it quickly and shook it as best I could but it was soaked. I could have fished on but it was gone 8pm and I had been fishing for three and a half hours, I had landed 9 trout (included the 4 big ones) and decided that was enough.
Overall a very good session, apart from a soggy log book and a zinger that broke! I hope to get one more beck trip in before the end of May and maybe a quick visit to Stearsby as well.
P.S. the Log book has survived to live another day I dried it out overnight with lots of kitchen towel and a hair drier.

27th May – A Brief Visit to Isle Beck
My wife and daughter have been walking various bits of the Cleveland Way and I was on "taxi" duty to pick them up from Osmotherley at some point in the afternoon. I had been hanging about waiting for a call when it suddenly dawned on me that Isle Beck was on the way to Osmotherley so I grabbed the essentials and drove to the A19 Bridge.
Even before I had tackled up I got the phone call to pick them up at 2pm which meant I would only get an hour at the most before I needed to go and fetch them. I must admit I wasn't sure I'd get much in an hour, but I did want to see what the beck was like as I will need to host the winner of the YTAA Lot in the Wild Trout Trust Auction at some point in the near future.
I was soon wading under the bridge heading upstream and saw a rise under the Alder tree and a minute later an 11 inch wild trout was entered in my log book and safely released.
I had been fishing in Scotland with my pal Gordon on Monday and Tuesday and the rivers there had been near perfect and we had some really good trout but the rain in Yorkshire over the last few weeks has meant our becks have all been high (Cod Beck still is!). However I was pleased to see that while Isle Beck was still a few inches higher than ideal with a tinge of colour, it was dropping and did look very good so I was confident of more action in the remaining 59 minutes.
10 minutes later I lost a larger fish (possibly a stockie) in the old "Kingfisher Pool" which was disappointing. I moved on but I got no further action in the next two runs, but then got a nice trout from above a part submerged tree which was acting like a dam creating a deep pool with a lot of soft, boot grabbing sediment upstream (you have been warned!).
Moving on again I saw a rise in a long shallow run and covered it with a cast and trout number three about 7 inches went in the log book. Time was running out and I got nothing else in the remaining few minutes. If I hadn't been on taxi services I am sure I would have managed a few more but it was nice to get three trout in under an hour.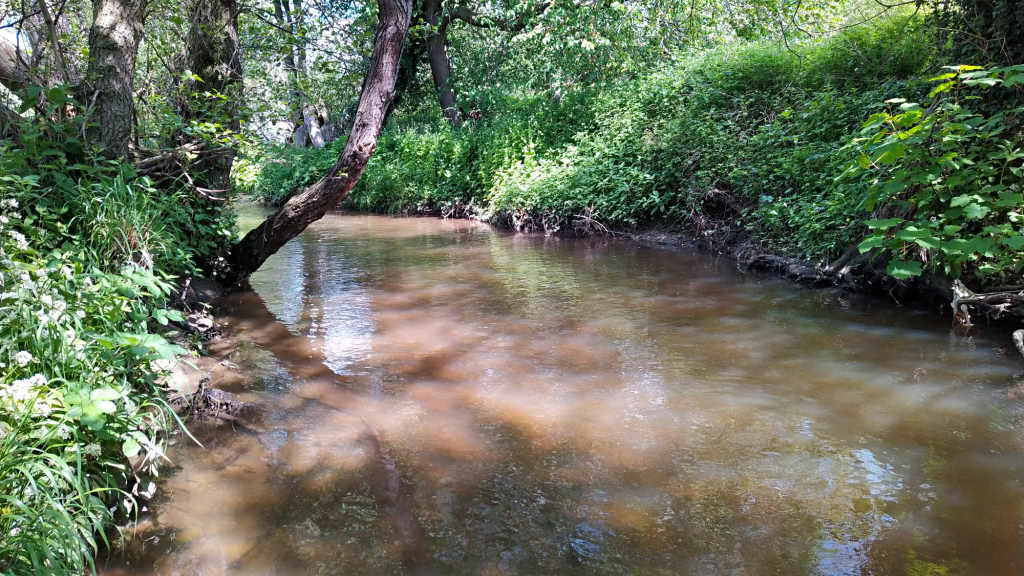 12th May – River Riccal Revisited
I had been watching the on line river gauges hoping to get a trip to Cod Beck which I haven't fished this year, but with both gauges showing twice the safe wading depth of water (Dalton needs to be below 80cm and Thirsk about 23 cm) I decided to risk a visit to the River Riccal which was only a couple of centimetres above ideal.
You might wonder why I said "risk a visit" but if you read these diaries you may recall that my last four visits to the Riccal have been far from productive with just 3 trout, a blank, 1 trout and on my first visit this year just 1 small grayling…
I left it late before setting off to make sure the river level wasn't going to change but when I got there the Riccal looked near ideal flowing a little fast perhaps and with just a slight tinge of colour but the gravel still clearly visible in the shallower runs and pools.
I missed a rise to a black F Fly on my third cast, I say rise but it almost looked as though the fish slapped his tail at the fly rather than take it, but in any case showed no more interest.
I made my way upstream but there was nothing rising and I got no further interest in the black F Fly and it was all starting to feel like another unproductive day. The frustrating thing is that if you get it right the diminutive Riccal is probably one of our best waters. It does actually have a lot of trout and more than a few grayling and coming from limestone further up the valley it is rarely muddy.
Anyway, after an hour I had had enough and at the first of the bigger pools I quickly swapped to a goldhead Klink and Dink Style and straight away I was into a trout. The relief at actually landing a fish was huge and it was a really good fish to get into the log book.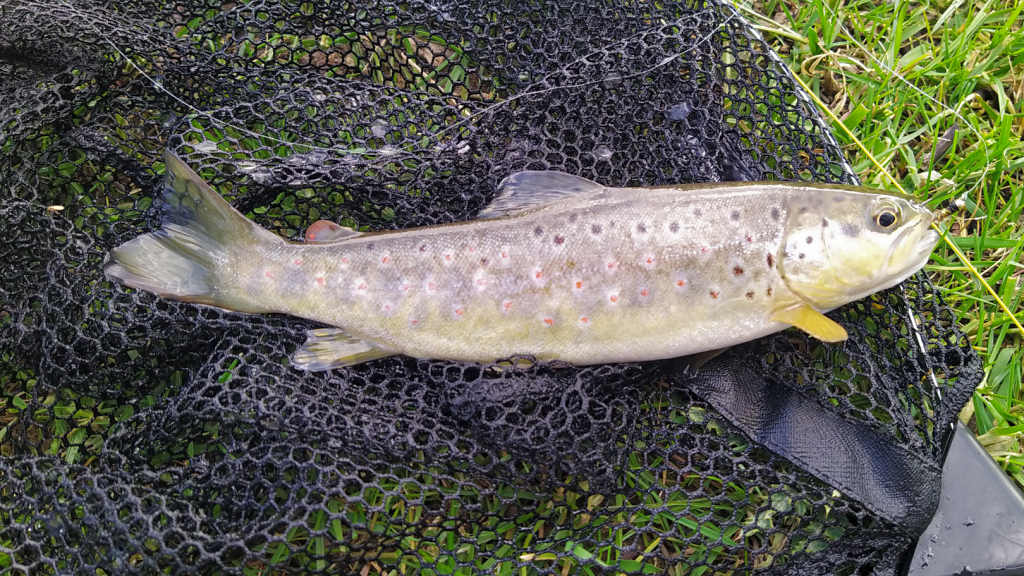 It was half an hour before I got any more action but landed two very small trout in a three casts in the next deep pool. I moved on but it was another hour before I got any more action. I finally saw a rising fish at the top of a long run. I switched back to the black F Fly I managed a long cast under the trees and he took straight away. A typical 8 inch Riccal trout he was quickly released and recorded in my bankside book.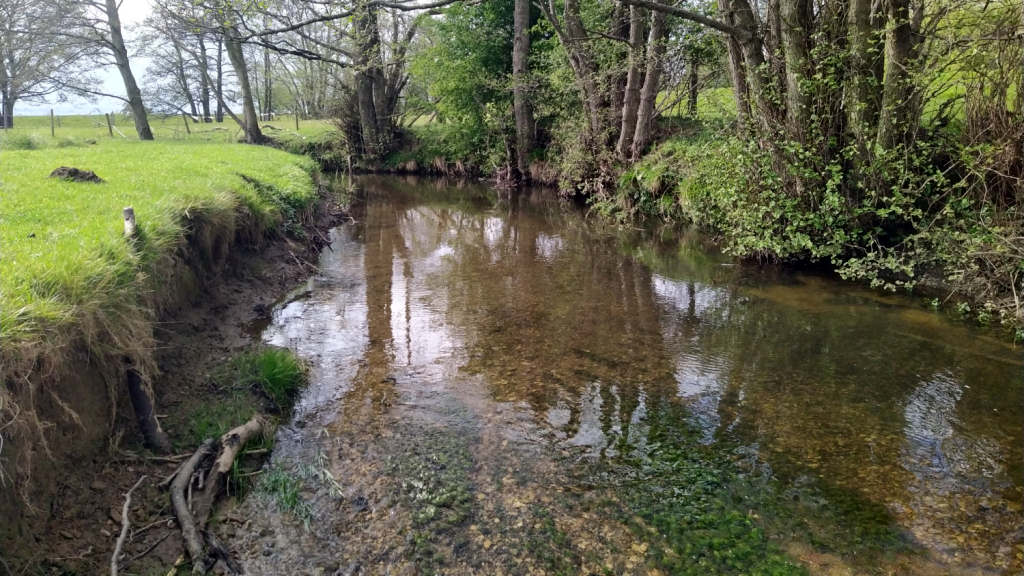 Having tried a couple more runs with nothing rising I switched back to the goldhead again. This is really where the little silver tippet rings come into their own. A quick change means simply tying the tippet with the Klink and Dink rig to the ring, and if that needs to change snip it off, put it on an Etherfoam winder and tie the tippet with the F Fly back onto the tippet ring. In this way you keep your options open to get the most out of each pool and run.
The change back to the goldhead produced two more small trout in 5 minutes. I hadn't landed anything huge but with 6 trout in the book any thought of a non- productive day were firmly banished and I was starting to feel a lot more relaxed about my fishing. Indeed I was almost enjoying myself, but it was another hour before I got my next fish. Then a few minutes later a tiny trout took a fancy to the size 10 Royal Wulf I was using as the "Klink" part of my Klink and Dink rig and was duly recorded in the book. Two more l trout followed at 5 minute intervals to take my total into double figures – though one of them was barely 4 inches!
A rather frustrating hour followed with no action though I covered several rising fish with the black F Fly. Eventually I took the hint that the Black F Fly wasn't going to work and changed to a parachute Adams and what a difference it made. Straight away I got an 8 inch fish from the fast run just below the road bridge.
Then wading under the bridge I picked up 4 more similar sized trout in just 12 minutes, each of them was rising and it was easy to pick off them off one by one with a careful roll cast.
I was going to fish on above the level gauge just up from the bridge but noticed a wind knots in my tippet (it seems to happen a lot when I'm roll casting) and as it was getting windy and it looked like more rain I decided to call it a day. I had ended on 15 trout which was a very pleasant change from my previous few visits to the Riccal.
P.S. it looks as though I timed my visit right as by the end of the next day the Riccal was twice its normal height, though it dropped again quickly. Also, even when it is normal height (about17-20cm on the gauge there are some very deep pools particularly below the road bridge so take care if you are wading.

7th May – Thirkleby Mill
Having finally been allowed back into Wales I opened up my caravan at the end of April and managed a bit of fishing as well which is why I haven't been on the YTAA becks for a couple of weeks.
As I was in the area I thought I would grab a late afternoon session at Thirkleby Mill, I was parked up by 15:30 and tackled up by 15:45 but then the heavens opened and I was in the middle of a rain and hailstone storm so sat in my camper van for 15 minutes until it eased off. I started fishing below the farm track but the beck was a horrible muddy colour so I gave it up and walked back to the camper van. I was about to take my tackle down when I had an inspiration that maybe the beck was coloured up from the muddy run off from the farm and it might be OK further up. A quick explore above the mill showed the beck was definitely clearer and a fish rising in the first of the tree pools proved it.
A couple of casts later that fish – a good 11inch fish was in the log book, I moved up to the blue pipe pool and promptly got another good trout. Moving on I picked trout number 3 from a pool that hasn't produced for me lately but today put that right with a truly splendid wild fish full of red spots and fighting fit, not the biggest I caught today but probably the prettiest.
I kept moving up stream and picking up mainly decent trout with a couple of small ones on consecutive casts in one pool.
I hadn't missed a rise or lost a fish until I got to the top of the pylon length pool when I managed both – I'm sure the missed rise was a grayling and the lost trout might have been best of the day. But I did manage one from the pool and another on a goldhead a bit further up. I tried the goldhead fished Klink and Dink in the weir pool which was full and flowing fast and lost three small trout in quick succession.
It was starting to get cool by 19:15 and I was happy to call it a day – in the end I was really pleased I had not given up early as I had landed 8 trout and had a very enjoyable few hours.

22nd April – A pleasant evening at Thirkleby Mill
I have struggled a bit recently with a low catch rate on Isle Beck so fancied a visit to Thirkleby Mill area to see if I could get some decent action. It's gone 4 o'clock before I am tackling up and walking down to the run below the big pool. I try a dry fly first but nothing is rising but a switch to a goldhead Klink and Dink produces a take first cast and a nice 11inch trout is soon in the net. I had only been fishing a few minutes and was really pleased to get a decent trout, two casts later the Royal Wulf slides under again and trout number two, just a bit smaller went into the log book.
I get no further action for a while and moved upstream and I was just trying above the mill bridge when I saw another angler on the track above me. Matt, one of our newer members, had been up earlier and was just walking back down. He said he'd had a few small trout and one big one that he thought might have been a stockie, though I'd be surprised if there are stockies this far up as we haven't stocked this area for a while! Matt was using a Berkley 6' hollow glass rod which I found interesting it does seem more anglers are moving from carbon rods back to softer actioned fibreglass rods for stream and river fishing. I have several short carbon rods which are great but as you will have seen from my diaries it is a 5' Hardy Glass Rod and 6' Rawson S Glass that seem to get used more than my other rods these days. Having said that I have recommended the 6 foot Carbon Shakespeare Agility Rise as a useful rod for anyone needing a little rod for beck fishing. You can pick them up for around £40 and they are a delightful little rod, a pleasure to use and incredible value for money.
I am always pleased to see that other YTAA members are making the most of our beck fishing, but admit my heart did sink a bit as I would be fishing water that had already been disturbed. I fished on but got no action at all until below the footbridge at Balk Grange farm I missed what looked like a small grayling. Wading up under the footbridge the lack of action continued until I saw a large rise by a big tree. I have had fish here before but it is tricky to get the fly beyond the tree so it drifts down nicely in the right spot close to the tree, but I managed it at the third attempt and an 8 inch trout went on to the log book. It had taken 2 hours since my last fish, but the next trout came along within 5 minutes from the "19 Second Pool".
Time was pressing on and I particularly wanted to fish the pool at the top of the pylon length so I waded quickly through the next few pools. Sure enough I could see two fish rising both tucked well into the right bank. The first was well protected by a branch dangling into the beck but the little Hardy Aln worked its wonders and the black F fly dropped just behind the branch and was instantly taken. An acrobatic fight with an 8 inch fish followed but I got him safely in the net. The next rising trout followed a minute or so later again first cast and the Black F fly snatched straight away. Having recorded that one in the book I paused to see if anything else was rising, there wasn't but a cast alongside the half submerged log produced another take and another decent trout was in the book.
I waded on up thinking I would just have a quick cast on the weir pool before calling it a day, but then I saw a rise in a pool a bit further upstream so a quick cast produced another half decent trout.
In the weir pool there was nothing rising, but a switch back to the goldhead produced the last (and smallest) trout of the day. I have been trying to minimise my handling of trout for photos using my landing net or wet grass when possible but for this perfect little trout I wet my hands for a quick photo before slipping him back into the beck. It was now 19:45 and getting chilly I'd had 9 trout, 6 on dries and 3 on goldheads so I called time on the session.

17th April – Isle Beck Below the A19 Bridge
A nice afternoon so I want to fish, but can't decide if it will be the River Riccal or Thirkleby Mill that I go to. I decide on the Mill, but then seeing no cars at the bridge change my mind and am soon heading down below the A19.
After 20 minutes I miss a rise to the black F Fly, I think it was a grayling and I was way too fast with my strike. 40 minutes later I get a grayling on the black F Fly, after a quick photo in the net it is quickly released.
I try again but get no further interest so switch to a deep Klink and Dink rig with a goldhead to search the big pool but get no interest at all. Moving on upstream it is all very quiet I see a few rises and though I cover them with several different flies get no reaction.
I switch to my goldhead to try the deeper pools but it is all a bit disheartening as nothing seems to be happening even in the pools where I would normally expect some sort of action.
By 7pm its getting decidedly chilly and I have had enough. The highlight of the trip wasn't the consolation grayling, but disturbing a rather large dog fox that must have been sleeping in the bank side brambles just where I rested my rod to change flies. Not sure who was most surprised me or him, but he certainly ran off quicker than I could have done!

9th April – Isle Beck Above the A19 Bridge
A bright day and I fancy a go at Isle Beck Above the A19 Bridge. I was later starting than I intended but by 14:25 I am wading under the bridge to try the first run. Nothing doing there or in the next pool but I miss a rise in the run above it. Then the phone rings and it's the chairman who is parked at the bridge and needed to know if I was above or below, I said I had just started above so he agreed to head off below the bridge.
As with my last outing I am changing tactics on every pool – I start with a dry fly but if there is no interest I swap to a goldhead Klink and Dink. This was almost successful as I managed to hook and immediately lose a good trout from just above a half-submerged tree.
I am using the 5' #2 Hardy Aln as it is my first trip above the A19 this season and I am not sure what the casting conditions will be like. In fact I needn't have worried as there is plenty of room in most places. The overwinter floods have made some rather dramatic changes in a couple of places, trees that were a serious obstacle have been washed away completely and half way up the beat it seems the farmer has pulled out several trees that were a real jungle to get through but he has also dredged away the bank creating a huge new pool that must 10 yards wide.
I found a photo taken from almost the same spot on the 15th August 2019 when a Crack Willow had fallen down a few days before. Previously, the beck went to the left then turned right for a short run before a big pool and a sharp left turn. There were three more trees down across the short run and the big pool which had come down a couple of years before the photo was taken. The sides of the "Huge New Pool" are already silting up and very shallow and will probably be dried out by summer.
There were several small fish rising, I suspected they were grayling but as they showed no interest in flies of ever decreasing size I can't be sure.
Moving on I swapped back to the K & D and in one of the big bend pools I finally land my first trout, about 8 inches but a much needed boost for my confidence. It has taken 2 hours to get my first fish but very next cast I get an 8 inch grayling and the cast after that a 4 inch trout. Its typical, 2 hours without landing a fish then I land 3 in 6 minutes, but I am not complaining. I move on upstream and was pleased to get a good trout from a pool that rarely produces. Then moving on again I find another big change as just round the corner where there was a big fallen tree it is now clear but beyond it I can see a whole new obstruction that clearly needs me to get out and round.
Getting back in above the new obstruction I get another nice trout on the goldhead. Casting again in the same pool I get the best of the day, a solid 12 inch trout.
It's now 17:25 and getting a bit chilly but I fish on hoping to make it a nice half a dozen trout, but I don't get any more interest and after another hour I am glad to get out and head back to the bridge. There is no sign of the chairman's car so I don't know how he got on but I hope he had some action.

1st April – Isle Beck Below the A19 Bridge
Another nice looking day and it's time for a visit to Isle Beck below the A19 Bridge. I set up my 6 foot #3 Rawson S- Glass as I am hoping this bit of the beck won't be too overgrown so I should have reasonable casting room and the Rawson is actually a very pleasant rod to use, slower than a similar length carbon rod but very easy in the hand and most importantly very accurate.
As I wonder down three fields to my chosen start point I can see that various bits of woody debris have moved about during the winter. A couple appear to have moved completely but others have become more jammed up with recently fallen trees.
I start off with a black F Fly but I see no rises so soon switched to my much used goldhead on a Klink and Dink. I actually change back to an F Fly and a Parachute Adams then back to the K& D rig on almost every pool and run trying to get some interest. I do briefly hook a trout on a goldhead but frustratingly he is off in a few seconds.
Time passes by and after 3 hours I do hook a very good fish again on the gold head but that to comes off as I reach for my net.
At this stage I still hadn't seen a fish rise but then in a long run I saw a movement near the bank, first cast got no reaction but a second cast to the same spot produced a violent take and I found myself into a very good fish that really didn't want to come to the net. The little 6 foot Rawson was pulled right over in a big hoop but the strain told and I steered a good wild brown into the net. Over 15 inches long and a very good wild fish indeed.
Before that fish I was almost thinking of giving up, the day had turned really cold and I thought I was going to have a blank but with renewed confidence I carried on up stream. A couple of pools later trout number two put in an appearance and at 12 inches was another very good wild fish.
The beck has changed a lot over winter several of the pools and runs seem a lot deeper than last season even though the beck didn't seem very high. I was almost caught out on a couple of pools that were once easy wading but now need a little more caution to get through safely.
In one of the newer runs that formed over winter I got my next fish, this time a 10 inch grayling that took the Royal Wulf I was using and the "Klink" on my K&D rig. Where there is one grayling there are normally more and casting again to the same spot another grayling flopped at the Wulf but I didn't connect and further casts were ignored.
By 5:15 I had had enough the sky was a bit brighter but it was decidedly chilly and I while I hadn't caught a lot of fish the two trout I caught had made the effort worthwhile.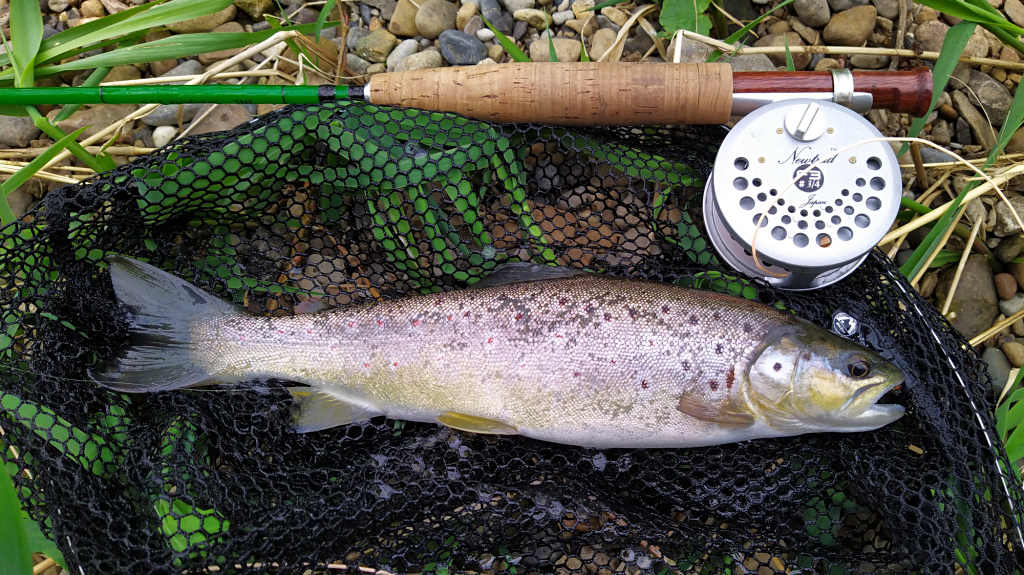 30th March – Thirkleby Mill
Still licking my wounds after a disastrous start to my season on the Riccal I head out for an afternoon. I wasn't sure if I wanted to fish Isle Beck above the A19 Bridge or Thirkleby, but seeing a car already parked at the bridge I drove straight on up to the Mill.
I opted for the 5'#2 Hardy Aln as I wasn't sure how overgrown things might be but in the end I could have given the 6' #3 Rawson an outing as casting room was generally pretty good.
There was nothing doing in the first couple of runs and fish rising in the bend pool showed no interest in an F Fly and stopped rising, switching to a goldhead Klink and Dink produced an instant result and a perfect little trout was quickly photographed, released and recorded in the logbook.The very next cast the "klink" slid under and trout number two was recorded and released.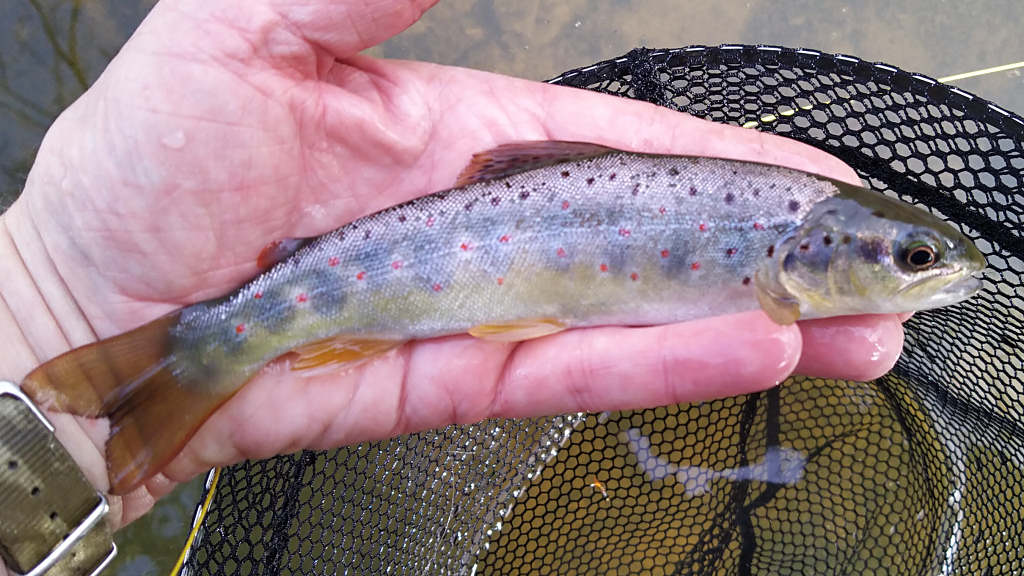 There was nothing doing in the next run and I switched back to an F Fly for a couple of casts and moved on to the Willow tree pool in the corner of the chicken field. This is a normally good for a trout or two but not today. Next trout came from under the Mill Bridge, only small but a better fish was rising just beyond the bridge but I missed the rise, I had noticed that my fly line was sinking at the braided loop and as it was lunchtime nipped back to the camper for a sandwich and to change the loop. I normally make my own braided loops but had recently bought some Roman Moser Mincons. These are quick and easy to fit on a fly line, the only drawback is the red poly sleeve that secures them – to my mind it looks too much like a worm and I have seen trout attacking the braid loop!
I picked up another small trout above the mill bridge and headed into the trees. I managed to lose a rather aerobatic trout on the first run and the splash he made meant moving on. A chub from the "Blue Pipe" run was quickly returned and I moved on again.. The next run produced the two best trout so far a 10inch and a couple of minutes later a 9 inch.
I was now in a seriously wooded area with some impressive collections of "Woody Debris" This one you can get past climbing over to the left but a previous one with two smaller trees down the full width of the beck means a tricky duck under.
I moved on getting a trout here and there and loosing probably the best fish of the day even though it seemed well hooked.
I was hoping the Pylon Run would produce a couple of trout but as I got there a pair of Mallard flapped up disturbing everything. I gave it a couple of minutes to recover then a cast to the half-submerged log produced a nice 9 inch fish.
I moved on to the weir pool at the top of our beat where there was no interest in the F Fly but a change to a large Adams Parachute produce a trout first cast, but I got no further interest in the Adams. Switching again to a goldhead Klink and Dink to search the deeper water produced another trout and I decided to call it a day.
I had really enjoyed myself, it had been positively warm all afternoon, there wasn't too much breeze, and there had been a fair amount of casting room. I ended with a small chub and 11 trout which early in the season was very acceptable. After so much lockdown I hope to get out again this week... watch this space.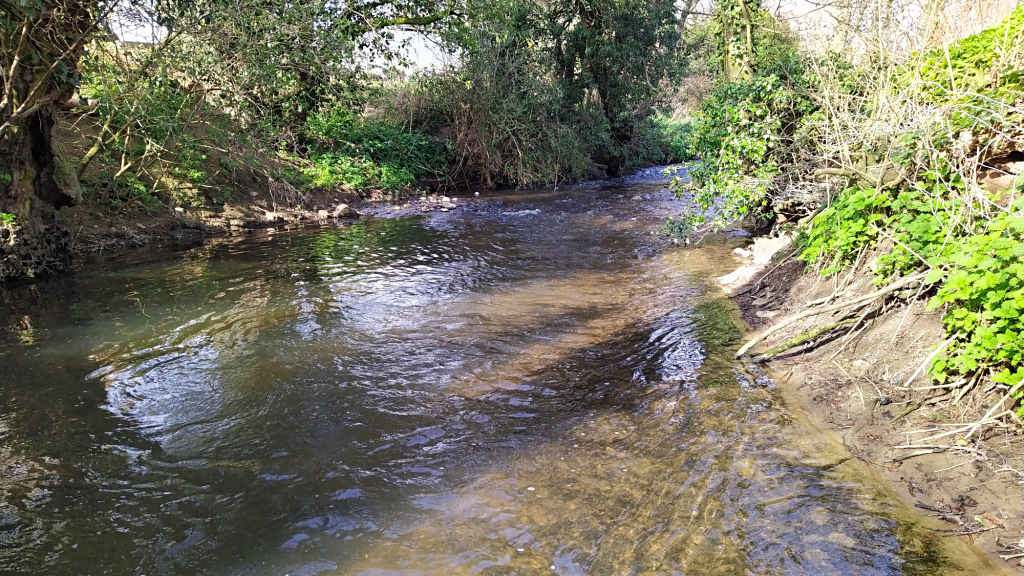 29th March – Season Starter on the River Riccal
At last the lockdown rules are relaxed and I can go fishing with a clear conscience, (I was seriously tempted to stretch the meaning of "Local Travel" to go to Isle Beck on 25th but resisted!). River Gauges showed that Cod Beck was high and rising and I guessed that Isle Beck would be similar so I headed out to the River Riccal.
I was there by 11:40 and a quick look over the bridge told me it was a near perfect 20 cm high and clear, even better there was hardly any wind which normally plagues me when I visit the Riccal.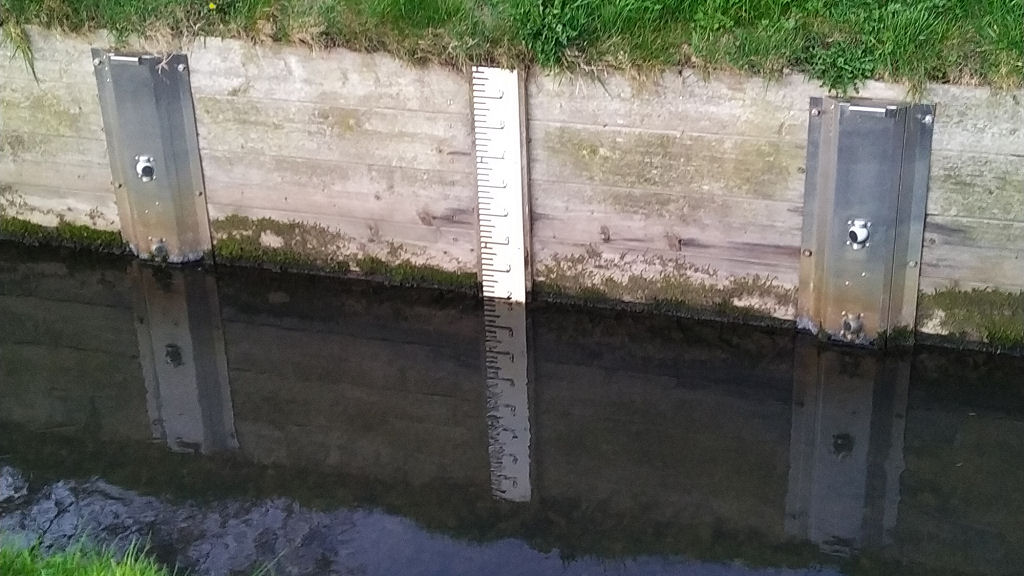 I opened the campervan and pulled out my chest waders and suddenly realised that my wading boots were not in the box with the waders!!!! You'd think with 6 months since I last fished I would have had time to make sure everything was back in place in the campervan…
80 minutes later I am back at the Riccal with the wading boots and as expected the wind had picked up and appeared to be blowing more or less left to right and I was hopeful that this might just help to get some of my casts under the trees on the right bank.
I fished very hard with dries and Nymphs but by the time I got back to the bridge after four and a half hours of very frustrating casting I still hadn't seen a single rise or had a touch on the Klink and Dink nymph rig.
I sat in the camper and made myself a cup of tea and finished a very late sandwich lunch during which the wind that had plagued me all afternoon died away to nothing. Refreshed I grabbed my rod and headed back out and right on cue the wind picked up again! I was finally seeing one or two rises but covering them was interesting as the Riccal is very overgrown and I spent more time recovering flies from trees…
Eventually at 18:50 the wind just stopped and within a couple of minutes a fish hit the black F Fly I had on. The moment of excitement was spoilt as I reached to net the fish and realised it was not a season starter brown trout but a tiny grayling. At least I had hooked the only rise I had got so far.
I fished on and with the wind gone I was seeing a few more rises but again the trees and overgrown conditions frustrated every attempt to cover fish, the Riccal is a perfect small stream as it is spring fed from Limestone and usually crystal clear but the overgrown trees and branches take away the joy of fishing it. At 19:15 with the sun almost set it was too dark to see under the trees so I called it a day. Not the start to my season I was hoping for but at least I didn't blank completely.

January – Post Season Thoughts and Pre Season Blues!
I have just sent off a cheque to renew my YTAA membership for 2021 and decided to post some thoughts.
It seems a long while since my last outing to the Riccal on 30th of September when I struggled against wet and windy conditions before eventually catching a trout to avoid a blank on the last day.
I have been going through the catch returns I have received from members who fished on the various becks and rivers during 2020 and it's been quite interesting. Because of Covid and lock down etc. the wild trout season was late starting – my first trip was 23rd of May but I had a pretty good season once things stated and ended on 158 trout, 39 grayling 11 chub and 11 dace in 22 outings.
Another member, "Paul", had a better average than me and in 12 outings recorded 98 trout, 57 grayling, 16 chub and a dace. In his notes he said that (like me) he struggled with the overgrowth at the top of Cod beck, but his trips to the Dove, the Riccal and Thirkleby were particularly productive. Rick B had a few good trips, landing trout, grayling, chub and dace (and 4 minnows!) for an average of 5.4 fish per trip.
Elsewhere a couple of members had considerable success with trout, chub and grayling by trotting worms or maggots. Let me say here that not everyone enjoys casting flies in tricky overgrown conditions and YTAA allows worming and also maggot fishing on selected waters during the coarse fishing season. So if that is what it takes to get you out to enjoy some time on the water then that is fine by me and well done to Richard and Garry.
I have often wondered what a free lined worm would produce dropped into some of the deeper holes on Isle Beck, particularly holes which are impossible to cast a fly or nymph into, but have not really tried, maybe next season I will give it a go.
I guess it's too soon to speculate whether the 2021 season will open on time (I can hardly wait to get back out) but there is no harm in being prepared and so tidying fly boxes, tying flies, sorting leaders and tippets, checking and oiling reels and cleaning or renewing fly lines should now be under way and will help keep us out of trouble during the current lock down.

Tight Lines for 2021