Tales from the Riverbank - 2020

30th September – River Riccal Revisited
So the last day of the 2020 season arrived and I wasn't sure where I wanted to fish, but in the end I decided to go to the Riccal to overcome the blank I had achieved last Saturday. When I left York it was a mild day, reasonably bright with hardly any wind. By the time I got to the Riccal the wind was already picking up and the sky was grey and it was threatening to rain.
I made my way to the start of our beat tackled up with the Hardy Glass "The Aln" to give the little 5'#2 its last outing for 6 months. Nothing rose in the first run but a decent trout took the Olive F-Fly in the second run but went straight into some reeds and the hook came out. Very annoying but I was encouraged that I had at least I got a rise which was more than I had on my last visit.
I moved steadily upstream but got no further interest in either dry flies or goldheads until I got to the big pool. By now the wind had really picked up and it was trying to rain. After some fruitless casting with the Olive F-Fly I switched to a goldhead and promptly hooked and lost what looked like a half decent trout. I got no further interest and moved on getting more and more frustrated by the wind and the rain with a nagging doubt creeping in that I was facing another blank.
The lack of interest continued beyond the road bridge and my fishing time was ticking away, I was supposed to pack up at 3 o'clock but was still working my way upstream at 3:45 when I spotted a trout a few yards in front of me. The problem was that there were bushes either side of the stream almost touching in the middle and a tree overhead and casting seemed impossible. I ended up kneeling down mid-stream and trying to roll casting towards the trout but no matter what I did the fly either dropped a foot or so behind the trout or caught on the bushes or the tree above me. This was all extremely frustrating, especially as the trout just sat there oblivious to my efforts, almost waiting to be caught.
In the end I gave up and just waded through on to to the next run. This was a long slow pool with trees either side providing a little shelter from the otherwise relentless wind.
There was no sign of any fish rising but I dried the Olive F-Fly and cast up towards the middle of the run and a fish rose straight away. I have seldom been so pleased to hook a trout and I have seldom been so anxious to get a trout into the net. I'd left it late as it was now 3.58, but I had landed a trout on the last day and not blanked.
Its funny how one little trout can change the whole mood of a hard days fishing and with the trout released and the last entry made in my waterside log book I packed up and walked back to the camper van a very happy angler.

29th September – The River Dove
I hadn't been across to the River Dove this season and I hadn't really planned to go today, but it looked like it might be a nice afternoon so I headed off there even though I knew I would only get a couple of hours.
I was actually fishing just before 3pm and within a couple of minutes had my first trout, nothing huge but a nice average trout that sipped in an Olive F Fly.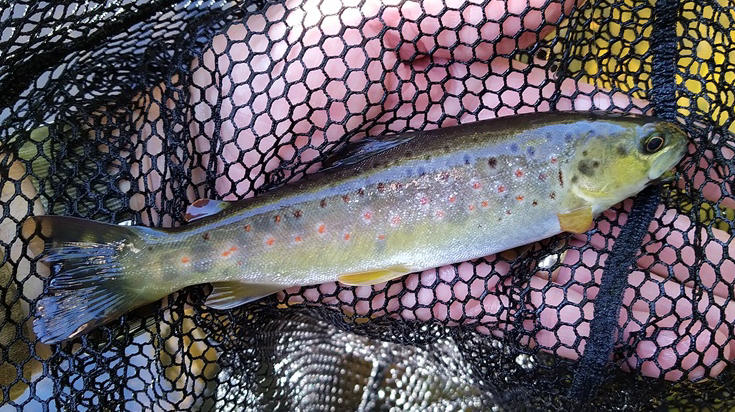 A minute or two later I had my first tree, I managed to retrieve my fly but had to tie up a new cast as the first one was a mess of knots. I had decided to use my 6' #3 Rawson S Glass rod thinking I'd have reasonable casting room but the lower end of the Dove was actually quite overgrown with low branches so I soon realised I was in for an afternoon with a lot of roll casting, fortunately the Rawson is quite useful for that.
The sun seemed to be directly behind me most of the time I was fishing and as it was fairly low in the sky so I was casting a long shadow across the river and probably scaring a lot of fish. The River Dove itself looked beautiful, clear but slightly higher than I expected and running quite fast.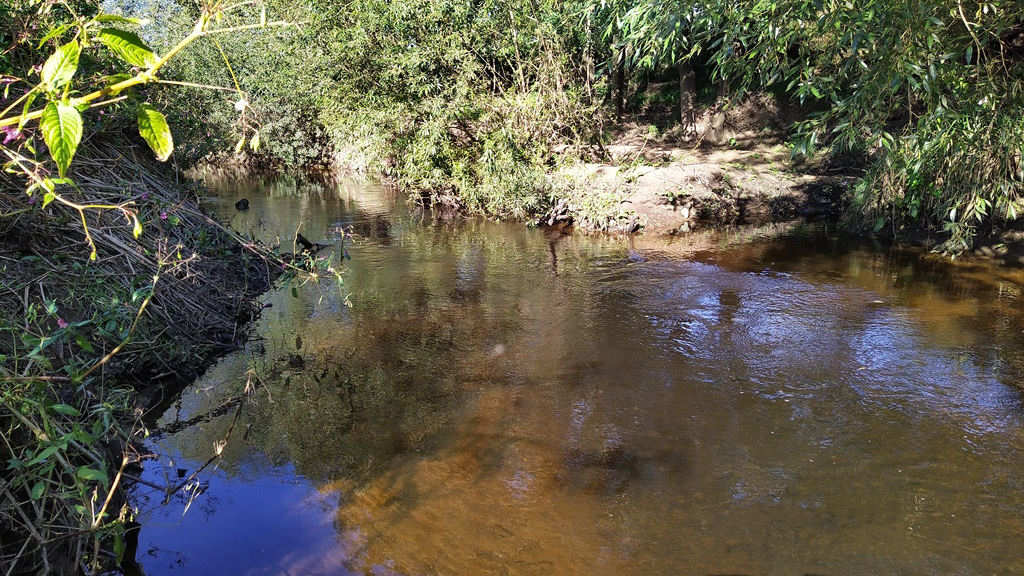 It wasn't long before I was into another fish from one of the deeper runs, this time an 8 inch grayling taken on a small goldhead fished as usual Klink and Dink style. Another better grayling nearly 11 inches followed from the same run a few minutes later then everything went quite. I was moving upstream fairly quickly and not fishing every run as carefully as I should as I knew time was short.
Another wild trout put in an appearance on the goldhead before I switched back to an Olive F Fly to cover a rising fish and landed another half decent grayling.
I kept trying the Olive F fly but getting no further interest eventually switched to a tiny Parachute Adams to take one more small grayling before it was time to pack up and go.
It had been a funny sort of afternoon I only got three hours fishing in and I had fished through a lot of good pools and runs fairly quickly, but at the same time it felt like a lazy sort of easy going afternoon and only getting two trout and four grayling didn't seem to matter as I had enjoyed myself.
I've said it before but the Dove really is a very good water and I keep meaning to pay it more attention so making my first visit of the year on the penultimate day of the season doesn't really do it justice, maybe I'll try and start my 2021 season there.

28th September – Isle Beck – The day of the Grayling
Having blanked completely on the Riccal on Saturday, Monday afternoon finds me heading out to Isle Beck to fish above the A19 Bridge. I have fished above the bridge this season but never made it right up to Arden Bridge but I have about 6 hours so that should be possible.
I'm off to a great start landing a 12.5 inch wild brown within a minute of getting into the beck. I saw him rise just above some Himalayan balsam that was lying in the water and dropping an olive F Fly over the balsam just where he rose was too much temptation and he was soon noted in the waterside log book and released.
I missed a couple of rises in the next run so moved on to the pool below the kingfisher nests and was soon into a grayling. I had barely released him when I saw a rise further up the pool and a quick roll cast produced grayling number two.
I couldn't get anything for the next few runs, but on the next big pool landed 3 more grayling and in the run in above the pool a careful cast over my left shoulder and past the tree produced wild trout number two of about 10 inches.
Moving up meant a diversion up some slippery banks and round rather a lot of woody debris but the next pool produced yet another grayling. I had really come out to try and top up the number of trout I've caught on YTAA waters this year, but it seems I'd picked a day when every grayling wanted to try my Olive F Fly offering and I missed a number of rises and landed 4 more grayling before my next wild trout – a splendid 3 inch monster from a tiny run where I have had trout before.

My battle with grayling continued and I caught 6 more before I got my next trout a nice 11 inch fish from the pool a little way below Arden Bridge. Strangely it's a pool I normally expect to catch grayling in and casting again I did just that landing a perfect 10 inch grayling just to round off the day.
I had expected the day to be hard work with lots of twigs and branches blown down into the beck during the winds on the weekend, there were a few but nowhere nearly as bad as I had expected. Isle Beck was near perfect height and clear and the grayling were obviously feeding even if the trout were less enthusiastic. The first trout I caught took a size 16 Olive F-Fly, everything else came on a size18 Olive F-Fly. Should I have tried something different? Possibly but when you are having fun and catching why would I want to change? For the record most of the grayling were 8-11inches but I had one that was barely 2.5 inches clearly last year's spawning and a good sign for the future.
I had really enjoyed my afternoon, who wouldn't with 16 grayling and 4 trout. I still hope to be out again before the end of the season….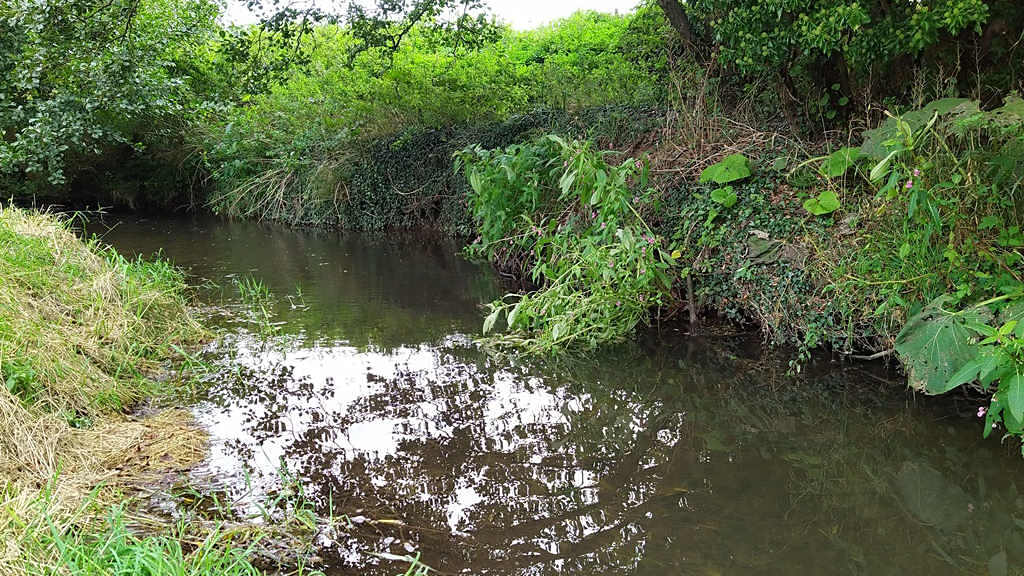 26th September – Not the Best of Days at Riccal
I was supposed to be in Scotland this weekend fishing with my friend to decide which one of us would hold our Seriously Small Salmonid Club Trophy for the next year. However with the new Covid rules in Scotland this was not practical so we decided to have a "Socially Distanced" fish off – him in Scotland and me in Yorkshire.
Having checked the river gauges on line and seeing that the main becks were all too high and it looked like the Riccal would be the only river at a good height to fish. I was ready to start fishing by 1:15 and sure enough the Riccal was a perfect height and clear, however the wind was very strong so I guessed it was going to be an interesting afternoon.
On the way down to the start of our beat I noticed a new bush was down and would completely blocking the run and upward wading .. . .

As I suspected the wind made for some interesting casting and it was a matter of waiting for any slight lull to get my fly where it needed to go. Having said that it was very much a case of chuck and hope as I wasn't seeing any rises anywhere. I tried a Klink and Dink in a couple of deeper runs but it seemed the trout really were not in much of a mood to play.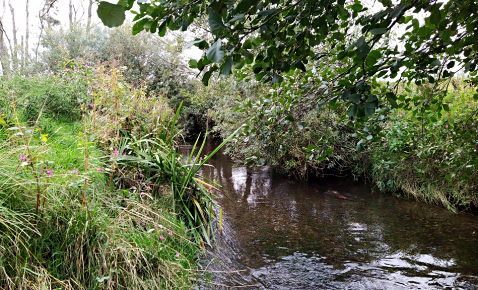 The Riccal is always a challenge with overhanging trees and now near the end of the season it was about as challenging as it gets.

After two hours I got a call from my buddy to say he was struggling in cold bright sunshine but had finally got a small trout so was clearly in the lead – as if I didn't need more pressure.
I was hoping that the wind might ease off towards evening, but if anything it was picking up and although I did eventually see two rises and covered both I didn't get a single touch to either dries or goldheads using Klink and Dink and I ended on a complete blank. Checking back through my records it's the first blank I have ever had on the Riccal, though in September 2008 I had a visit where I only got one grayling.
I don't want to end the 2020 season on a blank so I hope to get out again in the next three days.

22nd September – A Pleasant Afternoon At Thirkleby Mill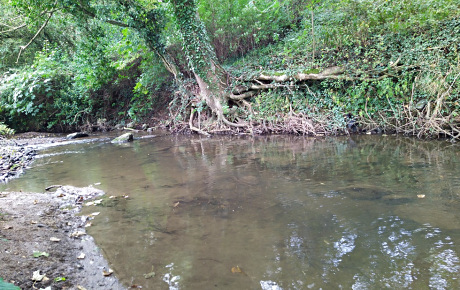 Back in York after another trip to Wales I was keen to top up my numbers for YTAA fishing so headed off to Thirkleby Mill. This time I'm back to using my Hardy Glass 5' #2 and expecting that to feel a bit too long in the overgrown conditions. Then when I get to the beck I realise that it is also quite low and very clear, which will add to the fun of stalking. I am fishing by 13:15 but the first run produces no interest in my favourite Adams Parachute so after quarter of an hour I change to a small Olive F Fly and the difference is amazing, I miss a rise first cast, but a couple of minutes later having rested that fish the next cast produces the first trout of the day – a typical wild brown of about 8.5 inches.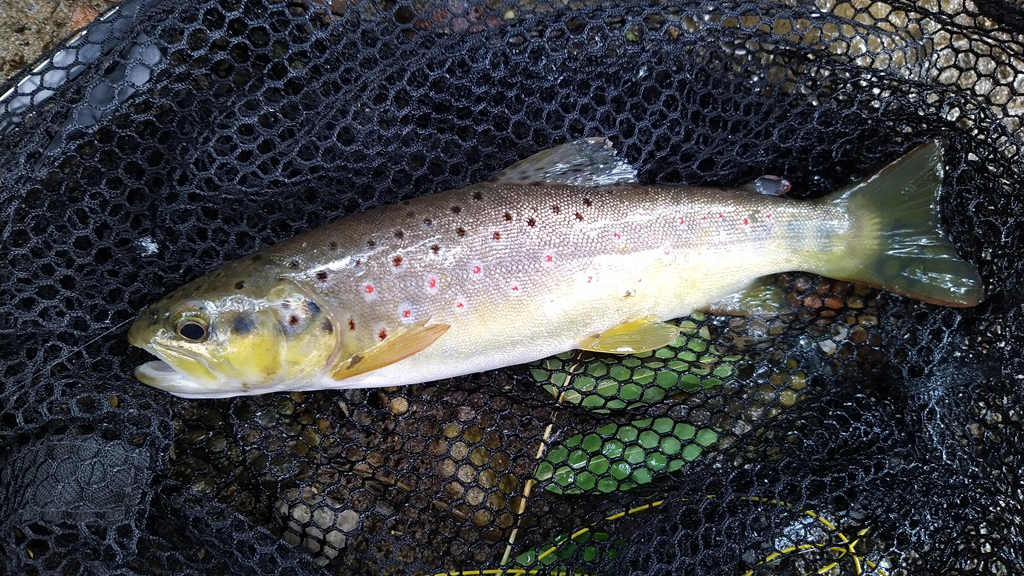 With no further interest from that run I move up to the big bend pool and soon land a micro chub followed a minute or so later by a 6 inch trout.
Casting over my left shoulder into the fast water above the bend pool produced a much better trout that nudged 11 inches. I got no more interest before I crept carefully below the track bridge and headed for the Willow Bend pool, some careful casting produced 3 small dace and a trout from the roots of the willow tree itself.
Moving on I gave a wide birth to a flock of ducks that have taken up residence in the field hoping not to disturb them into flapping upstream and scaring every trout for miles around. Having successfully kept the ducks downstream I was rewarded with a pretty little 8 inch trout from the mill wall. This was recorded in the waterside note book and joined by another trout and two more small chub from the blue water pipe pool. I also lost a good trout having made a good cast up under the blue pipe into the fast water beyond.
I didn't see any more action until I got to the pool below the footbridge where I got 3 dace in quick succession and lost a trout as I went to net him.
Above the footbridge I struggled to get through the mass of fallen willow but I made it eventually but got no more action until the long pool below a big log jam where another small chub went into the log book. The "19 Second" pool failed to produce any rises so I moved on.
The afternoon had been warm and sunny but the sky now clouded over and an annoying breeze sprang up which made casting in the overgrown conditions interesting and I saw no more action until the top of the pylon length pool. First up a 10 inch grayling took a fancy to the F Fly and then a trout that came off before I could pull him clear of the half sunken log.
With no more interest to the F Fly but convinced there were more trout I switched to a goldhead Klink and Dink and landed an 8 inch trout before moving on.
I was soon at the weir pool and changed back to the F Fly as there were one or two fish rising, but they showed no interest in a dry so reverting to the goldhead I got the best fish of the day from just below the sill of the weir, a nice wild brown.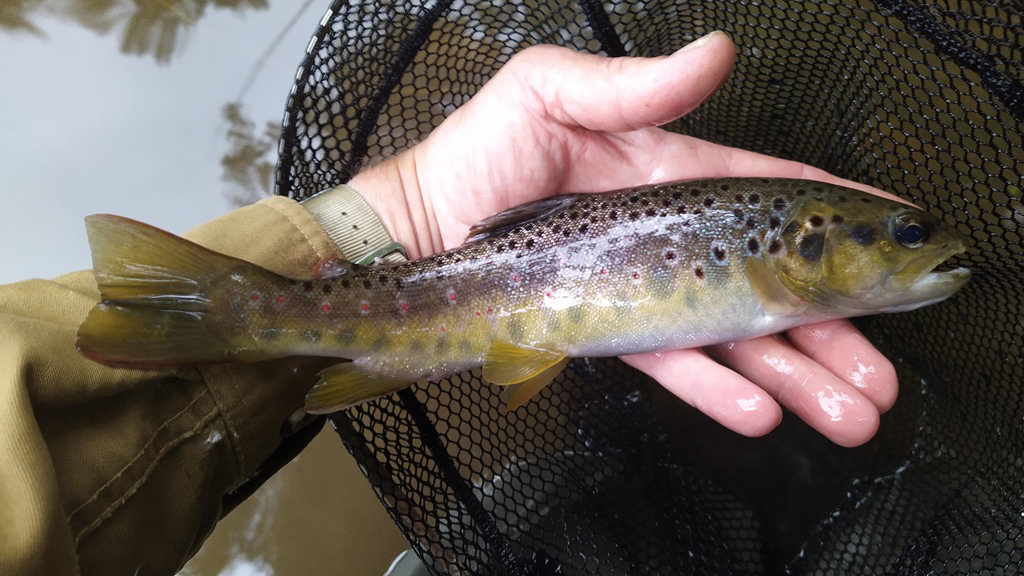 I thought that might be it as that trout put up quite a fight on my light rod but a last cast produced a firm take and a final little trout went into the log book before I called time.
It had been an interesting afternoon, I hadn't expected to do much good with the low clear water and overgrown conditions but I ended the session on 1 grayling, 4 chub, 6 dace and 8 trout, so all in all a very pleasant afternoon.

7th September – Hard Times on Isle Beck
I have been in Wales off and on for the last month so hadn't been out on YTAA waters since 7th August, so with the chance of a few hours late afternoon I headed out to Isle Beck.
Walking down below the A19 it didn't look like anyone had fished there recently as the grass and balsam were high and there was no sign of any tracks heading downstream.
Slipping into the beck three fields down I immediately realised how much more overgrown it was since my last visit. The leaves on the trees weigh the branches down giving even less casting room than normal.
There are several more trees down across the beck; some are not too much of a problem but a couple block upstream access meaning more detours.

I wasn't seeing any rises and trying both dries and 'Klink and Dink' brought me absolutely no results. After over 2 hours without a sniff or a sign of a trout below the A19 I decided to have a short time above the bridge while the light still lasted.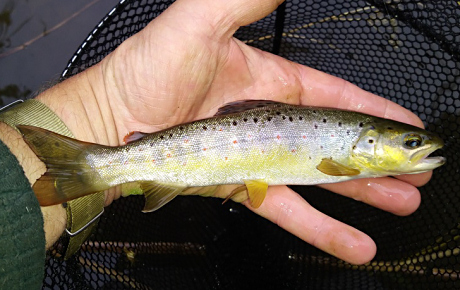 Wading under the bridge I saw a rise (first of the night!) by the Alder tree and a careful cast covered the trout which duly obliged. Nothing spectacular about 8 inches but any blank saving fish is a great fish!

I fished on through the next few pools and saw a trout rise in a couple of them but got no further interest and by 7:15 it was getting dark under the trees so I called it a night.
Not the session I had hoped for but very grateful for getting a trout.

7th August – The River Riccal
I hadn't been out on YTAA waters since 13th July, but I had has some nice trout in Wales and with the prospect of going back to Wales soon I wanted a good trip out on YTAA waters to boost my catch record a bit.
I knew that the Riccal would be more overgrown than my last visit on the 30th June, but I fancied another go at it.
As I was walking down to the start of our beat I realised that my cast at nearly 6 feet was going to be far too long so sat down on the bank near some reeds to cut out 8 inches and re-tie it.
While I was doing this I heard a splash and saw ripples from a rise just a few feet away behind the reeds, having retied my cast I just flicked out my line and cast the Adams Parachute just over the reeds and a good trout was hooked, landed, released and recorded in my waterside log book.

It's always nice to get a trout first cast, but I have learnt that this doesn't necessarily mean it's going to be a good afternoon and it was 40 minutes before the next trout. This one similar in size to the first took a small olive F-Fly.
I was struggling with the narrow stream, high reeds and low branches and managed to lose two good trout in succession, one took a goldhead fished in one of the deeper pools and the next an Adams Parachute but went straight through a pile of branches and dislodged the hook.
There weren't many fish rising and I saw no further action till I got to the big pool... changing to a goldhead fished NZ style on a long dropper (over 5 feet!) I managed to extract another good trout from the depths.
I struggled to get a cast in above the big pool as it is so overgrown, and where I did manage to cast nothing was taking.
By 8pm I'd had enough. I had tried hard but had to settle for just the three trout, still it beats sitting in an office and I had enjoyed the challenge of the overgrown conditions, but I doubt I will be back there again this season.



13th July – Hard Work at Thirkleby Mill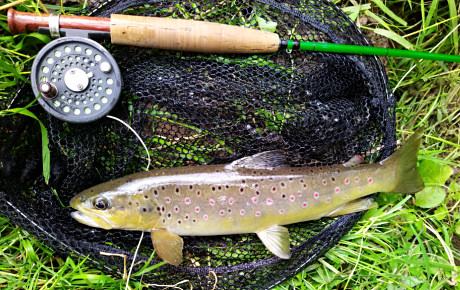 I haven't made it out since the end of June so was looking forward to a lively afternoon and evening session at Thirkleby Mill. I was fishing by 14:30 and catching at 14:32. The Beck was surprisingly low and rather clear so I might have guessed it would be hard work. Trout number two followed after a few more minutes, and then I got three small chub in a row. Creeping under the farm track bridge I finally got a trout from the Willow Tree Corner. This corner used to be a dead cert for one or two trout but this year I hadn't had a touch, but a good trout made up for earlier no shows.
Moving on through the chicken field I had no more luck and even managed to lose a good trout from alongside the Mill Wall. Moving under the trees life became tricky but I got two small dace from the Blue water pipe and followed up with a decent 10 inch trout. I had no more luck until I came to the pool below the footbridge where I got a 7 inch trout.
I was finding the beck quite tricky as the branches seem to have grown lower but I managed to pick up the odd trout here and there including a 10 inch fish from the "19 Second pool" then a couple from the Pylon Pool and a couple from the weir pool and I called it a night at 8pm.

I'd seen several kingfishers and a moorhen, it didn't rain and I ended on 12 trout, 3 chub and 2 dace which I suppose is a pretty respectable evening.
Finally to reiterate an earlier warning, the badger holes in the path alongside the "pylon length" are now quite bad, if you have fished up the beck to the Weir pool and are walking back down the path at dusk be very careful to avoid them.

30th June – A good afternoon on the Riccal
I gave the Rawson Rod its first try on the Riccal. As usual when I've been at the Riccal this season there was a strong breeze, but in a couple places it actually helped get the fly where I wanted it.
First up was a trout I thought I had on an earlier previous visit this year, this time on a small Adams Parachute, but on checking photos when I got home the pattern of spots on the gills showed it was a different but identical size trout.
The first few trout I had all came on the Adams but then a few mayfly started appearing and a change to a mayfly got me a few more. Changing to a goldhead to try some deeper pools added another couple of trout, and in the last hour I switched between a Mayfly and Adams to take more trout.
I ended on 20 trout and despite the wind, which wasn't always helpful, I only lost 3 flies in trees and branches, so overall a highly successful afternoon.

25th June – Isle Beck above A19 Bridge
After Tuesdays trip to Cod Beck I fancied something a little easier for a late afternoon trip. I wasn't sure whether to try Isle Beck or try our old beat on Cod Beck below the junction with Willow Beck. In the end I decided to drive to the A19 Bridge, if there were vehicles there I would go on to Dalton, but I was in luck and there appeared to be no members fishing.
I'd missed the heat of the day and it was just after five o'clock when I slid under the bridge to try for the trout by the Alder tree. Sure enough he was there and trout number one went in the log book after just 2 minutes of fishing.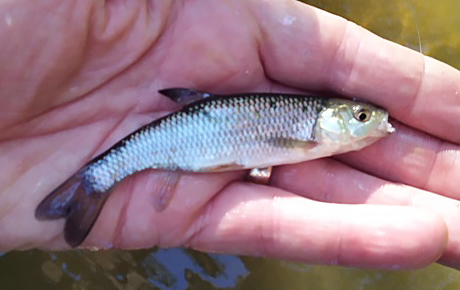 I thought I was in for a good evening but I missed the next couple of rises and lost two trout before I could net them and it was gone seven before my next fish, a 3 inch dace that somehow manage to get a size 14 Adams completely in its mouth.

There are still quite a few log jams on Isle Beck but getting out and round them isn't as tricky as it is on Cod Beck and generally speaking Isle Beck is safer wading so getting back in after obstructions doesn't feel as challenging. I was surprised to find a group of three very large fungi on a fallen tree, see photo. My rod is in the picture to give you an idea of scale, they are some of the largest I have seen.

Once back in there are some lovely pools and runs to fish and under the shade of the trees it was pleasantly cool. Actually the water in Isle Beck was quite low, about a foot lower than ideal and it could do with some rain to flush it through and liven things up a bit.

I landed a nice 11 inch wild trout at half seven, a six inch trout at eight and then to my surprise at half past eight there were mayfly everywhere dropping into the water where the trout were making the most of it. I quickly put a mayfly pattern on and got another perfect 11 inch wild fish, but then the mayfly vanished and it all went quite so I called it a night.
It's funny how you think about your fishing, on Tuesday I had three good grayling a good trout and a dace and it felt like a disaster as I had worked very hard for just 5 fish. This evening I'd had 4 trout and a dace and it felt like a very pleasant evening even though I'd only caught the same number of fish.. .
As I write this there are supposed to be thunder storms and heavy rain so the becks may get the refreshment they need so I hope to be back out again after the weekend.

23rd June – Cod Beck
I have been wanting to have a go at the Railway Bridge beat on Cod beck for a while and today the gauges suggested it would be a good height. Sure enough Cod beck was a good height for fishing, but the Balsam, reeds and willow saplings were very definitely not, neither were the nettles as I found out the hard way.
As usual I slipped in to Cod Beck some 80 yards below the railway bridge. A couple of tentative casts produced no takers in the two pools below the railway bridge run so I moved through quickly with high hopes of several trout and probably a grayling or two as well. I got the grayling bit right with two good ones both around 11 inches, but couldn't get a trout on a dry fly or a gold head despite trying hard for 40 minutes.
Moving on I tried under the railway bridge itself the left side produced nothing but a cast along the right wall gave me a nice trout to start proceedings off. Moving on through the bridge, the pool above was quiet, so I exited to go around the first log jam of the day.
Getting back in was not much fun and I ended up sliding down though Balsam and nettles to arrive more or less OK. Once I was back in, Cod Beck looked nice but the pattern was set for the rest of the afternoon, slipping and sliding up muddy banks to get around deep pools and slithering back down steep banks to get back in.

Once I was in I felt sure I was going to get some trouty action but was disappointed every time, I tried various dry flies assorted goldheads but nothing worked.
I can't really remember what this part of Cod beck was like last season but I'm sure some parts of the railway beat really have changed a lot over winter and there are several new log jams that I am sure weren't there before. The problem is not so much the logs as the fact that the beck scours out the river bed underneath the jam making for some very deep and tricky wading.

At some point in the afternoon I got a small dace but didn't get any more trout or grayling. Eventually I gave up and exited the beck and headed back to the van rather disappointed and rather scratched and stung for my efforts. Back at the van I decided to have one more go at the pool below the railway bridge and was rewarded with another good grayling but that was it.
Three grayling, one trout and one small dace for five and a half hours of jungle warfare. I suppose I enjoyed being out and the fish I did get were all fighting fit and fin perfect but I think it will be quite some time before I go back to that beat!

20th June – Thirkleby Mill
A nice afternoon and I head out to try the new rod at Thirkleby Mill. I find that I am following a grey van up Mill Lane and it parks right where I like to park, then out pops Steve F who waves and says I thought I recognised your camper.
I park beyond him and he tells me Bob is also coming up to look at the beck and fish, so I offered to go elsewhere but Steve suggest there is plenty of room so we agree that he and Bob will fish as far as the footbridge and I will fish up from the footbridge up to the weir. It's rare for me to see anyone else fishing the becks so to have three of us on one beat is very unusual.
The first hiccup is a new tree down immediately above the footbridge making a right obstacle course of trying to get through the tangled branches to fish the pool above. With no takes I move swiftly on to the run below "Janet's Hut" where there are several fish rising, targeting the nearest produces a very small chub. Next up is the first trout of the day and then another and another, this is great as I haven't got to the good bit of the pool. A few roll casts there produce a much better trout that puts a healthy bend in the Rawson rod as I steer it clear of tree roots.
Moving on I get to the pool below the first big log jam, there are fish rising at the very tail of the run off and a quick cast gets me one, then another in the main pool, then a grayling from near the top and finally a good trout from the very top that I pose quickly for a photo with the new rod.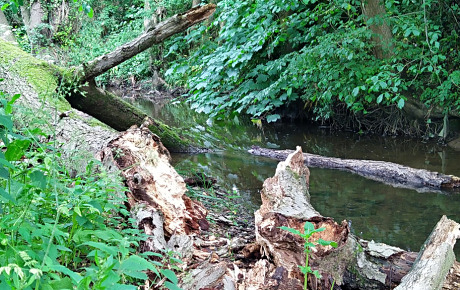 Moving on means a climb up the bank into the field and back in again above the log jam only to find another big tree has come down beside the beck but not blocking it too much. I don't get a rise in the next pool so it is on to "19 Second Pool". Once again I get a trout from the tail end then one from the middle then two from the pool itself. I can't believe how well this session is going it feels like I can't go wrong and the size 16 Adam Parachute is just what every fish has been waiting for.. .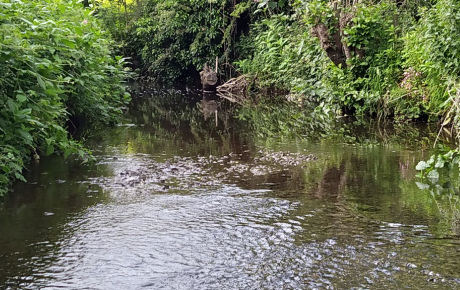 I move quickly through the next couple of pools as I really want to give the pylon length a good go. There is nothing doing in the lower bit but I am not disappointed with the top end. As usual I pick up a nice trout from the tail end, that was literally sitting in 2 inches of water. Another from the middle and then I miss a good one from the fast run in. On a whim I decide to change from the Adams Parachute that has done the business so far to a small goldhead Klink and Dink to see if I can persuade the big one to take. First cast I get a grayling, then next cast I get the big one (measured at 11.5 inches) then just for good measure a 10 inch one on the very next cast as well.

I move on quickly as I want to have some time at the weir pool where I am counting on getting several more trout. I wade through a couple of small pools but seeing two fish rising in one small pool, I flick the goldhead out and get them both in successive casts.
Finally I come to the weir pool and as I get there I scare a family of half-grown ducks that all go flapping across the pool and up the weir, all except mum duck, who clearly thinks that I am some sort of predator and puts on a magnificent "I've got a broken wing" display flapping round and round the pool while her brood are scuttling up the weir to safety then calmly takes off and flies away. Not surprisingly there are no fish rising but I try a few casts with the Klink and Dink but there is nothing doing so I decide to call it a day – well not exactly a day I have only been fishing for 3 hours and have had a small (very small!) chub, 2 grayling and 17 trout…. It would be fair to say I am rather pleased with the new rod.
When I get back down to the Mill and my van I see that Steve and Bob's vehicles have both gone so I have no idea if they have had as good a time as me, I certainly had the best session of my season so far.

17th June – A Lazy Afternoon Below The A19
I always like to fish on my birthday (well any day really!!!) so planned a trip out. I was going to go to the Riccal but the arrival of a customised Rawson S-Glass 6' #3 a (very generous and expensive!) present from my Scottish Fishing Buddy had me heading out to Isle Beck where there are more open pools and runs to get used to the new rod.
Seeing Paul T's vehicle parked in the field I guessed (correctly) that he had probably gone upstream so I tackled up and walked a long way downstream to start at the little copse (famous for the bird and angler scarer!). The water pump and a tree down in the copse pool made it tricky to cast but the new rod rolled the mayfly out but I got no interest.
Making my way upstream I was surprised how quite a few pools have changed some trees that were blocking progress have been washed away, while in other places new trees have come down across the beck just to make life interesting.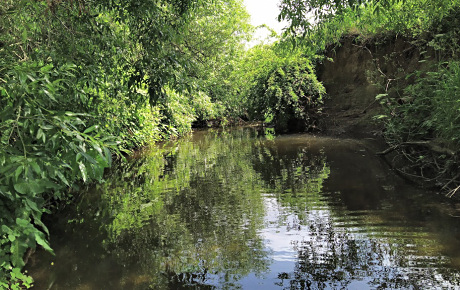 It was sometime before I got any interest, first a grayling on an F Fly and with him returned I played around in the same pool roll casting and changing flies and even tried a goldhead Klink and Dink but got no more takers and eventually exited the beck to get around a big blockage.

Back in the beck I was struggling to find rises and get fish and to add to the fun I managed to lose two fish in quick succession on a run where I usually count on getting at least one trout. In fact I ended wading a long way upstream to a big pool before I got any more action at all.
First up was another grayling on a mayfly then when I changed to Klink and Dink another grayling took the Royal Wulf I was using as the Klink! Then another Grayling on a mayfly, followed in successive casts by a dace on the goldhead and another grayling on the Royal Wulf.
I was spending a lot of time on this one pool and enjoying the new rod which being "S-Glass" felt medium soft when casting but was deceptively powerful, well capable of putting out a long roll cast or an overhead cast with great accuracy.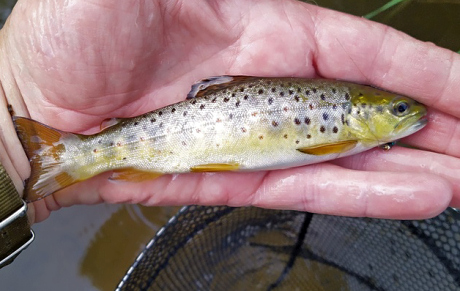 Eventually still on the goldhead I got a small trout (hopefully the first of many on the new rod!) which was very welcome and I was pleased to have actually caught a trout on a day when they didn't seem to want to play. The trout was carefully returned and a minute or so later a small chub took the goldhead, it really was turning out to be a mixed bag day.

Eventually I moved on upstream and I did manage a couple more rises to Small Adams parachute flies and lost a couple of good trout. Mostly I would be getting annoyed at losing good fish but I was just enjoying being out and playing with the new rod and with a new Mclean travel weight net that folds up small into a holster and springs open when you pull it out. It works very well and unlike other nets doesn't get caught on brambles, sticks, branches etc. which is just what you want in overgrown conditions!
As I packed up Paul T was also back at the bridge and had experienced a similar day to me with grayling and chub but not much action from trout. Just one of those days I guess.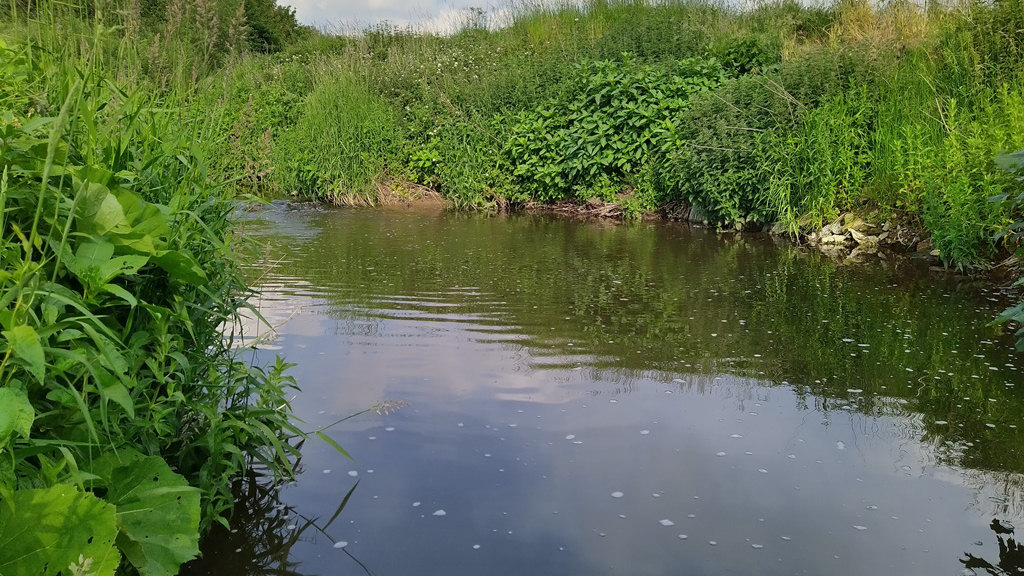 12th June 2020 – A disappointing visit to the Riccal
After overnight rain the gauges showed that Cod beck was not going to be safe, The Dove was flooded I guessed Isle Beck would be much the same as Cod Beck, but the Riccal at just 18 cm (1cm above what I believe is ideal) looked a possibility.
I set off about 1:30, later than I'd hoped and diverted to Clifton Moor to get new windscreen wipers as the steady rain showed the driver's side was definitely past its sell by date. With new wipers fitted I set off again at 2pm and the rain promptly stopped! It stayed dry all the way to the Riccal when as I pulled up it started to drizzle again! I should probably have taken the hint and gone home but looking over the road bridge the Riccal looked fine so I tackled up and slid down into the beck and under the bridge as I intended to fish the beat above the bridge.
Of course the wind picked up as soon as I started casting but there were mayfly everywhere and trout were slurping them down everywhere, well everywhere except the mayfly on my line. I changed from a #14 to a size 12 mayfly which did the trick and I soon had two small but very acceptable trout in the log book.

As I moved upstream beyond the river gauge things changed for the worse, it was nearly an hour before I caught my next small trout, but I did catch a lot of branches trees foliage etc. in between as the wind proved a real nuisance in the overgrown conditions.
Another frustrating hour went by before my next trout then a further hour for the one after that. In between trout I was kept busy retrieving my fly from assorted trees and bushes and generally becoming more and more frustrated. The Riccal has some lovely open bits but the open bits didn't produce a single trout for me today.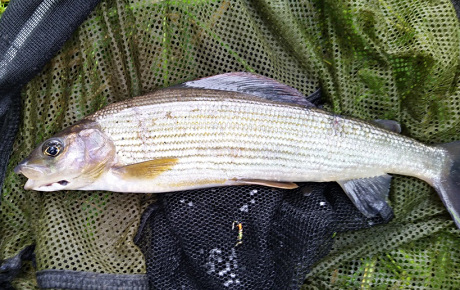 All the trout were caught by a painful process of dropping the mayfly under low hanging branches and in between times the wind continued to frustrate any attempt at my usual casting accuracy. The mayfly hatch petered out and by 18:45 I'd had enough and exited the river to walk back to the campervan. On the way back I thought I would have one last try in the pool above the road bridge with a gold head Klink and Dink style and a few casts later I was playing what was clearly the best fish of the day which turned out to be nice 11 inch grayling.

I needed to retie my cast after the grayling and to add to my joy managed to drop my clippers in to fairly deep water. I have a spare set in my bag but this time I took the hint and packed up. Back at the van the final crowning glory was to discover I had lost a star cleat from my wading boots. What a day!
To end on a slight positive note, checking back through my records I found that today's grayling is the first I have had on the Riccal since 12th September 2017, I had a good day then, 7 trout and 6 grayling!

8th June 2020 – Woody Debris Day above the A19
I hadn't fished between the A19 and Arden Bridges since 15th August 2019 but fancied my chances of a bumper haul as the Mayfly are still doing their thing. I was expecting that I might be getting mainly stocked fish but it didn't work out that way.
With the Aln set up with the usual 5-6 foot cast and a big green mayfly I slid in to the beck below the bridge so I could have a go at the trout that normal sits on the sill, but he didn't want to play, however the trout under the Alder tree did and was recorded in the log.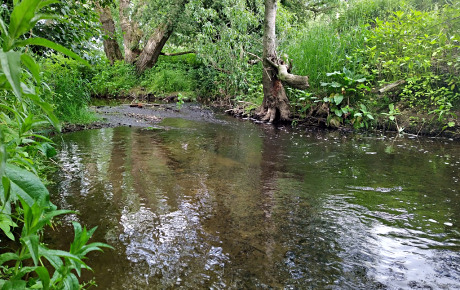 The big pool had one rising fish that splashed at the mayfly then ignored it on subsequent casts. The runs above are normally good for a trout or even two but although I covered several rises I got no takers. Round the next bend I am confronted with the first log jam of the day and made a careful exit left and re-entered upstream above it. There is now a nice little pool above the log jam but not much casting room, but a careful roll cast dropped the mayfly alongside the tree stump and trout number two went into the log.

Round the next bend another roll cast dropping the mayfly alongside the high mud bank and that got trout number 3, but the main pool produced no rises. Moving on, the next run is under trees and deep but again I got no takers. Next up is log jam number 2, but looking over the fallen tree I could see trout rising on the edge of the filmy scum above the tangle of branches, so keeping a low profile I climbed up and knelt on the tree trunk and one roll cast was enough to produce trout number 4. Only 6 inches long but they all count (the first 3 trout were all 10-11 inches!).
I made my way further upstream with various excursions around assorted log jams some seriously blocking the whole beck and causing bank erosion either side, and had a few more small trout and one decent one before I came to the first big deep pool.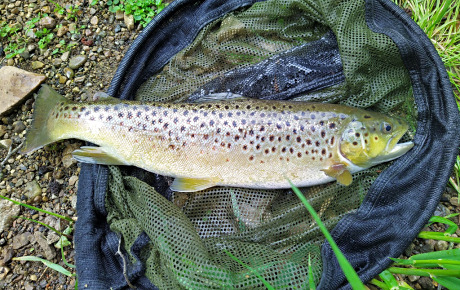 There were several small rises in the middle and far side of the pool, so targeting the nearest first I was surprised to find myself playing not a small chub or little grayling but a large stockie that seemed very determined not to come to the net. While there was no doubt that he was a stocked fish (the lack of red spots is a big clue!) he seemed to know a lot about tree roots. At 15 inches and in very good condition I do wonder if he wasn't one of last season's stock fish but well mended? He was quite light in colouring but most of this years recent stockies were a lot darker.

After the commotion of the big stockie I rested the pool for a few minutes to have a drink and a sandwich while I phoned my fishing pal in Scotland to see how he was getting on trying a new river near Kilwinning. ( From his answer I think he would rather have been in Yorkshire on a YTAA guest ticket).
With the pool rested I started again and got a small chub and a tiny grayling in quick succession before moving on and up and around the next big log jam. In the pool above I eventually landed a nice 10 inch wild trout that splashed at the mayfly several times before actually taking it.
Around the next log jam and under a series of felled trees that make an interesting obstacle course… I came to what was probably a pod of small grayling and tried various flies getting ever smaller before giving up and changing back to the mayfly to get another small trout from the pool above.
It was nearly an hour before my next fish, another 15 inch stockie from a reed fringed run followed shortly after by another 7 inch trout.
It was now 8:15 and getting decidedly chilly and I although I was clearly not going to get to Arden Bridge, I did want to try one more pool that normally holds good fish. Skipping round a couple jams I could see two or three fish rising consistently. I thought they might be stockies but targeting the nearest one first it turned out to be a good 12.5 inch wild fish.
With him safely returned I cast where the other fish had been rising and sure enough a big stockie took the mayfly, at 15.5 inches he was just the largest and last fish of the session.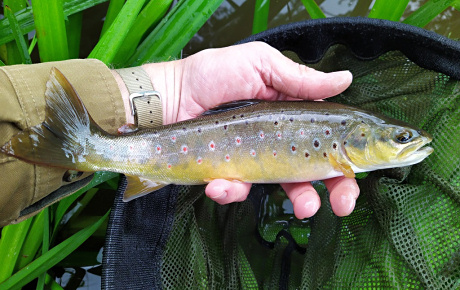 I'd quite enjoyed myself, I do enjoy extracting trout from places where it seems almost impossible to cast to and I'd had a few like that. I'd ended on 14 trout (including the 3 stockies) and the small chub and grayling, so overall a pretty good session. I know the WTT advice is leave woody debris in place as it acts as protection for juvenile trout, but there does seem to be an ever increasing amount of "protection" between the two bridges, still if it helps produce good wild trout like this.. .

The other thing I noted was I hadn't seen or heard a single kingfisher the whole time I was there – I would normally see several zooming up and down the beck (or maybe one zooming up and down several times - it is hard to tell as one flash of blue and orange looks just like all the others!). Perhaps I need to retitle this journal the 'Log Jam Diaries' ?
Finally despite changing flies to try and catch the small grayling pod and also trying and losing one fish on a Klink and Dink rig all the fish I landed today were on big mayflies. Not sure how long the mayfly hatch will last, maybe a week or so, but if you want some mayfly fun get out soon.

4th June 2020 – Mayfly Mayhem at the Mill
I had been hoping to get a trip to the upper part of our Cod Beck beat on the Wednesday but strong winds and grey skies put me off. Checking the river level gauge on Thursday I noted the level was rising after the overnight rain so decided a return trip to Thirkleby Mill was probably better as it isn't really safe to wade Cod Beck if the Dalton River Gauge is over 77-80cm and or rising. You can check the Dalton Gauge here:https://flood-warning-information.service.gov.uk/station/8063.
So 4pm Thursday saw me sliding down into the beck Below Thirkleby Mill down from the little road bridge.
Having caught most of Monday's Riccal trout on small mayflies I was set up with a large mayfly and hoping for some fun. To be honest I wasn't really expecting to get a trout in the first run, it used to be good but has tailed off in recent years but it is a good place to get in so I was surprised when a trout splashed at the mayfly first cast but didn't take it. I cast again and this time a 5 inch trout took the fly and went in the log book. I cast again not really expecting anything and another little trout splashed at the fly, but it didn't try again so I moved on.
As I expected the tail of the next run produced an 8 inch trout and then I felt but lost a good trout from the main run, but got a consolation trout from near the top.
The big pool produced no rises but casting round the corner into the run (casting over you left shoulder or left handed helps here!) I got a nice condition 11 inch trout.
The next couple of runs produced nothing which was a bit of a disappointment so I crept under the little track bridge the foundations of which are looking very unsafe on the left side, in fact I waited until an approaching farm vehicle had passed safely over before creeping through. The run above the bridge and the usually productive willow tree bend produced nothing either. But half way along the chicken field run a small rise turned out to be a small chub, the first I've seen this year.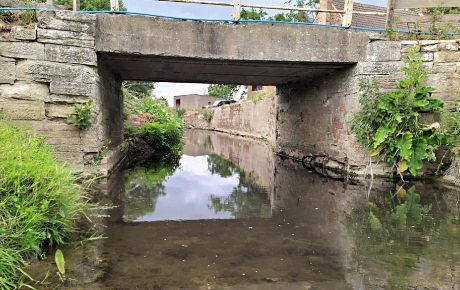 Next up is the Mill bridge and as I got closer I could see several fish rising under the bridge, there is normally a shoal of little chub around here but I cast anyway (a careful sidecast avoiding the tree that has grown on the right bank behind you) and my mayfly landed neatly in the middle of the bridge . What I expected to be another little chub took the fly but turned out to be another 8 inch trout.

As I was unhooking the trout I noticed a "wind" knot in my tippet which would have broken on the next hooked fish so I changed my tippet before continuing, it is worthwhile just running your tippet through your fingers periodically to feel for any wind knots, much better to change the tippet than to lose the next good fish leaving your fly in its mouth.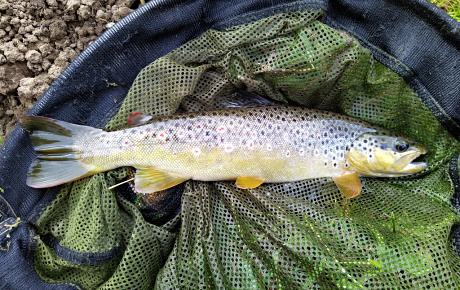 I could see fish rising beyond the bridge and a long and careful sidecast right under the bridge dropped the mayfly in the right place and a near perfect 12 inch trout went into the log book.

Having waded through the bridge keeping to the left to avoid a sheet of sharp looking wader damaging metal in the middle, the next trick was to drop the fly tight in alongside the right wall and catch the trout that was there. I even got an unexpected round of applause from the farmer and his daughter who I didn't realise were watching from the bridge!
Having finished the open bits I moved on into the tree covered sections and disappointedly failed to connect in the first run. The "Blue Water Pipe" pool had fish rising in the tail of the run (I keep saying this!) and it produced a small trout. There were several more fish rising in the main part and targeting the nearest rise first, in this case a small rise close to the left bank it turned out to be a larger trout than I expected and at 13.5 inches was the largest of the evening. Then a cast under the blue pipe into the faster water beyond added another 7 inch trout.
Up until now I had been enjoying the near perfect conditions and the Mayfly mayhem was making for a lot of fun, but as I moved on it started to rain and it wasn't quite the same. I didn't get trout in any of the next few pools but having scrambled under one of the trees across the beck a small rise produced a 5 inch trout then around the next corner an 11 inch trout hammered into the mayfly in full acrobatic style.
The rain was now becoming heavier and of course my jacket was back in the van and I was struggling to keep the mayfly afloat between the rain and water dropping off the trees. I got a nice trout from the pool above the footbridge and was going to call it a day but decided I was damp enough already and would get wetter walking back to the van than if stayed I fished on under the trees (it seemed logical at the time!) the next few pools above the footbridge produced nothing, but the mayfly got another good trout from the pool by "Janet's Hut". this is a deep pool and you can hide by the tree stump at the tail and drop a goldhead into the depths with good results most days, but I wanted to move on and the mayfly was still working well anyway.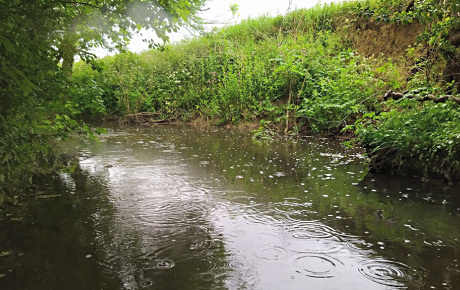 I got my final trout of the session from the "19 second pool"(you need to have read previous diaries to know why we call it that!) Only 8.5 inches but well deserved after a tricky roll cast over a sticking out twig which bent and released the line as the fish was hooked. Not fancying casting in the rain anywhere near the pylon length I called it a night.

It had been quite a good evening 15 trout and a chub in three and a half hours all on the mayfly. It seems to have taken ages for the trout to focus on the mayfly hatch but now they have I expect that the rest of Isle Beck, Cod Beck and The Dove are also now in the middle of Mayfly mayhem so if you want nice easy fishing with lots of action try and get out in the next week or so. (The Riccal was already mad with Mayfly when I fished it on 1st of June.)
Tight lines

1st June 2020 – River Riccal
I am still making up for weeks of lockdown and so I head back for another go at the Riccal. By 13:40 I have tackled up and walked down to the start of our beat and right on cue a nasty cross wind has picked up.
There are a few small mayfly about but I decide on an olive F fly and land my first fish third cast, at 8.5 inches it is a typical Riccal trout. A couple of minutes later trout number 2 went into the log but he was only 4.5 inches and again on the F Fly.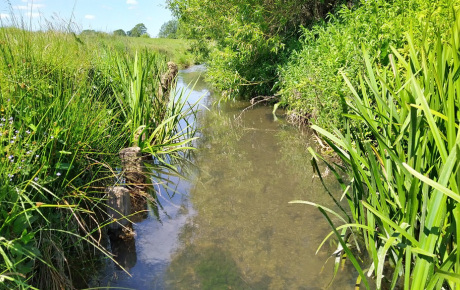 Moving up I spot a good trout in a tricky lie beneath some overhanging twigs. I watch for a bit and he is taking some of the mayflies drifting down. I try a cast but the wind blows the delicate F-Fly away. I change to a size 14 Adams Parachute which is heavier and should go where I aim – it does and the trout turns and splashes at the fly but I miss him. I thought I'd blown the chance but the fish is back on his station and still taking the odd mayfly. I try again this time with a mayfly and the trout turns and rises but I strike too soon and miss him again. Convinced I'd really blown it I was about to wade on up when I see he is back in his station again. So I try the mayfly a couple more times and he ignores it completely.
At this stage it's getting personal, I've already spent half an hour on this one trout but I am more determined than ever to try and get him. I think a goldhead might fool him but with the cross wind and the twigs over him a Klink and Dink rig will almost certainly get caught up somewhere so eventually I decide to try just a goldhead and hope
that with a side cast I can drop it under the twigs and just to his left in the hope he will see it and go for it. Incredibly the plan worked, I waited for a brief lull in the breeze, one false cast then dropped the goldhead slightly ahead and 6 inches to his left and he just turned and nailed it. In my hurry to get photos and get him returned safely I didn't get the best picture but at just under 12.5 inches he is above average for the Riccal!

Moving on I get a few more trout on small mayflies, I try F-Flies and Adams Parachutes and even try some of the deeper runs with a Klink and Dink without success.
I then came to another pool where I had seen a good trout as I was walking down, I couldn't see him in the deep water but guessed he would still be there. I went through the same routine of mayfly, Adams Parachute, F Fly, Klink and Dink but don't get any interest. In the end I tried the freelined goldhead again. It's not a technique I have used much before and I certainly wouldn't claim to have mastered it as I prefer to fish godheads Klink and Dink style, but to get down really deep the only solution here was a heavy goldhead. I flick it out into the current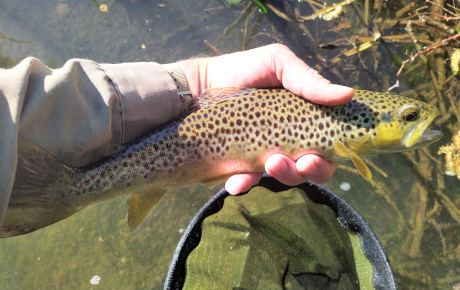 trying to watch the leader for movement and sure enough it twitched forward and I quickly tighten into the trout. I am left in no doubt about whether it's the one I wanted as it jumps twice and almost beaches itself in some reeds. I manage to keep it clear of all obstructions and get it into my net. Another really good chunky trout, again definitely above the Riccal average and I was chuffed I had got him.

The rest of my trip felt like a bit of an anti-climax, a huge hatch of mayflies started late in the day, one of the biggest I have even seen, it had the trout going crazy so it was almost inevitable that I would get more and all on a mayfly. Casting beneath trees and between reeds and undergrowth was tricky but the trout were hitting the mayfly hard and fast and it wasn't that difficulty to hook them. I stopped fishing when I had landed 15 trout which is enough to fill a page of my waterside log book. I would probably have caught more if I fished on but for a change I'd had enough and called it a day.

28th May 2020 – Isle Beck
A nice afternoon and I fancy another go at Isle Beck below the A19. I intended to do a long walk down and fish from above the railway bridge but in the end I started 3 fields down in the same place as my last visit.
There were plenty of Mayflies about but no real signs of great interest from the resident trout and grayling. Even Klink and Dink produced no interest in the first few pools but seeing a few splashy rises at the tail of a fast run I switched back to a mayfly and promptly hooked then lost what seemed like a reasonable trout.
Moving on the big pool was next and having failed to get any interest in the tail of the pool I could see a few rises near the top end. A quick cast to the top produced a good rise and I was soon playing a good trout which sadly came off long before he was ready to be netted.
Resting the pool for a few minutes while I had a drink proved useful and next cast I was playing a trout of modest size and off the mark for the afternoon.
As there was no further interest in the mayfly I switched to a goldhead Klink and Dink and a couple of minutes later a 9 inch grayling was recorded in the log book. Sticking with the Klink and Dink I landed two more trout, an 11 inch wild fish and a 13 inch fish which from its fight and lack of red spots was definitely a stockie.
Moving on I changed back to a mayfly in hope of a some more dryfly action but it was some time before I came across a rising fish and fortunately nailed it first time with a long cast into a narrow run, only 6 inches but they all count.
Next up was a big wild brown that took the mayfly as soon as it touched the water, then things went a bit pear shaped with several missed rises and much checking of the hook point which seemed fine. I eventually changed it for an Adams Para and shortly after a regular little wild trout took the Adams and went in the log.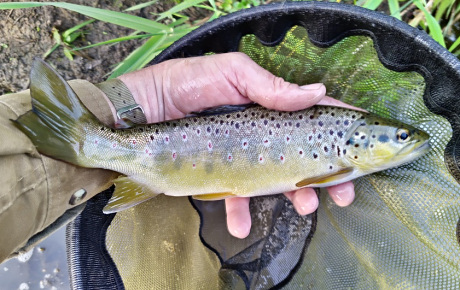 There are a couple of trees down completely blocking what was a very good pool and above them I could see a small rise on a new and fairly straight and shallow run. First cast I missed the rise and casting slightly further ahead into very shallow water was surprised to see a hump in the water as a much larger trout turned and took the fly. I managed to hold on and land the trout which despite a modest 11 inches was definitely the best fish of the night in splendid condition and a great fighter.

I didn't get any more action until I came to the deep pool below the A19 Bridge when a typical 8 inch Isle Beck brown pounced on the mayfly. Switching back to Klink and Dink to try the depths of the pool produced no further action and I was happy to call it a night at 9pm with the sun already dipping below the horizon.
It had been a pleasant session 8 trout and a grayling in 5 hours, but I wasn't in any great hurry and I enjoyed myself, there were Buzzards overhead, I saw a jay and a couple of kingfishers were zooming up and down all evening. Despite a lot of mayfly around the trout aren't really that focused on them with just 3 of my 8 trout on mayfly patterns. This is bound to change soon so be prepared for a bounty when it does. Also I noted that the beck is starting to get quite low – probably a foot below a good level - so some rain would help to freshen things up a bit.

A New Shallow Run

21st May 2020 – Isle Beck
I fancied a late afternoon early evening session on Isle Beck to see if the Fish were taking mayfly properly, so half past for four found me set up and walking down the field below the A19 Bridge. Half way down to where I intended to start I met our Secretary walking back up. He told me he had a couple and that they were not really showing much interest in the Mayfly despite there being plenty around and in fact they weren't showing a great deal of interest in anything else either. The sound of a rising fish in the beck called him away but not before he'd told me about a pod of grayling I might like to try later.
I carried on down the fields and started well below where Bob had been. This was a good thing as I found several fish rising consistently in one of the first pools that I came to.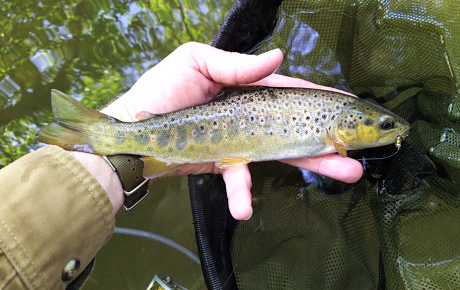 However, just as Bob had said they weren't really showing much interest in my flies I tried Adams Parachute, F- Fly various sizes of mayfly all to no avail but then switching to a goldhead Klink and Dink I landed two trout and a grayling in consecutive casts and lost another grayling just at the net.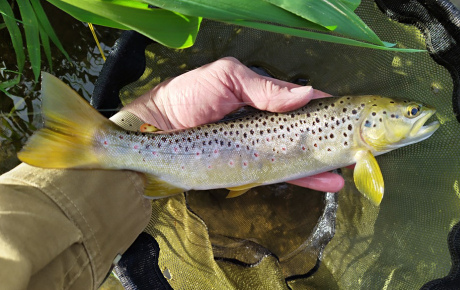 Moving on I switched back to dries but had no success so eventually switched back to the goldhead ready to try the big pool. If I was giving out advice to anglers who are new to Beck fishing it would be to always always, always, try the tail of a pool before wading in to try the main pool. This paid off for me this evening as a speculative cast to the narrow exit of the big pool resulted in this beautiful 12 inch wild trout.

Moving onto the main pool the goldhead added two more grayling to the log book the second a splendid 13 inch fish which surprisingly hardly put up any fight at all.
I found the pod of grayling Bob had mentioned and first cast one swirled at the Royal Wulf I was using as the Klink, so I changed back to a dry fly and spent the next hour having fun but not hooking one of the many rises as I tried ever smaller patterns of different flies until I had scared the whole pod of grayling good and proper.
I moved on again and eventually got two more trout from a fast run on a small Adams Parachute. I tried a couple more pools but it was starting to get cool so I called it a night. I had really enjoyed the session which was just on three and a half hours, I hadn't fished more than about 500 yards of the beck but you don't need to cover great distances when beck fishing there is something good around every bend.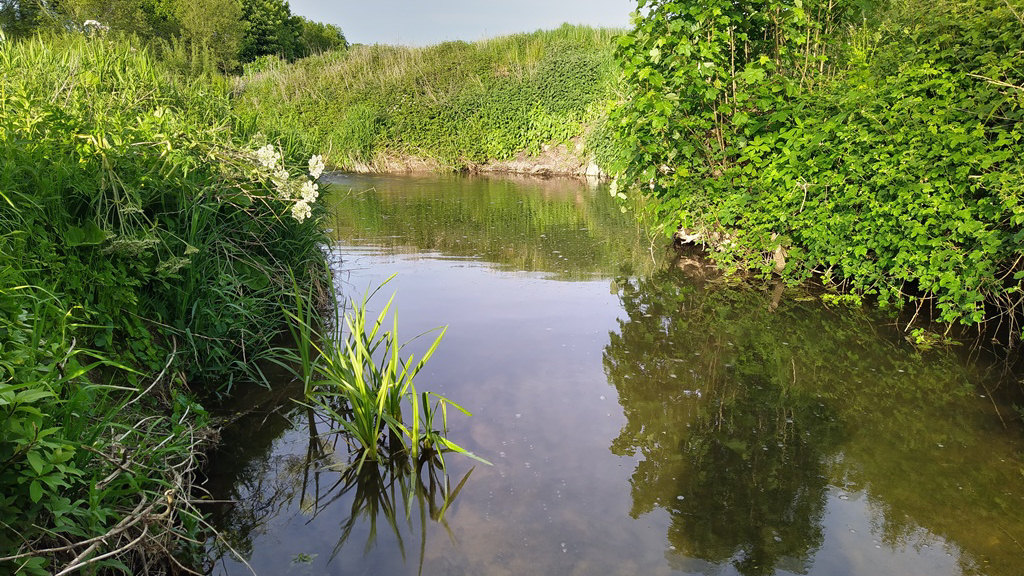 The tail of the big pool

18th May 2020 – Cod Beck
It seems a reasonable afternoon so I am heading out for more trout therapy, this time I want to fish the Old Cod Beck beat and have a look at Willow Beck as well though I am fairly certain Willow Beck won't be much fun.
By the time I have parked near Willow Bridge set up a rod and walked down to Cod Beck the sunshine has gone and a rather strong breeze is picking up.
I am soon in Cod Beck and casting carefully on the particular runs I am hoping to catch trout and grayling on. There are a few mayfly about but the fish don't seem interested, I change to a mayfly anyway and after 10 minutes I miss a rise. Then for a while nothing happens, actually for quite a while nothing happens. I move upstream casting where I would usually expect to get fish but there isn't a rise in sight and despite several fly changes and a session on Klink and Dink I arrive at the junction with Willow Beck fishless.
Rather than face Willow beck just yet I press on up Cod Beck and still can't get a fish to rise to my fly though there are now more than a few mayfly about and I have seen a couple more rises. I manage to squeeze through a big log jam and carry on upstream still not catching anything until I come to a reasonably open run.

Half way along there is a satisfying splash as a fish rises. I try my mayfly in the spot – nothing, I try several times and still nothing. I try an Adams, I try an F Fly but still nothing. It is all a bit frustrating as I have now been fishing for two and a half hours and haven't connected to a single fish so I watch and wait. Another mayfly floats down the beck and is quickly taken in exactly the same spot so I switch back to a small green mayfly and cast again.
After so little action today the next minute or so made up for it, my mayfly is engulfed by a very good trout that is clearly not amused by the hook. He charges off up the beck taking line off my reel which definitely isn't what is supposed to happen. I manage to stop him but then he belts downstream past me as I frantically try to gather in slack line, then just as I am thinking I am getting the line under control the trout heads back up stream again as my little Aln Rod bends nearly double trying to stop him. This upstream then downstream business goes on for sometime and I am lucky to stay in touch with the fish even if I am not in control. I'm fortunate that this bit of Beck is long and straight and there are no tree roots available as I don't think I would have kept him clear. The fish comes down stream again and tries for a patch of weed near me but this time I am able to keep him clear and guide him straight into my net.
I have seldom been so pleased to see a fish in my net and what a fish! As wild as they come certainly over two pounds by the feel of him and definitely the biggest trout I've caught on Cod Beck or caught with my Hardy Aln.

After carefully releasing the fish I sort of lost interest in continuing, I had a couple more casts but my heart was no longer in it as I couldn't really get over that trout and besides it was getting cold and the wind was picking up so I made my way back down to Willow Beck and had a walk up it. As I suspected it isn't very open and casting is near impossible, I did see a couple of rises but they really were impossible to reach. Pity really, I often used to fish between Cod Beck and Willow Bridge and would reckon to get 10-12 fish of an evening....still we have plenty of other running water to go at.
Reflecting on this trip it was really strange. I would normally expect to get at least half a dozen mid-size trout, a couple of small chub and maybe a grayling or two in the bits that I fished but I had only one rise and remained fishless for over two and a half hours. There were plenty of mayfly but except for this one big trout they didn't seem interested.
In the end I have to say that despite the long slow frustrating start and only catching just one trout I really enjoyed myself – it's amazing how your perspective can change with just a couple of minutes of frantic action and one insanely large trout.

15th May 2020 – The Riccal
After Wednesday's late but excellent start to my trout season I head off to the Riccal for more of the same thing.
I'm parked up and setting my rod up when I notice that the calm still day I had in York is changing into a breezy gusty overcast day at the Riccal, this happens so often and on a "river" as narrow and overgrown as the Riccal the last thing you want is any wind.
As I walk down the bank to the start of the beat I see another angler walking up towards me. We greeted each other from a safe social distance exchanged pleasantries and compared rubber gloves (now an essential item of angling kit!). Paul was using the Hardy Featherweight a 6' #2. My rod was the Hardy Aln 5' #2 and we were both using a Cortland Sylk DT2F … great minds as they say but those who know the Riccal realise anything much longer than 5-7 foot will seriously limit your casting options.
We parted and I walked on down wondering if I would get any trout if I was following Paul's footsteps, but I needn't have worried a few casts in the first pool produced a lively little trout to a Small Olive F Fly (I could see the fish clearly and he ignored the Adams I tried first couple of casts but the swap to the F Fly did for him first cast!).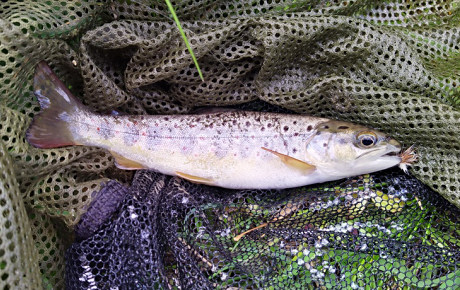 Fishing was interrupted with a phone call from our Secretary about fisheries, but it was fine as I really wanted to take my time and enjoy myself. Phone call over and fishing resumed at least casting did as it was 50 minutes before the next trout this time on the Adams Parachute that I switched back to when the F Fly was being ignored.

Things picked up and trout came at more frequent intervals despite losing the odd fly to low branches.
I was really enjoying myself and was particularly pleased to get a 9 inch trout out from under a large willow bush which completely covered the pool. I could see a fish rising in the middle but at first it looked impossible to get to however the trick was to creep up low and lie down as close to the bush as possible ready for action, then still lying down, cast way upstream above the bush and let the fly float down under it. The rise was solid and it was a matter of pull hard and hold on tight and net the fish before it quite realised what was going on. Success!!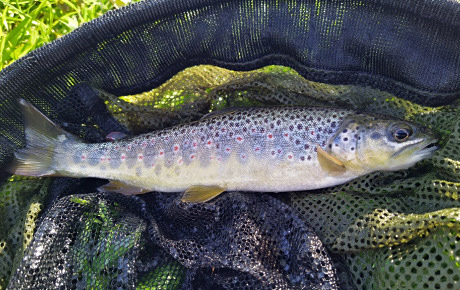 I saw a mayfly and after changing to a small green mayfly pattern I soon picked up another half decent fish. Then, switching to a Klink and Dink I got two more good fish on the goldhead from one of the many very deep runs that make wading the Riccal so "interesting" !

I didn't get a touch in the big pool but didn't try there for long. I picked up a couple more small trout back on the Adams before I reached the road bridge and noting I was one short of double figures waded under the bridge to try the pool above. I promptly missed a slashing rise from what looked like a very good trout by lifting too hard and too soon. Then I repeated the error on a smaller fish before finally landing a six inch fish to get to 10 on the day.
It had been quite a good day and despite the wind I had only lost 3 flies but perhaps the most remarkable thing was in 30 odd years of visiting the Riccal I've never ever met another club member fishing there before. I hope other members don't realise just how good the fishing there really is!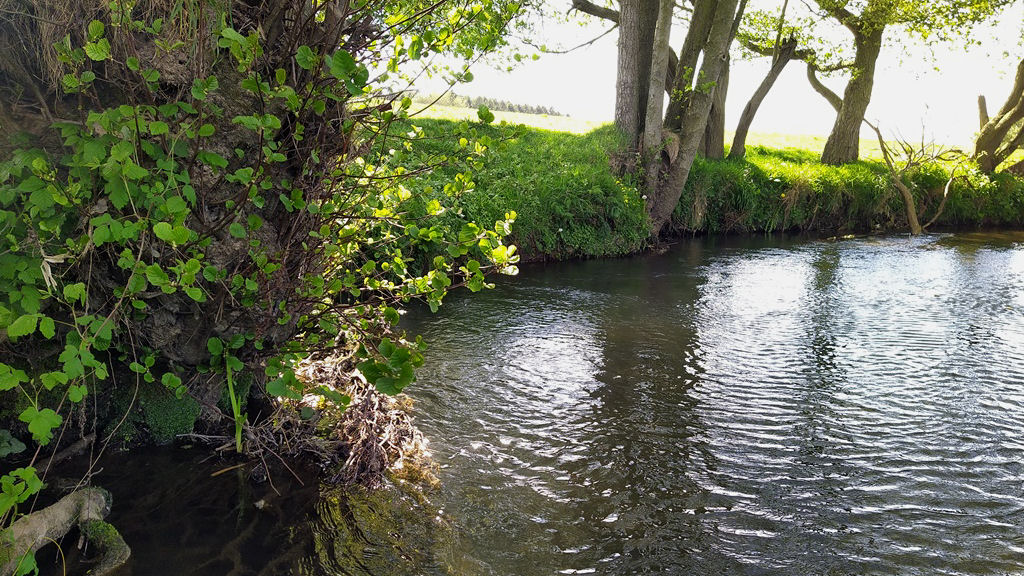 A Good Riccal Pool

13th May 2020 – Thirkleby Mill
Well the season finally arrived so with my fly boxes tidier than they have been for years I head off for an afternoon and evening at Thirkleby Mill. Before I turn in towards Great Thirkleby I can see a car parked by Arden Bridge it looks a bit like the chairman's car so I guess he is out to catch up on some trout therapy as well.
It doesn't take long to put my tackle together, the Hardy Aln (5' #2) and of course I have to start with a size 16 Adams Parachute.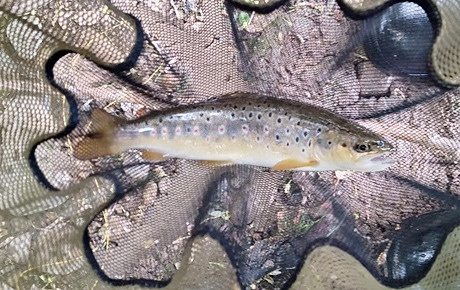 I didn't really expect to get a fish in the first little run I tried. It used to be really good a few years ago but seems to have gone off the last two years. I did expect to get a trout in the run below the big bend pool and I wasn't disappointed and barely 10 minutes into the season I'm off the mark with a nice little trout.

I didn't get anything on the big bend pool on a dry and didn't fancy changing to a Klink and Dink rig so I moved on. The beck was quite low and clear and I didn't get anything more until I got to the Mill Bridge an hour later when a cast under the Bridge produced 4 inch trout. Having waded under the bridge I missed a rise alongside the mill wall and moved on under the trees. A couple of fish were rising at the top of the next run but showed no interest in my Adams or a brief change to an Olive F Fly so I moved on again.
A second hour went by before my next trout, a beautiful 12 inch fish from a run under the trees. Having released it I was about to record it in my waterside log book but managed to drop the book in the beck and despite a very quick retrieve it was clearly rather soggy.
Round the next bend there is a big mess of tree(s) down across the beck but I had cut a way through on a working party way back in March and so continued up stream over another tree right across the beck and just the wrong height to go either under or over.
A bit further on there is yet another mess of trees across the beck with just a small gap to squeeze through, I just about managed it but we may have do something about it before I get much older (or fatter!).
In the pool below the footbridge I saw a mayfly (the only one I saw all day!) but two little trout took the Adams on consecutive casts before I continued on upstream.
My next success came in the pool by "Janet's Hut", a couple of casts with the Adams produced no interest but looking into the depths I could see several trout moving around so I swapped the Adams for a small goldhead and caught two more trout in quick succession. I don't often use a nymph without it being part of a Klink and Dink rig but as I could see the fish clearly I didn't need the "Klink" to see the takes.
Further upstream I came to another log jam (the last before the weir pool fortunately!) It used to be possible to squeeze through on the right hand side but over winter flooding has scoured out the river bed and additional logs have piled up against the original jam and made squeezing through impossible. To get round I managed to climb up the left bank (in itself quite an effort) and into the field and back down into the beck beyond the obstruction.
The next trout, a nice 12 inch fish , came from a pool I know as the S pool as it bends in two directions round a tree that is exactly where the trout lie. It needs a clever cast to put the fly further up and let it drift back past the tree. At the second attempt it worked and I had a lively battle with the trout on the little Hardy rod. I have to say I really am amazed at this rod, it is very light to hand but casts beautifully and even roll casts well which is incredible in such a light 5 foot rod.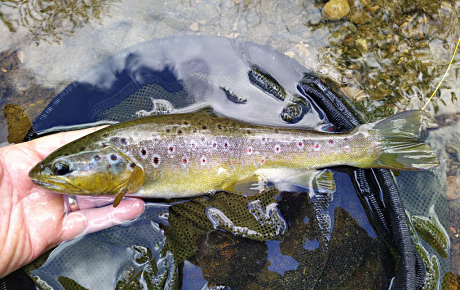 Moving on to the "19 Second Pool", (so called as my friend Gordon has filmed me catching a trout there two years running and in both cases from the trout rising to the safety of my net was exactly 19 seconds!!) I expected to get a trout or maybe two but didn't get a rise. In fact I didn't get anything more until I came to the Pylon length where some work I put in on the trees has paid off as there is now good access to the pool at the top. My first cast saw a large trout dash out but not take the fly. Second cast a few seconds later he nailed it and I was pleased to pull him clear of the log and eventually slip him into the net. At 13 inches he was the best of the day so far but I was hoping for something similar from the weir pool.

In the end the weir pool didn't really come up to expectations, I got a 9 inch trout on the Adams before changing to a goldhead on a Klink and Dink and promptly lost a small trout (the first that had come off all day!) Changing to a longer (nearly 5 foot between Klink and Dink!) to search the depths of the pool I had a couple more small trout and missed a couple. I decided on one more cast before packing in and a quick take produced a bonus 9 inch grayling which seemed a nice note to end the day on.
In the end my (rather soggy) log book showed I had landed 12 trout and the bonus grayling, not a bad way to start a season and best of all I hadn't lost a single fly all day!

The Weir Pool