Tales from the Riverbank - 2017

28th September 2017 – Last Cast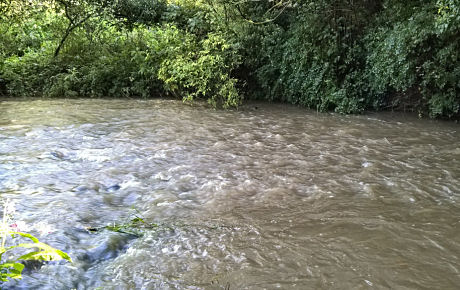 It's a bright sunny morning and I should be heading off to Scotland for four days fishing with a friend in Dumfries and Galloway but I can't resist a last chance to wet a line on Isle Beck so divert to Thirkleby Mill with the intention of an hour's fishing before continuing to Scotland. A quick look over the A19 Bridge warned me that the overnight rain had raised the beck several inches and it was the colour of milk chocolate. I didn't even think about trying a dry fly but set up a 5' rod with a Klink and Dink, a Grey Wulf on the top and large Goldhead on the bottom and walked quickly down to the beck.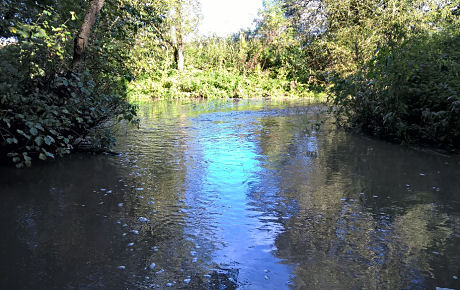 At close quarters I realise just how fast the beck was flowing and how muddy it was. I tried a few casts in the run below the big pool to no avail. The big pool itself didn't look too bad but was fast and muddy and despite my best efforts for 10 minutes I failed to get a touch.

I had really hoped to get one last trout from the Becks for the 2017 season but it clearly wasn't going to happen so after quarter of an hour I called time and recorded my first "blank" of the season, jumped in the camper and headed on up to Scotland and a lot of lovely wild trout (I got 9 in the first hour of my four day trip!!)
I said at the start of this season I wasn't chasing record numbers but wanted to take my time and enjoy my fishing which I have done. My catch return for YTAA Becks and Rivers will show 17 trips (including my quarter hour today), 89 trout, 1 dace, 12 chub 1 bullhead, (that's a record on a fly!) 2 minnows and 30 grayling (beating my previous best of 24 grayling in 2015!).
Hope you've enjoyed my ramblings in 2017 – see you next season!

21st September 2017 – River Dove
It's a bit of a grey day but I am determined to have a go at the River Dove before the season ends. Actually I nearly didn't make it to the Dove as I stopped at the bridge over the Riccall and it looked excellent, running clear (unlike last week!) and a good height, but on balance I do like to try and fish the all the main YTAA waters so I drive on to the Dove.
I manage to get the campervan through Ings Farm farmyard and across the field (which is a bit soft in places!) and park near the old barn and get the kettle on while I tackle up and put my waders on.
I walk down the two fields to near the junction with Howkeld Beck and slide into the water. The Dove is about 6 inches higher than I've seen it before and running fairly fast but it is clear so I am confident of catching. I try dry flies for the first 40 minutes but don't get a touch and I haven't seen a rise either so I switch to a goldhead Klink & Dink and I'm soon into a typical wild trout – about 8 inches and full of fight. I had thought about using my 6' #2/3 Burns Built rod as it has a bit more power for playing fish and roll casting but in the end decided to keep with my 5' #2 rod as I thought casting room might be limited.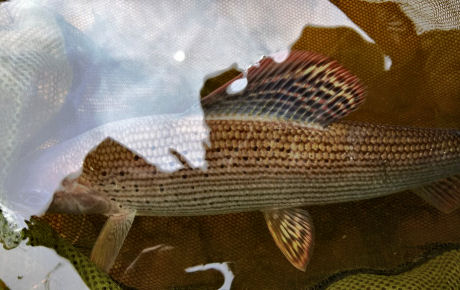 20 minutes later I get a firm take and a hectic battle with what turns out to be a 14.5 inch grayling, a really splendid fish but so difficult to hold still for a photo, I manage a couple but get a good one of him (her?) resting in the net before release.

It's half an hour before the next take and another 8 inch wild trout is recorded and released – this one ignoring the Goldhead and taking the large White Wulf on the surface. I cast again and a firm take produces another grayling a twin of the first one and exactly 14.5 inches, I had a real battle with him as he went downstream past me and made the most of the current, but eventually came safely into the net.
A couple more trout are recorded before I get a third incredible grayling this one measuring 13.5 inches I'm just thinking that I am on roll with fish but it's an hour and a half before another 8 inch trout takes the goldhead.

Next up yet another grayling this one 13 inches – I had come to the dove hoping to get a good haul of trout but certainly hadn't anticipated the number and quality of the grayling.
In the next 40 minutes I get 4 more feisty little trout all around 6-8 inches, before I reach the top of our beat where with a final cast I get another grayling – at 12.5 inches the smallest of the day.
I've had 9 wild trout and 5 good grayling which makes it a very good day, but it has been hard work. The Dove is very deep in places and I've had to climb out up slippery banks on several occasions and despite a wading staff have almost slipped and gone swimming a few times – the fast flow and deep water making wading interesting.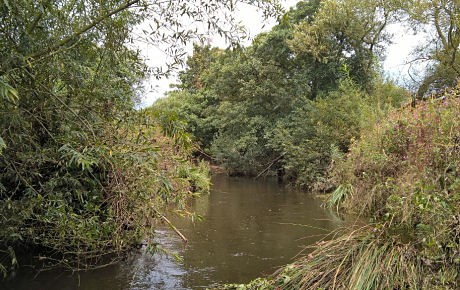 The Dove really did look very good today, the banks are a bit overgrown with Balsam etc, but generally there is good casting room. There are good gravels, some good weed growth in places and a good mix of riffles and nice slow glides.

I know I've said it before but I really must give more attention to the Dove, I don't fish it enough to get to know it and I still think I'm only scratching the surface of its potential.

12th September 2017 – River Riccall
I am finally getting a trip to the River Riccall in – actually my second attempt as I was three quarters of the way there last Thursday when I hit gear box problems in the camper van and had to be relayed home. Anyway today the MX5 is purring along and the sat nav tells me I'll be there by 9:40.
I am tackled up and walk down to the start of our beat and ready to start fishing by 10:20 and I am determined to enjoy the fishing as I can take all day to fish our beat(s).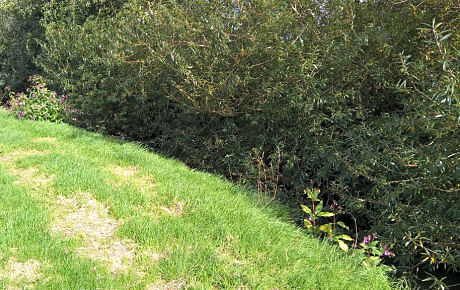 First problem, as I foresaw is the trees on the right bank, in many places very long and completely covering the river. There are also several trees down across the river. Willow bushes have grown up and completely covered some of the better pools and runs and to add to the fun there is a steadily increasing cross wind that promises to make casting interesting and accuracy essential.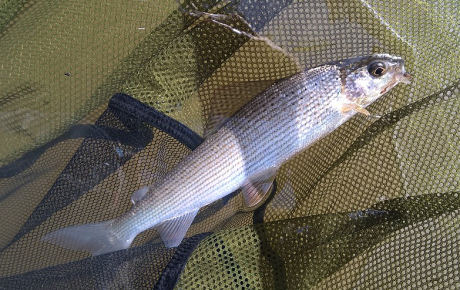 It is hard work and despite my best efforts it is over 3 hours before I hook and land a fish – and of course it is an 8 inch grayling…! I have reached the big pool by 13:45 and decide to sit down and have my sandwiches and change my set up from the Adams Parachute to a Goldhead fished Klink & Dink (New Zealand Style).

After lunch the next fish is also a grayling but barely 4 inches and wriggles free before I can take a photo, but on the next cast another grayling about 9 inches takes the goldhead. I think things are looking up but it's another half hour before I get a 5 inch grayling, I've had so many small grayling recently I've even stopped taking photos of them so this one goes quickly back.
I knew the Riccall was going to be hard but have to admit I am surprised at how difficult it is proving to be. Normally the Riccall is crystal clear no matter how much rain we've had but today it has a slight tinge to it and I can't see the gravel if the water is more than about a foot deep – in theory this should make stalking fish easier, but I haven't seen a rise yet and have only caught fish by fishing the likely holding spots.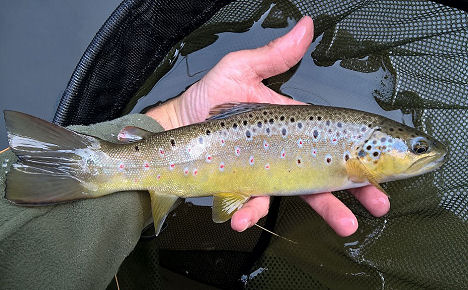 I add another grayling to the record book at 15:10 but then an hour goes by before I hook and promptly loose a very good trout, certainly bigger than anything I've landed this season and it's the only trout I've seen all day! I give the run a few minutes rest and then cast again and immediately hook and finally land a nice solid wild trout.

I have been having trouble casting not just because of the cross wind but a general lack of space so although I've never been particularly good at roll casting but I am forced to use it just to get a fly on the water. A 5 foot #2 rod is probably not ideal for roll casting but I am making progress and eventually I start getting trout and another grayling. In fact in the last hour I manage to get 6 more trout and another grayling leaving me on 6 grayling and 7 trout for the day. Not too bad a total but even if I knock off the 20 minutes for my lunch break – I have still been fishing as hard as I can for over 7 hours so it's not a good catch rate.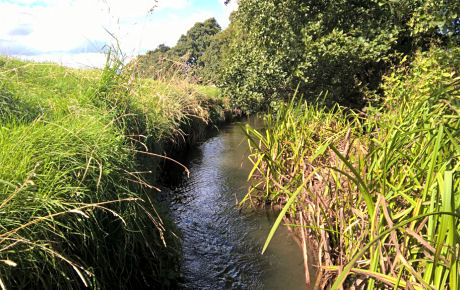 Having said that I have actually enjoyed the day (except for loosing the big trout!), it has been very challenging and I have had to climb in and out of the beck to walk around obstacles more times than I can remember. I think my roll casting has improved as the day went on and despite the overgrowth and wind I have only lost one fly in a tree so I suppose that makes it a better than average day.

3rd September 2017 – Isle Beck - Below the A19
2 O'clock on Sunday afternoon and I'm allowed out for an afternoon's fishing but without time to head for the Riccall or Dove I decide to try below the A19. I haven't been below the A19 since 3rd of June when my Scottish pal fished with me, he thought it was overgrown then and it's had three months of growing since then!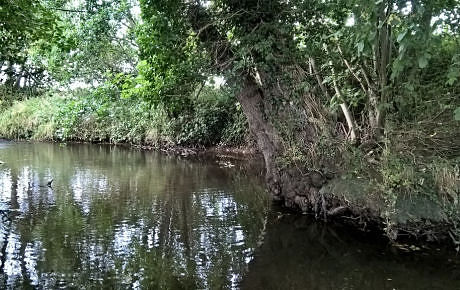 Walking downstream the path is very overgrown for the first two fields but then the next two fields have been harvested and ploughed so the going is a little better. Its 3 pm before I get into the beck below the "copse pool" so I have about 5 hours to fish back to the bridge before it will be too dark to see.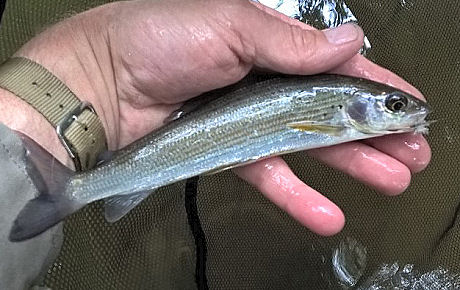 I don't get a rise in the first two pools but a small grayling takes the Adams Parachute in the next pool. I'm hoping this is not a sign of the way things are going to be, I like grayling but I really would like some nice wild brown trout this afternoon. I miss a trout in the next pool but land another small grayling, a twin of the first – there seem to be a lot of grayling around 7-8 inches in the beck at the moment, so next year we will be getting 10 inch grayling!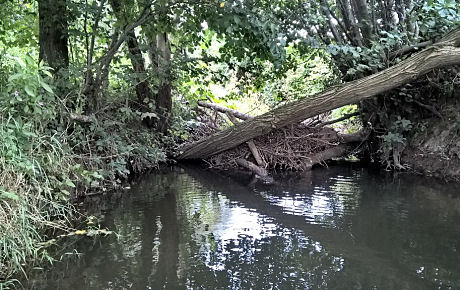 I can't remember when we last had a lot of rain, but it seems that we have had some flooding on the beck since I was last down here. Some of the trees that were down and blocking progress have moved on and others have come down and set up new blockages across what were good pools. There are also several new willows that have come down and a couple completely block upstream progress necessitating a difficult exit up overgrown banks and tricky re-entry above the blockage.
At one of my favourite deep pools I spend over an hour catching one small grayling (on a goldhead), losing a good trout and being broken by something heavy – possibly a big stockie. It's all getting a bit frustrating with several fish both trout and grayling splashing at a variety of flies but not taking them. Eventually I take the hint and move on and on the next pool, miss a rise through lack of concentration then lose a trout that seemed well hooked. But I do land another small grayling, only 6 inches this time.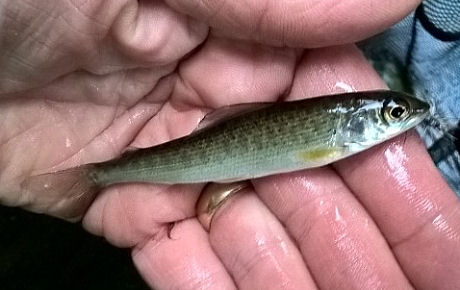 I then get a bonus, new pools are always being created as old ones change and in one of the shallow new pools a speculative cast produces a small rise and I land the smallest grayling I ever seen – under three inches! It is good news that we are getting really small grayling, the prodigy of the EA re-stocking some years ago so he is carefully returned and held till he can swim off.

I continue on my way upstream managing to not land a trout but do get another of the regulation size grayling before finally at 7.37 pm I manage to land a trout. At 14 inches plus he is clearly one of the stocked fish from earlier this year but he is in nice condition so he is put back carefully to fight another day.

It is now getting dark – not surprising as its nearly 8pm – I have been fishing 5 hours and only caught 6 grayling (ok 5 and a bit grayling!) and just one brown trout, I've been stung by nettles, scratched by brambles and got balsam seeds down the back of my shirt. On the plus side I've enjoyed the challenge and only lost one fly in the trees so I suppose it's been a reasonably typical session on our beck!

30th August 2017 – Cod Beck and Willow Beck
After last week's struggle to catch trout when all I could get was a minnow and a succession of 8 inch grayling I felt in need of a few nice wild trout to top my log book up a bit.
I decided to try Cod Beck and Willow Beck as I have only had one visit there when my friend from Scotland came down for the weekend.
Having parked by Willow Bridge it didn't take long to tackle up and make my way down towards the start of our beat. The little footbridge over the ditch is getting a little precarious with one step broken, but it can be crossed with care.
Getting into Cod Beck proved interesting as Balsam and high nettles do all in their power to hide the bank or sting you so I was glad to be standing safe and dry in the beck ready to start fishing. There was no sign of rising fish anywhere and dry flies and Klink and dink failed to produce any takes on the first couple of runs. Despite Cod beck being much lower than usual there are still runs that are too deep to wade and getting out to go round them and getting back in was rather hectic. I still hadn't seen a rising fish or had a take when I got to the nice long run below the big pool. Something splashed at my Adams but didn't take it and did the same next cast – I saw a flash of silver and suspected small grayling so switched back to a small Goldhead and was straight into a fish that turned out to be a nice little chub.
A quick photo before I released him then recorded the first entry on my bankside book before casting again and another firm take and another little chub, that could easily have been the same fish… so he was quickly released. I persevered with the run for a bit but didn't get any takes. The big pool failed to produce, though to be honest it is rare for me to catch anything from it. Moving on up I missed what was probably a grayling from above the big pool and found that the best run on the beck is now blocked by a tree and a raft of rubbish. Annoyingly there was a fish rising just upstream of the rubbish I tried a couple of casts but didn't get any takes which was probably just as well as getting to the fish to land him would have been interesting.
I moved on up to the junction of Willow Beck and Cod Beck and landed chub number three – slightly smaller than the previous two.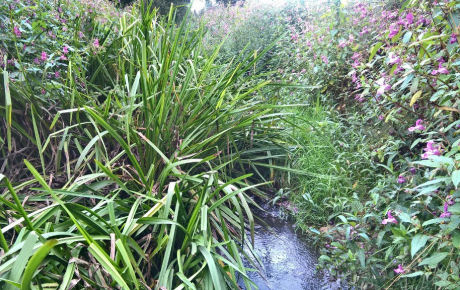 I then started my way up Willow Beck which is more overgrown than I can ever remember seeing it. In fact apart from one or two places it was almost impossible to cast a fly which is a real pity as my record show I used to get up to a dozen trout between the junction with Cod Beck and Willow Bridge.

Eventually I cut my losses and decided to have a go back up at Thirkleby so jumped in the camper van and drove up as far as the footbridge at Balk Grange Farm. I was soon in the beck wading quietly and casting in all the right places but failing to get a rise of any sort. Sadly there is still a small discharge coming from the pipe, but it looked less than it was two weeks ago. I haven't heard back from the EA yet so might try and remind them that the pollution hasn't gone away on its own.
I really was struggling to get a fish, I saw one rise but didn't get a take, then at the end of the long run where the pylon is I got a good rise and hooked a decent wild trout of about 10inches, sadly he didn't stay on long so I moved on trying the odd cast into pocket sized water until I came to the Weir Pool at the top of our beat.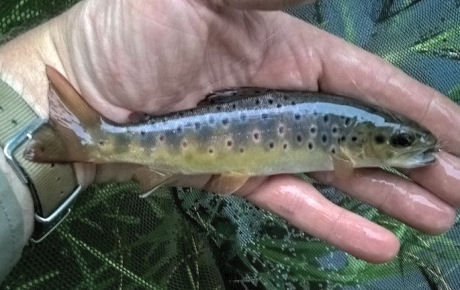 I was hoping to find fish rising here but it was not to be, but after a couple of speculative casts in the likely places I got a rise and actually landed a trout – a modest 6 inches but still a trout and a welcome change from grayling and chub. I kept trying the Adams parachute for a bit but got no further takes so in a last ditch attempt for another trout switched back to a goldhead Klink and Dink. Straight away the White Wulf slid away under the surface and I tightened into a fish – only my 5th fish in over 5 hours of fishing and sadly not a trout but yet another 8 inch grayling. It was my last fish of the day – it was nearly 8.30 and already too dark to see under tree cover.
Don't get me wrong I like grayling and we seem to have a good head of 8-10 inch fish in the becks now, but I really wanted a trout fix, so I think my next couple of outings will have to be to the Dove and the Riccall in search of trout also I haven't fished either river this season and it is nearly over.

25th August 2017 – Isle Beck - Arden Bridge
I had arranged to meet with the Environment Officer who is investigating the pollution incident at Thirkleby Mill at midday to show her the exact location. She took readings above and below the pipe in question and the dissolved Oxygen levels are good but the Ammonia level near the pipe was 6 times higher than upstream. EA will be contacted the owners and getting the problem fixed as soon as possible.
As I was in the area it would have been silly not to grab a couple of hours with my favourite fly rod. I had fished Thirkleby a couple of times recently so I headed to Arden bridge, tackled up and walked half way down between the bridges so I could fish back up to the camper van for a brew and a sandwich when I had finished.
Sometimes you get a day where nothing goes quite right and today started like it with me lifting my fly off just as a fish was going to take it, I managed to do the same thing a few minutes later!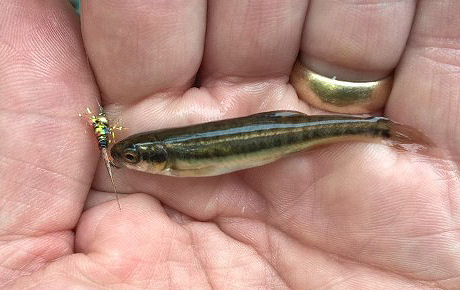 As I wasn't getting much action on the dry flies I switched to a Klink and Dink and was into my first fish – a minnow! They really are greedy little fish tackling a goldhead on a size 16 hook!!!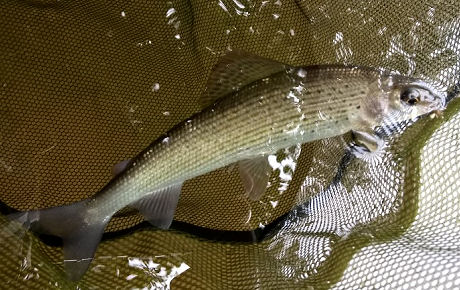 Moving slowly upstream I eventually managed to hook a half decent fish that turned out to be a nice little grayling- it had taken an hour but I was off the mark. Sadly it was another 50 minutes before I got my next fish – also a grayling and it could have been the twin brother of the first. Another 50 minutes passed before my next fish and yes you've guessed another grayling.

Now don't get me wrong, grayling are really beautiful fish and I like catching them but I was hoping to top up my Isle Beck wild trout numbers as I have not fished the Beck as much as I usually do.
I'd now reached the deep pool where I had a big stockie trout (2lb 7oz) a few weeks ago so I was hoping another stockie might still be around to break the run of grayling but no it was another grayling took the Adams Parachute first cast. I decided to try a Klink and Dink in this deep pool and second cast hooked into a big stockie which put up a good fight on my 5 foot #2 set up before throwing the hook just before he was ready to be netted.
The stockie had really splashed about a bit in the deep pool so I decided to move on to the next run and switched back to the Adams Parachute and guess what, - yes I got another grayling. That was the last fish of the day, although I did briefly make contact with a larger grayling just below Arden Bridge for a few seconds but he parted company with the fly and that was it – 1 minnow and 5 identical grayling in just under 5 hours. By no means the best afternoon's fishing I've had but pleasant enough.

20th August 2017 – A quicker trip to Thirkleby Beck
Since I last fished Thirkleby Beck on 14th August I have been in Wales and caught the odd trout… but that's another story. A reasonable afternoon weather wise but a bit later than planned I managed to get away for a couple of hours at Thirkleby intending to fish from the footbridge to the weir pool.
Unlike my last Thirkleby jaunt there were no holdups and I am tackled up and fishing the pool below the footbridge by 5.25pm. Within a minute my second cast produces a splashy rise and a lovely trout about 9 inches goes into the record book.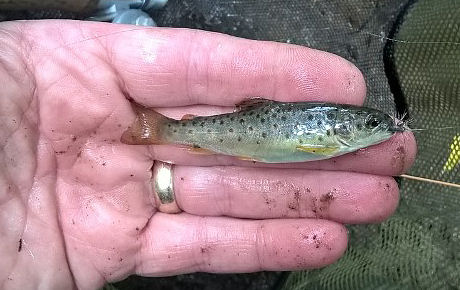 I move carefully forward keeping tight in against the Balsam hoping to get another trout from the run off below the footbridge and sure enough a small rise and I am into fish number two. But what a fish! Barely 2 inches of wild trout my smallest trout from the beck and a new record for the Seriously Small Salmonid Club.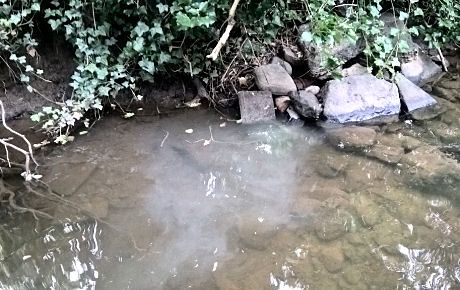 A third (regular size) trout followed shortly afterwards but when I held him in the slow current I noticed an unpleasant smell on the water and turning round saw sewage leaking from a pipe into the Beck. I took a couple of photos and made careful note of the location and went back to my camper van to try and get a signal to phone the Environment Agency. Fortunately I was able to get through and report the incident and email in photos of the problem so it will be investigated (and hopefully stopped) in short time. This is the second incident I have reported of sewage near Balk Grange Farm – the first, several years ago, was due to an overflowing cess pool and the location of this incident is exactly the same, except the discharge pipe appears to have been lowered into the beck and partly hidden with rocks!!!
Reporting the incident and sending the email took 40 minutes out of my fishing time and I was rather disheartened as I continued upstream. Indeed it was a while before I started fishing properly and I missed several rises before I hooked my next trout. The beats above the footbridge have always been a bit overgrown and they certainly felt like it as I made my way through tunnels of interlocking trees with very little room for overhead (or sideways!) casting. However I did get my rhythm back and by the time I finished at the weir pool I had recorded 6 trout and a very lively dace (my first this season), in my bankside book. A couple of incidents of note first I haven't seen many (if any!) kingfishers on the beck this year, but tonight there were several about. As well as adults there were two juveniles that flew together downstream only a foot from my waders.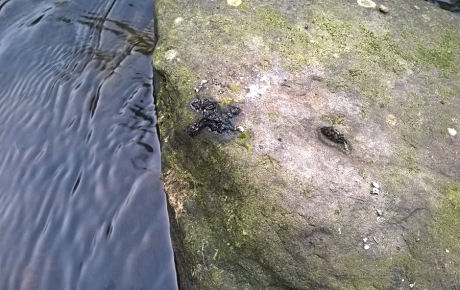 I also found more otter spraint on a large rock in the beck – it's how they mark their territory and if you haven't seen it before, this photo shows what it's like.

It was only 8:30 pm as I made my way back down the path to my camper van but it was already growing dark and a couple of Tawny owls were calling, it does feel as though the season is drawing to a close so I really need to get out more often – hopefully with trips to the Dove and Riccall in the next week or so.

14th August 2017 – A not so quick trip to Thirkleby Beck
Yet again it's been over a month since I have got out to the beck to fish, yet again because I have been in Wales annoying small stream wild trout there! So a quick trip to Thirkleby Mill was just what I needed on a sunny afternoon.
First hold up was an accident just over the bridge on the York Ring road and traffic chaos as all vehicles were diverted away. Having been delayed anyway I thought I would avoid the A19 near the ring road as that would be pretty much gridlocked as well so I diverted via Clifton Moor and decided to go to Stearsby to pick up the July log sheets then head on to the Beck via Crake. Suffice it to say that having left home at 1:45 it was 4:15 pm before I parked up at the Mill and put my tackle together.
The Beck was a bit low with just a hint of colour from recent rain, but the balsam and brambles were head high and I could see that casting would be "interesting". I was using my favourite 5 foot #2 rod and a slightly shorter cast at about 5.5 feet – any longer would mean numerous hook ups on back casts.
It wasn't long before I was wading upstream and a 6 inch trout obliged on the size 16 Adams Parachute. I didn't get a rise in the big pool and moved up and was about to cast to a rising trout in the next pool when an otter swam down the pool saw me and vanished into the undergrowth. I was about to cut my losses and wade on thinking the otter had killed the pool when (low and behold!) the trout rose again right where the otter had been seconds before. A quick cast and a nice 10 inch trout was soon hooked landed released and recorded in my bankside note book. This is the second time (first was on the Riccall last year) that I have caught fish from a pool where an otter has seconds before swum right past them, you would think they would be diving into hiding places at the first sign of disturbance but apparently not.
I moved up quickly through the "chicken" field and up into the trees picking up some nice wild trout from most of the usual places, and trying not to get hooked up on backcasts as much as possible.
It took me three and a half hours to fish my way up to the footbridge but on the way I had recorded 8 wild trout all in fine fettle and all except the first in the 8-10inch category. Although the casting had been a bit tricky in places with tall undergrowth, balsam etc lining the banks it provided good camouflage and stopped my silhouette scaring trout. I had only lost one fly in overhanging branches and one fly disintegrated after being well and truly chewed by several 10" trout.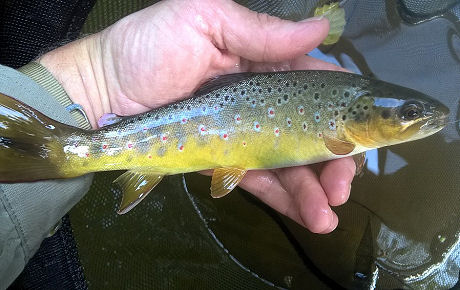 I might have got another hour in above the footbridge but it gets dark early under the tree lined bits above the footbridge so I called it a day and went home feeling very satisfied with my efforts.

13th July 2017 – A Tale of Two Fishes?
It's over a month since I have been out to the beck to fish, partly because I've been fishing in Wales and partly because I've had twisted ankles and pulled tendons that have made walking let alone wading unpleasant.
I decided that a quick trip between the bridges was overdue and to limit my walking parked at Arden Bridge so I could walk down a bit and fish back up to the van and hopefully a couple of hours would not add to my ankle problems.
The sides of the beck are rather overgrown with balsam but once I'd battled my way through the beck was looking good, a little low but clear and the sight of rising fish was encouraging. As the banks are overgrown and casting distances are limited the evening was going to be about careful stalking and peering round bushes with careful short casts.

The first pool had a fish rising close in and my parachute Adams was taken first cast and I promptly missed the rise. The fish rose again but not to my fly. I tried a couple of different flies and though the fish kept rising he ignored all my offerings. There were a few mayfly about and a change to a green mayfly brought a rise and a 9 inch wild trout was recorded and released. Another fish was rising at the top of the pool but studiously ignored the mayfly, a change back to a smaller (size 16) parachute Adams brought a gentle rise and an 8 inch grayling was logged and released.
I moved up to the next pool and the first cast brought a 5inch wild trout to hand and quick release. This pool has a fast run coming into it and is very deep so when the dry fly was ignored I switched to a White Wulf with a goldhead suspended Klink and Dink style three feet below. This rig produced a solid take on the goldhead and as I was playing the fish a second trout dashed up and grabbed the wulf. The end was inevitable, the 5' rod was bent to silly shape as the top fish came off and the fish on the goldhead jumped and threw the hook.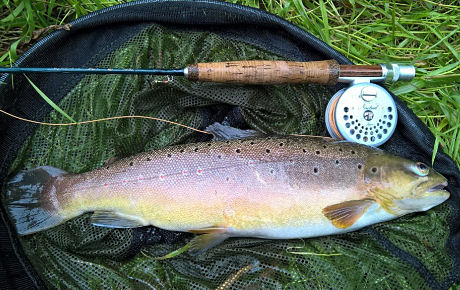 I rested the pool for a few minutes convinced there were more trout lurking in the depths and then cast again with an instant firm take on the goldhead and I was into a much bigger fish that really pushed the 5' to the limit. Clearly a stockie it still put up a great fight before finally siding into the net. At 15.5 inches and 2lb 7.25 oz it is the biggest fish I've had on the becks, I don't normally photograph stockies but this one deserved it.

Despite the epic battle (big fish/small rod/ limited space) I was convinced I could get more fish so I rested the pool for a few minutes before trying a couple of casts into the fast run in and managed another little grayling of about 9 inches. Having returned him it was time to move on and I waded on upstream.
Still on the Klink and Dink set up a speculative cast in a long slow run produced a side movement on the Wulf and I tightened into a fish, but what a fish! I think it could be the world record as the smallest fly caught fish, a minnow barely 1.25 inches and again worthy of a photo before careful release. It's hard to believe that on the same size 14 goldhead I had caught the biggest fish I've ever had on the becks and also the smallest – it's a funny game this fishing business !
I managed one more lovely wild trout of 10 inches again on the goldhead before I was back at Arden bridge and packing up from what had been a very pleasant and unusual couple of hours.
Oh, a final word of warning, if you want to wade through Arden Bridge don't wade on the left side it's rather deeper than you would expect !!

3rd and 4th June 2017 – Fishing with Gordon
A good fly fishing friend from Scotland has been following the Kingfisher Diaries for a couple of years and has been itching to try the YTAA becks. So having got a couple of guests tickets from the secretary I invited him down to try some of the real jungle warfare style beck fishing I enjoy. (Scotland doesn't seem to have as many trees on its "wee burns" as we do, but does have a large number of midges and personally I prefer fishing under trees to midges any day!)
To give Gordon a real taste of our fishing we set off early on Saturday to fish Isle Beck below the A19 and equipped with identical Malcolm Grey of Alnwick 5 ' #2 fly rods we made our way downstream to our starting point (having cached our lunch in a tree half way down as I had a feeling this was going to be a long day and walking back to the camper for lunch was not an option!).
Gordon admitted later that he was in a state of shock as we walked down wondering how on earth you could catch fish under so many trees and bushes, but this didn't stop him making a good start with a nice little brownie from the first pool. We had decided to fish together taking turns to fish a pool or run and this meant there was a lot of banter and discussion and maybe a little less fishing than I would normally get in but it was always going to be a fun day.
Gordon soon got used to casting sideways kneeling down and was particularly pleased with a trout extricated from a branch on a pool with a neat cast under a fallen tree.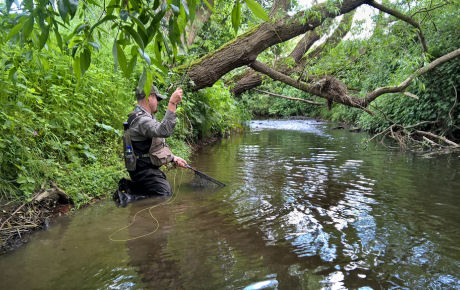 There were some mayflies hatching, but the trout were not really showing any great enthusiasm for them though by lunchtime we had both landed (and lost) a few on a mix of mayflies and tiny goldheads fished Klink and Dink (New Zealand Style!).
Having retrieved our lunch pack from its hidden shady location we sat on the bank enjoying the sunshine discussing tactics for the afternoon. There were great shoals of minnows swimming back and to near our feet and in the middle of one shoal was a male three spined stickle back in full breeding colour. In 28 plus years of being a member of YTAA I can't remember ever seeing a stickleback in Isle Beck before.
Refreshed we carried on upstream catching a few and sadly losing a few. Gordon picked up a lovely 13 inch wild trout from under an overhanging bush and I got a similar one from a deep hole. (Gordon recording the fight on video which may appear here later!).
In between the banter and losing flies we did catch get some good fish taking it in turns to record the occasion.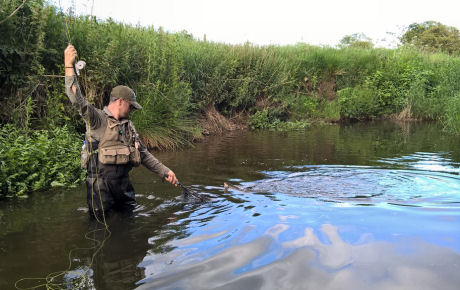 As usual when I'm fishing with Gordon the day flew past and almost before we knew, it was 8pm and we were back at the A19 and packing up very much in need of some liquid refreshment.
For Sunday I wanted to show Gordon both Cod Beck where I was hoping he could get a grayling or two and then if time allowed show him a fair bit of Thirkleby. We were soon set up and trying to find our way down through nettles and reeds at the start of our Cod Beck beat. There was nothing doing in the first couple of pools and despite some very Deep Wading Gordon didn't connect with trout or grayling.
As with the previous day we were taking turns to have first cast on a pool so when my turn came I joined Gordon in very deep water (chest deep!) and landed the first fish of the day a small chub. Despite Cod Beck being a good foot lower than normal we had to retreat and get out of several pools which were still too deep to wade through. (Please note that in Cod Beck there are several places where you need to take great care, the riverbed can be slippery and the water very deep) Getting up and down the steep overgrown banks of Cod Beck is also tricky but we managed to do so without breaking legs, or rod or ripping waders on the fine array of barbed wire fences that border the beck.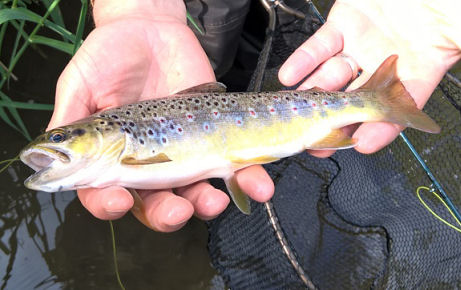 Cod Beck has altered quite a bit overwinter a couple of trees that were down right across the beck last season have been washed away and in places a lot of reeds have grown out into the river, narrowing the channel, speeding the flow and exposing some nice gravel.
We had picked up one or two fish both trout and chub but no grayling so I was hoping my favourite run might produce a grayling or two. This run above the big pool has also been narrowed by reeds but now has some excellent weed cover and looks really good. I was set up with a gold head and Gordon was using an Adams Parachute we could see one trout moving about in the shallow water feeding but it ignored the Adams until Gordon passed me his rod when he took it first cast. We hadn't got the grayling we hoped for but as time was getting short we headed up to Thirkleby.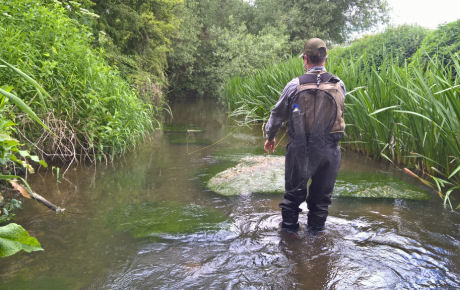 Starting below the chicken field we tried to tease rising trout from a fast run and both lost fish. In the big pool we managed a chub and from the run above Gordon picked up a nice trout when I suggested casting in the shallow right side not the obvious deeper water on the left. Thirkleby is getting overgrown but we had fun stalking trout from the bankside cover while working our way through the various pools and runs as quickly as possible.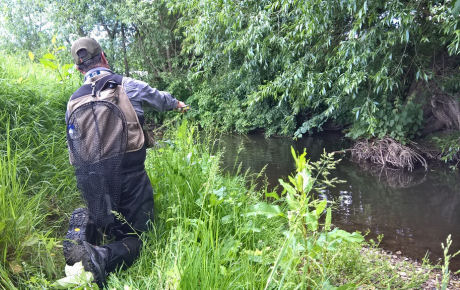 I was letting Gordon have first crack at every pool, after all I can fish the becks whenever I want and it's a long way from Kilmarnock to Thirkleby. However when he needed to change a tippet I sneaked ahead and saw a good fish rising tight into a tree root, I dropped a mayfly a few inches above him and he took it first time. This was clearly a good fish so Gordon had his phone out for a video clip of proceedings as the fish put up a spirited fight. In the low water I could clearly see the mayfly right on the trout's top lip, it looked a fragile hold and it certainly was with fish and fly separating as I was about to net him. He was probably the biggest trout (14inches plus) I've hooked all season on the beck and sadly my discomfort was recorded on Gordon's video I think I said "Oh Bother" – or words to that effect - you'd have to see the video to be sure!
We moved on up and picked up a few fish till we reached the footbridge when it was time to pack up as Gordon needed to head off back to Scotland.
We'd had two good days fishing, ok so we had not landed as many fish as I would like but then Beck fishing can be difficult and there is more to fishing with a friend than catching a whole load of fish. Gordon had enjoyed himself and is already dropping hints for a second visit later this season.

26th May 2017 – WTT Auction Lot Winner
It seems a long time since the WTT Auction in March when the YTAA lot for a day's guided fishing on Isle Beck raised £92 for the Wild Trout Trust. I had exchanged emails with the winner Steve and we agreed to have his day on 26th May.
We had discussed the type of fishing Isle Beck offers in a couple of phone calls and Steve arrived equipped with a fine selection of short lightweight rods. We met at the A19 bridge and Steve put up a 5 foot Hardy Aln' glass rod and #2 line and we made our way down through the fields to start four fields down. There were a few mayfly about and fish were already rising so it looked like we might be in for a fun day.
A few casts in the first pool produced a rise and Steve was into his first Isle Beck trout, but it didn't last long as it threw the hook. However a couple of casts later another trout obliged and was duly recorded for posterity.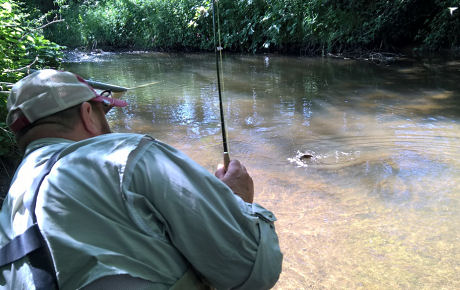 I have never really practised roll casting so it was really good to watch Steve in action – I always feel I learn a lot on the Auction Winner days and Steve's roll casting was very good . He told me he fishes a lot of small urban streams often using small nymphs and roll casting as he works his way up stream. The main difference he felt was the nice green surroundings and a general lack of old wheels and supermarket trolleys that are to be found in some of his usual waters.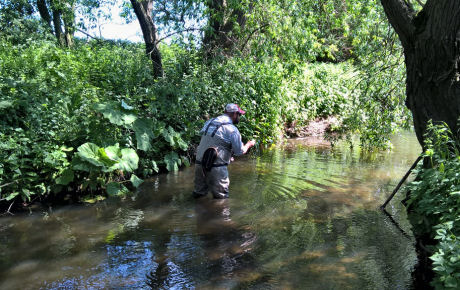 As we worked our way slowly upstream the little rod was being pushed to extraordinary limits and I was genuinely concerned it would break but Steve assured me these little Hardy Fibre glass rods are remarkably resilient and as the day wore on this proved the case as some of the larger trout put up a spirited fight.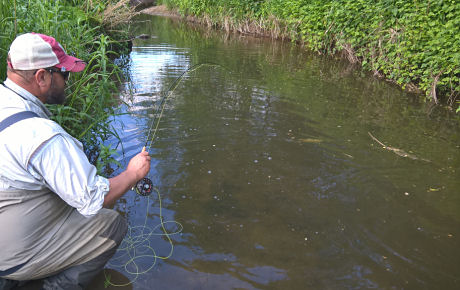 As sometimes happens when you are enjoying the fishing lunch time came and went. I had brought a bit of food with us which we snacked on but eventually I left Steve working on one of the deeper pools and fetched the rest of our lunch and suitable liquid refreshment back and we sat down for a while.
The morning and early afternoon had not produced the mayfly bonanza we had hoped for but Steve had landed a few on mayflies, a few on nymphs and rather annoying lost a few fish on both.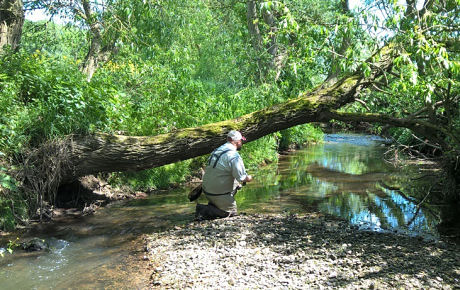 Suitably refreshed we carried on upstream with Steve picking up a few fish but still losing a few as well. We did wonder if this was due to the soft action of the 5 foot rod and the fact that many of the fish were being hooked at distance whereas Steve is often fishing at close quarters to his fish on his urban streams.
Steve invited me to try his set up on one of the runs and I have to say I liked it. The Aln is incredibly light and has a beautifully soft (slow) action. It was easy to cast a long way with good accuracy and I suppose the main difference from my usual 5 footers is that they are carbon fibre and have a rather faster action (though just as accurate) – to be honest I would be quite at home using either on our overgrown becks.
At one point about tea time Bob Sawdon and Steve Foster said hello as they wandered past on their way downstream in search of Mayfly action and we carried on upstream picking up the occasional plump wild trout and equally losing a few as well.
Eventually we arrived back at the A19 bridge just after 8 pm, there were no other cars parked up so Messrs Sawdon and Foster had clearly had their fun in a short session and departed.
So that was it perhaps not quite the bountiful day we might have hoped for but some good fun and 11 excellent wild fish landed and quite a few that achieved "early catch and release".
Steve said he had really enjoyed the day and wants to get his name on our waiting list even if it does take a few years before he can get a place.

11th May 2017 Isle Beck - Below the A19 Bridge
I haven't fished on the Becks for a couple of weeks (A quick fishing trip to Scotland got in the way !) but I have been hearing that it is fishing well with some folk getting record catches so I am heading off to fish Isle Beck below the A19 Bridge.
It's a near perfect day and I am wondering if I can get a record as I have all day to fish and the beck while low is clear and looking really good.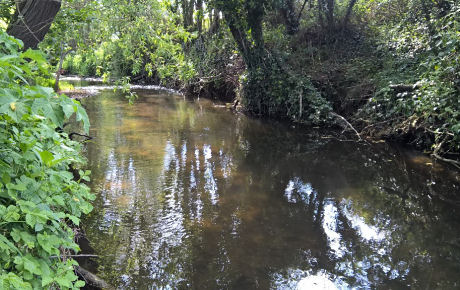 I start four fields down in the pool by the copse and it's not the best of starts as I miss two rises, then hook up on a twig and not wanting to lose a fly wade through the pool to retrieve it. The next pool up has changed over winter, the main flow used to be on the right but now it's from the left and the trout that used to hang by the tree roots on the right bank must have moved on.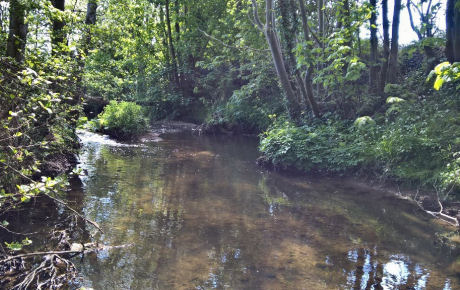 I move slowly up stream and noticing how much more overgrown it has become and it takes almost an hour before I get my first fish, a nice trout just under 10 inches, a plump healthy wild fish that is soon back in the beck to live, fight and hopefully breed again another day
The next couple of pools failed to produce but then I picked up two more trout from the next pool. There is a big new obstruction across the next pool with a tree down and some serious erosion that may need a working party to clear.
Next up is a small grayling not six inches but perfect in every way, as far as I know these little grayling are the offspring of the fingerling grayling that were stocked a few years back and proof that the grayling are really establishing themselves in Isle Beck.

I am doing a little bit of pruning of willow shoots on the way upstream aware that I want to bring the WTT Auction Winner down here in a few weeks and it would be nice to have a bit more casting room in some places.
I am a bit surprised that some pools have changed quite a bit overwinter and there are several new trees down across the beck, I am a bit cautious getting out to go around these trees aware that my shoulders are still a bit weak following my "skiing" incident in January and I don't really want to trust all my weight holding onto a tree as I try to pull myself up or slide back in. As a result my upstream progress is slow and it's well past lunch time before I get my next two fish, though I managed to lose a few in between.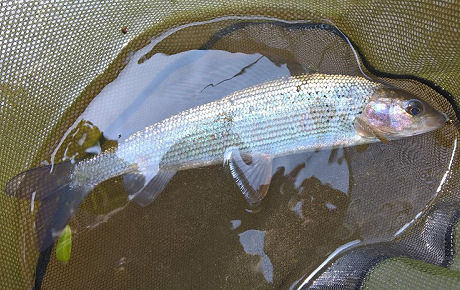 I switch from dries to a Klink and Dink set up to search the depths of one of the big pools and produce another small grayling and a trout before losing a really good grayling just when I was reaching to net it, however a couple of casts later I hook and this time land another good grayling. at just under 37 cm (14.5 inches in old money!) it's one of the biggest I've had from this part of Isle Beck –quite possible one of the fingerling grayling from a few years, clearly doing very well on Isle Beck food supply.

Still using the Klink N Dink I try some of the faster shallow runs and loose a very powerful trout that slammed into some tree roots before I could get him under control. Moving on I get a couple of 12 inch wild trout on a Parachute Adams both in excellent condition. Then a 5 inch grayling takes the fly. I'd seen several rises where the grayling was and cast again to see if I could get another but instead get a brown trout that charges round the pool like a mad thing before throwing the hook.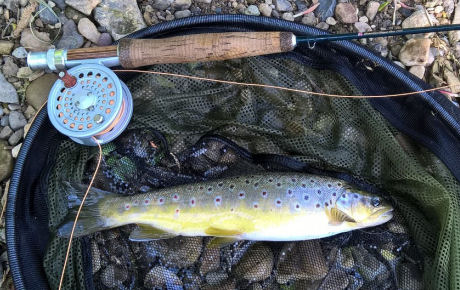 A few more trout and another little grayling are added to the log sheet before I am back at the A19 bridge. I haven't stopped for lunch but it is now 7:30 and it's been a long day. I've landed 12 trout and 5 grayling, not the record breaking day I was hoping for but very enjoyable, I only saw one stock fish all day and that was swimming slowly downstream, all the fish I caught were healthy wild fish and the big grayling was a bonus!

20th April 2017 Isle Beck - A19 to Arden Bridge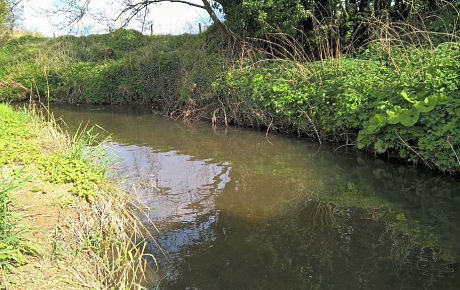 It's a nice afternoon and I am heading out to Isle Beck for the evening to fish between the A19 and Arden Bridge. As always when I fish this beat I start below the bridge and wade through trying to catch the trout that usually lurks on the top sill. I failed again this time but opened my account with a nice wild brown from the run under the Alder tree. This is a nice little run and usually produces a rise and it was a pleasure to see my Adams Parachute slurped in by the brownie.
There is a nice pool developing just above the Alder run I didn't get any rises but scared a trout from the left side as I waded through. The large pool is not what it was and I didn't waste too much time trying, but the run above it produced two more trout to the Adams. Moving on I lost a trout in the next pool and got out to walk round the fallen tree obstruction. Moving up I picked up a trout from the kingfisher nest pool (look for their holes in the high bank!).
The next couple of pools failed to produce but then I picked up two more trout from the next pool. There is a big new obstruction across the next pool with a tree down and some serious erosion that may need a working party to clear.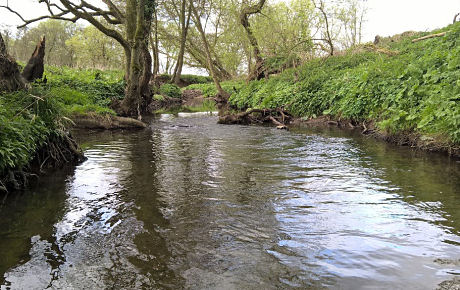 There are several more trees down on the banks in the next bit and casting (even with the 5 foot) is tricky and I fail to catch. Next pool is one of my favourites and as if to prove it a good trout comes right out the water to take a fly.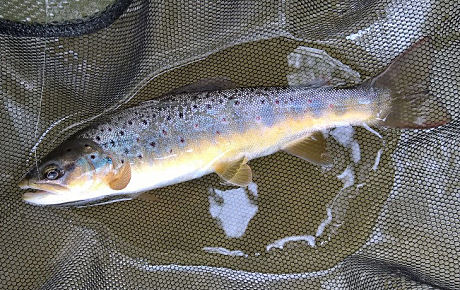 He ignores my Adams though and after several casts and a tangled leader I switch to a goldhead New Zealand Style and get him first cast – not huge but a perfect wild trout of about 9 inches.

Moving on I pick up a couple more trout on the goldhead and surprisingly then get two fish in consecutive casts both taking the size 12 Royal Wulf at the top of my "Klink n Dink" set up.
I manage one more trout from one of the deep pools near the top of the beat the best of the night at just over 10 inches before I head back down the road (quicker than following the beck).
It's been a good three and a half hours fishing 11 trout landed and one or two that got away. There is a lovely sunset as I walk down the lane and just to round the evening off I pick up four good pheasant tails on the side of the track which will help with my dwindling supply of fly tying material.

6th April 2017 Thirkleby Mill
Well I am back out at Thirkleby again but fishing from the footbridge to the weir. I actually decided to start fishing in the pool below the footbridge as it is usually good for a fish or two but the afternoon starts badly with a cast caught up in a tree just out of reach. I don't like leaving flies or line dangling so a lot of effort went into hooking it in my seatrout net (long handled) which I had in the campervan trying to get it down. I succeeded eventually but managed to break my seatrout net handle in the process - it was at least 28 years old so doesn't owe me anything, still not a good start. After the delayed start it wasn't long before the Royal Wulf slid away and I had a 5 inch chub recorded in my log book.
A couple of cast later a small trout (7.5 inches) took the goldhead and was recorded and released.
Moving under the footbridge I hooked and lost a small trout from the tail of the next pool but then landed a nice 10.5 inch brownie from the top of the run. After this the afternoon went downhill. I couldn't get fish to stay on, I checked my hook, even changed flies a few times but the trout would not stay on long enough to be landed. I can't blame barbless hooks as I was using same hooks and set up as I was a few days ago when I landed 17 trout, just one of those days. To add to the fun it also felt like I was catching more than a fair share of overhead branches brambles etc and yes of course in this case the branch twig or bramble stayed firmly on the hook !!!
I worked my way up through the trees not catching trout but then managed a real first in one of the shallower runs (having lost one trout at the tail of the run!) I cast again and the Royal Wulf slowly dipped, a firm strike and I was into a fish! But what a fish! A species I have never caught on Rod and Line before let alone fly fishing. On the end of the cast with the goldhead neatly hooked in his upper lip was a Bullhead! I suppose I should take comfort adding a new "personal best" Bullhead to my fishing records but it wasn't really what I came to catch.
The upper parts of our beat are quite overgrown so I put my secateurs and pocket saw to good use in a couple of places in between not catching any more trout, it will help on visits later in the season. Eventually I reached the weir pool which is the top boundary of the YTAA water and was hoping to get at least a couple of trout, but yet again I failed to get hooked fish to stay on. However after persevering I did eventually land an 8 inch wild trout, in perfect condition.
So that was that, on a near perfect afternoon when I felt I should have recorded a dozen or so fish I ended with just three trout, a small chub and a personal best bullhead and I think the bullhead was probably the catch of the day!

31st March 2017 Thirkleby Mill
Well my right shoulder survived casting on opening day so I am back for a longer session at Thirkleby and starting early so I can take my time and enjoy the day.
I'm soon tackled up and wading carefully up the beck which has dropped a couple of inches and is a clearing nicely. There is still a bit of colour in it but that is fine as it helps hide your approach from wary fish.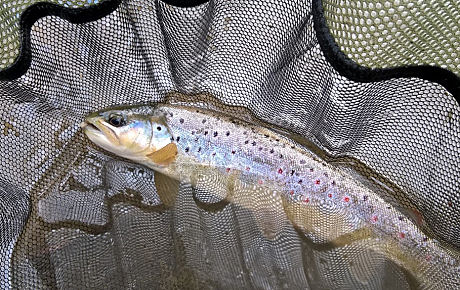 I see a fish rise at the head of the first pool and having tried the water close to me first drop the fly just above where I'd seen the rise, the trout rises and I hook and then lose him as my line has tangled over a tree root. I give it a couple of minutes and cast again and this time I hook and land a trout of about 9 inches – my first on an Adams Parachute fly this season.

The big bend pool has nothing rising and speculative casts in all the right places produce no response so I switch to the New Zealand Nymphing rig and catch 4.5 inch chub on consecutive casts on the tiny goldhead and a few minutes later another trout.

I move up stream and manage scare the trout in the quite run below the little farm bridge (I usually do, no matter how quietly I try and approach it), but the beck is low and clear enough for me to wade under the bridge and try the pool by the willow tree. A 7 inch trout obliges straight away. Next a careful cast avoiding the worst of the overgrown willow drops my fly in the riffle and as sometimes happens a trout ignores the nymph but hammers the Royal Wulf and trout number 4 goes into the log book. I spent a few minutes trimming off the excess of branches on the willow tree as it will improve access on later visits, my pocket tool with secateurs and mini saw quickly clearing access for casting.

The "Chicken hut field " doesn't produce a take in the high bank run but another trout took the gold head nymph in shallow water a bit further up. I am always surprised that trout will lie in remarkable shallow water on the edge of the main flow ready to pounce on anything drifting down on the current. This last trout was a luck catch as the wind was picking up and blew my cast further to the right of where I was aiming or I wouldn't have covered him. The next cast was a disaster as my line blew into the side and tangled the cast completely. Rather than tie a new cast mid stream I decided to walk back to the camper and have a quick brew and a snack while I prepared a new cast – I'd been fishing two and a half hours and managed five trout and two "micro" chub and felt I'd earned a cuppa.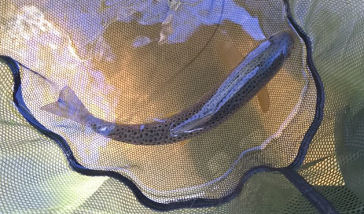 Refreshed and with a new cast tied up I started above the Mill Bridge and another decent trout was soon in the net. I moved on up through the trees and started picking up trout in all my favourite places mostly in the 8-10 inch class but with one 11inch fish as well. Another couple of chub added to the bag and with a bonus trout from the pool above the footbridge I decided to call it a day.

In fact my right (casting) shoulder was really calling it a day as it was really beginning to ache even though I'd been fishing for less than 5 hours. Still no complaints, 17 trout and 4 chub made it a very respectable early season session and I hope to return soon and fish from the footbridge to the weir.

25th March 2017 Thirkleby Mill
Those of you who were at the YTAA AGM will recall that I had my arm in a sling having broken my right shoulder and dislocated my left shoulder at the same time. This meant I wasn't able to help with restocking as I couldn't lift or even drive and the start of my trout season was looking to be much later than 25th March. I actually miss the working parties on the Beck – it is an excellent opportunity to see what condition it is in and check out what winter floods have done to the gravel banks and likely trout holding areas.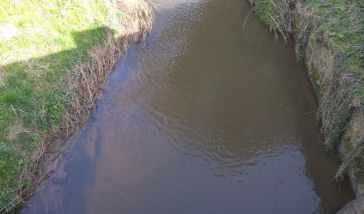 However my fears of a late season start were reduced a fortnight ago when I was permitted to take the sling off and allowed to start doing some gentle physio exercises trying to get myself back to fishing mobility. A week ago I started driving again and so on Friday 24th had a quick trip as far as the A19 bridge to see if the Beck looked anywhere near fishable as the Ouse and Nidd were both very high and muddy. The Beck was a little high and rather fast but I could just about see the gravel in shallower parts and I went away happy that I could put the rod in the campervan and try to catch a trout on opening day.
Saturday 25th dawned bright and sunny and after a quick breakfast I was on my way to Thirkleby Mill to fish. My time was going to be limited to 2 hours partly because the shoulders are not fully recovered and I still need to be careful and partly as I had other stuff that had to be done in the afternoon.
I always like starting my season at Thirkleby but today I knew the Beck would be clearer there than further downstream and in addition I would have easy access into a couple of pools and at least a couple had plenty of casting room if I had to cast left handed instead of with my normal right.
I was a bit disappointed to find the beck hadn't really cleared but it was fishable if slightly high and flowing faster than I would have liked. My right shoulder felt a bit stiff casting but at least I was fishing and all I wanted was to catch "A fish!" There was nothing doing with a dry fly (Adams Para of course!) but a change to a small goldhead nymph fished NZ style below a Royal Wulf soon produced a firm take and a 9 inch wild trout was soon resting in the net. A couple of casts later I was in again but lost the fish before I could net it.

I moved upstream a bit and lost another fish on my next cast probably because I am trying not to strike too hard with the right arm!
A few minutes later I hooked and landed another 9 inch fish with a lovely yellow belly. Moving up stream to the little bridge before the chicken field I lost trout number 3 – I wasn't really discouraged as it just felt good to be fishing and hooking fish.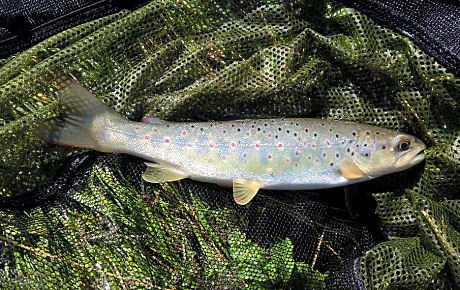 The Beck was too deep for me to wade under the bridge so I got out and re-joined above it. I still hadn't seen any fish rising though there were midges above the water and a few uprights about too so I stuck with the goldhead. I didn't get any takes by the willow which was very overgrown and I was going to pack in as my 2 hours was nearly up but then thought I'd just try the next pool up which is a long glide by the high bank. My second cast near the high bank produced a firm take and trout number 3 came quickly to the net just slightly smaller than the first two but in excellent condition.
So that was it, my time was up. I'd fished exactly 2 hours, landed three and lost three. Maybe not the most productive start to a season but way better than I thought was likely two months ago. My casting arm stood up to casting with my favourite 5 foot 2 weight rod fine, so I hope to get out again soon, though I won't be trying my luck with longer rods for big Rainbows any time soon.