Salmon Fishing on the South Esk at Marcus
Salmon and Seatrout fishing on the South Esk in Angus, Scotland is available at very attractive rates for YTAA members and can be arranged throughout the year on the Marcus beat. For more information, availability and prices please contact Ian Hardy at: treasurer@ytaa.co.uk.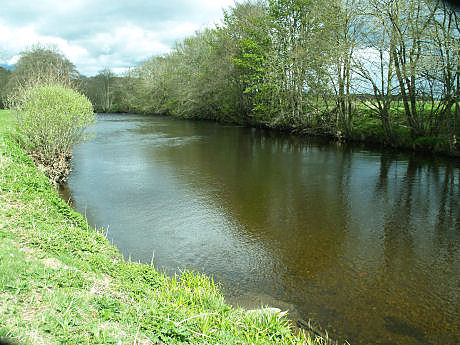 The Marcus beat is approximately 1¼ miles long and it is a middle river beat that is best suited to fly fishing. All of the water is productive, comprising of various riffles and four main holding pools. Most pools are easy to access and fish, no deep wading is required.
The river is situated in Angus, approximately 20 miles north of Dundee at Marcus, which is to the eastern side of the A90 after passing the Finavon Hotel when heading north. The Marcus Estate is strictly private and extremely pretty.
It is an excellent fly fishery although spinning is permitted during high or coloured water for both Salmon and Seatrout and produces fish from March when the Spring Salmon appear through to the end of October. It is a medium sized Salmon River which is best fished with a 10' single handed rod rated #7/8 or a small 12' 6" or 13' double handed #8/9 rod.
Spring Salmon in the South Esk are large, typically 6 to 16lb and are present from late March until the end of May. Seatrout start to run in late May although the heavier runs occur during June and July. Averaging 2½ lb, they are taken on spinner and fly during daytime but the most productive fishing is at night with the fly.
Grilse are present from mid-July until well into September, often with some larger Grilse/Summer Salmon into the low teens accompanying them. The main autumn run of larger Salmon occurs in September and October, the average size being 8 to15lb with fish over 20lb taken each year. The fish on the right measured 49" in length and was estimated to weigh 36lb.