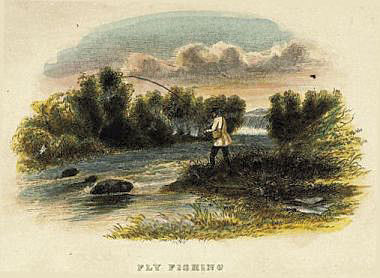 The York Tradesmen's Angling Association (YTAA) is a long established angling club with records dating back some hundred years or so. The club operates over five becks and two still waters in North Yorkshire. Primarily a trout fishing association with the emphasis on fly fishing although coarse fishing and bait fishing are also available. The association offers year round sport with grayling and pike fishing in the winter months. The two main fisheries are; the Isle Beck system in North Yorkshire where much of the fishing rights are owned by YTAA and still waters at Stearsby at the foot of the beautiful Hambleton Hills. Isle Beck offers fine wild trout sport, a mayfly hatch and a good head of naturally recruited wild fish. Stearsby is a lovely little secluded fishery offering quality still water fly fishing for rainbow trout. Wild trout fishing is also available on the River Dove at Kirkbymoorside, the River Riccal at Harome and on Cod Beck at Dalton.
Membership Applications
We do not have any vacancies at present. Due to the high number of recent applicants our waiting list is now closed. If you are already on the waiting list then please be sure to inform the Club Secretary if you change your email address or else you may miss your opportunity.
Club Secretary: Rob Sawdon: secretary@ytaa.co.uk
Subscription Fees - Reminder
Some members have still not paid their annual subscription fee. As stated in the last Newsletter you should forward your fee on to the Club Treasurer by the 13th February. If you do not intend to renew your membership then please inform the Club Secretary so that we can reallocate your place to a new member before the start of the 2021 season.
Warning - If you have still not paid by the 1st March then your membership will deemed as lapsed and should you wish to reapply then you will be placed at the back of the very lengthy waiting list.
Covid-19
07 January 2021
The Government have now formally responded to the representations made by the Angling Trust.
Statement from the DCMS (Department for Digital, Culture, Media and Sport):
"Fishing is allowed as exercise so long as participants adhere to the rules on staying local, gathering limits, social distancing and limiting the time spent outdoors."
Statement from DEFRA (Department for Environment, Food and Rural Affairs):
"Cabinet Office have now officially confirmed that angling / fishing (incl. sea fishing off private boats, water sports) can be considered exercise and are hence permitted."
Please bear in mind these key points:
This is a strictly limited resumption of 'local' fishing and is very different to how we have been allowed to operate since May.
The Government's definition of 'local' states:"avoiding travelling outside of your village, town or the part of a city where you live."
We are in a National Lockdown and this must be respected. The law requires a 'reasonable excuse' to leave your home or penalties will apply.
The Government has recognised that fishing can be seen as exercise but such exercise is limited to once a day.
To remain within the law you should follow the Government's guidance, and only fish locally.
These websites provide further information and updates:
The Angling Trust
Gov UK Travel Guidance
YTAA Covid Guidelines.
The 2 metre social distancing rule must be followed at all times and you should wear gloves whenever touching gates, styles, fencing, benches etc. Please place your signed membership card on your vehicle dashboard when fishing, this is an easy ID process and gives confidence and reassurance to our members and Landlords.

Very Important - Wear gloves when opening gates.
Unfortunately one of our landlords has observed a YTAA angler opening farm gates without wearing gloves and has since made an official complaint to the club. This could endanger our lease of this water so please follow all the guidelines however awkward or unnatural they may seem.
Kingfisher Diary - Post Season Thoughts and Pre Season Blues!
I have just sent off a cheque to renew my YTAA membership for 2021 and decided to post some thoughts.
It seems a long while since my last outing to the Riccal on 30th of September when I struggled against wet and windy conditions before eventually catching a trout to avoid a blank on the last day.
I have been going through the catch returns I have received from members who fished on the various becks and rivers during 2020 and it's been quite interesting. Because of Covid and lock down etc. the wild trout season was late starting – my first trip was 23rd of May but I had a pretty good season once things stated and ended on 158 trout, 39 grayling 11 chub and 11 dace in 22 outings.
Another member, "Paul", had a better average than me and in 12 outings recorded 98 trout, 57 grayling, 16 chub and a dace. In his notes he said that (like me) he struggled with the overgrowth at the top of Cod beck, but his trips to the Dove, the Riccal and Thirkleby were particularly productive. Rick B had a few good trips, landing trout, grayling, chub and dace (and 4 minnows!) for an average of 5.4 fish per trip.
Elsewhere a couple of members had considerable success with trout, chub and grayling by trotting worms or maggots. Let me say here that not everyone enjoys casting flies in tricky overgrown conditions and YTAA allows worming and also maggot fishing on selected waters during the coarse fishing season. So if that is what it takes to get you out to enjoy some time on the water then that is fine by me and well done to Richard and Garry.
I have often wondered what a free lined worm would produce dropped into some of the deeper holes on Isle Beck, particularly holes which are impossible to cast a fly or nymph into, but have not really tried, maybe next season I will give it a go.
There may be a few more returns to come in but so far 12 members have recorded 79 fishing trips accounting for 392 trout, 169 grayling, 117 chub and 76 dace (plus Rick's 4 minnows). Maybe 2020 season wasn't so bad after all!
I guess it's too soon to speculate whether the 2021 season will open on time (I can hardly wait to get back out) but there is no harm in being prepared and so tidying fly boxes, tying flies, sorting leaders and tippets, checking and oiling reels and cleaning or renewing fly lines should now be under way and will help keep us out of trouble during the current lock down.
Watch out for a 2021 Kingfisher Diary as soon as we are allowed out again.

Tight Lines for 2021
Other News
Invasive Species
The YTAA has recently been contacted by the North Yorks Moor Organisation requesting that we help to highlight their campaign against invasive species. Their poster can be viewed by clicking here.
The Angling Trust also has a long running campaign regarding invasive species and provides a very detailed explanation of all the various threats to our wildlife and fishing's which you can read by clicking here.
It is strongly recommended that you should learn to recognise the 'Giant Hogweed' plant as it is becoming increasingly prevalent on our local river banks and can cause you very painful and long lasting damage. If you should encounter one then avoid any contact with the stem bristles and the sap, this is a very dangerous plant.
Stearsby Notes
A monthly report on the fishing at Stearsby lakes. A detailed catch analysis, photo's and fishy musings: Click here to read.
The Kingfisher Diary
Always entertaining, these diaries will be of interest to any angler with a love of the smaller waters. To follow his trials and tribulations Click here.
The Kingfisher kindly agreed to reveal his 'secret' methods in the 'Kingfisher Hints & Tips 2016' page and he has now produced an updated version - 'Hints & Tips 2020'. Click here to read. Lots of useful tips on tackle and methods in here, well worth a read.
Wild Trout Trust Auction

Every year the YTAA donates a day's guided fishing on our waters to the auction. Our resident Beck specialist 'The Kingfisher' generously organised an outing on Isle Beck for the 2019 winner and was on ghillie duty for the day. You can read a full account of that day out here. Unfortunately the 2020 auction winner has not been able to enjoy his prize this year and hopefully an alternative day will be arranged for him next season. To read more about all the invaluable work of the Wild Trout Trust just click on the badge.
AGM 2020
The Annual General Meeting of the association took place on Monday 10th February 2020. Many thanks to all the members that attended and contributed both to the discussions and Sam Seago's raffle. The AGM Minutes (Unapproved) are available to read here AGM Minutes 2020. Previous years can be found in the Archives.
Cod Beck - Hints & Tips
At the 2019 AGM Richard Pulleyn presented his 'Hints and Tips' on the YTAA fishings on Cod Beck. There is much valuable information here, all based on his personal experience of tackling Cod Beck. Click here to read the full article.
Salmon and Seatrout Fishing
A reminder that fishing for salmon and sea trout is available to YTAA members on the South Esk in Angus at a very favourable price. This is a top quality Salmon Fishery that has produced fish up to 36lb. Click here to read more.
The Countryside Code
To maintain our good relationships with the many landowners that surround our fishings the YTAA expects all members to abide by The Countryside Code. To refresh your memory you can read the code here: The Countryside Code.
Reporting Pollution
After the recent incident on Isle Beck members are reminded to remain vigilant and to report any further pollution via the EA Emergency Incident Freephone number: 0800 80 70 60.
Otters
Otters are now in residence on several of our waters. Reports and complaints have been received from several members so the committee is fully aware but legally there is little that we can do to resolve this.
Signal Crayfish
There has been a big increase in the number of sightings of Signal Crayfish in the Isle Beck system. Unfortunately there is little that that we can do to tackle this infestation. Our focus as a club now has to be the prevention of their spread. Members are very strongly reminded that they should each be responsible for their own basic 'Bio Security' measures. After fishing, always thoroughly dry out all of your clothing and fishing tackle, especially your nets, before fishing again.
If you are unsure what a signal crayfish looks like or want any more information then please visit the Signal Crayfish page. Please note: It is illegal to remove Signal Crayfish without a licence from the Environment Agency. One of our members has tried to obtain such a licence but unfortunately it has proven to be very difficult and he has been refused a licence.
GDPR - Data Protection
Click here to read how YTAA looks after your data GDPR.