Tales from the Riverbank - 2019

30th April 2019 – Isle Beck between A19 and Arden Bridges
After early fog lifted it looked like it would be a good warm day so I headed off to fish between the A19 and Arden Bridges as I haven't fished that beat yet this season and I needed to check it out before the Wild Trout Trust Auction winner comes for his day's fishing.
I was tackled up and ready to start fishing just before 1pm and was feeling confident of some action as now it stays light till nearly 8:30, but it was nearly an hour before I landed my first fish, a trout just under 6 inches. I had just released him and recorded the entry in my waterside log book when I good fish rose close to me. A quick flick with the rod dropped the fly just ahead of where he had risen and seconds later he slammed into the Adams. This was no six inch fish but a good solid trout that jumped twice and then simply came off…
Moving up to the next pool I picked up the first grayling of the day. I am always trying to get a few good scenic pictures to go into the diary and I took a photo of the pool looking nice between the trees. I took another photo zoomed in a bit just as a fish rose close to the right bank below a sticking out branch. The phone went back in the pocket and a careful cast close to the bank produced the grayling. I have to say I am rather pleased to catch small grayling as they will be providing excellent sport in a year or two.

As I waded up to the start of the next pool I noticed another angler coming up behind me and fishing pools I'd just been through. I thought I would try the next pool then wait for him to catch me up and we could agree to share and leapfrog alternate pools so he could have a bit of unfished water to go at. I didn't get anything in the next pool and sat waiting for the other member to arrive but he didn't re-appear so I guess he saw me and decided to try elsewhere. I rarely see other members when I fish our waters so it's a pity he wondered off without the chance to share the beat or even find out who it was?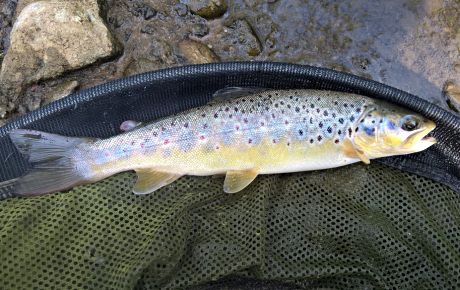 The day was warming up and it felt very pleasant to be fishing in the shade of the trees. I was starting to get a few more rises and landed three more trout to 12 inches before the next grayling came along. I had been trying both my favourite Adams Parachute fly and a Black F Fly but it was clear the fish preferred the F Fly and I stuck with it for the rest of the day landing a few more grayling and a couple more trout, the last one a plump 11 inch trout providing some aerobatic action jumping clear of the water half a dozen times before I finally slid him into the waiting the net.

It was now 7:30 and although still light there was a bit of a chill in the air and I could also feel a lot of water in the right leg of my chest waders so I decided to call it a day with 7 trout ( most of them decent fish) and 5 grayling. Not a spectacular day but good fun and I did see one mayfly so we might expect some real action soon.
Finally a Post Script to the 12th April Diary where I wrote about the bird scarer hidden in the copse four fields down from the A19 Bridge – I later received an email from another YTAA member who had read the diary and advised me that "you need to be sitting on the log in the copse, having a quiet moment with a cheese sandwich to appreciate the true glory of the bird scarer!". I can imagine that!! It still makes me laugh as I'm writing about it!!


22nd April 2019 – Cod Beck Above Junction with Willow Beck
I was rather late getting away for a couple of hours fishing – I fancied a go at Cod Beck but with access to Gristhwaite farm restricted I decided I would park at Willow Bridge Dalton and fish from the Junction with Willow Beck upstream as far as I could get before it got dark.
I had a good look at Willow Beck as I was walking down and some of the pools looked pretty good so I will have to give it a visit in the near future, perhaps using my Hardy Glass rod 'The Aln' – which I finally tried out on my favourite tiny Welsh stream and christened it with a little wild trout over Easter. I should remind members that the wooden footbridge over the ditch that flows into Willow Beck is rather rotten, the treads are weak and won't bear weight so you are advised not to use it and to cross elsewhere or wade through the pool below.
I had decided to give my 6' #2 Burns Built Riccall an outing this evening mainly because I haven't used it for a while but also with the slight breeze I thought it would be better than the lighter 5' rods. It is still a lovely little rod but it is probably 12 years old and when I started using it I realised how much rod technology has moved on and that my newer rods are lighter and have faster actions, having said that it is still a delight to use.
It was just half past four when I slid into Cod Beck and started working my way upstream, I was hoping for some dry fly action but there was no response to F Flies, Adams or Small Klinkhammers so I switched to my Klink and Dink and finally a take on the size 16 Goldhead produced a 9.5 inch grayling which was quickly returned. I recorded the grayling in my waterside log book noting the time as 17:52 feeling disappointed that it had taken so long to get off the mark.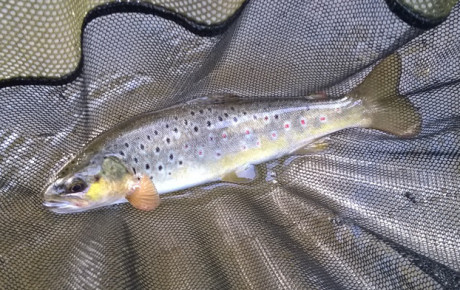 I worked my way upstream manoeuvring around various trees and obstacles as carefully as I could but it was exactly an hour later before I caught my next fish. This time a nice 10 inch trout that ignored the goldhead but rose and took the White Wulf I was using as the "Klink" in my NZ rig. Photographed quickly and returned this fish went in the log book at 18:52!

Cod Beck really is looking pretty good with some good deep pools, lovely gravel runs and some nice weedy shelter. I keep meaning to spend more time learning the lower beats as I have mainly fished it by and above the railway bridge near the farm. Having said it looks good I wasn't catching any more fish but did miss a couple of takes and lost a small grayling. I fished on for another hour, but as the sun was sinking low and I knew I had a walk back down to Willow Beck I quit before it was too dark to see where to re-cross the beck. I had hoped for more than a couple of fish but it was a nice evening anyway so I can't really complain.



12th April 2019 – A Scary Start on Isle Beck below The A19
I had hoped for an early start and a long leisurely day fishing Isle Beck below the A19 Bridge but it was 12:50 before I started the long walk to start 4 fields down below the bridge. When I got to the little copse which marks one of my favourite pools I was disappointed to find a large branch had gone down into it and completely blocked the deep run and a small tree down across the end of the pool meant I couldn't get in the beck by my usual route. I was just trying to slide my way into the beck when what sounded like a very loud and close shot gun went off just behind me. To say I was shocked would be an understatement and I tried to look round to see who was shooting so close to me when suddenly a second shot went off what felt like only a few yards away in the little copse of trees. I couldn't see anyone but I shouted out loudly as it sounded really far too close for safety and figured out if I couldn't see them, then whoever was shooting probably couldn't see me. I got no response to my shout, but on looking round more carefully I noticed an orange butane cylinder at the far side of a pile of logs and realised that it was a gas powered bird scarer that had given me a fright. It hadn't gone off when I was walking down to the copse, but it went off at regular intervals for the rest of the day. You have been warned.
I tried a small Parachute Adams and then an F Fly in the first few pools, but didn't see any rises and nothing came up to take the flies trying in the usual likely places. Having said likely places there are several log jams that have changed pools over winter and with big trees down over the beck in a couple of places some pools are now unfishable, but will provide good cover for natural trout recruitment. I also noticed that in several places there and been significant movement of gravels and a couple of pools had changed completely.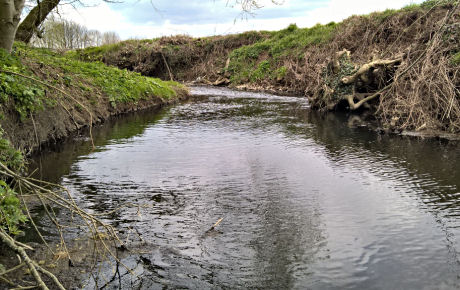 The fishing was a bit slow and even a change to a small copperhead nymph on a Klink and Dink rig didn't get a touch for the first hour and a quarter. But then it was like someone had flicked a switch and in one of the pools where we had previously done some work I caught 4 trout in quick succession and then in the next pool a couple of grayling and another trout were also landed, released and recorded in the little red bank side book.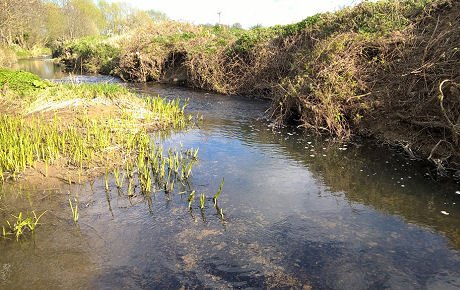 Moving upstream my confidence was now pretty high and I tried a shallow run I wouldn't normally bother with casting to the edge of the fast water, the "Klink" shot sideways I tightened into a perfect 5 inch wild trout. The next pool up was also quite shallow but a cast to the head of the run in produced a sharp take and a 10 inch trout.

A bit further up on a bend pool I could see fish rising so switched back to an F Fly and was immediately broken but what looked like a reasonable trout. I sat down on the bank and waited while I retied the cast with my last F Fly. Another fish rose nearer me and when I cast a small grayling obliged and went in the book, then a bigger fish rose where I had been broken and a careful cast produced a splashy rise and another 10 inch trout was landed and released. I started to wade up the pool when I saw another rise at the top and a quick cast produced a good take, I could see it was a grayling but it came off before I could get it near the net.

I didn't get any more interest for over an hour and was thinking of changing back to a Klink and dink to search some of the deeper pools near the road bridge when I saw a rise in fast water at the head of a small pool. The first couple of casts produced no interest but third time a small grayling grabbed the fly and was duly recorded and released.
I did switch back to a Klink and Dink and tried the deep pools nearer the bridge but didn't get any more action so retreated to the campervan to warm up with a much needed cup of coffee and the other half of my lunch. I'd had quite a good session after the slow start with 8 trout and 4 grayling but with most of the action coming in just over an hour between 2:25 and 3:45 after which it tailed off. The only slightly annoying thing was losing my Veniard Amadou Patch somewhere along the way. I had been using it but then when I went to dry a fly the zinger was empty and I've no idea where it may have become detached.
On reflection it was clear that the fish came in just over two hours in the warmest part of the day when the sun was out and brightened things up, but then a light breeze picked up and cooled things down and may have contributed to the end of the action. Still it is early days of the season and the sport will improve as the weather picks up.


2nd April 2019 – A Tricky Time at Thirkleby
After a damp grey morning the weather looked like it was brightening up so an afternoon trip to fish near Thirkleby Mill was definitely on. I was tackled up and ready to fish by twenty past two and the sun was shining as I walked down to my starting point a couple of runs below the big bend pool.
The beck was running high and a little fast but was reasonably clear so I started with a small (# 16 ) Adams Parachute, but got no response casting in all the likely places or on the big pool and switched to a Klink and Dink with a goldhead to try the depths of the big pool but again no offers. I moved up stream with similar results and noticed that the wind seemed to be picking up and there was a bank of ominous looking cloud creeping towards me.
I could see a rising fish just above the little road bridge so changed back to a dry fly but couldn't quite reach him casting through the bridge and eventually got hooked up on some ivy hanging down so waded under the bridge to retrieve it (keep to the right there are blocks and obstacles on the left side). By now the fish had stopped rising and casts where he had been failed to get any interest. The corner pool by the willow looked good but failed to produce any takes (the willow could do with some trimming to open the pool up a bit!). I moved on up the chicken field but still couldn't get a take.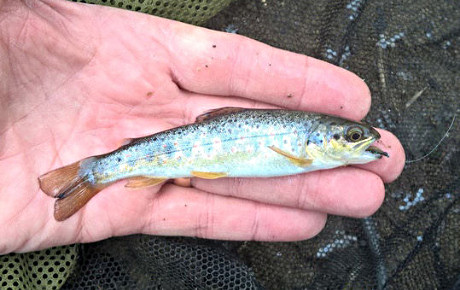 I waded under the little Mill Bridge hoping I might get something in the run along the wall, and near the top where the streams re-join a small rise to the F Fly produced the first trout of the day, a massive 3.5 inches of perfect wild trout.

Having released and recorded the trout I moved up into the start of the tree lined sections and it started to rain and with the day turning decidedly chilly I wasn't surprised not to get any interest in the first pool. Moving on to the next pool it suddenly started to snow! This was definitely not part of my plan and I was on the point of calling it a day when just as suddenly it stopped. I got no takes and moved on under the blue water pipe at the top of the pool. The next run looks really good and at the top end was a fish that rose twice while I was casting at the tail of the pool, but when I moved into place and cast where he had been rising I failed to get any interest.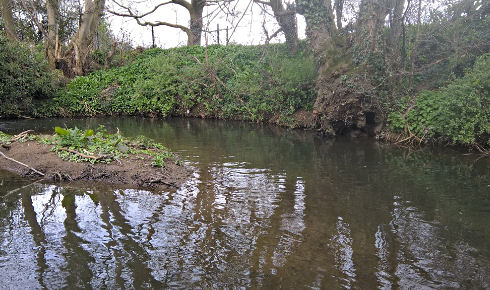 The next pool up has changed a lot since last year with a big tree down across the top and a new gravel bank building up. It is now a very good spot with trout hanging in the run on the right hand bank. Sure enough, a cast close to the far bank just upstream of the big tree produced a good rise and a few seconds later a nice trout of about 9 inches was safe in the net.

Moving on under the trees the next few runs failed to produce any interest and I made my way under and sometimes over the various trees that are down across the beck until I reached the pool below the footbridge. At this point the weather changed again and it started hailing! I suppose the only weather I hadn't had was fog!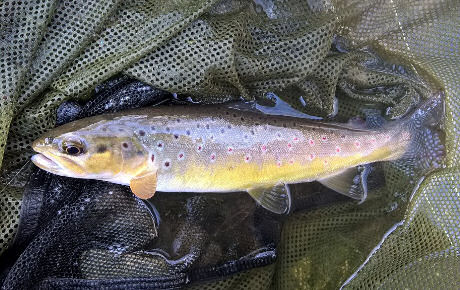 I struggled on up the beck not catching trout anywhere though I was not trying as hard as I might but moving quickly towards the weir pool where I hoped I might get some action on a Klink and Dink if not the F Fly. Sure enough a little bit of casting and the "Klink" vanished and I struck into the best fish of the day which was duly released and recorded. I tried a few more casts not really expecting any more action but when the "Klink" stopped in what was a fast run I tightened into another trout which at 3.5 inches was almost the twin of the first fish of the day. It was now nearly 7 pm and the sun which had reappeared was sinking and it was starting to get quite chilly so I headed back to the campervan. I'd fished for four and a half hours and only managed 4 trout, but overall in the weather conditions (and the rather overgrown bits) it felt that I really hadn't done too badly



28th March 2019 – A Good Day on Cod Beck
After a rather disappointing start to the season on Monday I was keen to get out again quickly and having learnt that two other YTAA members were planning on visiting Isle Beck I decided to have a go at Cod Beck. The Dalton Gauge was showing 91cm, a bit high as I think around 77/78cm is ideal but the Thirsk gauge was on 23cm – only a centimetre or two above ideal so I thought the top beat above the railway bridge would be ok.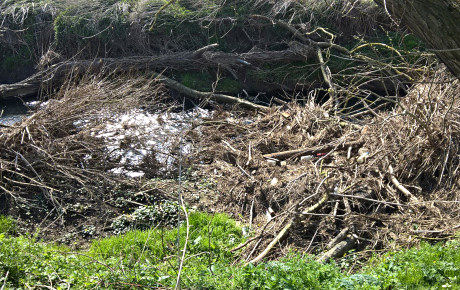 On arriving and tackling up the first problem was finding a way into the beck, the entry point I used last year below the Railway bridge has become a large pile of "Woody Debris" but it was possible to edge round it and slip in a bit further upstream.

The beck has changed a bit overwinter (as I found out further upstream too!) but the big run below the railway bridge is much the same and a little perseverance produce trout of 11.5 and 11 inches on my Klink and dink style goldhead. A word of warning here, wading up through this long pool I discovered a lot of soft mud near the bank and it is near to deep water so a wading stick and great caution is needed if you are wading through.
I managed more by good luck than anything to hook and land a small trout under the railway bridge, though I am sure there are big trout in there somewhere.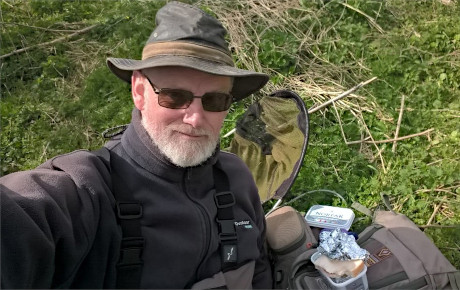 I worked carefully upstream and next up was a grayling of about 9 inches which was quickly returned. By now it felt like lunch time and I actually stopped fishing and sat on the bank and ate a couple of sandwiches and had a drink this is rare for me as once I'm fishing I rarely stop, but the day was getting warmer and I felt relaxed with no time pressure to get home.

While I was eating I started to see a few rises in the pool below me so after lunch I switched to a tiny Klinkhammer and promptly hooked and lost a fish. The klinkhammer attracted no more interest so I switched to a size 16 F fly, something I rarely use, but today it was magic. First cast produced a solid rise and soon another 11.5 inch trout was going in my waterside logbook. Moving on slightly and a couple of casts later a good fish hammered the F Fly and was eventually landed and a 15 inch trout went into the log – I think this is one of the biggest I've had at Cod Beck, but it was a bit on the skinny side. Next pool up produced another small grayling which was followed a bit later by another smaller grayling.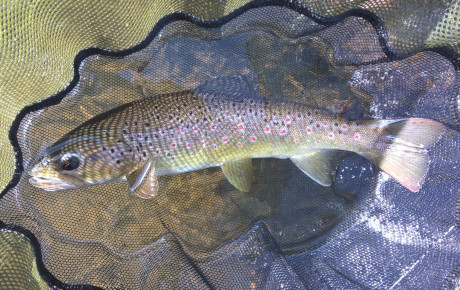 I was now fishing the upper reached of our beat which I haven 't really fished before and some of it is decidedly tasty and would probably produce a fish a cast in warmer weather but there was a slight chill in the air and I didn't see any more rises. However the F fly kept working its magic with another trout and another small grayling before it felt like my time was up. I was wading upstream between high banks trying to find an easy exit point but had a couple more casts in a nice looking run. The second cast produced a good rise and the fight of the day from a very determined trout. Safely in my net I was surprised to find that at just 13 inches he was smaller than my biggest fish of the day, but he was absolutely solid, a really plump perfect condition wild trout.

I couldn't find an easy way out at the top of our beat, a couple of log jams and high banks made exiting difficult and when I did eventually scramble up a bank I decided that I didn't fancy climbing the high barbed wire fence at the top so in the end I slipped (literally!) back down the bank and into the beck and waded down a couple of hundred yards to a reasonable exit point.
Walking back to my camper van I did briefly think of trying the long run below the railway bridge with the F fly, but in the end I thought it had been a pretty reasonable day with 7 trout and 4 grayling landed and I hadn't lost a single fly, so I put the kettle on and celebrated with a coffee before driving home.


25th March 2019 – Opening Day
It has felt like a very long time since I last cast a fly on YTAA waters but I have been looking forward to today and anxiously watching the river gauges trying to make my mind up where my first trip of the season will be. (I did sneak up to Scotland to fish with a friend on 15th March which is when the Scottish wild trout season starts but that doesn't count for the Kingfisher Diaries!).
In the end I decide not to go to Thirkleby as I usually do on opening day but to try an early trip to the River Riccal and fish the Riccal House Beat.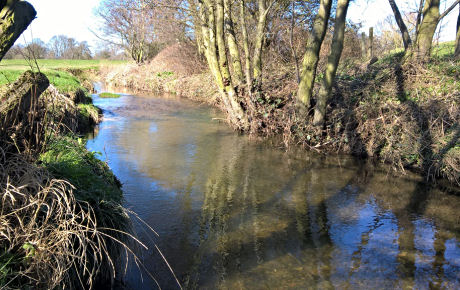 I was a bit late setting out but by the time I am tackled up and walking down the "Big Hedge" which marks the start of our beat it is a beautiful sunny day. The Riccal is running clear but a bit fast and just a little higher than ideal, but it looks really good, not least because a quick working party achieved some much needed pruning to open up a several previously overgrown areas.

I start with a small (#16) Adams Parachute (as if you couldn't have guessed!) but there is no sign of rising fish and I soon switch to Klink and Dink. As I might have expected the wind now decided to pick up and coming more or less straight down the river started to make casting into it interesting.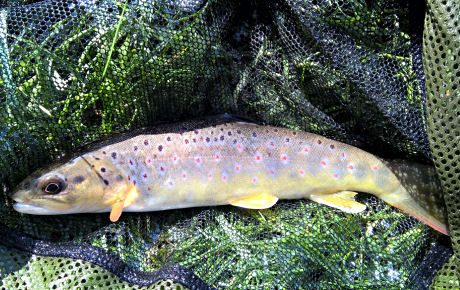 Getting a little goldhead down near the river bed made a difference and I am soon playing a lively little trout of about 9 inches. This was a great start half an hour into the season and I am off the mark and I have another 3 or 4 hours fishing left this afternoon.

My first trout was quickly returned and with great confidence I start making my way upstream. In the next deep pool I hook and lose a trout, I checked my hook point and its fine so I move quickly on to undisturbed water. In the next little run I hook and lose another trout, which was a bit annoying so move on again. Yet again in the next pool I hook and lose a trout which was really frustrating.
I didn't know it then but that was the last fishy action I would feel, despite trying my hardest and several fly changes I didn't get another touch. What was strange was there was a really good fly hatch in the late afternoon, loads of small spinners and a lot of small sedge coming off the water, but I still didn't see one fish rise all day.
By 5 pm it was starting to get a little chilly and I called it a day. I suppose I found it slightly frustrating not to land more fish and I certainly had more than my fair share of knots and tangles to sort during the day, but in the end I had enjoyed myself. It's not always about big catches and casting flies on a tiny overgrown stream is my favourite sort of fishing, it had been a beautiful sunny day, I saw snipe and partridge, there were buzzards mewing overhead and I had at least got my season under way!