Tales from the Riverbank - 2019

15th August 2019 – Isle Beck Obstacle Course
I felt that I should have caught a few more trout on my 13th August trip to Thirkleby so grabbed a chance to have an evening session on Isle Beck.
I had decided to fish above the A19 Bridge and knowing it might be a bit overgrown opted once again for the Hardy Aln, a DT2F and an Olive F Fly which has been doing well recently.
As I usually do when I fish above the A19 I get in below the bridge so I can fish the sill and the little run first. I got no offers from just above the sill and I missed a rise in the little run.
I moved up, squeezing through the branches of the first fallen tree to fish the run above the big pool. A couple of fish were rising and a couple of casts later I hooked and landed the first fish of the evening which was a small grayling, I was a bit surprised as that run normally holds trout, but it was a nice start.
The next pool produced nothing and I had to exit to get round the first big tree down across the beck. This was easier said than done with head high Balsam nettles and wild rhubarb not to mention old dead branches under foot.
I got back in the beck to try the 'Kingfisher Pool' and promptly missed a rise and with no sign of it taking again moved on to the next big obstacle – this time a big tree that has been down a while but now has shoots growing and forms an impossible barrier to progress. Once again getting out through the Balsam etc. was not easy and I rejoined the beck some distance above the tree. I tried a relatively newly formed pool without any offers but as I went to wade forward a trout shot out from almost under my feet.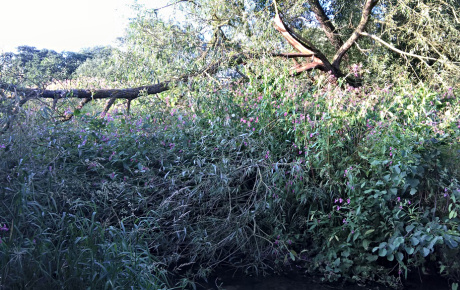 Manoeuvring round a few lesser fallen trees I managed a couple of casts towards a rising fish with no takes and moved on again. The next few pools normally produce some trouty interest but not this evening and wading round a bend I found yet another crack willow down across the beck completely blocking forward progress and just for good measure it was entangled in a lot of high Balsam too.

Getting out to walk round was another struggle and this time I disturbed 3 roe deer which went bounding off through the potato field. It was tricky getting back in but I managed it just before a big deep pool which had several fish rising, second cast here produced a good take and a 12.5 inch trout went in the log book. This was a nice fish but most likely a stockie. Moving on required yet another diversion round another crack willow and getting back in was hampered by the fact that two more crack willows had fallen down across the beck above the first one.

Once back in I came to a pool that I know has started holding grayling as well as a few trout so it was no surprise that I got two small grayling in a couple of casts. Round the next bend I was faced with another tree blocking progress and this time the banks were difficult to get up and out of with the usual Balsam etc. over head height, but I managed in the end. Once out I realised I was barely half way to Arden Bridge but I didn't really fancy fishing on. It was now 8 pm and I'd been fishing for two hours and I had really had had enough so headed back to the camper van and home.
It was a challenging two hour session and while it was good to get the grayling and a half decent trout it was a lot of effort getting in and out and casting headroom wasn't in good supply even with a 5 foot rod, so I'm not sure I'll be trying that area again this season.


13th August 2019 – Three Hours at Thirkleby
I have been watching the river level gauges and wondering when they were going to drop to a good level for fishing. Cod Beck in particular has been going up and down like the proverbial yoyo, though the Thirsk end has been more or less ok and it's only the lower gauge at Dalton that has shown huge rises making me think it's water from Isle Beck (Willow Beck) and Paradise Beck that has caused the rises.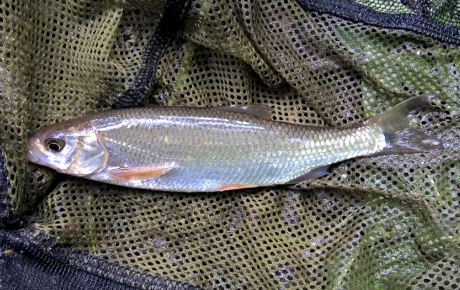 Anyway with the becks dropping nicely an evening trip to fish above the footbridge at Thirkleby Mill seemed a good prospect and by 5pm I was tackled up with the Hardy Aln 5' #2 (which is now my rod of choice for tight overgrown conditions) and wading quietly into the beck to fish the pool below the footbridge. On my second cast I hooked into a nice little chub of about 8 inches which was returned after a quick photo. My very next cast I hooked and landed another chub just a little bit smaller. Two fish in three casts seemed a great start, but as I know from experience a good start doesn't necessarily mean it is going to be a good session.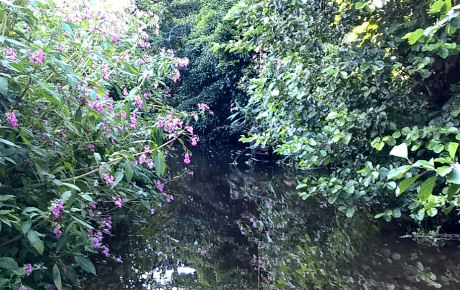 Moving on I struggled to cast with the overgrowth, but eventually plucked a small trout from alongside a fallen tree. I completely failed to get a touch in the next few pools including one of my favourites that I've called the 19 Second Pool (see previous diaries if you don't know why!). At the start of the "Pylon Length" there are weeds and balsam almost all the way across the beck, but this provided the cover I needed to sneak in close and land another small chub. On the Pylon Length itself the trees are now forming a complete arch overhead, but a careful roll cast produce a splashy rise and a small grayling went into the log book. Next cast I managed to get caught up in a tree behind me and lost my fly. Moving on the pool at the top of the Pylon Length is another favourite of mine and one I usually get a trout or two from but not today. It was very overgrown and casting was difficult. Moving on upstream the beck is very choked with high balsam and wild rhubarb, so I pushed through and moved up to the weir pool at the top of our beat.

The weir pool was a bit low but a couple of trout rising were rising and I cast to each of them and manage to hook and lose both of them, but a speculative casts on the edge of the main current produced a small trout and a few minutes later another small grayling.

So far all the fish had been caught on a size 16 Olive F Fly, but I now switched to a goldhead fished Klink and Dink to search the deeper water but it didn't produce any takes so I switched to a black F Fly to try the right side edge of the weir pool where a fish was rising in amongst some leaves and floating debris. The fish continued to rise but ignored the F fly and a variety of other offerings I tried till at 8 pm I noticed it was getting a little chilly and decided to call it a day.
It had been a pleasant enough session just three hours and I'd ended up with three chub, two trout and two grayling and in the conditions only losing one fly seemed like a bonus!


30th July 2019 – River Riccal – Close Encounters of the Bird Kind
It's been 20 days since I fished any YTAA waters, though I have been in Wales and fished some excellent wild lakes (Llyns) and several small streams – some of which were more overgrown than any YTAA waters! Anyway a trip to the Riccal was called for but as I had a few things to sort first it was 11:35 before I was set up and ready to start fishing near the bottom of our beat.
It had been 34 days since I had last visited the Riccal, then with my Scottish Fishing buddy as my guest and I was surprised at how much more overgrown the beck had become. What was a narrow channel through the reeds was now an almost impregnable barrier, the branches seemed to have grown longer and hung lower over the river and I could see it was going to be a fun day! As I quietly eased myself in between the reeds I had the first encounter of the "close encounters of the bird kind" as a mallard and two near fully grown ducklings rushed out from the overgrown reeds right by my feet and flapped off noisily upstream, probably scaring every trout for 50 yards.
I waited a few minutes for the commotion to calm down and carefully peered between the reeds to see what if anything was rising and was surprised to see ripples from what had been a rise just around the corner from me. I eased forward a bit so I could get a cast in, flicked the line out and promptly missed the trout which rose straight away. I tried a few more casts in the area but I had obviously put that trout down for a bit so I moved on upstream.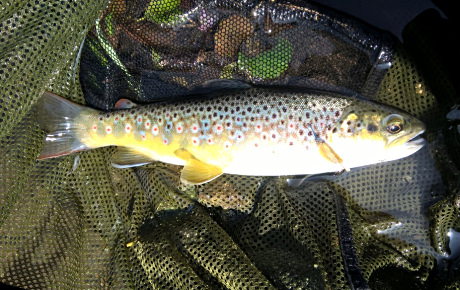 At the next open bit a speculative cast close to the reeds produced a rise and a 6 inch trout went in the log. I moved on a bit and another speculative cast by the reeds produced trout number two, this time nearly 10 inches. These first two trout were on a size 18 Adams Parachute but I couldn't get anything else to rise to it even though I was covering several rising fish. On the next deep pool I switched to a Gold Head fished 'Klink & Dink' and immediately hooked and landed trout number three, a good plump 10 inch fish. It was now gone one o'clock and as the next few pools and riffles were too shallow for 'Klink & Dink' I switched to a size 16 Olive F Fly. I have done quite well with both Black and Olive F Flies this season though I have not really used them much in previous seasons. Sure enough I caught three small trout in the next 6 minutes before my second close encounter of the bird kind, this time a very unusual one. I could hear a commotion coming down the beck and looked up to see a kingfisher flying full speed towards me being chased by a very angry mallard. The duck was only inches behind the kingfisher when they both saw me and the Kingfisher shot upwards while the duck veered right out across the field. I have no idea why the duck would be chasing the kingfisher; did the duck think it was a predator??

Moving on upstream I landed another small trout on the F Fly before stopping for a sandwich and a drink. Moving on round the next bend I had my third close encounter of the bird kind, this time a pair of swans, mid-stream and calmly grazing on the plentiful water weed. I cannot ever recall seeing swans on the Riccal before and I decided that I didn't want them flapping off upstream scaring everything so I got out and walked past them up to the Big Pool. This old mill pool is very deep but there are often trout to be found, not in the depths in the middle but usually in a couple of feet of water close to the right bank where the current flows round. Sure enough a quick change back to the Klink & Dink' produced another near 10 inch trout to go into my log book. The swans had now caught me up and were waddling up to the mill pool so I moved quickly on.

I tried the Klink & Dink in the first deep hole above the big pool but missed a take and with the rest of the beat being mainly shallow I switched back to the Olive F Fly again. I was having trouble getting the fly in the right place as a very inconsiderate breeze had sprung up and I seemed to be hooking everything but trout, but after a frustrating hour I landed another 6 inch trout.
I was now under the trees near the bridge and was having trouble seeing the F Fly so I switched back to the Adams Parachute as the white post shows up nicely in poor light and trout number 10 (also 6 inches) was soon added to the log book.
I was nearly up to the bridge when I noticed a lot of white feathers on the bank and a not inconsiderable amount of swan "droppings" so it's clear they have been on the Riccal for a while and no doubt we will encounter them again.
It had been a funny session, I'd fished for 5 hours and landed 10 trout, I'd used my little 5' Hardy 'The Aln' again which had performed really well even with the Klink & Dink set up. I'd had the close encounters of the bird kind, there had been sunshine all the time I was fishing despite ominous clouds on both horizons, but perhaps most remarkable of all despite the overgrowth and breeze I hadn't lost a single fly!


10th July 2019 – Cod Beck
I set off intending to fish Willow Beck between Cod Beck and Willow Bridge and then from Willow Bridge to the railway, however by the time I had tackled up and walked down Willow Beck to the junction with Cod Beck I had convinced myself I'd be wasting my time (and a lot of flies) trying to cast in Willow Beck. Yes there are a few holes where you might cast but it is very overgrown and several more trees have fallen down into the beck so I decided to try a bit of Cod Beck instead.
I slid under the fence by the big bend pool (being careful not to touch the newly installed electric wire!!) and got carefully into the beck just above the big pool. A small fish which I thought was a little grayling rose just in front of me so I flicked out my cast and a good trout came out of nowhere and virtually hooked himself. I'm not sure it is actually good for me to get a fish with my very first cast – it builds up my expectations of a bumper day which more often than not fail to materialise. Anyway an 11 inch trout went in the log book and I moved up a few yards into a reed bed area where there were several fish rising. These inspected my Mayfly but choose note to taste it and so I started a game of what fly roulette. Half an hour later a black F Fly got me a 7 inch grayling but with that returned and logged all the other fish still rising freely ignored the F Fly. A quarter of an hour passed and a size 18 Black Klinkhammer got me another 7 inch grayling. Half an hour later a Black Shuttlecock type emerger got me a 10.5 inch chub which I was quite pleased about as it was the first chub I've landed from our becks this season. The fly roulette continued and a size 16 Adams Parachute got me another chub, this time just under 8 inches. I'd now been fishing for over 2 hours and only covered 40 yards of water so I thought it was time to move upstream.
Above the junction with Willow Beck I got another little grayling on the Adams Parachute and then lost a good trout in the run above on a green mayfly. This started a run of missed rises and lost trout one of which was probably the biggest I've hooked (and lost!) on our becks for a quite a while. As well as losing fish, I was losing rather more flies than I like in the assorted foliage, trees etc that adorn Cod Beck's High banks.
After what seemed a long time I found a pod of small grayling that were rising steadily and a mayfly dropped just in front of them produced a splashy rise which turned out to be a small wild trout not a grayling. Moving steadily on into some quite overgrown bits of the beck I eventually picked up another chub when I switched back to the Adams Parachute again.
I'd had 4 hours of fishing, I'd lost flies, I'd lost good trout, but I'd had some good fun and ended with the 2 trout, 3 grayling and 3 chub. I must admit I'd forgotten how good Cod Beck is the middle section above the Willow Beck junction. It is reasonable wading (still some deep bits!) and very "fishy" but if you are going be prepared to lose a few flies – but you should get some good fish as well.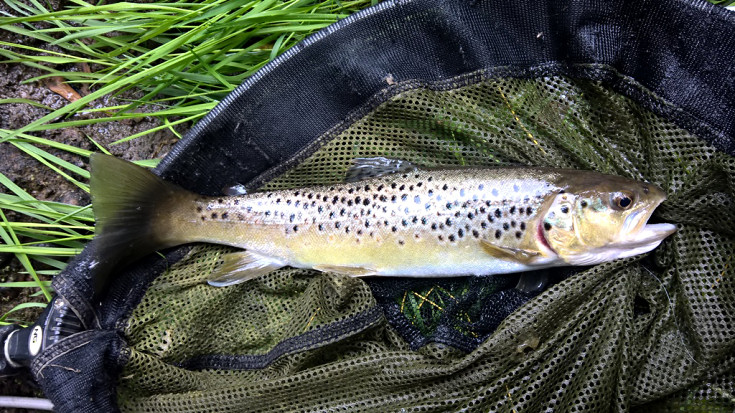 5th July 2019 – A very quick trip to Thirkleby
After the fish drop last Friday I should have been heading straight down to Wales, but as I was at the Beck I thought I would grab an hour at Thirkleby first. I had mentioned this to my Scottish fishing buddy and somehow during our conversation my quick trip became a challenge to catch six wild trout from just three of the pools above the footbridge at Balk Grange farm in under an hour. Then just to make it fun he suggested I was only allowed to use one fly! – I guess that's what fishing buddies are for!
So the fun started, I was fishing by 5 o'clock using the Hardy 'The Aln' and a size 12 spent green mayfly. The first pool I chose to fish is the one I've christened the '19 second pool' because for the last two years Gordon has filmed me catching a trout and taking exactly 19 seconds from the fish taking the fly to it slipping into my landing net!

The first fish was landed at five minutes past five, a little wild trout that was hooked from the tail of the pool, safely landed, quickly recorded and returned. I watched for another rise in the pool and five minutes later a better wild brown was hooked landed and safely returned.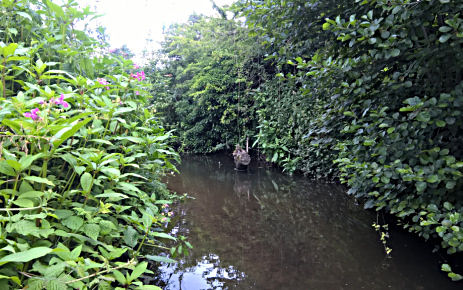 I moved on quickly to my second choice pool – I've christened it the Pylon pool – (you can guess why!). The previous week I had lost a good trout from this pool and I had hopes of having a better encounter with him this time round. The pylon pool has a big log sticking out mid-stream, it is a good spot for trout and an easy cast but there was another trout rising nearer to me and it was only a minute before another small brown was recorded and released. My next cast was alongside the log and sure enough the big trout slammed into the mayfly but this time stayed on to go in my logbook. I was about to move on when I saw another fish rising near the very top of the pool where it is deeper but has a faster current. My attempt to cast was almost a disaster with my "only 1 fly allowed" stuck in a tree behind me. My climbing skills have not improved since I was a kid, (and they weren't good then!) but I did manage to retrieve the fly and retie my tippet for another go at the trout. This time my casting was better and the trout duly obliged and went in the book.

It was time to move on to my third choice pool which was the weir pool at the top of the YTAA beat. I was getting a bit short of time but I was now fairly confident of completing the challenge. I could see several fish rising in the weir pool which was a lot lower and slower than the previous week and picked the nearest rise for my first cast. Sure enough the mayfly worked its magic and I hooked a good size trout which came leaping and tumbling out of the beck only to throw the hook!
I dried the fly and cast up to the next rising fish which this time was firmly hooked and a perfect 11 inch wild trout went in the book to complete the 'challenge'. I had actually gone over my time limit by 2 minutes but my fishing buddy has agreed to pay up with the promised pint.
I have to admit I really enjoyed the challenge and it is amazing how much fun you can have in just over an hour's fishing.


25th - 27th June 2019 – Fishing with Gordon
My good friend Gordon has been following my trials and tribulations in the Kingfisher Diaries for a few years and has also seen "Stearsby Notes" as well, so on his planned pilgrimage to Yorkshire he asked if he could have a quick look at our lakes as well as another go at our various Becks.
25th June - Stearsby
Armed with guest tickets I met Gordon at lunchtime at the A19 Bridge but looking down at the still slow and muddy beck we decided an afternoon of action at Stearsby was just what we needed. Arriving at the lakes we had a quick lunch in my campervan (Gordon had been driving down from Scotland all morning) before setting up 9' rods and wandering down to the lakes. We had hardly signed in before the wind picked up, it turned cold and a steady drizzle arrived to dampen proceedings.
We gave it our best shot for several hours getting rather damp in the process but we but could only manage 1 small Rudd and a rainbow each (both returned). What was interesting was the numerous follows we had to almost every fly we tried, time and again a good rainbow would go right up to the fly and then turn away – it was all a bit frustrating – the fish Gordon caught came on a black F Fly while mine took a black hopper, both fished just in the surface film.
26th June - The River Riccal
Having dried our wet kit overnight we set off intending to fish the River Dove in the morning and the River Riccal in the afternoon and evening, but on the way I decided a full day on the River Riccal would be our best bet and by 10: 30 we were tackled up and at the bottom of the YTAA beat ready to start. Gordon with a 5 ' #2 Malcolm Grey and me giving my Hardy Glass "The Aln" (5'#2) its second outing.
Gordon didn't like the look of the first bit of our Riccal beat, mentioning that it was a bit overgrown and suggesting politely that maybe I should show him how it was done, so I waded carefully in between high reeds on my left and overgrown trees and brambles on my right and one careful cast later I waded back out with a perfect wild brown trout! - I did take great pleasure in advising my fishing buddy that "That's the way you do it!" I hadn't realised that Gordon had filmed the whole thing on his GoPro so this may appear as a video clip at some point.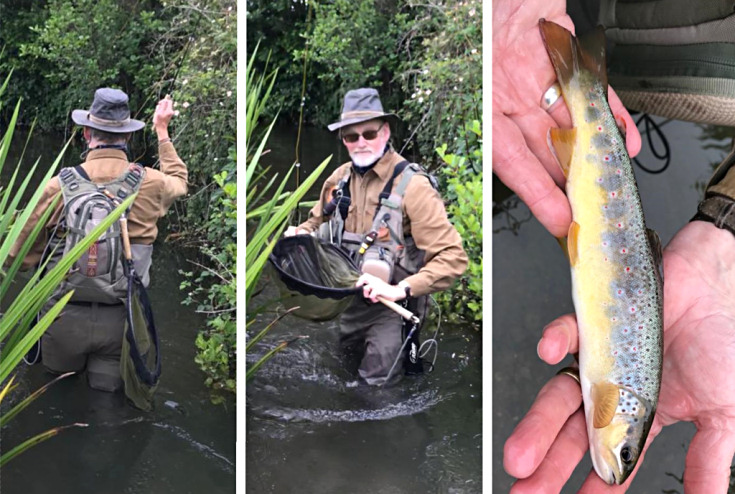 After this Gordon waded in and we spent the rest of the day fishing together taking alternate runs or pools as we liked, wading between high reeds and under overgrown branches and having a thoroughly enjoyable day. Though sometimes it was hard to concentrate when there is someone behind you climbing trees and taking photos. As we were in close company with one of us casting and the other offering advice (or more often heckling!) we didn't get as many fish as a lone angler might, but it didn't really matter, 18 wild trout were caught and safely released, two of the trout came to black F flies, the rest were on size 12 Mayflies. We fished on into the evening until we were basically too tired to fish anymore and packed up feeling very satisfied with the day.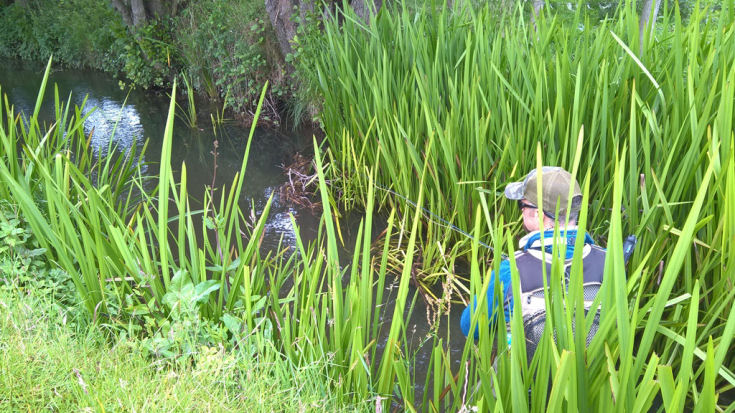 27th June - Thirkleby Beck
We decided to give the Thirkleby Mill beat a good looking at on our last day which would have to finish about 4pm as Gordon needed to head back to Scotland. We used the same rods as the previous day and made our way to the corner of the field below the tiny road bridge to start, finding our way in was a bit of a battle between the high balsam and tall nettles but we managed it and started fishing alternate pools as we had the previous day. With the beck much lower than I expected it was a while before we started getting into any fish. I landed two in quick succession in the run below the big bend pool, the smaller one being captured on video. We didn't get anything in the next couple of pools then realised a family of ducks was hurrying upstream ahead of us and probably disturbing the trout. We climbed out of the beck by the farm track and missed the "chicken field" to get ahead of the ducks.
Once under the trees above the Mill Gordon landed two from the "Blue Waterpipe" pool but then lost a better fish from the same pool so we moved on. I failed to get a rise in the next two pools but Gordon got a nice trout from under the trees, casting over a part submerged log to a rising trout which he managed to pull into clear water before it could tangle him. We both missed rises in the next few pools and didn't get a touch in the footbridge pool so we decided lunch was in order and retreated to the camper van.

After lunch we started above the footbridge and this area is now quite overgrown so it is essential to keep low and close to the edge to give yourself casting room and avoid being seen. Gordon lost a nice fish after some delicate casting in to a very tight corner and I repeated my trick of the previous year by getting a good trout from a bigger pool and landing it in 19 seconds all captured on video. We failed on the bottom part of the "pylon" stretch but I landed a nice fish near the top of the run. Casting to the top of the run I hooked a significantly better fish, but sadly it didn't stay on. Time was now pressing so we decided to move quickly on so Gordon could fish the weir pool at the top of our beat. Wading quickly upstream we were confronted by two full grown otters crossing the beck in just front of us and vanishing into the bankside brambles near the weir pool.

Despite the presence of the otters there were several fish rising in the weir pool. It didn't take Gordon long to land two of them to level the score at 5 apiece before we packed up so he could head back to Scotland.
Despite Stearsby being a bit of a disappointment the "Tour of Yorkshire" had been really enjoyable, all trout were safely returned. In the final analysis and despite its diminutive size as well as being rather overgrown the River Riccal had been outstanding with some really excellent quality wild trout.
If you've never tried the River Riccal I suggest you give it a go, chest waders are essential as it is deeper than you might think, but it's fairly easy wading. You will need a short rod (5' or 6' is ideal but you may get away with a longer rod on some bits) and a short cast (5' from fly line to the fly is plenty!). A sense of humour will help as you will inevitable get caught up in reeds, trees, brambles, and even the tall bankside grass, but it will be worth it when you do catch the trout.


21st June 2019 – Isle Beck on the Longest Day
As you may know YTAA donates a day's fishing on Isle Beck as an Auction Lot in the Wild Trout Trust's annual auction. I act as host/ghillie for the day and enjoy meeting the anglers who have bid and paid good money for a day fishing on a "Challenging Overgrown stream … Tall waders and Short Rods etc required".
Arranging to meet up with Malcolm this year's winner was a bit tricky with first me being away then he was away and then the becks were flooded out after heavy rains but eventually we managed to meet up on at the A19 Bridge on 21st June. Isle Beck was a good height carrying just a slight tinge of colour, the weather forecast was reasonable and I was hoping to guide Malcolm to have a great day's fishing.
We walked down below the A19 through the overgrown path to start three fields down at the bend pool. There was nothing much rising in the first few pools but a green mayfly produced a rise and a 9 inch wild trout went into the logbook. A couple of grayling followed and then a good trout managed to get into some roots and broke free. We moved on up with Malcolm trying all the riffles and runs and then hooked another decent trout which dived into some branches dangling in the stream. This time I was able to get to the branches and pulling the tangle clear managed to scoop the trout, the branches and bits of bramble into my net. It was worth the effort as a nice 10.5 inch trout was at the bottom of the tangle.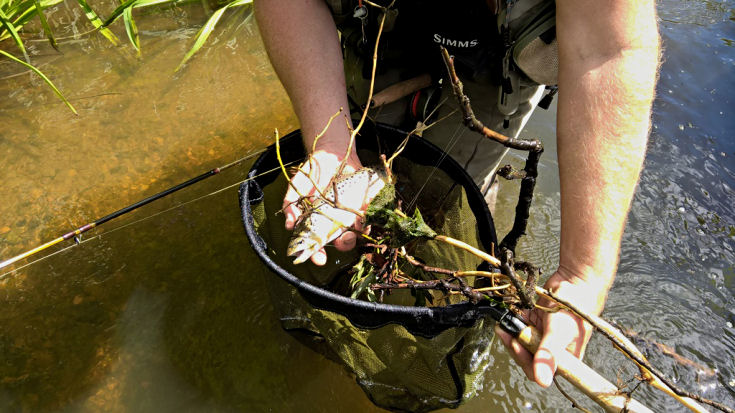 We were seeing quite a few mayfly but nothing much was rising so Malcolm switched to a small dark F Fly and landed a couple of small grayling. Then switching back to the mayfly landed another small grayling and a near record breaking minnow neatly hooked in the top lip. In fact during the day we were plagued with minnows continually trying to take whatever fly was on the water, their greedy ambition being far bigger than their mouths.
Time moved on and switching back to the F Fly three more small grayling were added to the log before we retreated to the campervan for a rather late lunch and much needed liquid refreshment. After lunch we started above the A19 with Malcolm taking a small wild trout from the first riffle on a sedge and then sadly losing another good trout from above the first pool when it became airborne and threw the fly.
More small grayling took a liking to the sedge before Malcolm started getting into the wild trout on a small CDC Dun. A run of seven trout was broken by yet another small grayling. These grayling were all 5-6 inches and absolutely perfect but not quite what either of us were hoping for, still as Malcolm observed it shows the quality of the water that there were so many around. Late in the day more small grayling followed on Klinkhammers and the black F Fly.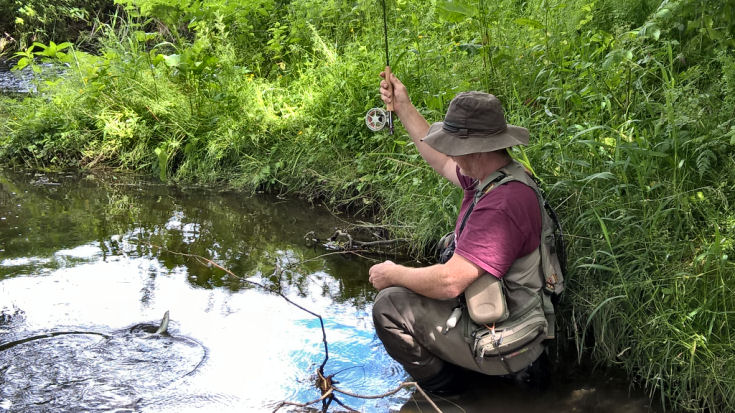 I suppose one of the joys of fishing on the longest day of the year is the fact you can fish late into the evening and I was hoping that Malcolm would connect and land one of the bigger wild trout that I normally see on Isle Beck and just before 9.15 with a sedge back on he did, however it was only a brief connection as the leaping fish cartwheeled across the beck throwing the hook in the process.
I think I was more disappointed than Malcolm, it was certainly not the high note we wanted to finish off the day, but for someone who has never really fished small overgrown streams Malcolm had enjoyed the challenge and had a great day ending with 11 trout and 15 grayling (and a minnow!).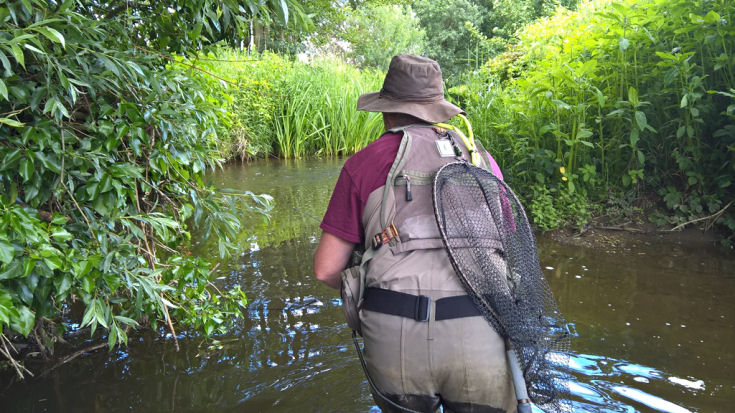 The following morning I got an email from Malcolm thanking me and YTAA for a great day's fishing and hinting that he might well be bidding in the auction for another go at Isle Beck next season.


17th June 2019 – An Evening On The River Riccal
I do wonder why it's called a river, the Riccal is so small it barely qualifies to be a beck. However on its day it can be magnificent and after the recent rainfall it is quickest to drop back to fishable levels as it is predominantly a limestone fed river.
Having been busy for most of my birthday I escaped for an evening with the weather forecast for Nunnington saying it was going to be warm and dry, by 5:30 I was tackled up with my little Hardy 'Aln ' 5' "2 rod and down at the start of our beat. It's the first time I've really had a proper session using this Hardy glass rod – it had a brief 15 minute outing in Wales on a tiny stream a couple of months ago after a particular bridge trout, but I haven't tried it on YTAA waters.
I'm using a Cortland Sylk DT2 which is supposedly designed for cane or glass rods so it is ideal on the fibreglass 'Aln' which is very light, very flexible and has a slow action but is a delight to cast and very accurate.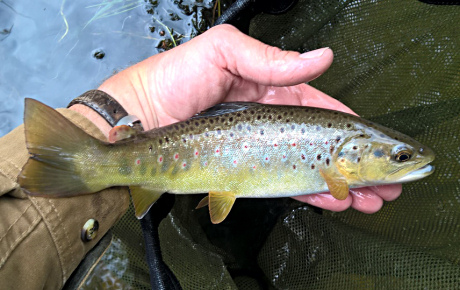 With a small green mayfly on a 5 foot cast it's only a couple of minutes till trout number 1 arrives in my net, just 6 inches but perfect. There are small green mayflies everywhere and it isn't long before an 8 inch trout obliges, followed by an 11 inch fish which tests the rod as I work hard to keep it clear of weeds, old pilings and tree roots. A 9 inch trout is soon added to the log book after which it starts to rain. Of course I've left my jacket in the campervan as it was sunny and dry when I set off to fish.

A few more trout follow in the next half hour but by 6:30 I had to shelter under a tree from a really heavy downpour, though it didn't make a lot of difference with water dripping off the tree as well. After 20 minutes or so the rain eased to a fine drizzle so I carried on fishing. Despite having trouble keeping my mayfly dry I was catching lots of good average trout (7-9inches is about average on the Riccal). At one point I saw a young otter working along the edge of what was a good trout holding pool – he ignored me completely so it may not be a good trout holding pool for much longer!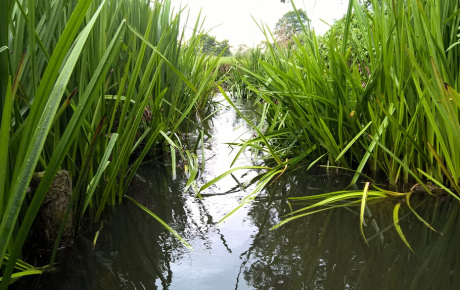 We did some good work on the lower part of the Riccall in March but it is still overgrown in places and now with the high reed growth on some bits it felt more like a scene from Humphrey Bogart in 'The African Queen' than trout fishing. However the reedy bits do have a good depth of water, often 2-3 feet and there are fish holding near the reeds just waiting to be caught with a careful cast.

By the time I had got to the big pool that more or less divides this beat in half I was pretty much soaked through but I now had 17 trout recorded in my waterside log book. I wasn't going to fish the beat between the pool and the road bridge but walking back up the bank the sight of a rising trout in easy casting range was too much temptation and number 18 went into the book.
When I got back to the camper I was soaked through and glad to get into dry things but I had enjoyed three hours of great fishing with the new rod and was well pleased with the 18 trout total.


13th June 2019 – A Brief Visit Isle Beck
It seems that my washed out trip to Isle Beck last week was even worse than I described because on drying out my soaked kit I discovered that my small black fly wallet that I got free with "Trout & Salmon" a long time ago was missing from my vest pack. It had a few old flies and experimental patterns I had tied that I don't really use, even so it was annoying to lose it.
I thought I had a pretty good idea where it might have fallen out and decided a quick trip to the beck was in order to see if it could be found and I thought I might as well take a rod with me as I would have to walk down three fields to start my hunt.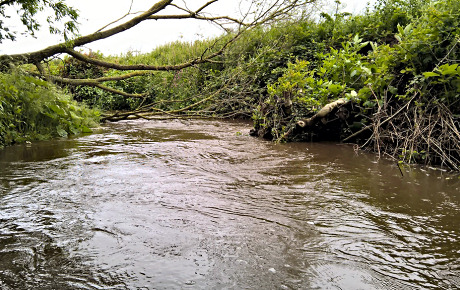 One look over the A19 road bridge told me dry fly was definitely out as the beck was high fast and muddy, but I thought a goldhead on a Klink and Dink in one or two of the deeper slower pools might produce something.

So I had a walk down and didn't find the fly wallet at any of the likely places though I looked at all the points where I entered and exited the beck. If it actually fell out where I think it did then it has probably been washed away and could be in the North Sea by now!
I had a cast or two in a couple of pools but really the beck was too high and my confidence was too low so I gave it up as a bad job after quarter of an hour.
Finally the WTT Auction Winner day was postponed as the weather forecast was pretty bad and it is now due to take place next Friday (21/6) – weather and water levels permitting.


7th June 2019 – Isle Beck Below A19 Bridge
I can't believe that it is 6 weeks since I last fished YTAA waters, I didn't fish our becks at all during May, but I have done a fairly long tour of Ireland and caught trout and had several days in Wales and caught trout. All of which is fun but it's not the same as the fast action we get on our becks.
The Wild Trout Trust Auction winner is due to have his day on our waters next week and so I wanted to check what Isle Beck was like and after a sunny morning I was hopeful to see some action in an afternoon and evening session as I checked above and below the A19 Bridge.
By the time I had tackled up and walked down three fields below the bridge the sky had turned grey, a downstream wind seemed to have sprung up out of nowhere and my nice afternoon wasn't looking quite so nice any more.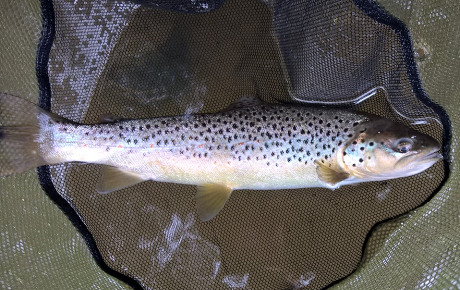 I had no takes in the first couple of pools but was pleased to see quite a few large green mayfly about. Although there was nothing rising I switched to a green mayfly convinced that the trout would soon be rising to the food bonanza which is Mayfly time. Sure enough a speculative cast near the top of a run produced a good solid rise and a minute later I slipped the net under a good 13 inch trout. On closer inspection the trout was a stockie not a wild fish, but it felt like a good start.

A couple of fish were rising near the head of the pool almost under a new tree that had fallen in the beck since our working parties had completely cleared the pool. Although I covered the area of both the rises I got no more takes and moved on upstream as the day was clearly getting cooler and a fine drizzle began to fall. The next couple of pools produced nothing and I lost my mayfly in a tree, but when I went to put on a new one I found my mayfly box was missing from my vest pack. I guessed where it might be and waded down some three hundred yards and fortunately retrieved it.
Back up to the pool I was fishing the fine drizzle had now turned into steady rain and I was feeling slightly damp having left my jacket in the car as it was a nice sunny day !
Despite the rain there were now plenty of green mayflies hatching and then getting flattened on to the water by the rain – it should have triggered a trout feeding bonanza, but it didn't ! There were also some of the large white bodied mayflies that we normally see hatching on the Isle Beck system but they didn't stir any interest from the trout either.

I worked my way slowly upstream getting damper and damper but not seeing any action at all however hard I tried. In the end the pouring rain convinced me to quit and I didn't even try fishing the last three hundred yards or so back up to the bridge.
All in all it was a most frustrating afternoon. Yes the beck was low (about 8-10 inches below a healthy level) and yes it was raining and yes it had turned cold but something didn't feel right. It wasn't till the next morning that I got an email from another member who advised me he had been fishing below the A19 in the afternoon (clearly before I arrived) and maybe that is the best excuse I have for not catching more.


30th April 2019 – Isle Beck between A19 and Arden Bridges
After early fog lifted it looked like it would be a good warm day so I headed off to fish between the A19 and Arden Bridges as I haven't fished that beat yet this season and I needed to check it out before the Wild Trout Trust Auction winner comes for his day's fishing.
I was tackled up and ready to start fishing just before 1pm and was feeling confident of some action as now it stays light till nearly 8:30, but it was nearly an hour before I landed my first fish, a trout just under 6 inches. I had just released him and recorded the entry in my waterside log book when I good fish rose close to me. A quick flick with the rod dropped the fly just ahead of where he had risen and seconds later he slammed into the Adams. This was no six inch fish but a good solid trout that jumped twice and then simply came off.
Moving up to the next pool I picked up the first grayling of the day. I am always trying to get a few good scenic pictures to go into the diary and I took a photo of the pool looking nice between the trees. I took another photo zoomed in a bit just as a fish rose close to the right bank below a sticking out branch. The phone went back in the pocket and a careful cast close to the bank produced the grayling. I have to say I am rather pleased to catch small grayling as they will be providing excellent sport in a year or two.

As I waded up to the start of the next pool I noticed another angler coming up behind me and fishing pools I'd just been through. I thought I would try the next pool then wait for him to catch me up and we could agree to share and leapfrog alternate pools so he could have a bit of unfished water to go at. I didn't get anything in the next pool and sat waiting for the other member to arrive but he didn't re-appear so I guess he saw me and decided to try elsewhere. I rarely see other members when I fish our waters so it's a pity he wondered off without the chance to share the beat or even find out who it was?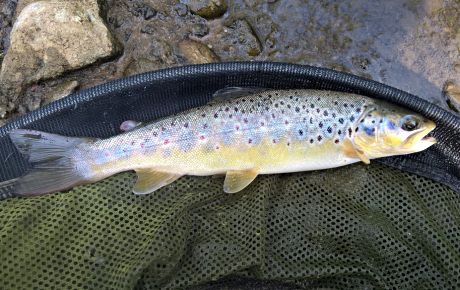 The day was warming up and it felt very pleasant to be fishing in the shade of the trees. I was starting to get a few more rises and landed three more trout to 12 inches before the next grayling came along. I had been trying both my favourite Adams Parachute fly and a Black F Fly but it was clear the fish preferred the F Fly and I stuck with it for the rest of the day landing a few more grayling and a couple more trout, the last one a plump 11 inch trout providing some aerobatic action jumping clear of the water half a dozen times before I finally slid him into the waiting the net.

It was now 7:30 and although still light there was a bit of a chill in the air and I could also feel a lot of water in the right leg of my chest waders so I decided to call it a day with 7 trout ( most of them decent fish) and 5 grayling. Not a spectacular day but good fun and I did see one mayfly so we might expect some real action soon.
Finally a Post Script to the 12th April Diary where I wrote about the bird scarer hidden in the copse four fields down from the A19 Bridge – I later received an email from another YTAA member who had read the diary and advised me that "you need to be sitting on the log in the copse, having a quiet moment with a cheese sandwich to appreciate the true glory of the bird scarer!". I can imagine that!! It still makes me laugh as I'm writing about it!!


22nd April 2019 – Cod Beck Above Junction with Willow Beck
I was rather late getting away for a couple of hours fishing – I fancied a go at Cod Beck but with access to Gristhwaite farm restricted I decided I would park at Willow Bridge Dalton and fish from the Junction with Willow Beck upstream as far as I could get before it got dark.
I had a good look at Willow Beck as I was walking down and some of the pools looked pretty good so I will have to give it a visit in the near future, perhaps using my Hardy Glass rod 'The Aln' – which I finally tried out on my favourite tiny Welsh stream and christened it with a little wild trout over Easter. I should remind members that the wooden footbridge over the ditch that flows into Willow Beck is rather rotten, the treads are weak and won't bear weight so you are advised not to use it and to cross elsewhere or wade through the pool below.
I had decided to give my 6' #2 Burns Built Riccall an outing this evening mainly because I haven't used it for a while but also with the slight breeze I thought it would be better than the lighter 5' rods. It is still a lovely little rod but it is probably 12 years old and when I started using it I realised how much rod technology has moved on and that my newer rods are lighter and have faster actions, having said that it is still a delight to use.
It was just half past four when I slid into Cod Beck and started working my way upstream, I was hoping for some dry fly action but there was no response to F Flies, Adams or Small Klinkhammers so I switched to my Klink and Dink and finally a take on the size 16 Goldhead produced a 9.5 inch grayling which was quickly returned. I recorded the grayling in my waterside log book noting the time as 17:52 feeling disappointed that it had taken so long to get off the mark.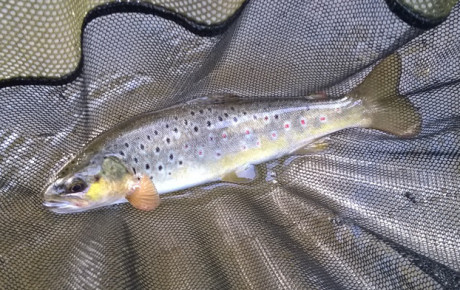 I worked my way upstream manoeuvring around various trees and obstacles as carefully as I could but it was exactly an hour later before I caught my next fish. This time a nice 10 inch trout that ignored the goldhead but rose and took the White Wulf I was using as the "Klink" in my NZ rig. Photographed quickly and returned this fish went in the log book at 18:52!

Cod Beck really is looking pretty good with some good deep pools, lovely gravel runs and some nice weedy shelter. I keep meaning to spend more time learning the lower beats as I have mainly fished it by and above the railway bridge near the farm. Having said it looks good I wasn't catching any more fish but did miss a couple of takes and lost a small grayling. I fished on for another hour, but as the sun was sinking low and I knew I had a walk back down to Willow Beck I quit before it was too dark to see where to re-cross the beck. I had hoped for more than a couple of fish but it was a nice evening anyway so I can't really complain.



12th April 2019 – A Scary Start on Isle Beck below The A19
I had hoped for an early start and a long leisurely day fishing Isle Beck below the A19 Bridge but it was 12:50 before I started the long walk to start 4 fields down below the bridge. When I got to the little copse which marks one of my favourite pools I was disappointed to find a large branch had gone down into it and completely blocked the deep run and a small tree down across the end of the pool meant I couldn't get in the beck by my usual route. I was just trying to slide my way into the beck when what sounded like a very loud and close shot gun went off just behind me. To say I was shocked would be an understatement and I tried to look round to see who was shooting so close to me when suddenly a second shot went off what felt like only a few yards away in the little copse of trees. I couldn't see anyone but I shouted out loudly as it sounded really far too close for safety and figured out if I couldn't see them, then whoever was shooting probably couldn't see me. I got no response to my shout, but on looking round more carefully I noticed an orange butane cylinder at the far side of a pile of logs and realised that it was a gas powered bird scarer that had given me a fright. It hadn't gone off when I was walking down to the copse, but it went off at regular intervals for the rest of the day. You have been warned.
I tried a small Parachute Adams and then an F Fly in the first few pools, but didn't see any rises and nothing came up to take the flies trying in the usual likely places. Having said likely places there are several log jams that have changed pools over winter and with big trees down over the beck in a couple of places some pools are now unfishable, but will provide good cover for natural trout recruitment. I also noticed that in several places there and been significant movement of gravels and a couple of pools had changed completely.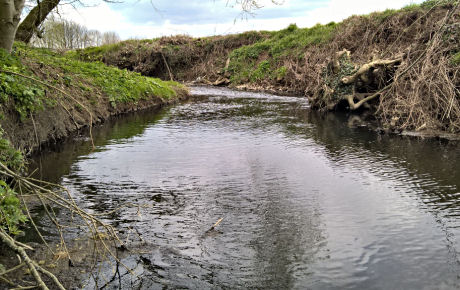 The fishing was a bit slow and even a change to a small copperhead nymph on a Klink and Dink rig didn't get a touch for the first hour and a quarter. But then it was like someone had flicked a switch and in one of the pools where we had previously done some work I caught 4 trout in quick succession and then in the next pool a couple of grayling and another trout were also landed, released and recorded in the little red bank side book.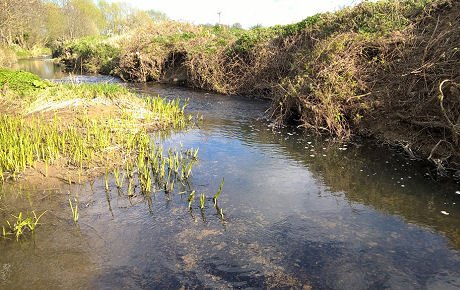 Moving upstream my confidence was now pretty high and I tried a shallow run I wouldn't normally bother with casting to the edge of the fast water, the "Klink" shot sideways I tightened into a perfect 5 inch wild trout. The next pool up was also quite shallow but a cast to the head of the run in produced a sharp take and a 10 inch trout.

A bit further up on a bend pool I could see fish rising so switched back to an F Fly and was immediately broken but what looked like a reasonable trout. I sat down on the bank and waited while I retied the cast with my last F Fly. Another fish rose nearer me and when I cast a small grayling obliged and went in the book, then a bigger fish rose where I had been broken and a careful cast produced a splashy rise and another 10 inch trout was landed and released. I started to wade up the pool when I saw another rise at the top and a quick cast produced a good take, I could see it was a grayling but it came off before I could get it near the net.

I didn't get any more interest for over an hour and was thinking of changing back to a Klink and Dink to search some of the deeper pools near the road bridge when I saw a rise in fast water at the head of a small pool. The first couple of casts produced no interest but third time a small grayling grabbed the fly and was duly recorded and released.
I did switch back to a Klink and Dink and tried the deep pools nearer the bridge but didn't get any more action so retreated to the campervan to warm up with a much needed cup of coffee and the other half of my lunch. I'd had quite a good session after the slow start with 8 trout and 4 grayling but with most of the action coming in just over an hour between 2:25 and 3:45 after which it tailed off. The only slightly annoying thing was losing my Veniard Amadou Patch somewhere along the way. I had been using it but then when I went to dry a fly the zinger was empty and I've no idea where it may have become detached.
On reflection it was clear that the fish came in just over two hours in the warmest part of the day when the sun was out and brightened things up, but then a light breeze picked up and cooled things down and may have contributed to the end of the action. Still it is early days of the season and the sport will improve as the weather picks up.


2nd April 2019 – A Tricky Time at Thirkleby
After a damp grey morning the weather looked like it was brightening up so an afternoon trip to fish near Thirkleby Mill was definitely on. I was tackled up and ready to fish by twenty past two and the sun was shining as I walked down to my starting point a couple of runs below the big bend pool.
The beck was running high and a little fast but was reasonably clear so I started with a small (# 16 ) Adams Parachute, but got no response casting in all the likely places or on the big pool and switched to a Klink and Dink with a goldhead to try the depths of the big pool but again no offers. I moved up stream with similar results and noticed that the wind seemed to be picking up and there was a bank of ominous looking cloud creeping towards me.
I could see a rising fish just above the little road bridge so changed back to a dry fly but couldn't quite reach him casting through the bridge and eventually got hooked up on some ivy hanging down so waded under the bridge to retrieve it (keep to the right there are blocks and obstacles on the left side). By now the fish had stopped rising and casts where he had been failed to get any interest. The corner pool by the willow looked good but failed to produce any takes (the willow could do with some trimming to open the pool up a bit!). I moved on up the chicken field but still couldn't get a take.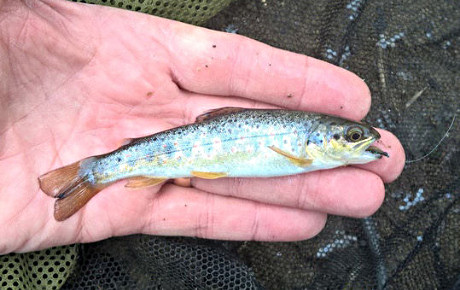 I waded under the little Mill Bridge hoping I might get something in the run along the wall, and near the top where the streams re-join a small rise to the F Fly produced the first trout of the day, a massive 3.5 inches of perfect wild trout.

Having released and recorded the trout I moved up into the start of the tree lined sections and it started to rain and with the day turning decidedly chilly I wasn't surprised not to get any interest in the first pool. Moving on to the next pool it suddenly started to snow! This was definitely not part of my plan and I was on the point of calling it a day when just as suddenly it stopped. I got no takes and moved on under the blue water pipe at the top of the pool. The next run looks really good and at the top end was a fish that rose twice while I was casting at the tail of the pool, but when I moved into place and cast where he had been rising I failed to get any interest.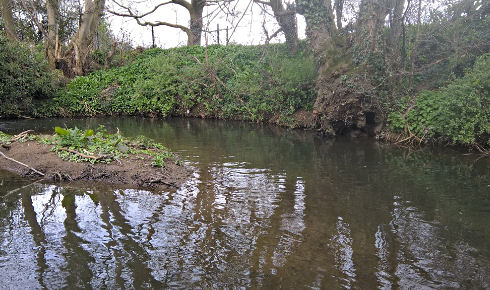 The next pool up has changed a lot since last year with a big tree down across the top and a new gravel bank building up. It is now a very good spot with trout hanging in the run on the right hand bank. Sure enough, a cast close to the far bank just upstream of the big tree produced a good rise and a few seconds later a nice trout of about 9 inches was safe in the net.

Moving on under the trees the next few runs failed to produce any interest and I made my way under and sometimes over the various trees that are down across the beck until I reached the pool below the footbridge. At this point the weather changed again and it started hailing! I suppose the only weather I hadn't had was fog!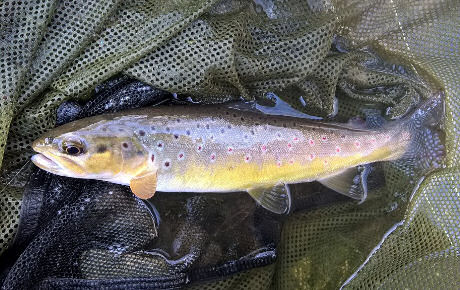 I struggled on up the beck not catching trout anywhere though I was not trying as hard as I might but moving quickly towards the weir pool where I hoped I might get some action on a Klink and Dink if not the F Fly. Sure enough a little bit of casting and the "Klink" vanished and I struck into the best fish of the day which was duly released and recorded. I tried a few more casts not really expecting any more action but when the "Klink" stopped in what was a fast run I tightened into another trout which at 3.5 inches was almost the twin of the first fish of the day. It was now nearly 7 pm and the sun which had reappeared was sinking and it was starting to get quite chilly so I headed back to the campervan. I'd fished for four and a half hours and only managed 4 trout, but overall in the weather conditions (and the rather overgrown bits) it felt that I really hadn't done too badly



28th March 2019 – A Good Day on Cod Beck
After a rather disappointing start to the season on Monday I was keen to get out again quickly and having learnt that two other YTAA members were planning on visiting Isle Beck I decided to have a go at Cod Beck. The Dalton Gauge was showing 91cm, a bit high as I think around 77/78cm is ideal but the Thirsk gauge was on 23cm – only a centimetre or two above ideal so I thought the top beat above the railway bridge would be ok.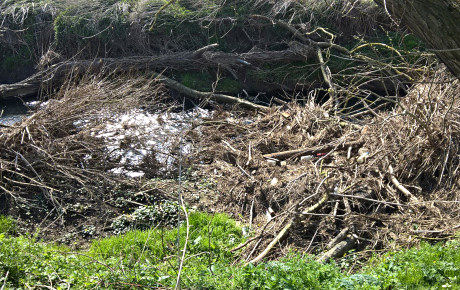 On arriving and tackling up the first problem was finding a way into the beck, the entry point I used last year below the Railway bridge has become a large pile of "Woody Debris" but it was possible to edge round it and slip in a bit further upstream.

The beck has changed a bit overwinter (as I found out further upstream too!) but the big run below the railway bridge is much the same and a little perseverance produce trout of 11.5 and 11 inches on my Klink and Dink style goldhead. A word of warning here, wading up through this long pool I discovered a lot of soft mud near the bank and it is near to deep water so a wading stick and great caution is needed if you are wading through.
I managed more by good luck than anything to hook and land a small trout under the railway bridge, though I am sure there are big trout in there somewhere.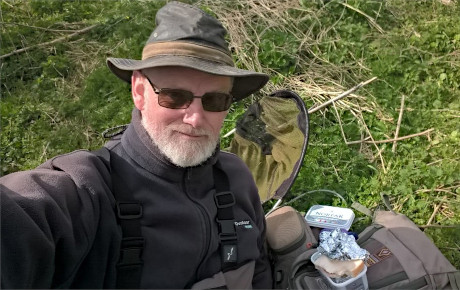 I worked carefully upstream and next up was a grayling of about 9 inches which was quickly returned. By now it felt like lunch time and I actually stopped fishing and sat on the bank and ate a couple of sandwiches and had a drink this is rare for me as once I'm fishing I rarely stop, but the day was getting warmer and I felt relaxed with no time pressure to get home.

While I was eating I started to see a few rises in the pool below me so after lunch I switched to a tiny Klinkhammer and promptly hooked and lost a fish. The klinkhammer attracted no more interest so I switched to a size 16 F fly, something I rarely use, but today it was magic. First cast produced a solid rise and soon another 11.5 inch trout was going in my waterside logbook. Moving on slightly and a couple of casts later a good fish hammered the F Fly and was eventually landed and a 15 inch trout went into the log – I think this is one of the biggest I've had at Cod Beck, but it was a bit on the skinny side. Next pool up produced another small grayling which was followed a bit later by another smaller grayling.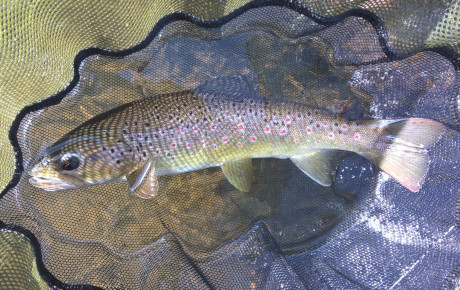 I was now fishing the upper reached of our beat which I haven 't really fished before and some of it is decidedly tasty and would probably produce a fish a cast in warmer weather but there was a slight chill in the air and I didn't see any more rises. However the F fly kept working its magic with another trout and another small grayling before it felt like my time was up. I was wading upstream between high banks trying to find an easy exit point but had a couple more casts in a nice looking run. The second cast produced a good rise and the fight of the day from a very determined trout. Safely in my net I was surprised to find that at just 13 inches he was smaller than my biggest fish of the day, but he was absolutely solid, a really plump perfect condition wild trout.

I couldn't find an easy way out at the top of our beat, a couple of log jams and high banks made exiting difficult and when I did eventually scramble up a bank I decided that I didn't fancy climbing the high barbed wire fence at the top so in the end I slipped (literally!) back down the bank and into the beck and waded down a couple of hundred yards to a reasonable exit point.
Walking back to my camper van I did briefly think of trying the long run below the railway bridge with the F fly, but in the end I thought it had been a pretty reasonable day with 7 trout and 4 grayling landed and I hadn't lost a single fly, so I put the kettle on and celebrated with a coffee before driving home.


25th March 2019 – Opening Day
It has felt like a very long time since I last cast a fly on YTAA waters but I have been looking forward to today and anxiously watching the river gauges trying to make my mind up where my first trip of the season will be. (I did sneak up to Scotland to fish with a friend on 15th March which is when the Scottish wild trout season starts but that doesn't count for the Kingfisher Diaries!).
In the end I decide not to go to Thirkleby as I usually do on opening day but to try an early trip to the River Riccal and fish the Riccal House Beat.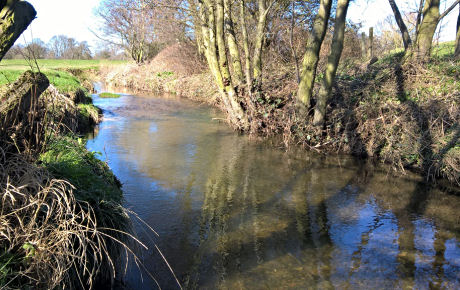 I was a bit late setting out but by the time I am tackled up and walking down the "Big Hedge" which marks the start of our beat it is a beautiful sunny day. The Riccal is running clear but a bit fast and just a little higher than ideal, but it looks really good, not least because a quick working party achieved some much needed pruning to open up a several previously overgrown areas.

I start with a small (#16) Adams Parachute (as if you couldn't have guessed!) but there is no sign of rising fish and I soon switch to Klink and Dink. As I might have expected the wind now decided to pick up and coming more or less straight down the river started to make casting into it interesting.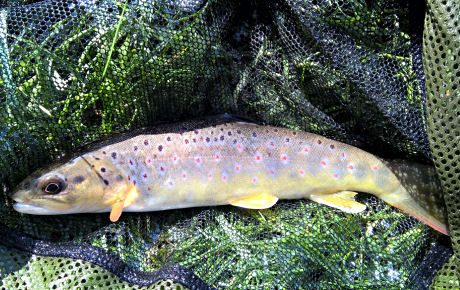 Getting a little goldhead down near the river bed made a difference and I am soon playing a lively little trout of about 9 inches. This was a great start half an hour into the season and I am off the mark and I have another 3 or 4 hours fishing left this afternoon.

My first trout was quickly returned and with great confidence I start making my way upstream. In the next deep pool I hook and lose a trout, I checked my hook point and its fine so I move quickly on to undisturbed water. In the next little run I hook and lose another trout, which was a bit annoying so move on again. Yet again in the next pool I hook and lose a trout which was really frustrating.
I didn't know it then but that was the last fishy action I would feel, despite trying my hardest and several fly changes I didn't get another touch. What was strange was there was a really good fly hatch in the late afternoon, loads of small spinners and a lot of small sedge coming off the water, but I still didn't see one fish rise all day.
By 5 pm it was starting to get a little chilly and I called it a day. I suppose I found it slightly frustrating not to land more fish and I certainly had more than my fair share of knots and tangles to sort during the day, but in the end I had enjoyed myself. It's not always about big catches and casting flies on a tiny overgrown stream is my favourite sort of fishing, it had been a beautiful sunny day, I saw snipe and partridge, there were buzzards mewing overhead and I had at least got my season under way!