Tales from the Riverbank - 2015

30th September 2015 Thirkleby Mill - Last day of the season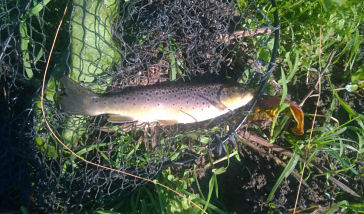 A beautiful day but only time for a short trip between grandad duties. The last day for wild trout so it has to be Thirkleby Mill. I am tackled up and ready to fish by 10 and start of in the big pool below the little farm bridge. This is a really good pool and I get two small trout on Goldheads before moving on. I get a lovely 10 inch fish from the "Chicken field", there is a good run there it stays deep all season but I usually scare the fish before I get a cast in but today by standing well back and casting from 20 yards away I get him to take. I move on up through the tree lined bit catching a little chub and a small trout before I get to the footbridge. I then hit the bad times losing several fish before I land one from a small pool above the "pylon" section. I have reached the big weir pool and manage two more trout before I have to retreat quickly to collect my grandsons from school.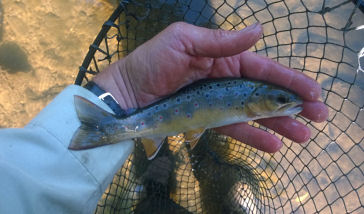 It's been an OK day, I've not had anything huge but seven trout and a little chub is a reasonable end to the season, and the last little trout is a perfect example of a wild trout from a small stream. It's not been a record breaking season for trout – I managed 143 including 4 that were stockies . I also caught 5 dace, 12 chub and 24 grayling – the most grayling I've recorded from the beck in a season.
The beck itself is looking in very good condition there are plenty of juvenile trout about likewise small chub and dace. There are quite a few crack willows down across the Isle Beck that will need some management before next season and working parties on the Riccall and the lower end of Willow Beck would certainly improve access to some lovely wild trout.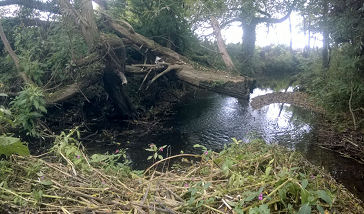 Bye!


29th September 2015 Isle Beck
My last full day of Beck fishing as I know I will only get a short trip on the 30th, it's a bit foggy but I'm hoping the sun will clear this quickly and I'll get a good day in. It's still a bit foggy by the time I get to the A19 bridge so I tackle up and then have a cup of coffee and a couple of Jaffa Cakes before I put my waders on to start fishing.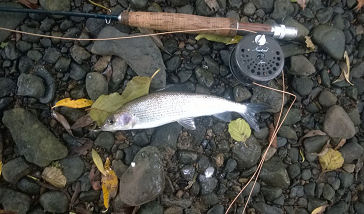 I want to fish between the A19 bridge and Arden Bridge but I give the big pool below the bridge a quick look but don't connect with anything, so I head up under the bridge first run is too over grown for casting but the big pool produces a take to the Goldhead rig and a nice little grayling is duly netted and returned. I've set my leader with one of those 2mm rings on the first length of line so I can change quickly between a New Zealand rig with a goldhead nymph and a conventional rig with my much favoured Adams Parachute. As I make my way upstream it's the NZ rig and goldhead that is producing the fish , I get a couple of small trout and then a better fish takes the dryfly on the NZ rig – this turns out to be a 13 inch stockie which is safely returned. I then get some beauties on the goldhead, 11, 15 and 10 inches all wild fish. A small wildtrout is followed by another good fish, 13 inches of very lively wild trout.
There are a few more crack willows down over the beck and my progress upstream is slow but I'm catching fish and most of them are above average for the beck. I switched to the dry on one pool and get a cracking 15 inch wild fish which is safely returned. I get no more takes on the dry so switch back to the NZ rig and get a few more trout and another small grayling before I reach Arden Bridge. It's only 4.30 so I walk quickly back down the lane to the van and drive up to Thirkleby Mill to grab an hour below the Mill. I wander down to the big pool and get a grayling on the goldhead first cast. This is followed by 3 small chub about 4 inches each and finally a small brown trout just under 6 inches. These all came from the same pool. I try a few more pools as I wade upstream but nothing is moving so I call it a day after just an hour.
It's been a good day warm sunny and with 13 trout, 3 grayling and 3 chub a pretty good day. It's a shame there are so many crack willows down over the Beck between the two bridges, we will have to tackle them before next season. I haven't fished this beat much this year but was pleasantly surprised by the quality of the trout I landed, really good wild browns well worth the effort.


22nd September 2015 - The Worst of days or the Best of days?
A nice day for fishing and I am keen to trying and top up the number of Wild trout I've caught from the Becks this year. I keep thinking it should be possible to get 200 trout from the Becks in about 20 visits, I've come close to achieving this twice, but this season I am lagging behind on numbers.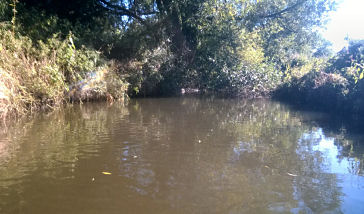 I decide to fish Cod Beck and Willow Beck (above Willow Bridge – below is a bit of a nightmare for casting!), not because I am confident of catching but I have only fished it once this year and it can be good fun it does hold some really good wild browns and there is always the chance of the odd grayling and chub. I manage to negotiate the plank bridge that crosses the ditch and make it up to the field despite a strange amount of soil erosion on the far side, half the bank has come away and it's a steep stretch up to the far field. I am at the bottom of our beat and ready to start by 11 o'clock, and the first thing I notice is that there appears to have been a lot of flood water down Cod Beck recently the banks which are about 10 feet above normal water level are covered in mud and debris so it must have been an impressive amount of water coming down, but I can't think of any very heavy rain in the last few weeks? Cod Beck itself is a good height and just slightly coloured, which should work in my favour.
The first couple of runs I try with the faithful Adams Parachute but nothing rises so I switch to an olive gold head fished New Zealand style below the Adams. The produces a firm take in the next run and a 9 inch grayling is landed photographed and released without moving my feet. A couple of minutes later and I get another grayling of similar size.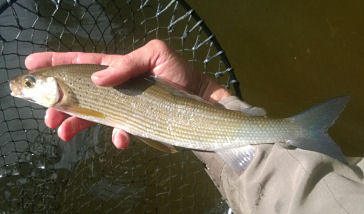 The takes dry up and I change the gold head for one which has a red "hot spot" tied on the bend. This produces another grayling of similar size. This new gold head works wonders and every few minutes I connect with a grayling, I've landed 8 in just two hours but there is no sign of any trout. The next hour produces 6 more grayling, one of which took the Adams. I am really amazed that I have caught 14 grayling in just 2 hours I only got 13 in the whole of last season! There are a couple of willows across the Beck and getting out to go round them was interesting, the muddy bank is extremely slippery and I slide back into the beck and only just miss out going for a ducking.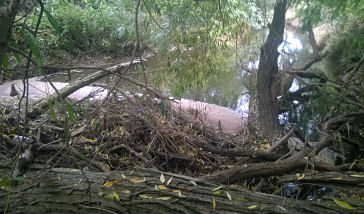 Things slow down for a while and the next 2 hours produce three more grayling and a chub, plus I lost a couple of grayling before I could get them to the net, but still no sign of a trout! I have reached the junction with Willow Beck and decide not to fish this part of Willow Beck as it is just too overgrown. Instead I head back to the camper van for a rather late lunch. Lunch over I decide to try above the bridge to see if I can get a trout, I skip the first 300 yards as I don't fancy the steep muddy slippery bank into deep water combination but get in past the trees and work slowly upstream catching nothing at all on the Adams Parachute. Eventually I switch back to the New Zealand rig to fish the deep pool below the field bridge.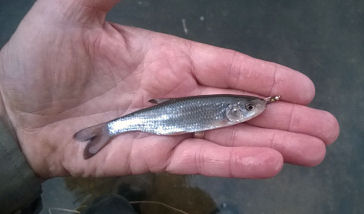 This produces two more chub. Then in the pool above the bridge a nice dace takes the dry fly and I decide to call it a day as it's starting to rain.

A really strange day not a trout anywhere but 16 grayling, 3 chub and a dace, it is without doubt my best ever day for grayling on the Beck.


11th September 2015 A Tale of Two Rivers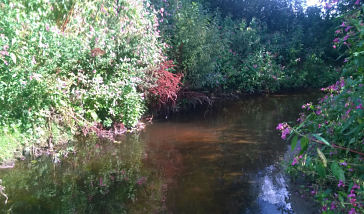 A whole day free to fish so I head off to the River Riccall, on the way I decide to fish the Dove first and come back to the Riccall for the late afternoon/ evening. I park the campervan near the old barn, tackle up with the 6' as the Dove has a bit more casting room than Thirkleby or Isle Beck. First problem when I go to put my wading boots on I discover the left sole is hanging on by a thread… fortunately I have put a spare pair in the van before I set off this morning. The Dove is looking really good, it's a good height, clear and I feel the prospects are good, it's a lovely sunny day and the only blot on the day is the gusty wind which wasn't in York. My plan to fish the Dove first gets off to a great start with a trout second cast. My hopes are high as I don't usually get much at the Dove. However it's not to be, for the next 4 hours despite all my best efforts with dries, goldheads and nymphs I don't get another take.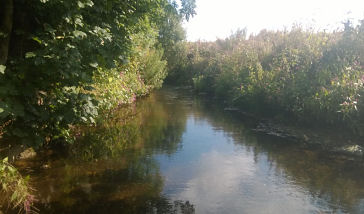 It is so frustrating as I can see quite a few really good trout about but nothing is rising and nothing I do can tempt a take. By 3 o'clock I am back at the barn, grab a quick cuppa then head off to the Riccall which is on the way home anyway.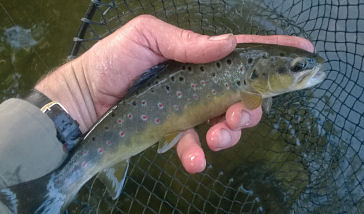 By 4 o'clock I have tackled up with the 5' and a #2 floater and am at the bottom of our beat ready to fish. After 5 minutes a rise to the adams parachute produces a lovely wild trout of about 10 inches. A couple of minutes later a 7 inch fish takes the adams… my hopes of a good afternoon are high, but yet again everything goes quite; and for over two hours nothing is rising and nothing takes dries or goldheads or nymphs. I've just about given up hope of a fish when I see arise drop the adams just ahead of it and a 6inch fish is caught and released. By the time I have dried my fly I notice another rise in the same pool, cast to it and a 5 inch trout is landed. Then everything goes quite for half an hour!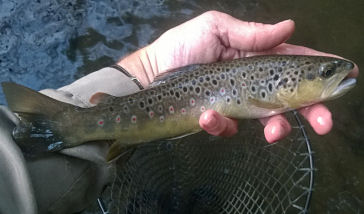 I have reached the bridge at the top of the beat, and decide on one last cast beneath the fence that crosses the stream, nothing takes but as I start to lift off and wind in a trout appears from nowhere and grabs the fly. This proves to be the best fish of the day, a good 11 inches of wild trout. A nice end to what has felt like a very a frustrating day


9th September 2015 Isle Beck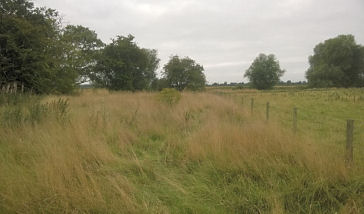 I have a few hours to spare between doing "school runs" so head off to Isle Beck in high hopes as it's dry and fairly warm. By 10 o'clock I have tackled up and walked down three fields from the A19 bridge to where I plan to start, that was easier said than done as the grass and weeds in the fenced of river corridor are high and it was far from easy going in the first field. The second field was still full of wheat, which made walking down the side of the field difficult (the wheat was being cut by the time I left!). The third field had already been cut and was easier. I didn't really expect to get much in the first few of pools and I wasn't wrong. I was hopeful of something in the first big pool and I wasn't disappointed, though I couldn't get a rise to the Adams a quick change to a goldhead New Zealand style produced a firm take and a 9 inch trout. A couple of casts later another take and a 10 inch grayling. This is what I'd been hoping for, two fish in 3 minutes.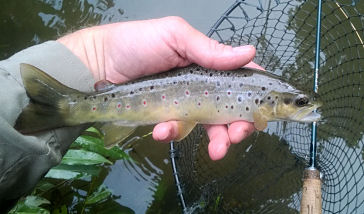 Nothing else happened in the big pool so I moved on upstream trying anywhere I could get a cast in but all to no avail. I didn't get another touch on dry flies or the goldhead on any pool before I was back at the A19 bridge. I still had a few minutes to spare before I needed to head off to pick up grandchildren from school so I thought I'd have a quick cast or two in the first big pool above the bridge and sure enough first cast a 6 inch trout takes the goldhead. My time was up, just two trout and a grayling, definitely not the session I'd hope for, challenging, frustrating even and I left with the feeling I should have done better, but I've no idea how.


4th September 2015 Isle Beck - Thirkleby
I am off to the beck for a short session before going onto Stearsby to help restock the lakes. Not the best of days to start with, its grey and windy which means careful casting if I am not going to lose flies in the trees. One advantage of Thirkleby is that the Beck more or less runs in a corridor of trees and high banks so I will have some shelter from the wind. I am tackled up and fishing by 11:30 and the river itself is good not too low – at least not as low as last time I came and clear, but oh dear the balsam and wild rhubarb is higher than ever. I miss a rise on the big pool and nothing else shows interest in my Adams so I tie on a goldhead New Zealand style below the Adams and flick that in the pool.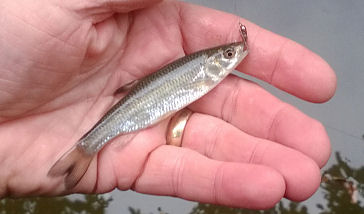 I hook and lose a half decent trout straight away. I think one of the problems fishing NZ style with a short rod (using my 5 footer of course!) is that you really have to strike quite hard to get a hook hold I suppose it's because of the angle between slack floating line and the goldhead dangling of the bend of the adams. I try again and straightaway I am into a little grayling about 9 inches, he goes back safely and I cast again the Adams disappears and I haul in a chub, well more like a Micro chub, I don't think I have ever caught one so small before.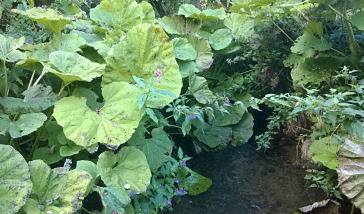 The next cast produces a better chub almost 4 inches! And this is followed by a 5 inch trout. I think I have disturbed the big pool enough and wade off upstream. A small willow has come down into the stream below the next pool and this provides excellent cover for me to sneak right up to the run. I've taken off the NZ style rig and reverted to a size 14 Adams Parachute a couple of casts into the faster water produce a nice 9 inch wild trout. As this is only a short session I move on fairly quickly through the "chicken field" (which now contains turkey houses and a lot of noisy turkeys!) under the mill bridge and on into the tree section. This wasn't as easy as it sounds as the stream is completely blocked by high rhubarb.
I get another chub in the next pool, they seem to be doubling in size this one was nearly 9 inches. This section is now very interesting as the beck is at a good level and there are fish to be had but the balsam has grown right out over it making casting to the fish difficult. Nevertheless I manage to winkle out a few more trout between 6 and 10 inches before I reach the weir pool. I am pushing my time limit if I am going to get to Stearsby to restock but there are several fish rising below the weir and I am confident of adding to my total, but it's not to be and I didn't get a single rise. I should probably have switched back to the NZ rig for a few casts, but with time tight I call it a day.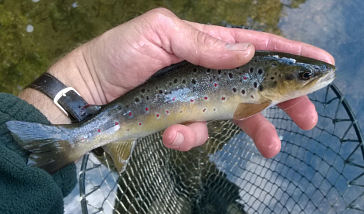 A grayling, three chub and six trout in three and a half hours not great but very enjoyable. (And despite the overgrown conditions I didn't lose a single fly in the foliage!!) If you are thinking of fishing the becks be prepared for overgrown conditions, the best bit is you have a lot of cover to get close to rising fish (or the likely holding spots) so long casts won't be necessary (or possible!) Also using a short cast about 5-6 foot will help avoid getting caught up in foliage – there are some good fish in great condition to be had with a careful approach.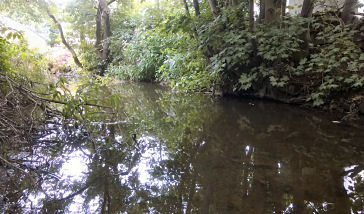 13th August 2015 Isle Beck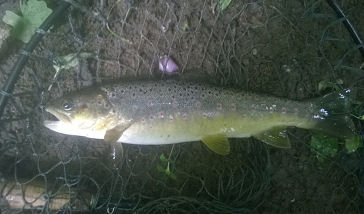 Finally get out for another trip to the beck – it's been a month since I last fished and the difference is amazing. The Beck is really low – about a foot lower than my last visit and the Himalayan Balsam is very high so it is going to be an interesting time. There is nothing doing in the first three pools I try but I get hooked in to a fish on a pool fifty yards down from the little farm bridge. I have some difficulty playing him mostly because I am crouched down under a fallen tree and I can't get my rod high enough to play him. I manage to bang my head on the tree and knock my hat into the water but eventually side strain tells and I slip the net under a nice fish of nearly 10 inches and in very good condition. He is returned and I carry on up the beck and under the little farm bridge.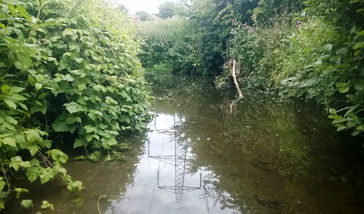 I usually do well in the next two pools but today I don't get a touch and press on through the chicken field (which now has calves in!) and under the Mill bridge. I miss a trout along the mill wall and push my way through balsam and wild rhubarb and into the tree lined section. Its dark under the trees and there are no fish rising so I move through after just a few casts to an area where it is lighter - see a rise cast to it and hook a fish which turns out to be a nice little chub of 9 inches or so. I continue upstream taking the occasional fish and losing a couple till I reach the weir pool – this is very low with not much water coming down the weir but I manage one more small trout to make a total of 7 trout and 1 chub in 4 hours. Not the best session I've had but not bad for low water and the overgrown conditions.


15th July 2015 Isle Beck Below the A19 Bridge
I decided to grab a few hours on Isle Beck below the A19, I haven't fished it much this season and it can turn up some surprisingly large fish. If I fish below the A19 bridge I like to start four fields down, but I couldn't resist a quick cast at one of the pools where we dropped some stock fish in last week.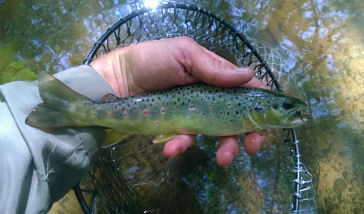 Sure enough a couple of casts was all it took before a 12 inch stockie grabbed the size 14 Adams Parachute. He was safely returned and I started on the trek down the fields. This proved a bit difficult as the grass and weeds on the bankside are quite high and made walking difficult. Having got through the first two fields I then found a field of wheat right up to the river corridor and could only make slow progress down the edge of the wheat. The fourth field is full of potatoes so I made better progress down the side of the field to the little copse where I like to start. Even with breathable waders I was already fairly warm and with a clear sky and no breeze it was clearly going to be a hot day. I didn't get a rise in the first pool (which was disappointing as I always expect to catch at least one fish there) or the second and this carried on for some time before I gave up on the Adams and tried a mayfly as I could see several drifting down stream. This did the trick and a good wild trout was caught and returned.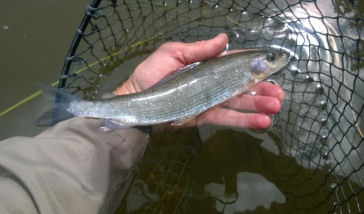 The mayfly produced no more takes so when I reached the big deep pool I tied on a copper head nymph on a 2 foot tippet below the mayfly and this did the trick first an 11 inch wild trout then a 7 inch. Then I hooked something much bigger which managed to throw the hook – I'm fairly sure it was a big grayling as it didn't look a trout from the brief glimpse I saw of it. Next up from the same pool a nice little grayling of about 10 inches. Having landed these four fish the takes dried up so I moved on upstream. The Beck is so low I was actually able to wade along the side of the big pool without topping my chest waders – I've never managed that before in all the years I've fished that pool! Before I cast at the next pool I noticed a large Crayfish claw on the stream bed at my feet. As you can see from the photo it's huge for a crayfish claw and I wonder what ate him - an otter would be my guess.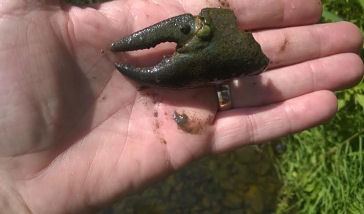 A couple of 8 inch trout obliged on the mayfly in the next pools and I was soon back at the deep pool below the A19 bridge, I was a bit pushed for time as I needed to pick up my grandson from school but had one last cast with the copperhead nymph fished New Zealand style and sure enough this produced another 12 inch stockie which again was safely returned. Not the best days fishing I've had below the A19 but enough fish to make it interesting and more than enough overgrowth and branches and bushes over the stream to make the casting a real challenge. Anyone thinking of fishing it while it is so overgrown might be best to go no more than three fields down from the road bridge the pools on that beat are more open than further down and you will have more chance of not losing flies.


10th July 2015 Thirkleby Mill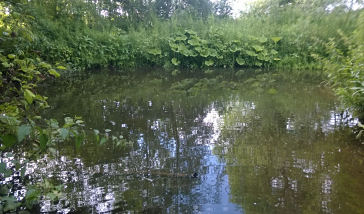 I wasn't going to fish again this week, but as I was close to Thirkleby after we restocked Stearsby and Isle Beck I thought I'd just nip up to the mill and grab a couple of hours. Thirkleby Beck was quite low and running very slowly, but I was off the mark after a couple of minutes with a 6 inch fish from the big pool on the bend. This was followed a couple of minutes later by another of the same size from the same pool. Then I missed a third fish from the pool but this was starting to be fun, but then everything went quite and it was over an hour before I landed my next trout – (also 6 inches). In between I'd lost a bigger fish from alongside the wall by the mill. I was looking forward to the pool just below the footbridge, my favourite trick on this pool is to cast from behind the fallen willow and catch a trout, but it was not to be, someone has dragged the tree out to the side of the Beck. Just to add to the fun half a willow has come down into the beck just above the footbridge, making casting to the lovely little pool above the bridge nearly impossible. It was 8:25 I'd only managed 3 fish but between restocking Stearsby and Isle Beck I felt I'd had enough for one day.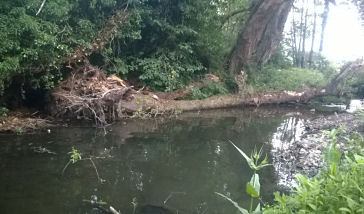 8th July 2015 River Riccall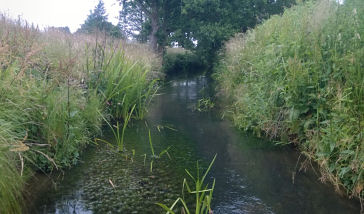 I'm back out again and decide to try the River Riccall as I haven't fished it this season. The weather isn't ideal it's grey and cloudy, trying to rain and it's a bit breezy. A breeze is always a problem on the Riccall because it's narrow and overgrown and there are often tall reeds along its banks so accurate casting is essential and a breeze doesn't help accuracy at all. Lately I've been using a DT2Floater with the 5 foot rod which is rated at AFTM #2/3 but today I opted for the DT3Floater as it will load quicker and being ever so slightly heavier it may not be affected quite so much by the breeze. I've also shortened my cast to barely 6 foot and this may help me cast into some fairly tight places and pickpocket little trout out.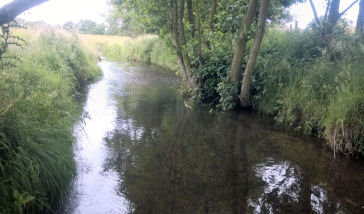 By the time I've walked down to the big hedge where our water starts it's drizzling nicely so my confidence is pretty low, however a little trout latches onto the Adams Parachute on my second cast and I'm off the mark. Half an hour passes and I get a slightly better trout and then another that's even better and so it goes on little trout and not so little trout all seem keen to try the Adams. The rain passes over and the trout keep coming. After two hours I've had 8 fish which I'm pretty pleased with, but the fish keep coming. Despite the fact that it's very overgrown and quite a few of the better deeper pools are unfishable I seem to be getting fish from almost every little run, riffle and pool that I can drop a fly into. By the time I am back to the bridge where I left the camper I've landed 25 trout I've probably missed a dozen others as well, but what a day - my best on the Riccall by far.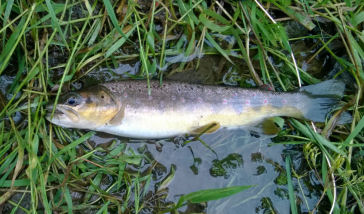 7th July 2015 Willow Beck
I have another chance to get out fishing for a few hours and decide to try Willow Beck above Willow Bridge. In a way I dread fishing this length as it is quite overgrown, has several really deep pools (above chest wader deep!), the start has high steep banks so it's difficult to get in and out to avoid the deep pools and just to add to the fun the bottom is often very slippery mud.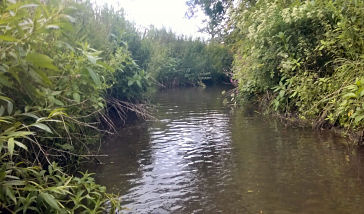 Having said that I do like to try and fish the whole length of our Beck waters and I haven't fished above Willow Bridge this season and on the plus side there are usually a few better class trout around (if you can cast to them!). I get in to the Beck just below Willow Bridge and wade through and was going to try the pool above the bridge, but as nothing is moving and its shallow I wade on up as I can see a fish rising in the next pool. My second cast lands just where he rose and he takes the Adams parachute straight away. It's a good fish and gives a good account on the 5 footer. Around 14 inches long so an excellent start. I have no sooner returned him when I can see ripples coming from the next pool up. A little careful wading in deep water (chest wader height!) and I am in position to cast to another rising fish which again takes first time. It's another 14 inch fish not a wild one but a well mended stockie. I am well pleased with the excellent start but then things go downhill for the next two hours. I lose a fish at the net not as big as the first two but probably 12 inches, then I have to get out to avoid an un-wadable bit and have trouble getting down a steep bank to get back in. I don't see any fish rising and nothing takes when I try the likely spots.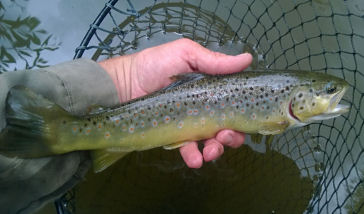 I am also using my folding secateurs and saw to "trim" some of the worst of the overhanging foliage in anticipation of a further visit so it is a while before I make progress up stream. I manage to wade through one deep section and can see a fish rising and manage to get a cast to him and miss the rise! A second cast produces another rise and I am into a very solid fish which after a couple of hectic minutes is safely in the net a lovely condition wild fish of 15 inches. The 2 hour wait since the last fish seems almost worth it. I have now reached the open section beyond the high banks but it is starting to rain and there is thunder rumbling in the distance. There is a nice deep pool just below the little bridge and there is a decent looking fish rising. It ignores my Adams several times and then a smaller fish grabs it, a 7 inch wild trout gets logged in the record book. I flick my fly out again, I don't get a rise, but as I start to lift off a 6 inch dace impales himself on the fly. I can see another fish rising right at the top of the pool I cast and snatch it right out of his mouth it looked like a half decent chub I cast again, he rises again and I snatch it out of his mouth again! The chub doesn't rise again through I try several more casts at him.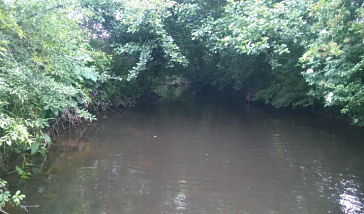 I wade under the little bridge and can see a fish rising tight up against the bank of the next pool. A couple of casts fail to get a take but on the third cast a little further from the bank a trout takes it and an 8 inch fish comes to hand. Even as I was playing this trout I was aware of another fish rising just at the bend where the fast water enters the pool. A quick cast and the fish is on it's the smallest of the day at 6 inches, but they all count. There was only one short section of beck and a bit of a pool to where the Beck exits the wood, and neither produced a rise. We haven't had a working party in the wood for a good few years and while I'm sure there are some good trout there I didn't fancy the overgrown area, and besides the thunder is rolled in and it was starting to rain very hard, so I called it a day. Not too bad a session three very good trout, three standard size wild trout and a bonus dace not too bad for four hours of jungle warfare….


1st July 2015 River Dove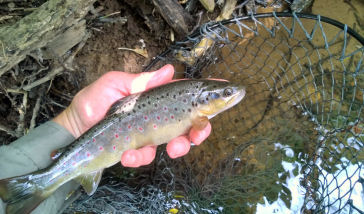 A day free to go fishing, - well half a day because it's so hot I know I won't last all day so decide on an afternoon and evening on the River Dove at KirbyMoorside. I'm ready to fish by 2 o'clock, but have a little difficulty finding the river the banks are very overgrown, but after barging my way through the jungle of undergrowth I eventually get to the junction of Howkeld Beck and the Dove. The first couple of pools really are unfishable. (!) but eventually I get some reasonable room and starting casting in all the likely places as nothing seems to be rising. I eventually give up on my Adams para as its 2 hours without a sniff of a rise so I put on a size 18 midge which produces a couple of rises that I miss but I eventually hook into a nice trout of around 10 inches. It's a relief as I was just starting to think I might not catch at all. It's hot work and slow progress wading up the Dove and I have to get out a couple of times to get around very large "woody debris!"… so it's over an hour later that I hook a second wild trout similar in size to the first.
The river is looking really nice, the working parties have made a significant difference to casting room ( apart from the bottom 50 meters or so!). The river itself is pretty good, it's clear and a little low and the trout are basking in shallow water and I keep trying to wade up carefully to avoid scaring them. It's more than an hour before I get another rise this time to a green mayfly. It's a slightly smaller fish 8 inches or so of beautifully wild trout. 5 minutes later I get another around 9 inches and 10 minutes later another the same size. I am starting to feel confident of a good haul, but sadly it's not to be and I don't land another fish. I always feel I should do better on the Dove it's a great little river and there are some decent fish around but somehow I seem to scare and loose more than I catch. In fact I don't seem able to catch more than 6 trout per visit and today it was just 5 landed (though I missed a few rises as well).
When I set out I had thought about dropping in on the River Riccall for an hour on my way home but having chatted to Steve the farmer for a bit it's getting too late and I feel pretty fished out from the heat of the day so I'll save the Riccall for later.


17th June 2015 Cod Beck
I do like to fish on my birthday, but for various reasons I had a very late start and didn't get fishing until half past three. I had decided on Cod beck as I hadn't fished it this season, I don't think many other members had fished here either as the nettles were shoulder high.
Once through the nettles and into the water it's a different world and Cod Beck looks really good. There were a few mayfly about so I changed my Adams Parachute to a green mayfly. A few casts later I connected to a fish and a lively 8 inch dace came to hand. A few minutes later another 8 inch dace took a fancy to the mayfly and was duly landed and returned. A slightly better looking fish was sipping flies a bit further up the beck and duly obliged, this was no dace but a very good trout just nudging 13 inches. In the next pool there were a series of fish rising but all of them ignored the Mayfly and the Adams and black emerger and a klinkhammer. This was now getting personal and I stayed put, trying various flies until I got a rise to a green emerger and landed a little chub. A minute or so later a 10 inch grayling took the same green emerger. The emerger was ignored in the next pool but a decent trout was sipping down mayflies and a quick change back to the green mayfly produced a 14 inch trout that proved a bit of a handful on the 5 foot rod. Safely returned I cast to a fish rising further up the pool and another little dace was soon landed and released.
I had reached the "big pool" which as usual I failed to get a rise in, above the pool a big tree had come down right into the beck and a large part of the high bank had been eroded away presumably over winter, with no easy way over the tree I had to get out of the beck and walk around and get in above. Straight away I could see a decent fish rising under a small overhanging bush. A couple of casts later I found myself playing my third big trout of the evening. This proved to be nearly 15 inches but was probably a stockie from last year but still a very nice fish and safely returned. I moved up to the junction pool where Willow Beck joins Cod Beck, a fish was rising it took the Mayfly and yet another yet big trout was testing the 5 footer. This was a wild trout of about 14 inches This was proving to be an exceptional evening, I don't normally get this number of big trout in one session 8 - 12 inches is normally a good size. Moving up Willow Beck was interesting. It is now very overgrown making wading difficult and casting nigh on impossible however there were a couple of pools where it was just possible to cast a fly and a pretty 9 inch trout was soon caught and released.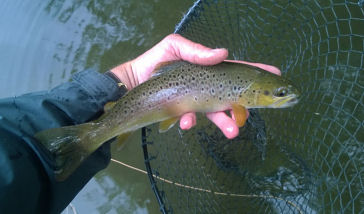 I managed to cast in one more pool and snatched the fly out of the mouth of a trout. I had to get out of the beck to get round another tree and decided to call it a night. Four and a half hours, 3 dace, 1 chub 1 grayling and 5 trout on a grey and windy evening was quite enough.


14th May 2015 Stearsby & Isle Beck
A red letter day by any standard.

I wanted to go to Stearsby to put some more record sheets in the Log book before going on to fish the Beck for the day. It seemed silly not to have a cast or two at Stearsby as I haven't fished the lakes this year so I put a 9 footer in with the kit I was taking for the stream.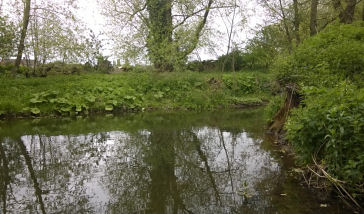 I was at Stearsby by 10:15, sorted the log out and decided I would only fish for an hour or so. Stearsby is looking very good there is hardly any weed and there were fish rising everywhere. They ignored nymphs gold heads and buzzers, so I decided to try a black hopper just fished in the surface film and this did the trick in 20 minutes I landed two rainbows and a superb Brown of just over 2lbs. The tail on it was really good and it could almost have been a wildfish, so I'm a bit puzzled as to how it got in to the top lake. I'm fairly sure there are no fish of that quality in the feeder stream - perhaps it was a stockie and got mixed in with the rainbows at the last stocking? As I wanted a good session on the Beck I left after an hour and a half and headed through to Thirkleby where I grabbed a quick lunch in the van then tackled up and was ready to fish by quarter past one. I was trying a new DT2F line on my 5 foot rod, which is rated as #2/3.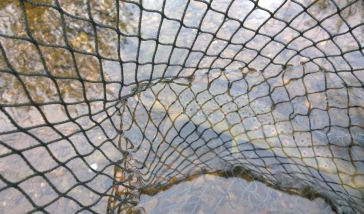 I had ordered a couple of these lines through Amazon but they were shipped direct from Japan. At just £7.99 each (!) I was not sure if they were going to be any good, but I needn't have worried it was superb. Nice tight loops plenty of distance and pinpoint accuracy also floating nice and high with no apparent memory – the only downside (which was more the rod than the line?) was trying to cast a New Zealand Style setup – definitely not its best, but even so the first two trout I caught were on N Z rig with goldheads.
The Beck itself is in good condition still quite high after last week's rain, but clear and not too fast, ideal dry fly stuff and the next fish came to my favourite Adams Parachute. Then things went down hill for a bit, I had several fish rise but not actually take the fly in, then I had several that took the fly in very gently but were so lightly hooked they were off in seconds. It was all starting to get a bit frustrating. I was seeing a few uprights floating down the beck and decided to try a black parachute emerger and what a difference it made.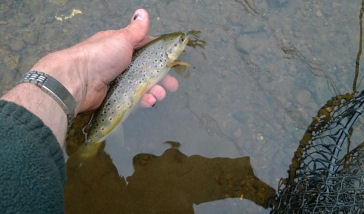 The trout loved it they didn't just rise, they engulfed the fly, absolutely hammering it and the fish just kept coming. For the next couple of hours I landed fish after fish after fish mostly in the 8-10 inch category. Fish this size are great fun in the confines of a narrow Beck and are lovely feisty little fish. I worked my way steadily upstream catching fish (and loosing a few) in almost every pool. I had to replace my fly three times as they were becoming so chewed the tying was falling off the hook. Fortunately I have plenty of these black parachutes in my box. By quarter to six I had reached the top of our beat and had caught and returned 22 wild browns. I'd been fishing four and a half hours in total but the last 19 trout came in just over two hours. It doesn't get much better than that anywhere.

WILD TROUT TRUST Auction Lot 257 - A day on the Isle Beck System for one rod.
(Tall Waders and Short Rods essential!)

6th May 2015 Isle Beck
The Beck was in need of rain, but I hadn't wanted the really heavy rain we had got just before the winner of the 2015 WTT auction lot 257 a day on Isle Beck System came to fish. On the Tuesday 5th May, the day before he was due to fish, the Beck was high and fast and muddy, but looked like it might be beginning to drop. On the Wednesday morning I met Jonathan Cushnie at the Bridge and we peered over at the waters below. The Beck was still a bit high and a bit muddy but definitely beginning to settle I gave him the choice of returning on another day, but as he said he was here and the fish were wet already… I had hoped to go downstream of the A19 bridge but felt the Beck would be more "fisheable" up at Thirkleby, so we loaded his gear into the camper and drove up to the mill. Jonathan was soon tackled up with a 5 foot rod he had made up from various blanks and we walked down to our start point through a fine drizzle. This was not what I wanted but at least the beck here was a bit clearer and we could almost see the gravel bed in places!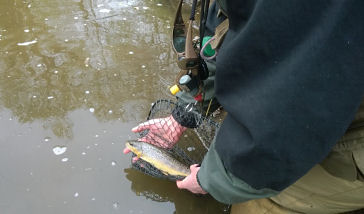 The first couple of pools failed to produce a rise, but the big bend pool did and soon a lovely little brown was heading towards the net, but heading was all he did as he slipped off the hook at the last minute! There were no more obvious rises so a change to Klink & Dink with an Olive Goldhead and a couple of casts later a 10 inch wild trout obliged and made it all the way into the net. A few more casts produced another take and another "early catch and release" as Jonathan put it… We made our way upstream carefully trying all the likely places and a few unlikely ones trying to avoid the main flow of the beck which was still much faster than I would have liked, but didn't land any more. At the chicken field I left Jonathan to fish while I nipped to the nearby Camper van to get some soup on for lunch. In the meantime Jonathan landed another 10 inch fish from just below the Mill house bridge and as the rain was picking up he came back to the van and joined me for lunch. Having a camper van does help with fishing to relax and sit down warm and dry for lunch is pleasant and prepares you for the afternoon to come. The rain shower passed over and refreshed with soup, sandwiches and porkpies we set off again.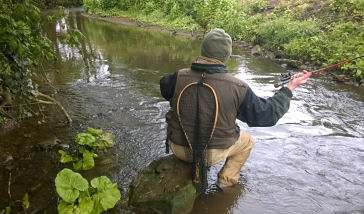 Jonathan started catching more fish as he got to grips with the joys of small stream fishing. Sometimes you stand to cast but quite often you need to kneel down or even sit on a convenient rock to cast! Alternating between the New Zealand style nymphing with the olive goldhead and various parachute flies (and even using one of my reliable Adams for one fish) was producing more takes and as a bonus the weather was definitely improving. I'd moved my van up to the footbridge while Jonathan fished the last couple of pools and at 5 o'clock we stopped for a cup of tea and a sandwich in the van. Suitably refreshed we headed on upstream with Jonathan catching a fish or two and missing a few and in the main not getting too caught up in overhanging trees. It was really good to hear Jonathan appreciating every fish he caught, nothing huge but all in excellent condition and punching way above their weight and putting a very satisfying bend in his 5 foot rod. It wasn't too long before we reached the Weir pool at the top of the YTAA waters. Switching back to NZ style Nymphing Jonathan had several takes and landed two more wild trout, not huge but perfect examples of small stream wild trout. It was just after 8 pm and had been quite a day in less than ideal conditions we'd seen a lot of Kingfishers and a dozen lovely trout had been landed (and a few had got the benefit of Jonathan's "early catch and release" !) so overall a pretty good result on what I hope was a day to remember.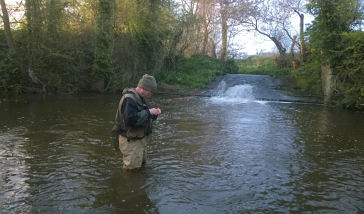 23rd April 2015 Isle Beck
A nice afternoon so I pack the rods in the van and head off for a short session on Isle Beck. Parking the van near the bridge and note another member has parked near the field. As I tackle up a van pulls into the field and two of our new members tackle up…. Looks like my efforts to get more people fishing Isle Beck are paying off. I head down stream passing one member just below the bridge so go down a couple of fields. I want to start at a big deep pool that didn't produce yesterday. Nothing doing with dry flies so I switch to a Goldhead fished New Zealand style and I am straight into a superb wild brown. After carefully returning him I switch back to my Adams Parachute and move upstream taking my time and enjoying the sunshine, but not catching a thing! I arrive back at the bridge and decide to fish on upstream for a couple of pools and soon get another beautiful wild trout about 8 inches but fat and with a real butter yellow belly.
I fish on loose one fish but that's it so I head back to the van. An interesting day with just two fish both in excellent condition, but lots of Kingfisher activity including three flying down stream right past my head.


22nd April 2015 Isle Beck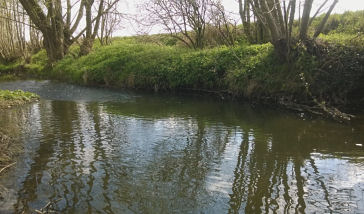 A beautiful warm afternoon so I am off to fish Isle Beck below the A19. I tackle up and walk down 4 fields to the little copse and one of my favourite little pools. A couple of fish are rising but I miss the first rise, but a couple of minutes later I connect to a rise and a 10 inch fish is soon in the net. This is a typical Isle Beck wild trout a good solid little fish and full of fight. He goes back safely and I move on up the beck. I have no takes in the next few pools and am taking my time trimming back overhanging shoots and brambles which will help my fishing later in the season. It's an hour before I get my next fish, another good 10 inch fish, which managed to wrap my leader round a sunken branch. I manage to get hold of the branch and pull it clear and net the fish which was still attached! Forty minutes of secateurs and saw work and I see a fish rising and hook him first cast and a 8 inch fish which goes back safely. A few minutes later I get a 5 inch fish from a pool where I don't normally get fish so it's a bonus.
I am still about 3 fields down from the bridge and there is a lot of overhanging branches to trim and it feels like I am doing more clearing than fishing. Eventually I arrive at the sections that have been cleared by working parties earlier in the year, but there are no fish rising. I make my way steadily towards the bridge stopping to free a sheep that's got it's head stuck through the fence. I saw it on my walk down and now 4 hours later it was still stuck. Once free it ran off ok stopping to feed its two lambs. While freeing the sheep I noticed fish rising in the beck. I guess its little grayling and they ignore my Adams but a change to a black emerger parachute produces a satisfying take and lovely little grayling in great condition. He eventually stays still for a photo and is safely returned. I try for another grayling as there are a couple still rising, but get no response so I call it a night and head back to the van for some soup. Not the most productive day but four trout, a grayling, a rescued sheep and some good "trimming" work.


16th April 2015 Thirkleby Mill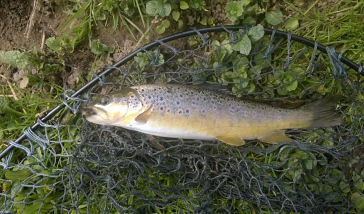 Finally I get a day free to spend on the Beck and head off with the intention of fishing Isle Beck below the A19 Bridge. I usually head right down – at least 4 fields and fish back up the Beck all the way to the bridge, but today seeing two cars parked at the bridge I decide someone is already down there so I head up to Thirkleby Mill again. I am soon tackled up with the 5 foot and of course with an Adams Parachute on a 6 foot leader. I hook and loose a nice fish in the second pool, then repeat the exercise in the bend pool, frustrating but I can't see anything wrong with the hook point so I fish on. I hook and loose a third fish in the next pool, so I check the hook again it looks fine the point is sharp, but I change it anyway. The pool above the little bridge fails to produce a rise and there is nothing doing in the chicken field, but I get a rise and land a lovely 10 inch fish from just below the Mill House Bridge.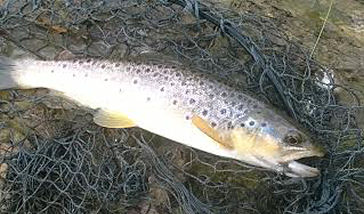 It's taken me two hours to get this far as I have been doing a little bit of tree trimming on the way. I carry a multi tool which has a pair of secateurs and a small saw, and time taken to trim back shoots now will pay dividends later. Anyway time for lunch, as I am in the camper van I heat up some soup and enjoy a sit down. Hooking four fish and only landing one is not a good average so I'm hoping for better in the afternoon. Things improve straight away with a good fish from under the trees and things continue to improve and fish stay on as I make my way upstream (trimming branches and shoots as I go). I'm pleased to get another good fish casting from behind the fallen tree below the footbridge. There is something very satisfying about casting from behind the tree and leaning over to net a nice trout! The fish continue to stay on the line and I get fish from most of my favourite pools and runs.
Some of the very small pools produce nice little fish so it is always worth a quick cast. The photo's below show a fast shallow run and a little pool that both hold fish, but you wouldn't think so to look at them.
The five foot rod is really excellent for narrow stream work where stealth and accuracy are more important than casting long distances – It will cast 20 yards plus but most of my casting is between 10 and 12 yards. I was particularly pleased to "pick pocket" a little trout that was rising right under a fallen tree. It was a tricky cast and even though it was only a small fish they all count.
I'm soon at the Weir pool that marks the top of our water and it produces three more trout before I need to pack up. The afternoon session produced 14 more trout and I only lost one fish that was hooked which is a much better average. Yet again Thirkleby gave me a really good session, but next time I will fish a different beat.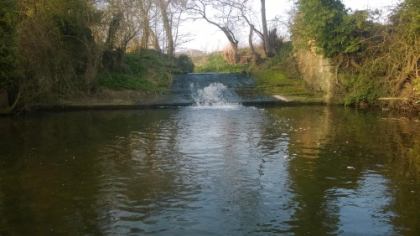 End of the Day - The Weir Pool - Top of YTAA beat.


25th March 2015 Thirkleby Mill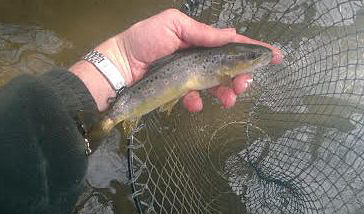 This season seems to have come round quickly, and being retired I hope to make the most of it, so between School runs and other Grandad duties, I sneaked a few hours at Thirkleby on the opening day. I have mixed feelings about opening day, it always feels a bit soon to expect the fish to co-operate, but the 25th March dawned bright and not windy or too cold so I soon find myself parked at the Thirkleby Mill and putting up the 5 foot rod (now with a new top section following last season's last day disaster!). It has to be an Adams Parachute on the line and I am off. Nothing was moving in the first couple of pools I tried which didn't really surprise me, but half way along the third pool up popped a nose, down went the fly and the little rod assumed a satisfying bend as a feisty little trout came to hand. It always feels good to catch the first trout of the day (or in this case the season) it's so re-assuring to know you haven't forgotten how to do it.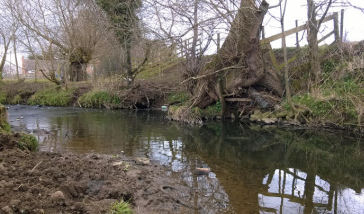 I hadn't seen any other fish rising but missed a couple that took the fly and let go quickly but on the pool just above the little bridge I saw a fish rising and caught him first cast. Another fish rose a bit further on and he was soon hooked and landed and then a third trout from the same pool. If you go quietly and fish the pools in stages it is often possible to get several trout from each pool. Usually it's the smaller ones near the tail of the pool and they get slightly bigger the nearer you get to the run in and the source of most food coming down the stream. I cast again to the top of this pool and a better quality trout (at least 10 inches!) was hooked and almost immediately lost, never mind. I get a nice little trout from just below the bridge at the top of the "chickens field" but couldn't tempt an even nicer looking trout just above the bridge who just sat in the current hardly moving. I made my way upstream through the trees again catching a couple more trout (and losing a few!) before the footbridge and caught one more from the pool just above the footbridge before I had to pack up and get back for Grandad's school run duties. Not a bad start to the season 8 trout in 4 hours on opening day so despite the early pack up I feel quite pleased with myself and wonder if I can manage to break the 200 wild trout in a season that I have been thinking about for a few years. Lets see.