Tales from the Riverbank - 2014

30th September 2014 Thirkleby Mill - The Last Day
I have a day off work to fish on the last day of the season and after careful consideration I head for Isle Beck to fish below the A19 Bridge. A quick glance over the bridge shows there is a distinct "tinge" to the water after overnight rain, but I'm not particularly worried as I walk down through four fields to the copse near Isle Beck Grange. Here the Beck is running fast its up about a foot above normal levels and is now quite muddy, which I think is odd compared to what it was at the bridge. After failing to rise a fish in the first few pools I switch to a NZ rig with a gold head on the bottom and a grey wulf on top. It's not the easiest to cast especially as I am using the 5 footer again, but at least I should be getting the nymph down to where I think the fish will be, they are certainly not rising. At 10:55 I start catching fish - at least I get off the mark with a 5 inch trout, but then loose several. It is 2 hours before I hook and land a another trout, slightly better at about 7 inches.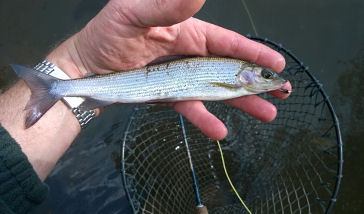 Another hour goes by before I get a grayling, like many of the grayling from the beck this year it's about 8 inches long and in lovely condition. Another half hour and another grayling. It is now 2:45 and time for lunch, I am almost back to the A19 Bridge and it's been hard work. What was interesting is that as I was kneeling down at the end of one pool to change a tippet I heard a splash behind me and what appeared to be a sea trout of about 2.5 pounds wriggles over the shallow runoff and into the pool a couple of feet from where I'm kneeling. A few seconds later another similar size fish did the same. Now I've never seen a sea trout in the beck in over 25 years of fishing it, but equally I have never seen wild brown trout in the 2.5 to 3lb category either so while I wouldn't bet on it in my mind they were sea trout and I would be interested to know if anyone else has seen a sea trout in our waters.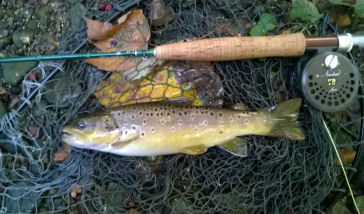 After lunch I jump in the MX5 and head for Thirkleby Mill with the top down leave the 5 foot made up in the passenger seat. At the mill I go to get the rod out and catch it on the head rest and take 5 inches off the tip! Of course it's the one fly rod that I don't have a spare top section for! Somewhat disheartened I get my 6' Riccal out and set it up. It feels like I am using a telegraph pole after the 5 foot rod but I am determined to fish on. The amazing thing is that while the Beck below the A19 was high fast and muddy, at Thirkleby it is low slow and crystal clear, really weird. Anyway I switch to my favourite Adams Parachute and land three more trout including the best of the day before I reach the Weir at the top of our beat. I'm hoping for a couple of decent trout to end the season, but first cast produces an 8 inch chub - a bonus really as it's the only one I've caught all season. I don't get any takes for a while and I was just wondering if there is time to switch to a NX rig and a goldhead when I get a take and a four and half inch trout is landed.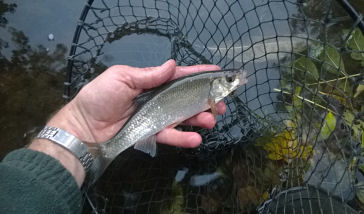 It's nearly ten to seven and starting to get dark so I take his photo and return him carefully he can be my last brownie this year and he'll grow for next season. So that's it my season on the Beck is over with 6 trout, two grayling, the first chub of the year and a broken rod, just hoping I can get a replacement tip.


21th September 2014 The River Dove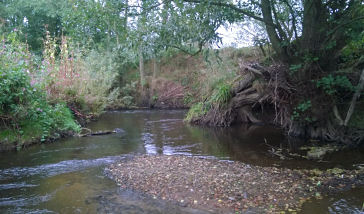 I do like to try and fish all the YTAA Becks and Rivers each season so today it's off to the River Dove at Kirbymoorside as I haven't fished there yet. I drive through the farm and cautiously through the gate into the field the ground is now very uneven and I am in the MX5 which is not ideal for cross country stuff. There is a herd of bullocks in the field so I go through the gate behind the old barn again carefully and shut the gate behind me. Cows can literally lick the paint off a car so I don't want them near my MX5 while I fish. I have to admit to certain trepidation about the Dove I've never done very well on it, mostly because I rarely visit it, so don't know it as well as our other running waters. It's a cold grey day and my confidence plummets as I try to find a way through the balsam to the junction with Howkeld beck and the bottom end of our beat. Once I'm clear of the initial tangle of bushes the river looks good. It's clear a reasonable height and I'm soon rewarded with a little trout - not blanking is always good.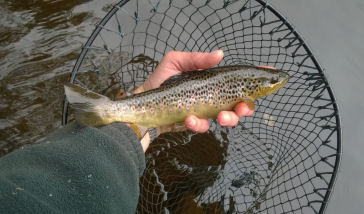 This is followed by a slightly better fish and then a third which is the best so far. My optimism of a big catch fades as an hour passes before the next fish which is a little grayling I saw rising. I temporarily switch from dries to Klink & Dink to try a nymph down a deep pool and am rewarded with a good solid take but loose the trout close to the net. The Dove is a lovely river with some splendid pools. I am making changes between a black Klink hammer and my favourite Adams Parachute and it isn't long before I get my bets fish so far just tipping 11 inches and a pretty little fish. Frustratingly the wind has picked up and it's getting colder and there is very few fish rising but I eventually get a take in a fast run and this is the smallest and as it turns out last fish of the day. I can't really complain 5 trout and a grayling is about my average on the Dove. One quick footnote - on the way back over the fields I found there is a new gate with a less bumpy entrance if you go straight on through the farmyard instead of turning right to the old gate - much safer for low ground clearance vehicles!


11th September 2014 Cod Beck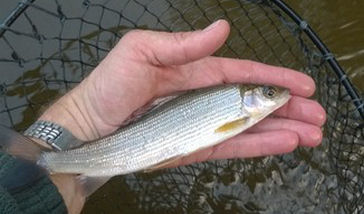 A nice afternoon so it's straight to Cod Beck after work hoping to get a couple of hours in. I miss a fish first cast but after quarter of an hour a small grayling takes the Adams Parachute and I'm hopeful for a good evening. Sadly it's not the case I don't get another rise and after an hour and a quarter it is too dark to see. During the evening I saw a kingfisher and a small otter scared the life out of me sliding down the bank and splashing into the beck right behind me as I was standing quietly changing my fly.


28th August 2014 Isle Beck Below the A19 Bridge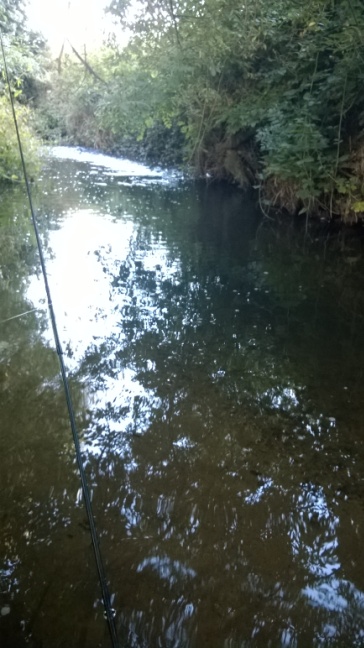 I am still trying to boost my catches this season so it's back below the A19 for a short session after work. I start three fields down knowing I won't be able to fish all the way back to the bridge before its dark, but I'm hopeful of getting a couple of fish at least. It's a warm sunny evening and for a change I'm using a Black Klink hammer. I was very pleased with the first fish as it needed a tricky cast to a trout rising under a trailing bramble. The fly dropped an inch away from the bramble and the trout nailed it. Next up a small grayling, then it's another trout followed by a final grayling. Only 4 fish all around 8 inches long and an enjoyable little session.


26th August 2014 Thirkleby Beck Thirkleby Mill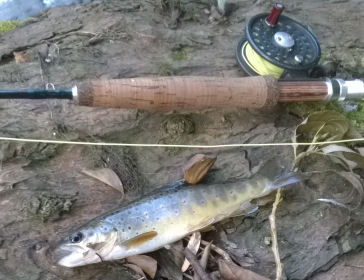 A quick trip to Thirkleby in the hope of boosting my catch returns which is much lower than previous seasons. The beck is very low and very clear and I do a bad job of stalking and between the Mill and the pool below the footbridge fail to land a fish. However sneaking up behind the big willow that is across the beck below the pool bridge I am able to cast to a rising fish and in course land it by leaning over the tree trunk. That fish is returned when I see another rise and the fish is cast to and hooked and again landed by reaching over the tree trunk with my net. At 11 inches this wild trout is more like what was hoping for but it's too late for any more fishing tonight it's only 8pm but already it's too dark under the trees to see properly. Surprisingly only the first fish was on an Adams parachute the second took a grey duster!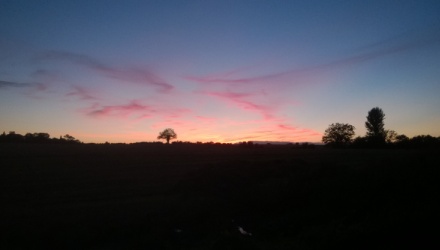 19th August 2014 Isle Beck Above the A19 Bridge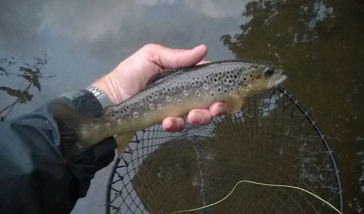 Another short after work session. I decide to park at Arden Bridge and walk down the fields and fish back to the car. This was a great plan and would have worked but for a jungle of Himalayan balsam and nettles just where I wanted to get in to the beck. The evening may have been cool and grey, but I was considerably warm buy the time I had bashed my way through to the beck. My evening was not improved as a heron flapped off downstream from the first pool I wanted to fish and in the next pool another heron flapped off up stream. The completion continued as a kingfisher flew downstream past me and finally on the next pool I was just casting to the first rising trout I had seen when two otters swam down the pool feet from me! I'm guessing that these were two of last year's cubs from the three that were hanging around above Thirkleby Mill. I've got mixed feelings about otters, it's nice to see them but I'm fairly sure they have cleared out most of the chub from the beck and probably a high percentage of stocked trout. They don't seem to have had too much effect on the wild trout (yet!) but when the supply of chub, eels and stock fish has gone I fear the wild trout will be next on the menu! Back to the fishing well with the otters having travelled downstream I struggled to find a rising fish, but eventually got a last ditch trout just below Arden Bridge before it got too dark to see..


5th August 2014 Isle Beck below A19 Bridge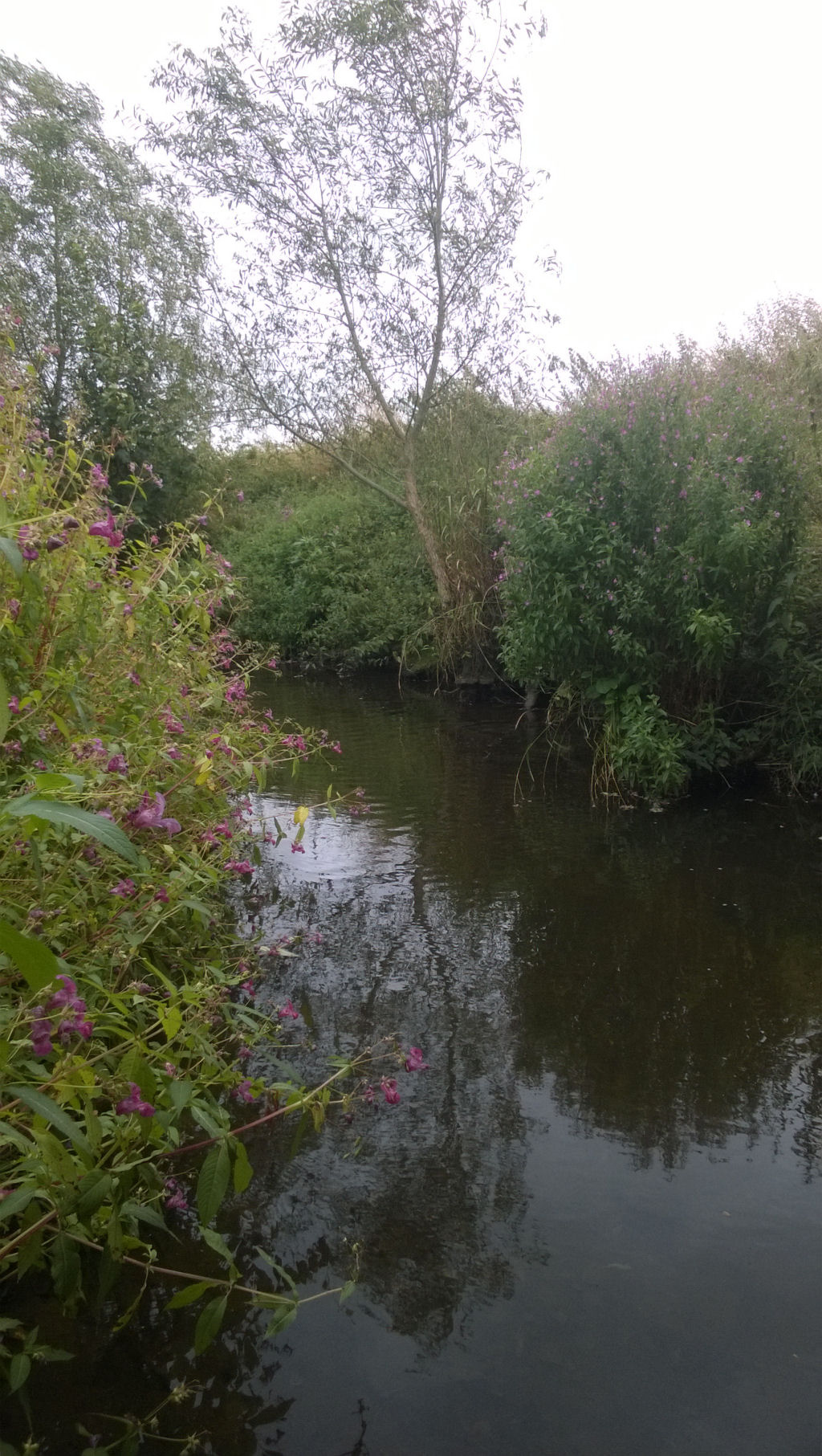 Back out again to finish the length below the A19 as I didn't make it back to the bridge before it got too dark to see yesterday. This evening its colder and greyer and I only manage a couple of fish before it's too dark to see under the trees, and I still didn't fish up to the road bridge.


4th August 2014 Isle Beck below A19 Bridge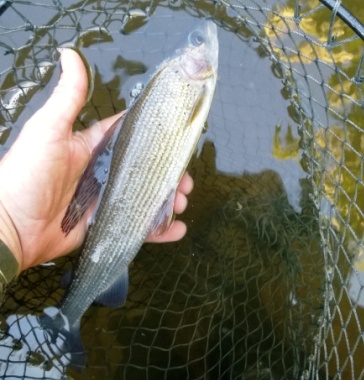 It's back to the quick trip after work and I head down below the A19 Bridge. The Beck is getting low it's very clear and it's going to need a careful approach to get near trout. Walking down to my start point I saw a mink, my least favourite creature because of the damage they do to all wild life, birds, voles, fish, eels everything. Well not everything as I startled a very surprised red deer doe as I waded up stream - I see a lot of Roe deer by the stream but this is the first red deer I've seen near our waters. It's a warm sunny evening and the Adams Parachute does the business again as I end with 6 trout and 3 grayling. The best trout and best grayling were both 13 inches long and good fun on the 5 foot rod which has now become my weapon of choice on the Beck. Despite its short length it cast a good distance with great accuracy and is capable of handling everything I've hooked so far on the Becks. I am really pleased with the numbers of grayling that are turning up, the fingerlings that we got from the Environment Agency are doing really well and should provide good winter sport as well.


27th July 2014 River Riccal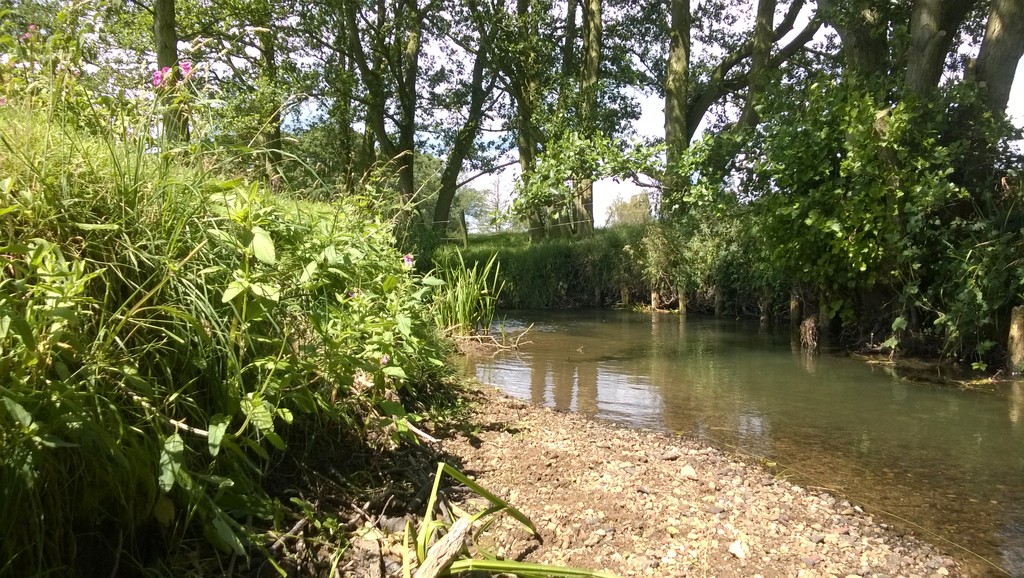 I hadn't fished the Riccal this year and the opportunity for a full day was too good to be missed so armed with the new rod and a full packed lunch box I head off in a mixture of excitement and dread at what could be an interesting and challenging day fishing this crystal clear narrow stream that was almost certainly going to be pretty overgrown. The last time I fished the Riccal was in 2013 and I had ended the day with a splendid grayling so I hoped that I might find a few today as well. But this was not the case as I didn't even see a grayling all day, and I looked very hard. The trout were obliging though and despite the overgrown conditions and a tricky side wind, which is not what you need in an overgrown narrow stream! I ended up with 13 trout of various sizes all falling for the Adams Parachute. These were mostly 5-8 inches but with a couple of 10 inch plus and two 12 inch fish which were lets say "fun" on the short rod in the narrow beck. I fishing carefully so it took me over 6 hours to get back to my car at the bridge for a very late but satisfactory lunch. Remarkably I didn't lose a single fly despite the windy and overgrown conditions!


24th July 2014 Thirkleby Footbridge to Weir Pool
My first time out flyfishing for a couple of months following a short spell in hospital. I decide to fish from the footbridge to the weir pool a bit I tend to rush through rather than giving it the attention it deserves. I'm using an Adams tied Parachute style a very reliable fly I'm also trying out a new 5' Malcolm Grey #2/3 fly rod that I got from the CLA Game fair at the weekend. It's very light and even better for casting under the bushes and overgrowth that is part and parcel of the Isle Beck system by late July. The new rod is well and truly christened accounting for 8 trout, the best a splendid 12.5 inch fish which the light rod managed with ease. An excellent evenings fishing especially as I saw 5 kingfishers and 1 otter in the three hours it took to fish this length.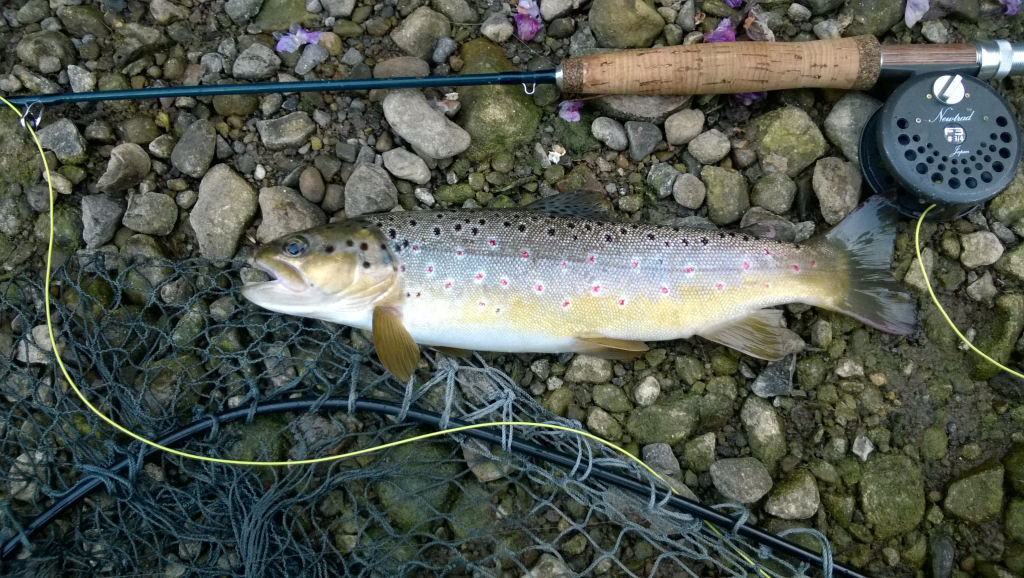 10th July Hosting the Wild Trout Trust Lot Auction Winner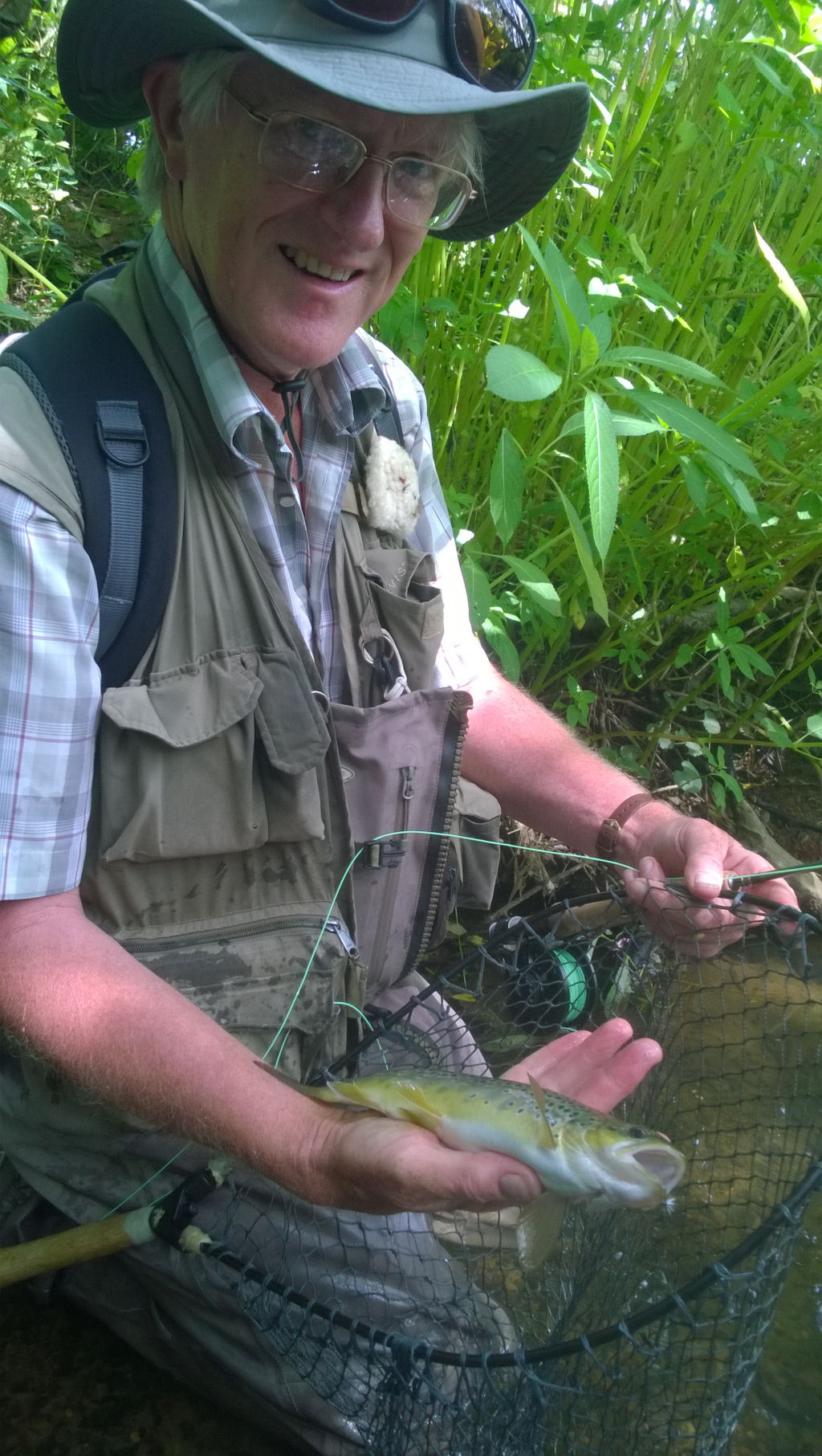 As you know this year YTAA agreed to offer a day's fishing on the Isle Beck System to go into the Wild Trout Trust Auction. Robin Crawshaw put in the winning bid and between our busy schedules we eventually met up on 10th July for me to host him on a full day. We met at the A19 bridge and with his new 7' Grey GR50 rod set up we walked down 4 fields below the A19 for Robin to start fishing. Robin admitted he didn't often fish small streams, the Wharfe above Bolton Abbey is his usual fishing ground so he wasn't sure what to expect, but I was confident he would soon be into lovely wild trout. How wrong I was! As grayling after grayling turned up as we fished slowly up the Beck back to the bridge. This took rather longer than I had anticipated and the packed lunch I had prepared for us was a little late at gone 4 o'clock! But the beer from the ice box went down well. Robin had finished the "morning" session with 11 grayling and 4 wild trout not bad by any standards. We then moved on up to Thirkleby where I hoped Robin would be getting into more trout but it was another grayling that rose first. We then had some fun in the overgrown section between the Mill and the footbridge the overhanging trees and extensive foliage making life difficult but 2 more trout were added to the day's tally. In the hope of some late sport before it became too dark to fish we walked up the footpath to the weirpool for a few last casts and another trout eventually oblige just before it was time to pack in. It had been an interesting day showing Robin everything I knew about the beck and trying to be a good ghillie. I was very impressed with Robin's roll casting - something I am not particularly good at and it had helped him end the day with 12 grayling and 7 trout. I think Robin enjoyed the day I certainly did and learnt a lot, but I do prefer fishing to being a ghillie!


20th May 2014 Willow Beck Above Willow Bridge
Out after work again for a short session on Willow Beck. Not the easiest section to fish as it tends to be overgrown but usually quite rewarding and sometimes produces exceptional fish. There are a few may fly about so I try a Spent Drake and manage a couple of trout. A pleasant enough evening but no sign of my expensive varifocal prescription polarising reactolight sunglasses I lost last time I was on this beat.


16th May 2014 Isle Beck Below the A19 Bridge
Back out again after work as I want to make the most of the beck while it is fishing well. It's another warm evening and the Adams accounts for 13 wild trout in a little under 3 hours. The Beck is a bit overgrown down below the A19 bridge and I know it will get worse as the season progresses, still a very good evening.


15th May 2014 Isle Beck above the A19 Bridge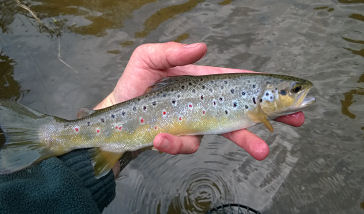 I do like to fish the whole length of the YTAA waters so tonight's after work trip is above the A19 Bridge. The Beck is in good condition and it's warm and sunny and I know I'm going to have a good couple of hours. I am back on the Adams again and with good reason as I manage to land 14 fish most of them wild trout which are all safely handled and returned but also two decent stockies which I keep.


2nd May Cod Beck & Willow Beck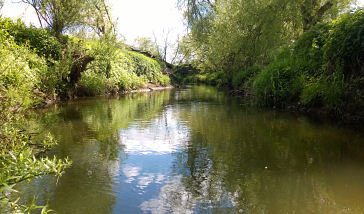 I don't take defeat lightly at least not when it comes to fishing so I have a whole day to go and restore my confidence and its straight back to Cod Beck where I have blanked on my previous visits. It's a warm sunny day and there is still a slight tinge to the water so it should be ideal. By 11:30 there are fish rising everywhere, at least everywhere except my fly, and I go through several changes before I hook a nice 10inch grayling on an Adams Klinkhammer, followed shortly later with another 13 inch grayling. Then I notice a succession of small black flies drifting down the current so changing to a dark CDC and clipping the wing back so it sits right in the surface film I start to catch trout. By the time I've fished Cod and Willow Beck and got back to Willow Bridge I've had the 2 grayling and 6 trout, with the best trout also 13 inches. So after a rather late lunch (or early tea) I head up to Thirkleby Mill in search of more fun.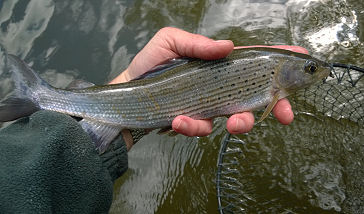 Setting up at the Mill I revert to my favoured Adams size 16 and have a very enjoyable few hours landing a total of 14 trout. I don't often get a full day's fishing but this was a good day with 2 grayling and 20 trout and I'm happy that I've really I laid to rest a run of blanks.


29th April 2014 Cod Beck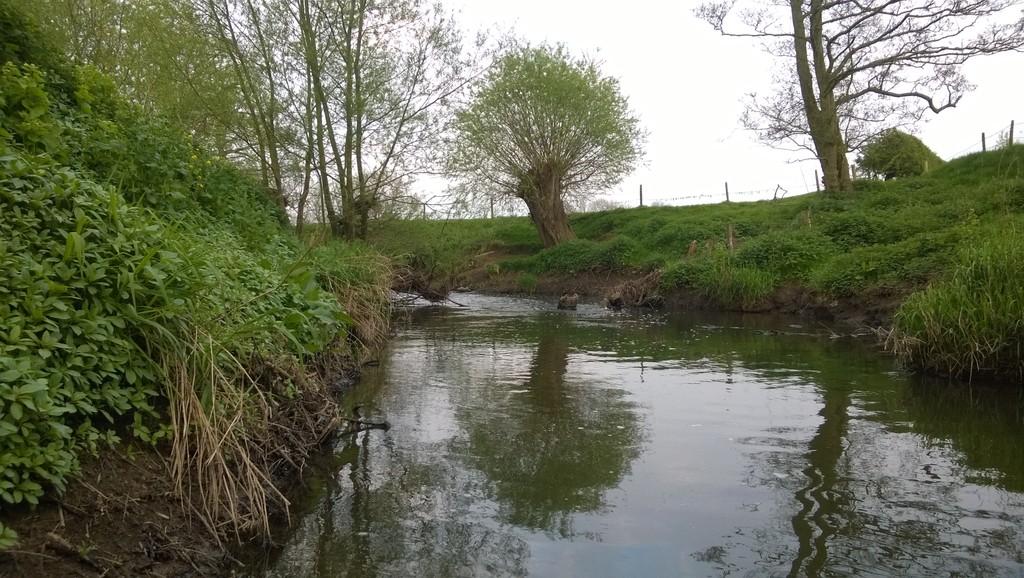 Decided to make up for yesterday's blank and so it's back to Cod Beck after work for another couple of hours on a cool grey evening. I can hear buzzards overhead and a kingfisher flew past me as I eased into the beck. I didn't see a single rise and once again by 8:30 it was too dark to see and I'd blanked again. When I got home to check my records it was 12 years since I last had consecutive blanks on the becks! To make it worse I notice that I had also blanked on a short 1 hour trip to Cod Beck at the end of last season, which means I have blanked on my last three visits to Cod Beck.


28th April 2014 Cod Beck
Grabbed a couple of hours after work and decided to try Cod Beck. A cool grey evening with Buzzards calling overhead and a slight colour to the water, which usually makes it easier to stalk fish. However on this occasion there were few fish rising and I missed both fish that rose to my fly. It was too dark to see by 8:30 and I blanked.


13th April 2014 Thirkleby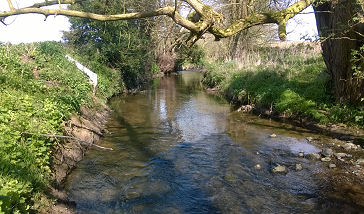 A cold grey and rather windy afternoon but the first chance to start my season. It had to be at Thirkleby always one of my favourite parts of the Beck. Lots of otter tracks and Otter spraint on stones and logs, but Thirkleby didn't let me down and with an Adams on the cast I managed 10 trout in three hours. A couple of small ones but most a good average about 10 inches.