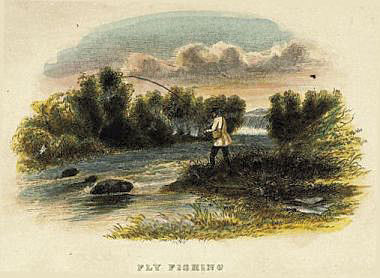 The York Tradesmen's Angling Association (YTAA) is a long established angling club with records dating back some hundred years or so. The club operates over five becks and two still waters in North Yorkshire. Primarily a trout fishing association with the emphasis on fly fishing although coarse fishing and bait fishing are also available. The association offers year round sport with grayling and pike fishing in the winter months. The two main fisheries are; the Isle Beck system in N. Yorkshire, where much of the fishing rights are owned by YTAA and still waters at Stearsby at the foot of the beautiful Hambleton Hills. Isle Beck offers fine wild trout sport, a mayfly hatch and a good head of naturally recruited wild fish. Stearsby is a lovely little secluded fishery offering quality still water fly fishing for rainbow trout. Wild trout fishing is also available on the River Dove at Kirkbymoorside and the River Riccal at Harome.
News
Membership
We do not have vacancies at present but please contact the secretary if you wish to be added to our waiting list. Rob Sawdon at secretary@ytaa.co.uk.
AGM - 2016
The AGM was well attended and many thanks to all the memebers who turned out. The 2016 AGM Minutes (unapproved) may be read here. AGM Minutes 2016. Previous years can be found in the Archives.
Newsletter 2016
The 2016 Newletter is available to read here Newsletter 2016. Previous years can be found in the Archives.
Fishing Report - Richard Barwick
19th June 2016. "Quick alert of a crayfish sighting under the A19 bridge on Isle Beck yesterday. Had a splendid afternoon on the Beck which is in fantastic condition and looks a lot different than last year, it appears to have come of age and some of the pools are idyllic. I managed a mixture of sizes with 12 trout on both wet and dry with as many lost, the wildlife also put in appearance with otters, kingfishers, heron, deer and a very entertaining vole which fell in the water 3 times before scrambling back on to dry land. Fish taken were in pools and in the shallows. The smaller side pools are teeming with fry. A day not to be forgotten."
Stearsby Notes
A monthly report on the fishing at Stearsby lakes. A detailed catch analysis, photo's and fishy musings. Click here to read.
Mick Dowson captured this beautiful Brownie at Stearsby in April.
The Kingfisher Diary 2016
The Kingfisher has started a new diary again as he resumes his never ending quest to catch two hundred trout in a season from the clubs becks and rivers. These diaries will be of interest to any angler with a love of the smaller waters so to follow this year's trials and tribulations Click here.
1st October 2016. The trout season on our Becks and Rivers has now closed - so, did the Kingfisher finally achieve his elusive target this season? Here is a clue: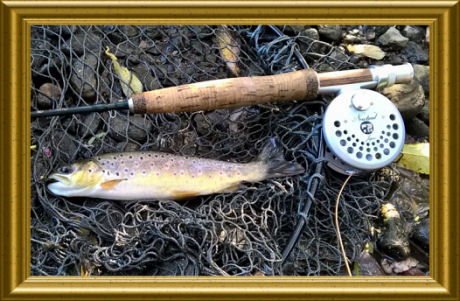 Indeed he did, so congratulations to the Kingfisher on this most splendid angling effort and thanks from the membership for providing such a fascinating diary.
There has been quite some interest in the Kingfishers techniques so he has kindly agreed to reveal his methods in the new Kingfisher Hints & Tips section. Click here to read. Excellent information and well worth a look.
Salmon and Seatrout Fishing
A reminder that fishing for salmon and sea trout is available to YTAA anglers on the river South Esk in Angus. Click here to read more.
Signal Crayfish
Unfortunately there has been an increase in the number of sightings of Signal Crayfish in the Isle Beck system. Members are reminded to report any further sightings to the secretary as this will allow us to better monitor the signal crayfish population in the fishery. If you are unsure what a signal crayfish looks like or want any more information then please visit the Signal Crayfish page.
Please note: It is illegal to remove Signal Crayfish without a licence from the Environment Agency. The purpose of this legislation is partly to prevent the cross contamination of waters. Once established Signal Crayfish are proving impossible to remove so the focus is currently on the prevention of their spread. Members are reminded that they should each be responsible for their own basic 'Bio Security' measures. After fishing, always thoroughly dry out all of your clothing and fishing tackle, especially your nets, before fishing again.
Kingfisher Diary

24th June 2016 Cod Beck
My grandson was on a discovery day at Easingwold school and needed dropping off at 9:15 and collecting at 14:30 – so obviously I had to go and have a short session on the Beck.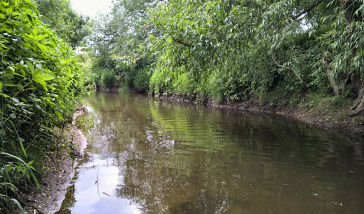 I decided that Cod Beck might be fun for a short session and by 10:20 I was slipping down the heavily weeded bank and into the cool water of Cod Beck at the start of our beat. A small trout obliged straight away and was quickly returned. I could see a couple of small grayling rising but they ignored the Adams and a black emerger. I tried some of the size 24 flies a friend tied up for me, two grayling came up and carefully inspected them but didn't take so I decided to move on a couple of fish were rising above the fallen tree but despite some careful casting they ignored the Adams the emerger and the size 24…etc.
I have never really tried upstream nymphing unless it has been New Zealand style and a N/Z rig would be near impossible to cast under the tree. So a tiny (size 18!) Goldhead was tied on and flicked upstream and watching the cast for movement I tightened and was into a nice little grayling which was duly landed, photo'd and safely returned. There was nothing doing on the small goldhead in the next pool so switching to an N/Z rig with a larger Goldhead I had a few casts exploring the deeper water, and inevitably a fish slashed at the dryfly and I missed it.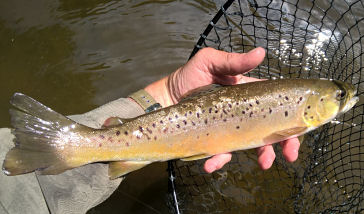 The next run is a shallow so switching back to a small Adams I got another small brown, and as he went back saw another small rise a bit further on casting to the spot a fish rose but clearly not a small fish and after a couple of exciting minutes a 15 inch trout was safely in the net, not a wild fish but a good condition stockie and he was safely returned.

All this changing of flies and rigs had used up a lot of time and I just managed one more change back to the New Zealand rig with a big Goldhead to get two more grayling, one from below the big pool and one from the run above it before it was time to go and collect the grandson again. Definitely a fun session, only three grayling and three trout in just over three hours but worth the effort. By the look of the banks and the fact that the little footbridge was overgrown with balsam I don't think any members have fished it since I was last down here on 15th May – which is a shame as it's a nice beat and hold some lovely fish.
To read all of the 2016 diary Click here.