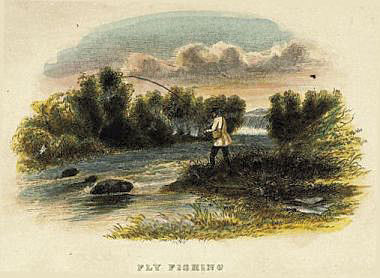 The York Tradesmen's Angling Association (YTAA) is a long established angling club with records dating back some hundred years or so. The club operates over five becks and two still waters in North Yorkshire. Primarily a trout fishing association with the emphasis on fly fishing although coarse fishing and bait fishing are also available. The association offers year round sport with grayling and pike fishing in the winter months. The two main fisheries are; the Isle Beck system in N. Yorkshire, where much of the fishing rights are owned by YTAA and still waters at Stearsby at the foot of the beautiful Hambleton Hills. Isle Beck offers fine wild trout sport, a mayfly hatch and a good head of naturally recruited wild fish. Stearsby is a lovely little secluded fishery offering quality still water fly fishing for rainbow trout. Wild trout fishing is also available on the River Dove at Kirkbymoorside and the River Riccal at Harome.
News
Membership
We do not have vacancies at present but please contact the secretary if you wish to be added to our waiting list. Rob Sawdon at secretary@ytaa.co.uk.
Stearsby Reports
Opening day at Stearsby provided good if somewhat chilly sport. Here are a few hardy souls that made the effort and reaped the rewards. More Stearsby updates here Stearsby Notes.
In April Mick Dowson captured this beautiful Brownie.
The Kingfisher Diary 2016
The Kingfisher has started a new diary again as he resumes his never ending quest to catch two hundred trout in a season from the clubs becks and rivers. These diaries will be of interest to any angler with a love of the smaller waters so to follow this year's trials and tribulations Click here.
There has been quite some interest in the Kingfishers techniques so he has kindly agreed to reveal his methods in the new Kingfisher Hints & Tips section. Click here to read. Excellent information and well worth a look.
AGM - 2016
The AGM was well attended and many thanks to all the memebers who turned out. The 2016 AGM Minutes (unapproved) may be read here. AGM Minutes 2016. Previous years can be found in the Archives.
Newsletter 2016
The 2016 Newletter is available to read here Newsletter 2016. Previous years can be found in the Archives.
Stearsby Notes
A monthly report on the fishing at Stearsby. A detailed catch analysis, photo's and fishy musings. Click here to read.
Salmon and Seatrout Fishing
A reminder that fishing for salmon and sea trout is available to YTAA anglers on the river South Esk in Angus. Click here to read more.
Signal Crayfish
Unfortunately there has been an increase in the number of sightings of Signal Crayfish in the Isle Beck system. Members are reminded to report any further sightings to the secretary as this will allow us to better monitor the signal crayfish population in the fishery. If you are unsure what a signal crayfish looks like or want any more information then please visit the Signal Crayfish page.
Please note: It is illegal to remove Signal Crayfish without a licence from the Environment Agency. The purpose of this legislation is partly to prevent the cross contamination of waters. Once established Signal Crayfish are proving impossible to remove so the focus is currently on the prevention of their spread. Members are reminded that they should each be responsible for their own basic 'Bio Security' measures. After fishing, always thoroughly dry out all of your clothing and fishing tackle, especially your nets, before fishing again.
Rule change reminder
National byelaws restricting the killing of Grayling were introduced in 2010 which state that:
"Anglers are prevented from taking any Grayling less than 30 cm fork length (to protect immature fish) and greater than 38 cm (trophy fish).i.e. 12-15".
The club rules have now been amended in line with the legislation and this supersedes the text in current membership cards.
Kingfisher Diary

15th May 2016 Cod Beck (A little bit of Willow Beck)
A glorious Sunday afternoon and I'm heading for an evening on Cod Beck. I haven't fished it this year but when I walked it prior to the YTAA AGM I was aware that a number of trees that were down or blocking the beck had been washed away by the winter floods. In addition a number of runs and pools appeared to have been scoured out by the flood water making them deeper which will lead to some interesting deep wading opportunities….
The 5 footer is tackled up, not because I particularly need a short rod on Cod Beck, but if time allows I hope to fish up Willow Beck to the Bridge and that definitely requires a short rod to get under the undergrowth. When I get to the little footbridge across the ditch I couldn't help noticing two trout rising in the pool below. I can resist everything except temptation and two trout rising was far too tempting.. a quick flick of line and the Adams parachute landed a foot in front of the first trout who slammed into it and was duly hooked. Problem I'm about 6 feet above the beck with no way to slide down to net what seems to be a very lively 10 inch or so trout! Simple answer is let my line go slack and with a barbless hook (or in this case flattened barb) and the trout frees himself to fight another day. On reflection I decide this one doesn't count towards my 200 as I never actually landed him.
Cod beck is looking good is deep clear and not too fast, if it was a pirate map there would be little crosses everywhere saying "Here be Trout".
First challenge is a new tree down across the beck just above the start of our beat – at least the tree is not the challenge but the fish rising steadily above it is. If you look at the debris on top of the tree you'll get an idea of how much flood water has been coming down the beck over winter. Back to the problem in hand how to get at that fish - I get as far to the left bank as I can without making too much splash, a neat side cast under the tree and the Adams lands just above the spot where the fish has been rising and sure enough up he comes and is hooked. A minute later a nice 11 inch grayling, not the trout I expected is in the net!

The lower part of our Cod Beck beat has always head some deep holes but the winter floods have really made it very deep in places. At one point where I used to get through Ok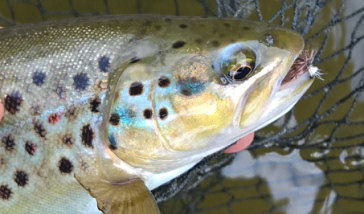 it is now far too deep to wade and I had to retreat 25 yards to get out to walk around to the next run. This also required a tricky entry slipping down the steep bank to get back in, but it was well worth it as what appeared to be a small trout rising turned out to be a 14 inch wild fish that gave me a tremendous fight and fully tested my little 5 foot #2. Certainly the biggest I've had from the becks this season.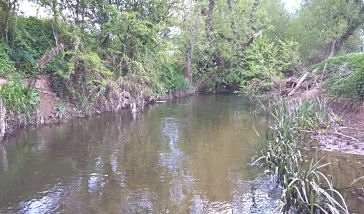 I keep missing little rises that I take to be little grayling, the answer is to switch to a dark Klinkhammer which will sit lower in the surface film and will hook better, but as I really want trout I stick with my Adams and on the long run below the big round pool I hook another grayling about 10 inches, then another. Maybe it's only the small grayling I can't hook! I've never caught a fish in the big round pool and as time is short I don't even try but walk round to the tail of the fast run where another grayling of about 10 inches grabs the fly but is off before I can net him.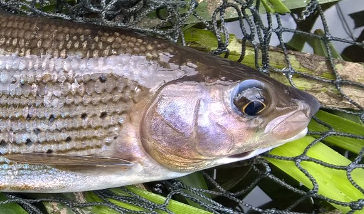 In the fast run I cast to the only rising fish and another 11 inch grayling is landed. A speculative cast into the run produces a good solid take and hard fight ensues but in due course a perfect 14 inch grayling is landed and kept on the net for a quick photo before release. This is the best grayling so far this season and probably the best from here for a few seasons I'll need to check my records to be sure.


Another speculative cast on the edge of the fast water produces a 5 inch grayling (so I can hook small grayling on an Adams Para!). I am really pleased to see this little fish as while the bigger grayling are probably grown on from the fingerling grayling we got for free from the Environment Agency a few years ago there is every chance that this little one is from wild recruitment probably last year which suggests the grayling are establishing themselves again.
It is starting to get a little chilly so I move up Willow Beck which is once again rather over grown. I get a 5 inch brown trout from one pool and decide to call it a night, 2 trout, 6 grayling landed, one deliberate early release and a number of missed rises, this is what makes beck fishing so rewarding and at times frustrating! Did I mention my leaky waders? Well that is how it goes.
To read all of the 2016 diary Click here.